Bottoms (2023) – Movie Review and Summary (with Spoilers)
"Bottoms" might be one of the first notable dark-humor teen sex comedies that don't feel like a female version of something you saw before.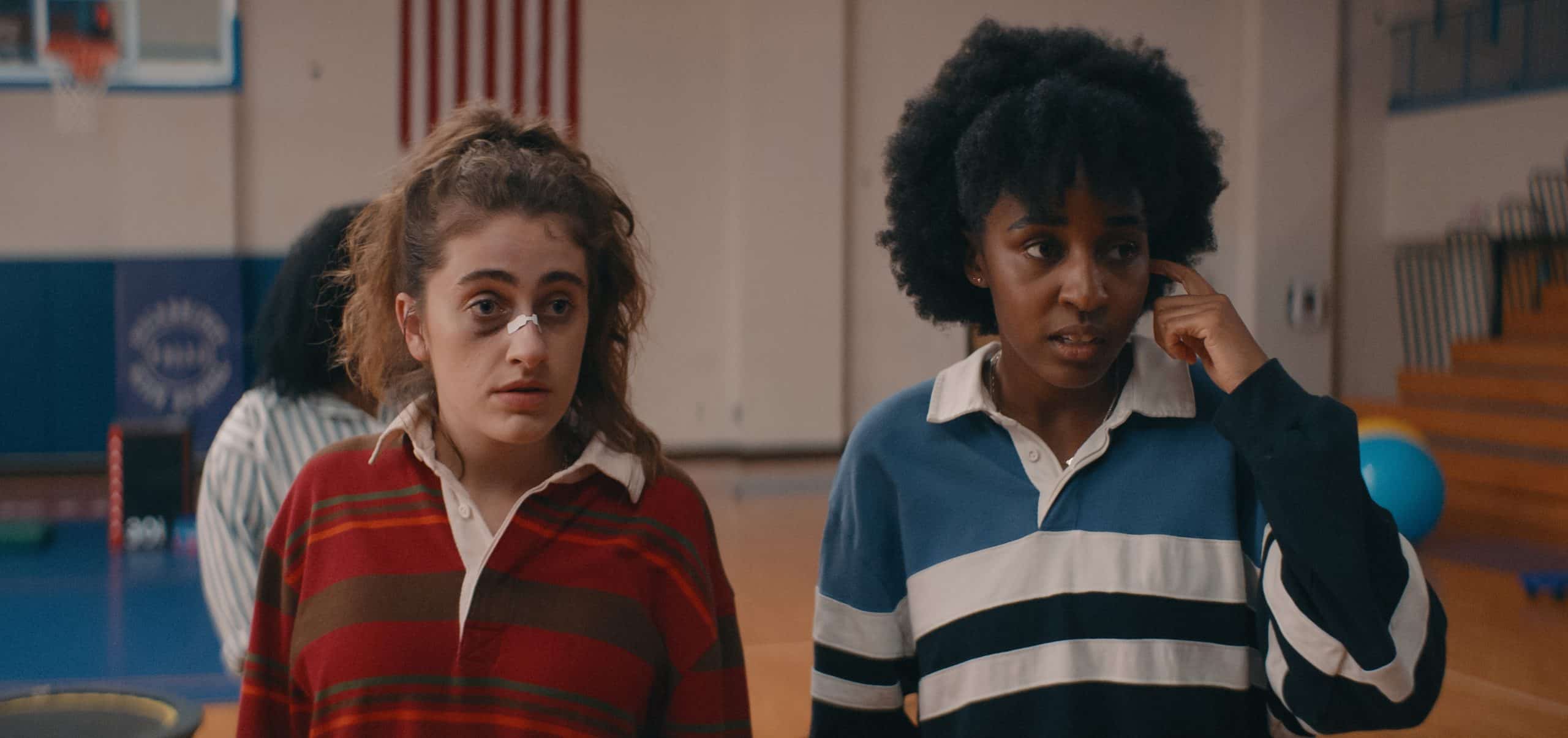 Film Summary
Images and text in this post may contain affiliate links. If a purchase is made from those sites, we may earn money or products from the company.
With college on the horizon, Josie and PJ want to end high school by losing their virginity. What complicates things is they are both lesbians and into hot and popular people. For Josie, Isabel, who is dating the quarterback of their small town, Jeff. PJ? It's Isabelle's sidekick, Brittany.
The original idea was to talk to them during a fair, which utterly failed. Then, after a series of events and rumors, Josie and PJ end up with a self-defense class/ fight club based on the assumption they went to juvie during the summer and know how to fight. At first, PJ sees this as an opportunity that could allow them to meet, be on top of, and wrestle hot girls, but none of the attractive girls to PJ show up.
However, with a major football game upcoming against Huntington and their team harassing and attacking those from Rockbridge Falls, PJ, and Josie find themselves looked up to for help, safety, and, eventually, a sense of community. Which makes the secret of the origins of the fight club, and that they don't have juvenile detention records, a danger to all they've built, as well as gained thanks to the club.
Character Descriptions
Please Note: This character guide is not an exhaustive list of every cast member, and character descriptions may contain what can be considered spoilers.
Josie
Josie is a bit inhibited. She has mainly focused on keeping her head down and studying, and now with high school nearly being over and her having limited experiences, like having a relationship and sex, she leans more towards resigning than putting in a last-minute effort. Especially because conversations outside of PJ and Hazel are usually awkward and hard for her, and her disposition to rambling is up there.
The Actor Is Also Known For: Sydney Adamu in "The Bear," Missy in "Big Mouth," and for their stand-up comedy.
PJ
Self-centered, obnoxious, extroverted, and a bit horny, PJ has tried living like Josie and living a small life with baby steps toward what she wants outside of her education. That isn't going to work anymore, and she decides to take the energy she usually shares with Josie and expose more people to that to get laid – specifically with or by Brittany.
Isabel
Isabel is Jeff's girlfriend and a cheerleader Josie has had a crush on forever.
Brittany
Brittany is Isabel's sidekick with a jewelry line, but her main thing is being Isabel's shadow.
Hazel
Hazel is the third wheel of PJ and Josie's friendship who Josie is far nicer to than PJ.
The Actor Is Also Known For: Jess Riley in "Mare of Easttown" and Kit Tanthalos in "Willows"
Jeff
Jeff is the quarterback, Isabel's often cheating boyfriend, and perhaps the only person who can outdo PJ in "Bottoms" regarding collecting negative traits and acting like everyone else is the problem.
Mr. G
Mr. G is going through a divorce, seems to give not one damn about his job beyond collecting a check, and will make you question his teaching credentials and how he stays employed from scene to scene.
The Actor Is Also Known For: His football career
Review
---
Community Rating:
---
Our Rating: Positive (Worth Seeing)
Highlights
The Strength Of Its Supporting Cast
It's funny in a way, nearly all the supporting cast members get a moment to shine, but I wouldn't say any of them get the scene-stealer treatment that has made Sennott or Billie Lourd, in "Booksmart" notable figures in comedy. Instead, there are cases like Hazel, who is allowed to be funny, as she deals with her mom having sex with a student and the struggle of trying to be the third wheel in PJ and Josie's friendship. But then there is a real darkness with her, a need for community which isn't always tapered with comic relief.
Then there is Jeff, and Mr. G. Jeff is the egotistical, self-absorbed, and a privileged quarterback who, even if Galitzine doesn't make you audibly laugh, at the very least, he'll make you smile and roll your eyes. Then, with Marshawn Lynch as Mr. G? Oh, he brings that "I'm just here so I won't get fined" persona to the big screen and kills it. I'd even say, similar to Mike Tyson, as he went from the Baddest Man On The Planet to the new chapter, which started with "The Hangover," this feels like a reintroduction to the more comical side to an already established public figure.
Josie and PJ
It's the classic duo! One stammering character who operates as if existing produces a string of anxiety attacks that people think is just them being quirky, and then there is the uninhibited one who doesn't take accountability for what they do or inspire. Edebiri and Sennott take this on and run with it to the point they can become archetypes. For nothing about them makes you think this high school sex comedy is trying to follow the formula of "Superbad" or iconic films that have come before, but now with women. It has its own voice, characters whose imperfections may be familiar but are uniquely written for the actors, and, best of all, it allows Sennott to run free with the persona which is making her a star.
As for Edebiri? I'll be honest, while a co-lead, whose character isn't always sharing the screen with Sennott, it can sometimes feel like, as done with the supporting characters, she is given enough to showcase her comedic skills, but rarely, if ever, enough to truly be on equal ground to Sennott. Which isn't to say Edebiri doesn't show she deserves this level of prominence, for you'll certainly root for her character more than Sennott's, but as a comedy, you'll laugh more at and with Sennott than Edebiri.
The Violence
Between the sound and makeup for "Bottoms," you may honestly think these ladies punched and kicked each other with some force. Add in that, despite being in high school, and some like Isabel being cheerleaders, most don't seem to wear makeup to cover the bruising and injuries. In omitting coverage for bruises, broken noses, and more, it makes every hit seem a bit more real than the last.
I'd like to especially highlight the ass whipping Hazel gets when tasked to fight a man that is so brutal that your face may contort.
The Comedy
If you are a fan of Rachel Sennott's humor (she co-wrote the film), this movie is for you. There aren't any taboo subjects, and much of it leans on dark jokes, which create awkward moments. For example, when Hazel pushes PJ to use the group to create a sense of community and bond, she asks people, "So who here has been raped?" which is jarring but elicits real responses.
That is sort of the dynamic that PJ brings. She is aggressive, confrontational even, but because she is so unfiltered, it leads to moments you can't hold back from laughing. And as hinted about, Sennott truly creates the best scenarios and dialog for her character.
On The Fence
What Kind Of Strange Small Town?
A lot isn't explained about why this town is such a hot ass mess. You assume it is because it is a small town and small towns with many rich people seem weird. However, as for why do they give a huge amount of leniency to the football team, especially the quarterback, Jeff? Why the dynamics between students with losers, the popular, etc., come off like an 80s film, and the rivalry between the Vikings (Rockbridge Falls) and Golden Ferrets (Huntington) is so intense? No information is provided. You are left to make assumptions or presume everything is about setting up a joke or jaw-dropping moment.
General Information
Director(s)
Emma Seligman
Screenplay By
Emma Seligman, Rachel Sennott
Based On
N/A
Date Released (Film Festival – NewFest Pride)
June 3, 2023
Date Released (In Theaters)
August 25, 2023
Date Released (Prime Video)
To Be Determined
Genre(s)
Action, Comedy, Romance, Young Adult, LGBT+
Film Length
1 Hour 32 Minutes
Content Rating
Rated R
Noted Characters and Cast
PJ
Rachel Sennott
Josie
Ayo Edebiri
Brittany
Kaia Gerber
Isabel
Havana Rose Liu
Mr. G
Marshawn Lynch
Hazel
Ruby Cruz
Things To Note
Why Is "Bottoms" Rated R
Dialog: cursing throughout, conversations about sexual assault, rape, and dark humor surrounding it
Violence: Blood, someone gets impaled, men fighting women
Sexual Content: Despite the goal of Josie and PJ, there is no nudity beyond a mascot with his penis out
Miscellaneous: smoking, drinking, homophobia
Movie Recommendations
If you like this movie, we recommend:
You can also check out our movies page for more recommendations and find our latest movie reviews.
FAQs
Why Is the Film Called "Bottoms?"
Likely due to both Josie and PJ pretending to be hard and aggressive when really they are soft and submissive – At least until their backs are against the wall.
How Was The Twist(s) and Ending?
There isn't a twist, but the ending is epic, bloody, and satisfying.
Is There A Mid-Credit or Post Credits Scene?
Outtakes throughout the credits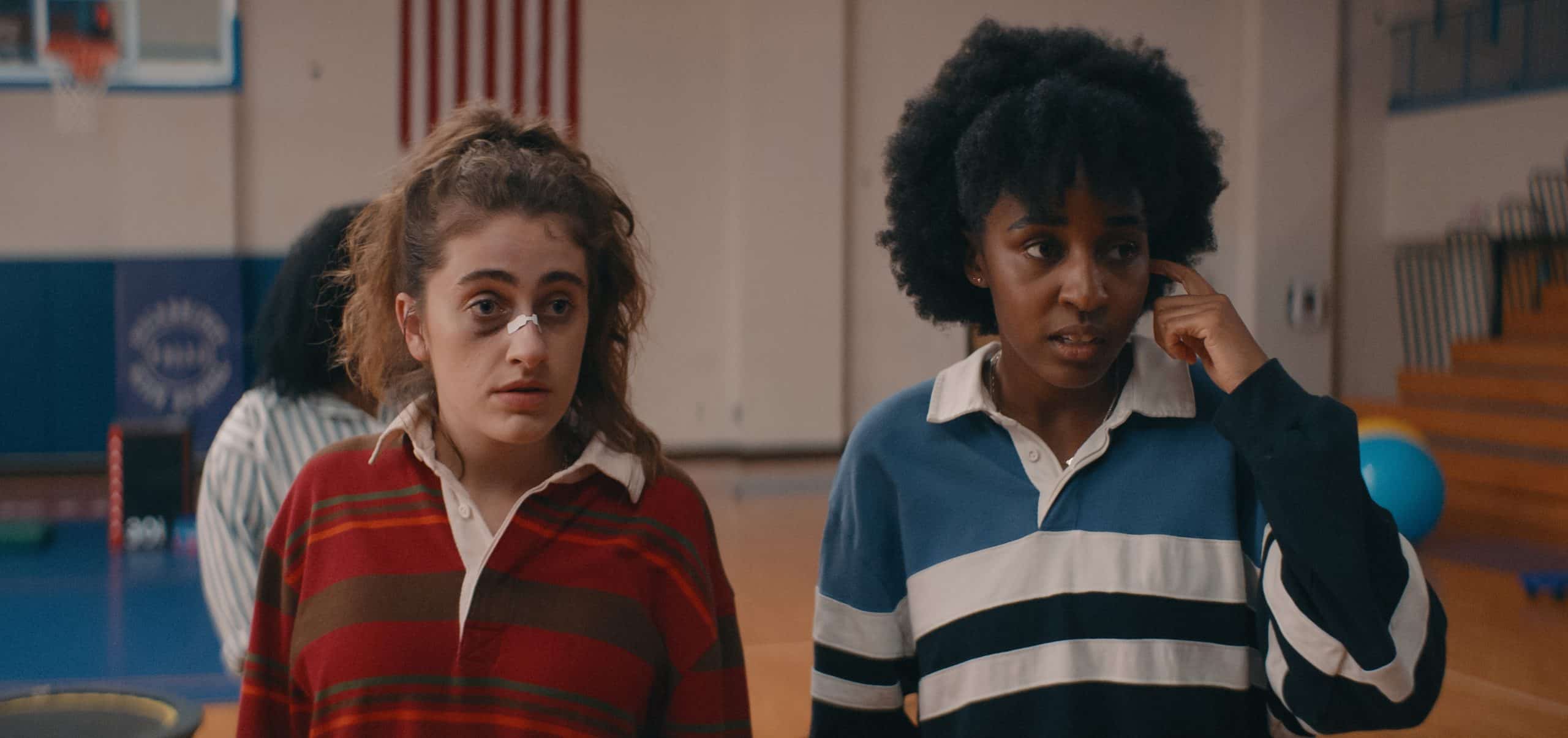 Bottoms (2023) – Movie Review and Summary (with Spoilers)
Overall
"Bottoms" further solidifies Rachel Sennott as a prominent princess of comedy and that her brand of obnoxious, self-absorbed not only has legs but can be refreshed from role to role.
Highlights
The Comedy
The Violence
Josie and PJ
The Strength Of Its Supporting Cast
Disputable
What Kind Of Strange Small Town?
---
Follow, Like, and Subscribe
Community Rating: 97% (2 votes)