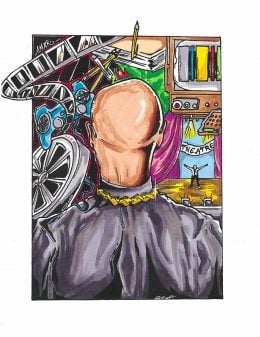 The Goal of Wherever I Look
The overall goal of this website is to fill in that space between the average fan and critic. To be that person who formerly, when you went to a theater's box office, or when you went to Blockbuster, could say this is good, this you'll like if you are into that, or simply don't waste your time. This is done by breaking down topics so that instead of a mountain of text, only broken up by quote blocks and pictures, things are fairly to the point.
Well, unless we're really passionate about it. Then never mind the fan or critic stuff. We're your friend trying to see if you see the same thing we do or not.
---
How Are Posts Written?
Overview
A one to two sentence summary either hinting at what happens or general feelings.
Trigger Warning(s)
For unexpected moments, such as perhaps a rape scene not implied by trailers or the tone of the show, that is noted.
Production Information
Information such as the director(s), writer(s), genre, release date, and actors are included for all new postings. Also, for series premieres, finales, movies, live performances, and books (if not chapter by chapter) we also note what reasons you may or may not like the production for whatever reason.
Play Through Time/ Total Time
To help inform those interested in playing or renting a video game, or seeing a live performance, the time length of the total experience is noted.
Summary
Within this section, which is broken down into three topics for television series, books reviewed by the chapter, and episodic video games, the notable storylines, and characters within them are noted.
Commentary is provided either under the summary or within the Highlights, Low Points/ Cricitsm, or On The Fence section.
Other Noteworthy Facts & Moments
If something was notable but just didn't fit into the recap/ review, be it the age of a character, further information about something said, it will be placed here.
Question(s) Left Unanswered
For some productions, there are topics left for future installments or for fans to debate amongst themselves. In this section, you'll find questions worth keeping in mind for future entries into the series, or for discussion in the comment section.
Miscellaneous Commentary
When something doesn't easily fit the context of the headings above or below, they are placed in this section.
Collected Quote(s) & .Gifs
If there is a line or moment that has just have to be captured, it is placed within this section and also placed in a monthly post which holds the collected quotes from the month.
Highlights
As the name implies, here there is a summary of the highlights. Be it certain storylines, an actor's performance, how excited the author is about the show's future, and etc.
Low Points or Criticism
Here you'll find some aspects of the production which would tempt you to not enjoy the production.
On The Fence
Here on Wherever I Look, there is a belief that there should be a gray area. Things that may depend on your taste, could have been done better, or weren't consistently good, they are noted within this section.
Overall
The "Overall" section is used to summarize the information above and justify the category given. There is more on my rating system below.
---
What's Your Rating System?
While we do us a percentage system, for SEO purposes, staying true to our original concept that numbers aren't the best method to rate a production, we still use the labels of Positive, Mixed, and Negative.
For each media type, there is a different explanation provided per the production being a movie, TV series, or many of the other creative outlets we cover. The general gist for them all are:
Positive rated media are productions which either met or surpassed expectations based on what was advertised.
Mixed labeled media has some flaws which could affect your opinion of the production, but can still be enjoyable.
Negative, which we try to use sparingly, is a label for productions which do have one or two bright spots. However, considering the cost or time involved for you to watch, it is difficult to say the few shining moments compensate for the total experience.
Community Ratings
For nearly all posts, there is an option for the community to decide if the movie, episode, show, etc should be rated positive, mixed, or negative. Due to a bayesian average being used, it takes multiple people rating something positive to rise above somewhere around 68%. So don't take that low number as something being considered bad.
---
Can People Send Stuff To Be Reviewed?
You can either contact us by email, a Facebook message, or Twitter. Please note, we currently are only able to consider movies, shorts, and web series.
---
Writing Style
Our writing style is in a conversational tone, as part of the goal of bridging the gap between the average fan and critic. Making it where you feel like you're talking to a friend who just spends too much of their time watching and reading stuff than some random name online.
---
How Are Spoilers Handled?
Spoilers are used for the sake of providing context to commentary than to compete with Wikipedia. So while some summaries or recaps go deeper than others, the goal is never to bring up every last detail. The idea is to present just enough to get a point across and advise you on whether the production may be of interest to you if not to start a conversation.
Ending Explained
This feature, which is usually the second page for movies and shorts, is only done if they are in wide release. If we received a screener or went to a screening, we hold off posting that portion until everyone has access out of respect for the creators.
---
Image Use
Images are used under the fair use doctrine in order to provide criticism, comment, and in terms of character guides, accessible research to help people new to a show catch up. If you would like your image removed, please contact us by email and link the specific image you wish to have removed.