Bodies, Bodies, Bodies (2022) – Review/ Summary (with Spoilers)
"Bodies, Bodies, Bodies" satirical take on Gen Z/late Millennials will leave you giggling and potentially forgiving its ending.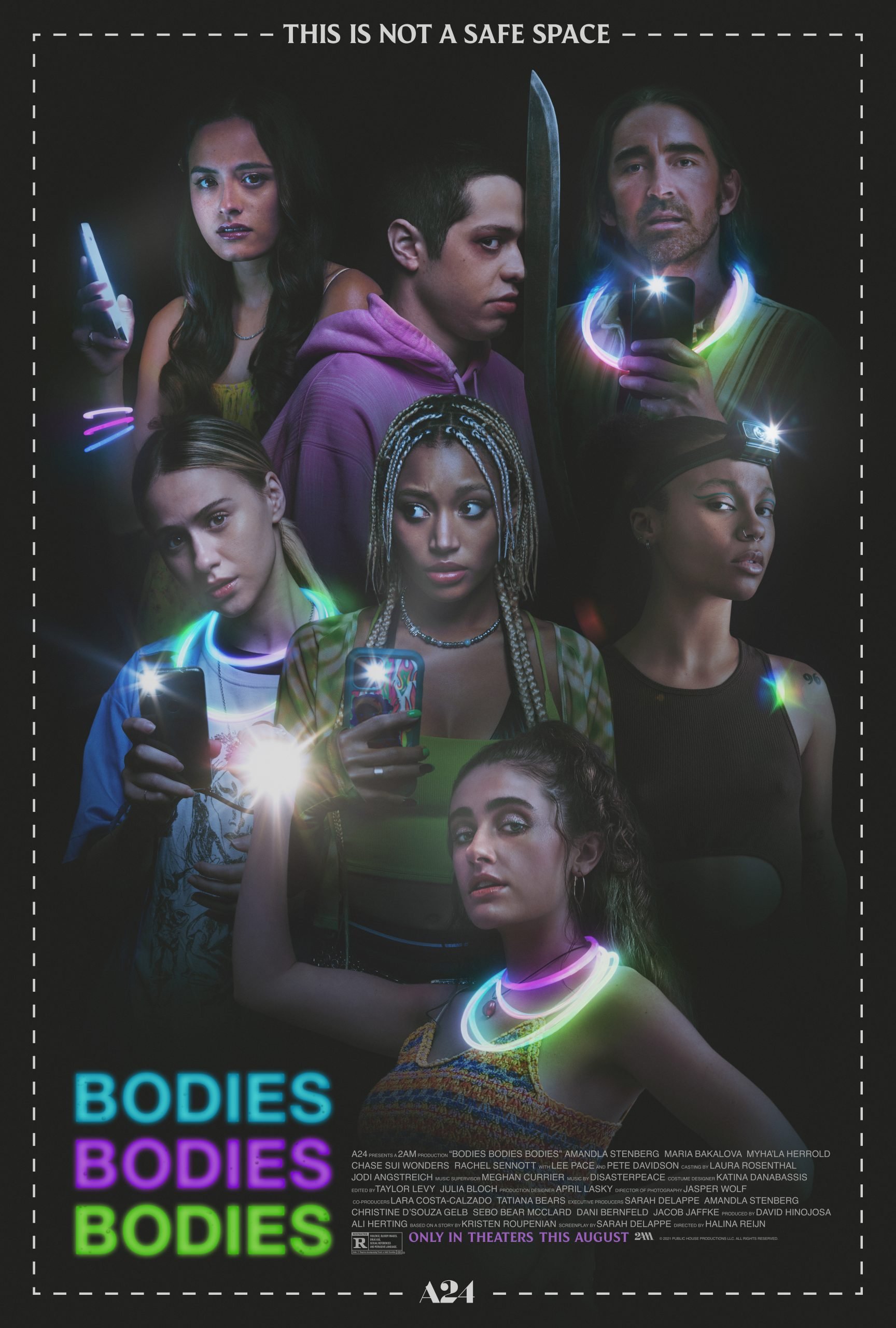 "Bodies, Bodies, Bodies" satirical take on Gen Z/late Millennials will leave you giggling and potentially forgiving its ending.
Director(s)
Halina Reijn
Screenplay By
Sarah DeLappe, Kristen Roupenian
Date Released (In Theaters – Limited Release)
8/5/2022
Genre(s) & Theme(s)
Action, Comedy, Crime, Drama, Horror, Mystery, Romance, Thriller, Young Adult, LGBT+
Duration
1 Hour 35 Minutes
Content Rating
Rated R
Noted Cast
Sophie
Amandla Stenberg
David
Pete Davidson
Alice
Rachel Sennott
Emma
Chase Sui Wonders
Greg
Lee Pace
Jordan
Myha'la Herrold
Max
Conner O'Malley
Bee
Maria Bakalova
This content contains pertinent spoilers.
Film Summary
After taking some time away from her friend group to go to rehab, Sophie returns unexpectedly when her friend group is having a hurricane party. Some are happier to see her than others. Her best friend since elementary school, David, is somewhat happy, and a friend she met later in life, Alice, is giddy she came. But, when it comes to Jordan? All Sophie gets is snide comments and a side-eye.
But, with many having their partners there, David having Emma, Alice having Greg, Jordan having Max, and Sophie bringing her new partner Bee, there is hope that whatever happened in the past can stay there and things can begin a new. Sadly, that isn't the case; between drinking, doing drugs, and playing games that include hitting each other and "Bodies, Bodies, Bodies," things go left.
However, it isn't until a dead body is discovered do things go off a cliff, and because of long-held resentment, suspicions, and newfound reasons to mistrust one another, fingers, knives, guns, and more are pointed at one another and used. Leaving you to wonder who is the murderer and who may survive the night?
Things To Note
Reason(s) for Film Rating: Cursing (Throughout), Violence (Gun violence, murder, blood, some gore), Sexual Content (Implied Sex – Genital rubbing), Miscellaneous (Drinking, smoking, drug use)
Character Descriptions
Please Note: This character guide is not an exhaustive list of every cast member, and character descriptions may contain what can be considered spoilers.
Sophie
Sophie has long been a wild child, and with her family being as rich, if not more, than David's? Her ability to go wild was unmatched and led to many hospital visits and people in the friend group becoming burned out because she would take it too far. However, after a coerced stint in rehab, it seems Sophie is trying to be a better person, and while her friends still like to party, which could be triggering, she wants to not only rejoin the group but show she is a new person.
David
Like Sophie and everyone else, David grew up rich, but unlike Sophie, he hasn't burned bridges with his dad; hence, he can host a hurricane party with drugs, a pool, a huge house, and a lot of liquor. All of which, some could submit, helps him compensate for who he wants to be but isn't.
Alice
Known for being silly and enjoying making Tik Toks and her podcast, Alice is perhaps the friendliest in the group. Now, she can also be considered the most naïve, to put it nicely, but that is part of her appeal to some.
Emma
Emma is an actress who has been dating David for years, even though he can be quite cruel to her.
Greg
Greg is someone Alice brought to the party who she has only known for weeks but considers enough of a boyfriend to have him meet everyone.
Jordan
Jordan is the poorest of the group, though poor for them is her being upper middle class with parents who are public university professors. But, it isn't Jordan's socio-economic status she is known for, but more so that she is very anal, the first to say something mean, and more often than not, someone you'd call an ass****.
Max
Max is Jordan's boyfriend who, with the way people talk, may not like her but, like many in the friend group, is with her just to be with someone.
Bee
Bee is Sophie's foreign partner, who is a bit odd, has a weird relationship with her mother, and is still adjusting to how intense Sophie can be.
Review
---
Community Rating:
---
Our Rating: Mixed (Divisive)
Highlights
How The Mystery Intertwines With Everyone's Complicated Relationship
With most of the characters being friends for years, maybe even decades, there is a level of history not often used in whodunit horror films like this. There are many strained relationships, with many, as Alice notes about her relationship with Jordan, only continuing to exist due to established longevity. So as we learn more about each character and their relationships, it makes every time a body pops up feel like someone either snapped or took the opportunity to get rid of someone they wanted out of the friend group, and their lives, for a long time.
But, there are also those who are a bit of a wild card. Bee, who assumingly doesn't know anyone but Sophie, could be a psychopath who likes killing rich kids. Sophie, who got snitched on by her friends, thus leading to her getting cut off, could have escaped the rehab facility she was in and wanted revenge? Emma, who has been mistreated by David for years, maybe had enough, and with the complicated feelings she has towards him and other members of the group, she could be the killer.
Because of what we learn about each person or don't know about Greg, Bee, and Max, you can easily foresee a motive and start placing bets on who is the one who did all of this.
The Satire
"Bodies, Bodies, Bodies" pokes fun at the rich and the culture being crafted, which calls for people to be more sensitive despite how they feel. This can be seen in David's rant about how gaslighting and toxic are catch-all phrases people don't know the meaning of. We can see Alice, when Bee is opening up about her personal life, not reading the room well, and bringing up she has body dysmorphia, and then there is just poking fun at how people like Alice and the others would operate in horror movies.
In the trailer, you likely saw some of the moments, like Alice not liking how Jordan is handling a knife like she is going to do something with it. But believe me when I say, while the characters are scared, and you're treated to the occasional jump scare, this horror movie leans more towards being a comedy and more dying from stupidity than malice.
On The Fence
The Ending
"Bodies, Bodies, Bodies" has the kind of reveal which is in line with the comedy element, but in terms of presenting a valuable payoff for the mystery? You may not appreciate the reveal of who made the first kill. I don't think it'll ruin the movie for you, but considering all the build-up and finger-pointing, the truth can be disappointing.
[ninja_tables id="46802″]
Ending Explained
Everything goes south once David accidentally kills himself with his father's sword. No one knows he did this until the end, and because of that, fingers are pointed. Greg is the original person who is assumed to have killed David since he can't be found after it happened. So when the girls find him, they confront him, and because he starts scaring them, Bee kills him to protect Sophie.
But, once again, because of the girls acting rash, there is the question of whether Greg killed David. For originally, everyone thought when Alice said Greg was a vet, they thought veteran, as in soldier. Alice later clarifies that "Vet" for her meant veterinarian. So, with things being back to where they were, Jordan getting a knife and acting sus raises red flags. Bee being a stranger to everyone is an issue, and the mistrust that has long existed begins to bubble up.
What doesn't help is Sophie relapsing and running into Emma, who kisses her, to Sophie's shock, and Sophie giving her a bunch of pills. Pills that the fragile Emma may have chosen to overdose on, thus causing her death, if not her just being clumsy and falling down a bunch of stairs. Now, Emma dying makes it seem Jordan could have killed her since Jordan's boyfriend, Max, recently confessed to liking Emma. So there is a motive. Thus leading to more fights and Bee getting kicked out of the house.
That sets up Alice dying when Bee makes it back inside and reveals she saw Jordan with a gun, and while Jordan initially denies it, with learning she lied about being the killer when they were playing "Bodies, Bodies, Bodies," once again, distrust causes drama. This leads to a tussle, in which Jordan gets the gun and shoots Alice – by accident. Murdering someone makes Jordan crack, and because of her complicated relationship with Sophie, Sophie tries to use that to disarm Jordan. That doesn't happen since Jordan is in denial of killing Alice and wants to push Bee to check Sophie's phone because she claims the two hooked up. Sophie denies this but don't see Bee as innocent.
Bee is the reason Greg died, and when Sophie and Jordan were going up the stairs, and Sophie's life was in danger, Bee ends up killing Jordan by pushing her off the banister. But on top of that, Bee reveals that she has been lying to Sophie for a while. She doesn't have a job at the mall, only went to the university she claims she did for a month, and reveals her mother is mentally ill, hence the constant calls.
All of this makes it so that when Sophie and Bee are the only ones left, you don't know if they may or may not kill each other. However, between unlocking David's phone and learning he killed himself and Max showing up, Bee never minds Jordan saying Sophie cheated on her as now the focus is on all the dead bodies in the house, and trying to explain all this to Max since clearly, they can't blame the hurricane.
Killer Rundown
David killed himself
Bee killed Greg
Emma died either due to an overdose or falling down the stairs
Alice died after being shot multiple times by Jordan
Jordan died after Bee pushed her off a banister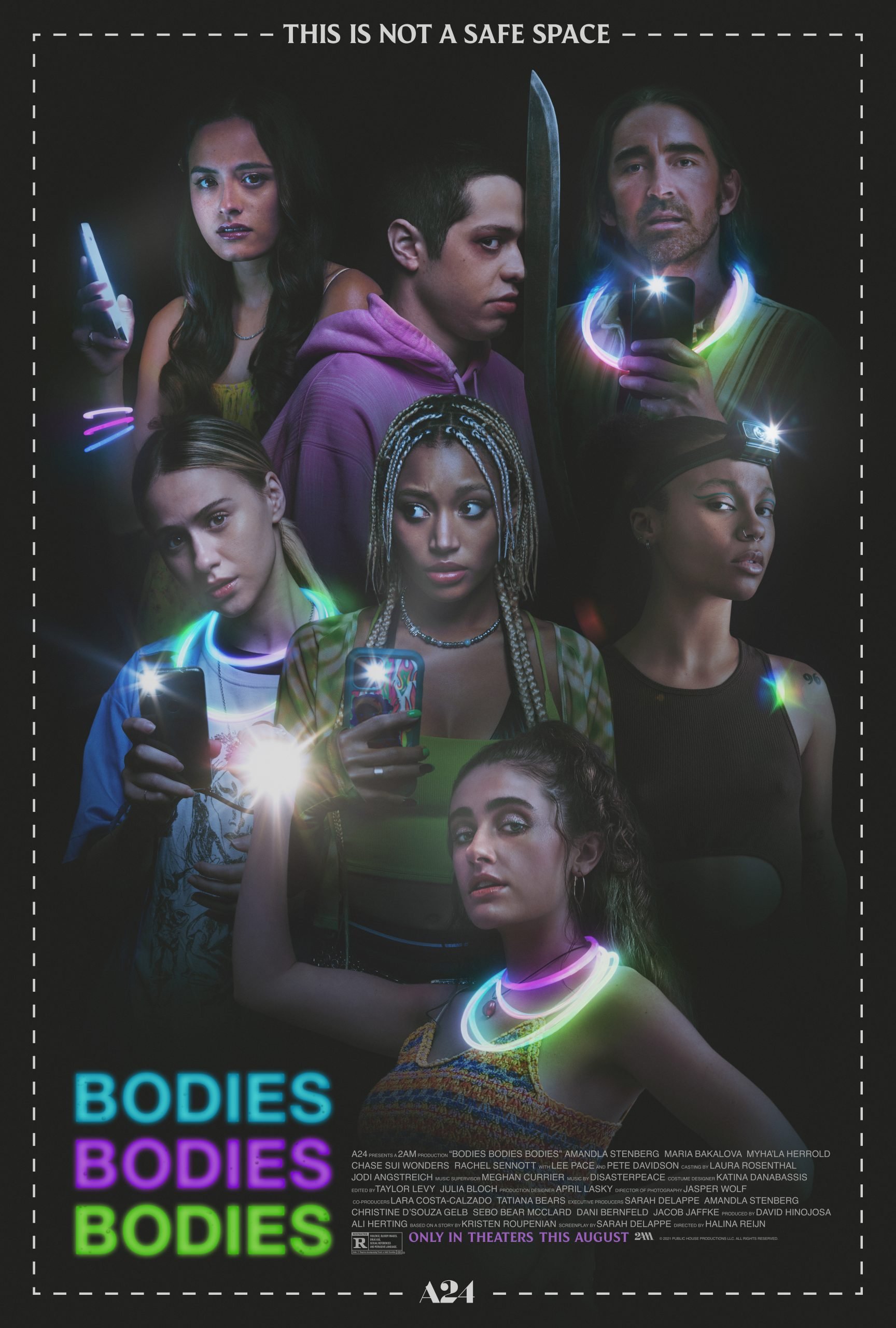 Bodies, Bodies, Bodies (2022) – Review/ Summary (with Spoilers)
Overall
"Bodies, Bodies, Bodies" may not be something to venture to see while it is in limited release, but if you have a rewards card, like AMC A-List, or are willing to wait until it is on Amazon, HBO Max, or another platform, it is definitely something to have on your watch list.
Highlights
The Satire
How The Mystery Intertwines With Everyone's Complicated Relationship
---
Follow, Like, and Subscribe
Community Rating: 0.00% (0) - No Community Ratings Submitted (Add Yours Below)