Love At First Sight (2023) – Review and Summary
A girl who doesn't plan as well as she should meets a boy who leaves very little to chance, and rather than this leading to them balancing each other out, it sets up a meet-cute story that will certainly make you a fan of Haley Lu Richardson.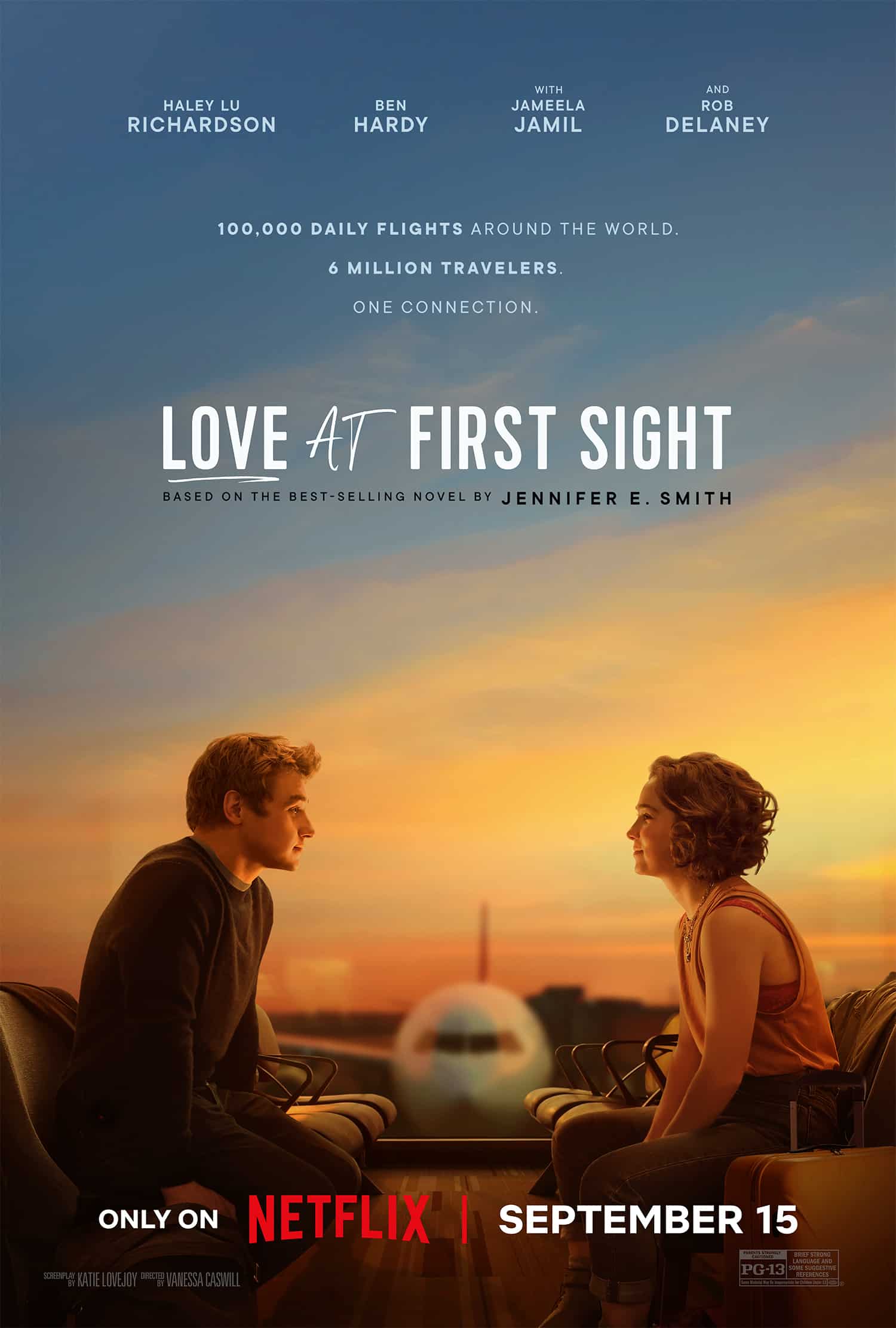 General Information
Director(s)
Vanessa Caswill
Screenplay By
Katie Lovejoy
Based On "The Statistical Probability of Love at First Sight"
Jennifer E. Smith
Date Released (Netflix)
September 15, 2023
Genre(s)
Comedy, Romance, Young Adult
Film Length
1 Hour 31 Minutes
Content Rating
Rated PG-13
Noted Characters and Cast
Hadley
Haley Lu Richardson
Oliver
Ben Hardy
The Narrator
Jameela Jamil
Tessa
Sally Phillips
Val
Dexter Fletcher
Andrew
Rob Delaney
Content Rating Explanation
"Love At First Sight" contains:
Film Summary
This content contains pertinent spoilers. Also, images and text in this post may contain affiliate links. If a purchase is made from those sites, we may earn money or products from the company.
On the eve of her father getting married, Hadley misses the plane that would have gotten her to London on time. Luckily for her, another plane leaves in an hour and a half, and a nice boy named Oliver is found while she waits. The two hit it off, bond, and match wits, and while they seem like opposites in many ways, you can tell that something could blossom by how they look at each other.
However, while shown the potential of what could be, both are tested to see if they really want this. For as much as fate may assist them, both have to get out of their own way if they want to be with the person who could be the love of their life.
Character Descriptions
Please Note: This character guide is not an exhaustive list of every cast member, and character descriptions may contain what can be considered spoilers.
Hadley
20-year-old Hadley is a bit aimless. She is in college but undeclared. The majority of the time, she is late, but despite having many qualities that may make her seem unprepared for life, that isn't the case. She can match wits with the best of them and is simply a young adult thrust quickly into adulthood without all the answers people expect to have.
Oliver
Oliver, a Yale University student studying statistics, heavily relies on numbers to make sense of the world. For, after a certain point, the randomness and chaos of what the world had to offer frightened Oliver, and probability brings him peace and makes the world more predictable.
The Narrator
Like a Santa Claus-type character in a Christmas movie, the narrator redirects the leads whenever they stray too far or need a little extra reassurance to keep on the path they are going.
Tessa
Tessa is Oliver's mom, who has an end-stage lung cancer diagnosis.
Val
Val is Tessa's husband and the father of her two sons, which includes Oliver.
Andrew
Andrew is Hadley's father who, after moving to London for work, divorced her mother and has now invited her to London to be at his second wedding.
Collected Quote(s)
Fate can only be fate if we decide we want it to be.
— Narrator
I do hate it when people say nice things about me behind my back. I think it's a…. it's a tragic waste.
— Tess
Review
---
Community Rating:
---
Our Rating: Positive (Worth Seeing) – Recommended
Notable Performances or Moments
The Core Romance
In many ways, I want to give Haley Lu Richardson the bulk of the praise, but I'm biased. For it is the way she looks at Ben Hardy, the lines given to her which both has her challenge him yet also give him the space to be vulnerable as Oliver, it just does something for you. And mind you, I would say Richardson carries a certain quality from role to role that feels very familiar, but it isn't like a comedian with a shtick, Viola Davis with her snotty crying moments, or a signature like Will Smith's ears. Rather, it's just an ability to bring to the screen the essence of a person who is either open or seeking connection.
Thus making it so, the build-up to the first kiss, the back and forth between one trying to find the other, sometimes thinking they are doing too much or being foolish, it reminds you of how crazy and illogical love is. Add in Oliver living in a world of statistics to keep from getting hurt or surprised by what the world can throw out at him, and it makes the openness to life's possibilities that Richardson brings to Hadley, what makes you swoon when her character helps Oliver think more with feelings than probability statistics.
Highlights
The Healing Of A Father/ Daughter Relationship
It isn't just Richardson's romantic relationship with Hardy that is notable, but also Hadley's relationship with Rob Delaney's character, Andrew. Now, could you submit they let him off lightly regarding the downfall of his marriage and absence in his daughter's life? Yes. But, at 20 years old, it seems Hadley is pushed to be adult enough to understand her dad is more than her father, but also a whole person, yet still one of the first men she ever loved.
Thankfully, this isn't made into something dramatic but genuine. There is less hurt regarding how Hadley feels towards Andrew but more so disappointment. You could even say there is some desire to hate her dad for ending what was comfortable and joyous for her, yet at the same time, she wants to see him happy. Never mind, she wants to be part of or one of the reasons he is happy.
Which makes it so, when Oliver does the obligatory romance movie nonsense of blowing up a good thing, you get Hadley and Andrew healing their relationship to more than compensate.
Oliver's Family
With "Love At First Sight" touted as a romance movie, it would be fair to feel surprised that embedded in it is a sad story. Tess, Oliver's mother, is dying, and in the film, she presents her end will be as eccentric as all her life was, with a Shakesphere-themed "Going away party." It is in hearing how she found love at first sight with Val, seeing their dynamic, and watching them have a moment with Hadley where they show they think similarly, it not only builds upon what Hadley and Oliver are working on, but helps you understand Olvier's fear of surprises.
Yes, he grew up with an eclectic family, that includes his little brother. However, there is a certain predictability to their chaos compared to the chaos that comes with death. Hence, Oliver has a ready stat to normalize a situation or feeling whenever possible, for it is better to have something be explainable with numbers than unexplainable and having to be talked about to understand it.
Who Is This For?
Those who love a good meet-cute story.
Recommendations
If you like this movie, we recommend:
Check out our movies page for our latest movie reviews and recommendations.
---
Follow, Like, and Subscribe
Community Rating: 0.00% (0) - No Community Ratings Submitted (Add Yours Below)
Love At First Sight (2023) – Overview
Summary
An undeniable Haley Lu Richardson paired with the type of writing that recognizes it is just as much about the build as it is the first kiss, makes "Love At First Sight" a must-see.
The Core Romance -

88%

The Healing Of A Father/ Daughter Relationship -

84%

Oliver's Family -

82%
Highlight(s)
Oliver's Family
The Healing Of A Father/ Daughter Relationship
The Core Romance