A Haunting In Venice (2023) – Review
In "A Haunting In Venice," Hercule Poirot returns and makes it clear that, while the third movie starring the character, there is the potential for a James Bond-level number of movies starring lead and director Kenneth Branagh.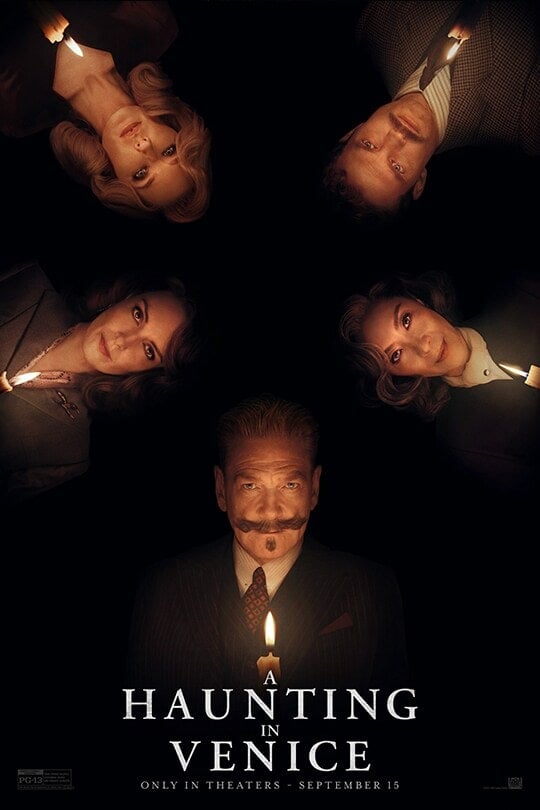 General Information
Director(s)
Kenneth Branagh
Screenplay By
Michael Green
Based On "Hallowe'en Party" By
Agatha Christie
Date Released (In Theaters)
September 15, 2023
Genre(s)
Crime, Drama, Horror, Mystery
Film Length
1 Hour 43 Minutes
Content Rating
Rated PG-13
Noted Characters and Cast
Hercule Poirot
Kenneth Branagh
Ariadne Oliver
Tina Fey
Rowena Drake
Kelly Reilly
Mrs. Reynolds
Michelle Yeoh
Vitale
Riccardo Scamarcio
Desdemona
Emma Laird
Nicholas
Ali Khan
Alicia Drake
Rowan Robinson
Dr. Ferrier
Jamie Dornan
Leopold
Jude Hill
Content Rating Explanation
"A Haunting In Venice" contains:
Film Summary
This content contains pertinent spoilers. Also, images and text in this post may contain affiliate links. If a purchase is made from those sites, we may earn money or products from the company.
Hercule Poirot, by 1947, is retired. He has found the doom and gloom of being involved in elaborate murder plots exhausting and now wishes to spend the rest of his days in Venice, Italy, drinking and keeping his mind off the motive and madness of mankind. However, then walks in Ariadne Oliver, who seemingly has made a name for herself off of Hercule's past work, and she tempts him with the situation happening in Rowena Drake's house in which a medium named Mrs. Reynolds is supposed to hold a séance. There, the hope is to learn if Ms. Drake's dearly departed daughter, Alicia, might be in peace.
However, with the push she may not have died by suicide, but murder, and then a string of murders following that reveal, Hercule finds himself dragged back into his old profession, despite the desire to put such matters behind him.
Character Descriptions
Please Note: This character guide is not an exhaustive list of every cast member, and character descriptions may contain what can be considered spoilers.
Hercule Poirot
With a long career in solving mysteries potentially no one else could solve, Hercule has retired. This doesn't mean many don't still request his services, but he routinely shuts them down or has his bodyguard Vitale handle them in whatever way he sees fit.
Ariadne Oliver
A top-selling mystery book writer, over 27 of Ms. Oliver's books have been best sellers, but, unfortunately, the last three have been critical and commercial failures. So, she finds herself visiting an old friend and seeking inspiration to get back to where she once was.
Rowena Drake
A famous singer who has now become a recluse after the death of her daughter, Rowena, might be in constant mourning, but it seems she is slowly but surely coming out of her shell once more.
Mrs. Reynolds
One of the last people to be tried as a witch, Mrs. Reynolds' claims and fame regarding being a medium are based on her previous conviction, but there are skeptics when it comes to her kind.
Vitale
A cop turned bodyguard, Vitale focuses on keeping everyone desperate for Hercule's time away.
Desdemona
One of Mrs. Reynolds' assistants who, like her brother Nicholas, has a desire to go to America after watching "Meet Me In St. Louis."
Nicholas
Mrs. Reynolds' other assistant, Nicholas, like with his sister Desdemona, wishes to find and build a new home in America after losing everything in Hungary and making ends meet by any means for years.
Alicia Drake
Alicia is Rowena's daughter who, after a failed engagement, is said to have become terribly depressed, mad, and eventually suicidal.
Dr. Ferrier
After the war, Dr. Ferrier found it immensely difficult to obtain work as his mental state has dramatically declined. However, with a son to take care of, it made Rowena paying for his services a blessing.
Leopold
Leopold is Dr. Ferrier's son, who, due to his father's illness, is more mature than one may expect. He even cares for his father when Dr. Ferrier becomes overwhelmed, manic, or in the type of place or mood where he cannot mask his struggles.
Review
---
Community Rating:
---
Our Rating: Positive (Worth Seeing) – Recommended
Notable Performances or Moments
Investment In Nearly Every Character
In some ways, you could say Hercule is a Trojan Horse type of lead for he is the most tame of all the characters yet isn't boring. With that said, from his friend Ariadne who has seen better times in her career, Hercule's bodyguard Vitale, the siblings Desdemona and Nicholas, Mrs. Reynolds, of course, and more, everyone has a hook of some kind. Even Alicia Drake, who is dead and seen mainly in flashbacks and jump-scare moments, leaves enough of a mark to make us feel compelled to note her existence.
Now, how is this done? By giving more than enough backstory for everyone to make them feel human and also equal. This is Hercule's third or fourth movie at this point, so there is no need to bring up his life, you should have gotten that in the past films. Instead, there is a focus on establishing relationships, backgrounds, what makes someone miserable, what is their motive in life, and even what they are ashamed of or regret.
Nearly everyone has a sense that they can easily leap into the position of being a lead character, and because of that, you are torn about who you should point the finger at as new information comes about.
A Wonderful Mystery
While watching "A Haunting In Venice," you are reminded why, despite nearly 50 years since her passing, Agatha Christie remains a notable literary figure whose name and brand are bigger than her individual works. It is due to the consistent quality of the stories. Many of which may not be enjoyed when thrust upon you in primary school, but as an adult, a who did it story can easily amuse as it tests your ability to read people.
"A Haunting In Venice" does just that for while it does use the usual method of pointing you in the direction of everyone but the mastermind, as noted above, you get so engrossed by each and every character that even the most potentially wicked, Desdemona, you want to take the side of and justify their actions, while damning them at the same time.
The combination of an intriguing story with characters who are well-developed make the mystery a challenge, and as twists and new information is given, you find yourself not only questioning those on screen but yourself. What are your biases and blind spots, and if in the position of Hercule or even Ariadne, could you solve or write such a compelling mystery?
Highlights
Relationship Between Dr. Ferrier and Leopold
With Dr. Ferrier being a veteran with notable PTSD, his son Leopold steps up and sometimes finds himself having to take care of his father. For most of the film, characters excel as individuals, not so much as partners, whether sibling, potentially romantic, or friends. However, the relationship between Leopold and Dr. Ferrier stands out for while they operate well as individuals, they can also lean on each other in such a way that pushes the desire to see these actors work together again and expand on what was delivered.
Who Is This For?
Those who love a good mystery where both story and characters are well developed and push your own detective skills.
Recommendations
If you like this movie, we recommend:
Check out our movies page for our latest movie reviews and recommendations.
---
Follow, Like, and Subscribe
Community Rating: 0.00% (0) - No Community Ratings Submitted (Add Yours Below)
A Haunting In Venice (2023) – Overview
Summary
Honestly, I feel like I've done myself a disservice by not seeing the two movies featuring Hercule which came before this for, unlike "Knives Out," there is no fat or actors cast just for name recognition here, this is a quality mystery, albeit an adaptation, that truly engages an audience beyond how clever its lead detective is.
Investment In Nearly Every Character -

86%

A Wonderful Mystery -

87%

Relationship Between Dr. Ferrier and Leopold -

84%
Highlight(s)
A Wonderful Mystery
Relationship Between Dr. Ferrier and Leopold
Investment In Nearly Every Character