Information about Showtime's "Yellowjackets," including the latest information about its characters, organizations, locations, and more.
Please Note: This content contains pertinent spoilers, descriptions are updated as new information is presented, images changed as better ones are captured, and this is not an exhaustive list of every cast member, guest star, or reoccurring role.
General Information
| | |
| --- | --- |
| Network(s) | Showtime |
| Created or Developed By | Ashley Lyle, Bart Nickerson |
| First Aired | 11/14/2021 |
Season 1 Overview
In 1996, a soccer team from New Jersey was heading to Seattle for a national championship, and their plane crashed. It took more than a year to be rescued, and sacrifices were made – the kind that has irrevocably changed each young lady and haunt the women they are in 2021.
Groups & Organizations
Yellowjackets (1.1): The school's mascot and the names its teams go by
Notable Locations & Items
Wiskayok, NJ (1.1): Where the soccer team is from
Other Noteworthy Information
19 Months (1.1): How long the girls were stuck in the wilderness.

The Plane Crash (1.1): It happened on November 10th

Graduating Class (1.10): 1996
Yellowjackets Directory
| | |
| --- | --- |
| Character Guide | Created |
| Collected Quotes | Not Created |
| Season Reviews | Not Created |
Jackie (Ella Purnell)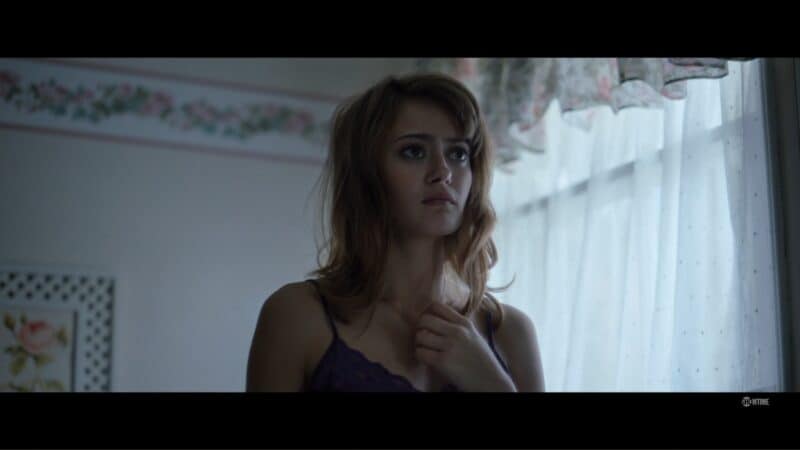 Despite not being the best player on the team, Jackie's influence over the girls got her assigned as the captain of the soccer team, and it was going to be her ticket to going to Rutgers and living the good life.
End of Season 1
Stubborn to her final breath, Jackie lives her life wanting to be the queen of whatever situation she was in, and when everyone turned on her, she seemingly was willing to die rather than adapt to her newfound circumstances.
Additional Information
Quotes & Gifs
Shauna Shipman 1996 (Sophie Nélisse) & Shauna Shipman 2021 (Melanie Lynskey)
Shauna was Jackie's best friend in 1996, and while she was sleeping with Jackie's off-and-on boyfriend, planning to go to Brown and leave Jackie behind, it seems she did that in a way she didn't have planned. But, in 2021, it seems life calmed down immensely. She is a housewife raising a daughter, keeping her home clean, and killing rabbits who mess with her garden. Though, like everyone else on that flight, she has her secrets she holds close to the chest.
End of Season 1
With breaking free from Jackie's shadow, '96 Shauna now has a slew of new friends, with Taissa becoming her new best friend. As for '21 Shauna? With new secrets shared between her and her husband, their marriage is better than ever and, you might say she is happier than she has ever been.
Additional Information
Quotes & Gifs
Jeff (Jack DePew & Warren Kole)
Jeff was Jackie's off-and-on boyfriend since freshman year, who, eventually, ended up messing around with Shauna and even seemed to marry her after she was rescued, and they also had a kid!
End of Season 1
While barely dodging the violence a loan shark could have brought to his personal life, Jeff is in a good place. Despite his furniture store still needing to adapt to an online world, it has survived, and though Shauna thought he was cheating on her, he proved he isn't. In fact, he loves her so much he would go to jail for her and put Jackie's parents in their place to remind them how awesome his wife is.
Additional Information
Introduced In Season 1/ Episode 1 "Pilot"
Favorite Movie (1.6): As a kid, he loved Ace Ventura
Anniversary (1.8): His wedding anniversary is in January or February
Quotes & Gifs
Toddler Taissa (Bailey Burr), Taissa Turner 1996 (Jasmin Savoy Brown) & Taissa Turner 2021 (Tawny Cypress)
In 2021, Taissa Turner is considered to be the queer Kamala Harris, and with her run for the New Jersey State Senate, specifically the 31st district, she is perhaps the most high profile of any of the survivors of the 96′ plane crash. But, with her getting into the dirty game that is politics, you could consider her the reason the story she shares with the other ladies is gaining attention.
End of Season 1
In '96, she and Van are out and she is starting to come to terms that maybe Charlotte's visions are real. As for her '21 counterpart? Alongside winning a State Senate seat, it is revealed she is heavily into the occult. Including making sacrifices to the symbol not spoken of much in season 1.
Additional Information
Introduced In Season 1/ Episode 1 "Pilot"
Bi-Racial (1.1): Her mom is Black, and her father is white
Education (1.8): She went to Howard University (Pre-Law), with a double major in History and Philosophy, and then got her law degree at Columbia.
Sleepwalking (1.8): Taissa claims the only time she has slept walk was out in the wilderness and during her political campaign – and she says it is due to stress.
Election Results (1.10): She wins and is the first Black woman elected to the State Senate!
Quotes & Gifs
Allie – 1996 (Pearl Amanda Dickson) & Allie – 2021 (Tonya Cornelisse)
Allie is one of the newer members of the team and one of the least focused. But with her being a freshman worried about missing out on high school experiences, she catches the ire of Taissa, who decides to nip the team's problem in the bud.
End of Season 1
With no hard feelings, she embraces her former teammates at their high school reunion, and we learn she was even a big part of the planning committe.
Additional Information
Quotes & Gifs
Vanessa "Van" Palmer (Liv Hewson) & 2021 Val (Lauren Ambrose)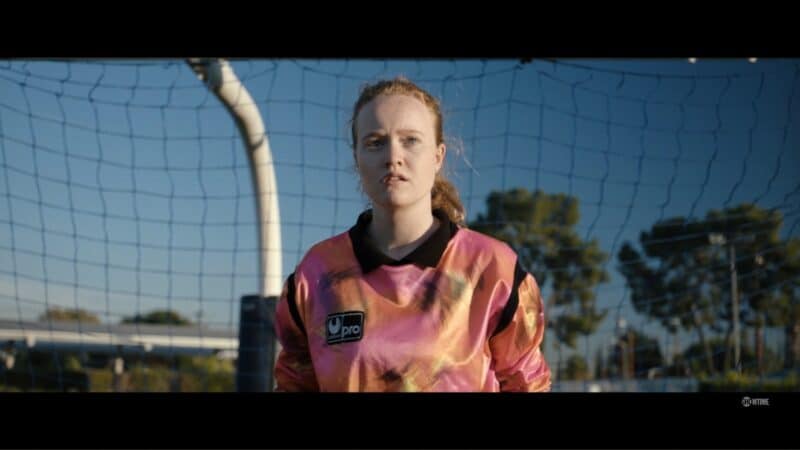 In the first episode, we don't learn much about Van beyond her being the team's goalie and her mom being an alcoholic.
End of Season 1
After seeing Charlotte's visions come true, multiple times, she becomes one of Charlotte's first real followers, and even convinces Taissa to give Charlotte a chance.
Additional Information
Quotes & Gifs
Natalie 1996 (Sophie Thatcher) & Natalie 2021 (Juliette Lewis)
Back in 96′, Natalie was just a jock who listened to 90s rock music, colored her hair, and hanged out with two boys who were also outcasts. However, in 2021, Natalie is in and out of rehab due to her issues with drugs, alcohol, and using sex to mask the pain of what happened after the plane crash.
End of Season 1
In '96, things end with Travis and Natalie back in a good place, and Travis even noting he loves her. As for her '21 counterpart? Well, right before she attempts to kill herself, she gets kidnapped by Charlotte's minions for reasons not revealed.
Additional Information
Quotes & Gifs
Jessica Roberts (Rekha Sharma)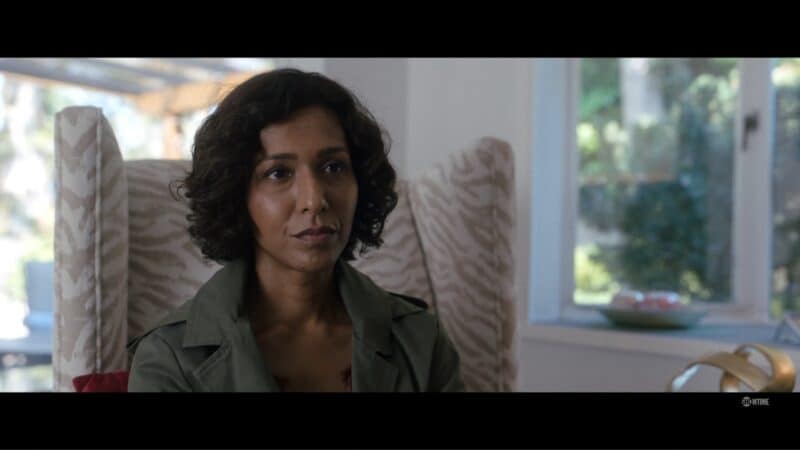 Based on her introduction, Jessica is a Star-Ledger reporter who is trying to break the story of what happened to the Wiskayok Yellow Jacket girls soccer team in 1996. In order to do so, she meets with Shauna and tries to convince her by presenting that there is a 7 figure book deal if the story gets told.
End of Season 1
While she bonds with Misty, even convinces Misty to perhaps tell her story, being that Misty kidnapped her and put her in her basement for so long, she gets killed. How? Well, by Misty putting fentanyl in her cigarettes.
Additional Information
Introduced In Season 1/ Episode 1 "Pilot"
Occupation (1.10): While mainly portrayed as a journalist, researcher, or investigator, she notes she is actually a fixer who has done things she isn't proud of.
Quotes & Gifs
Misty 1996 (Samantha Hanratty) & Misty 2021 (Christina Ricci)
In 1996, Misty just helped the coach hand things out and was an unofficial cheerleader for the team, but in 2021 Misty is a nurse who is just trying to help her patients.
End of Season 1
In 96′ Misty is still dealing with everyone not trusting her due to poisoning them all with psychedelic mushrooms. But, at the every least, Charlotte trusts her enough to be one of her first two disciples. As for her '21 counterpart? By helping Shauna handle her problems with Adam, and proving, which psychopathic, she is a good resource to have on speed dial, Misty may have finally secured friendships with Natalie, Shauna, and Taissa as she has long wanted.
Additional Information
Quotes & Gifs
1996 Charlotte "Lottie" Matthews (Courtney Eaton) and 2021 Lottie (Simone Kesse)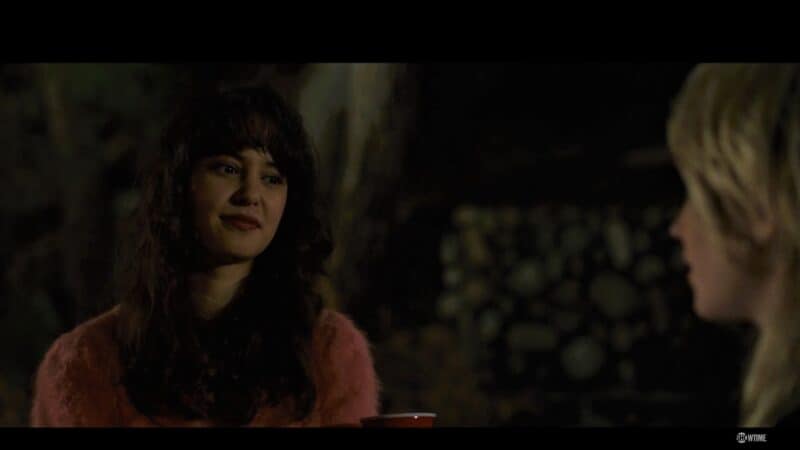 Charlotte's family has the most money out of all the girls, but like many, her family has issues. Her dad, who got the girls the plane that crashed, is largely absent from Charlotte's life, and she seems to mainly be raised by a maid. One who makes sure she takes her Loxipene, which is an antipsychotic.
End of Season 1
Charlotte, now free from the medication she was forced on for most of her life, and with Laura Lee's encouragement, has begun to embrace her visions and so have the others. After all, they more often than not come true, and have even saved them from starvation. This is why, in 2021, it seems she has a whole cult doing her bidding.
Additional Information
Introduced In Season 1/ Episode 1 "Pilot"
Visions (1.6): When Charlotte was a child, she had visions, of which one saved her family from being in a car accident. But, while her mother was amazed, her father thought something was wrong, sent her to a psychologist, and she has been medicated ever since.
Quotes & Gifs
Laura Lee (Jane Widdop)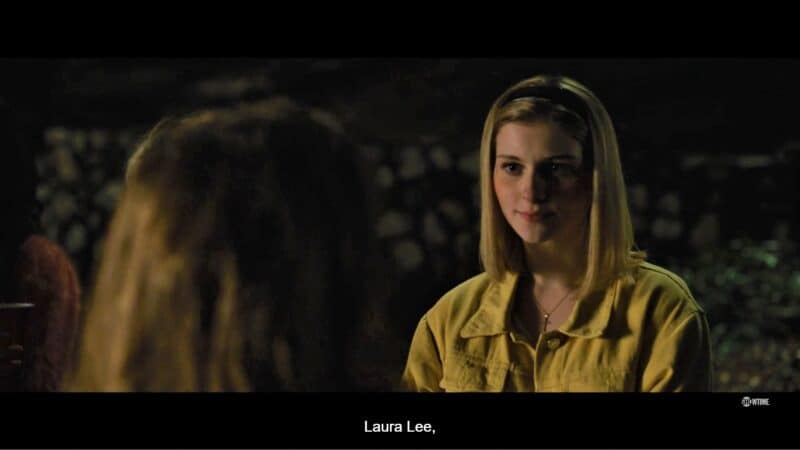 Laura Lee is top-level religious. Her faith is part of her being and one of the top things anyone would associate with her name.
End of Season 1
In an attempt to get help, Laura Lee takes the abandoned plane the former cottage owner had and tries to get help. Unfortunately, in the process, she ends up another person who dies in a accident.
Additional Information
Quotes & Gifs
Kevyn 2021 (Alex Wyndham), Kevyn 1996 (Charlie Wright), Tween Kevin (Sean Martin Savoy)
In the past, Kevyn was one of the alternative kids that Natalie hung out with but, in 2021, he is a cop.
End of Season 1
After attempting to date Natalie, and give her grace considering her trauma, it is decided they perhaps would be better off as friends. Especially after her taking his gun, using it, and lying to him about why.
Additional Information
Quotes & Gifs
Travis 1996 (Kevin Alves) & Travis 2021 (Andrews Soto)
The often broody Travis is Coach Martinez's oldest son and is one of Natalie's exes.
End of Season 1
In '96, Travis has seemingly lost his brother, lost his virginity to Jackie, but also found his first love in Natalie. As for his '21 counterpart? Well, for reasons still unknown, it seems Charlotte had him killed.
Additional Information
Introduced In Season 1/ Episode 2 "F Sharp"
Nickname Origin (1.4): Has the nickname flex which stems from a scar, after getting a spinal fusion surgery in 7th grade, that led to his peers thinking he got a rib taken out to be more flexible – so he could suck his own penis.
Insecurity (1.6): Travis is a virgin and it made him insecure about his relationship with Natalie.
Quotes & Gifs
Simone (Rukiya Bernard)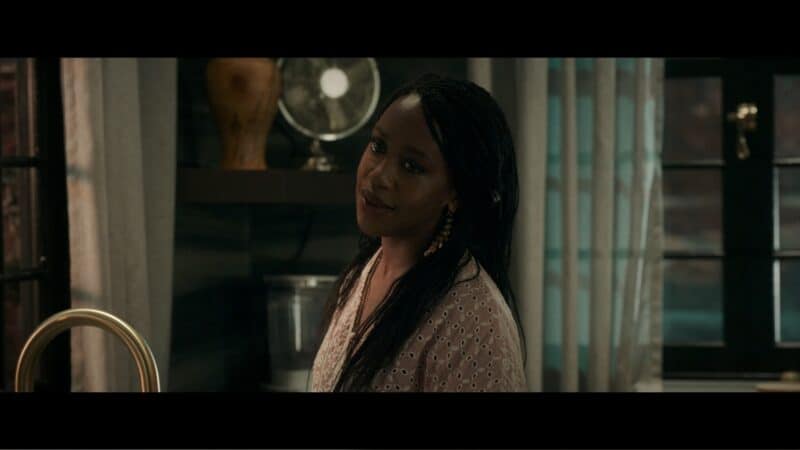 Simone is Taissa's wife.
End of Season 1
After Taissa's political campaign drives a wedge in their marriage, Simone has moved out, with their son Sammy.
Additional Information
Quotes & Gifs
Javi (Luciano Leroux)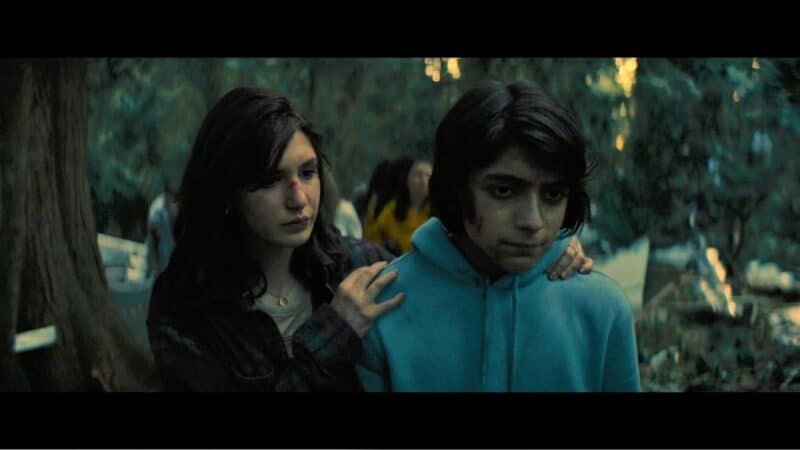 Javi is Travis' younger brother and Coach Martinez's younger son.
End of Season 1
It's unknown where Javi is. After Misty drugged everyone, while all others were accounted for, Javi was still missing. Thus leaving us to wonder if he froze to death like Jackie.
Additional Information
Quotes & Gifs
Coach Martinez (Carlos Sanz)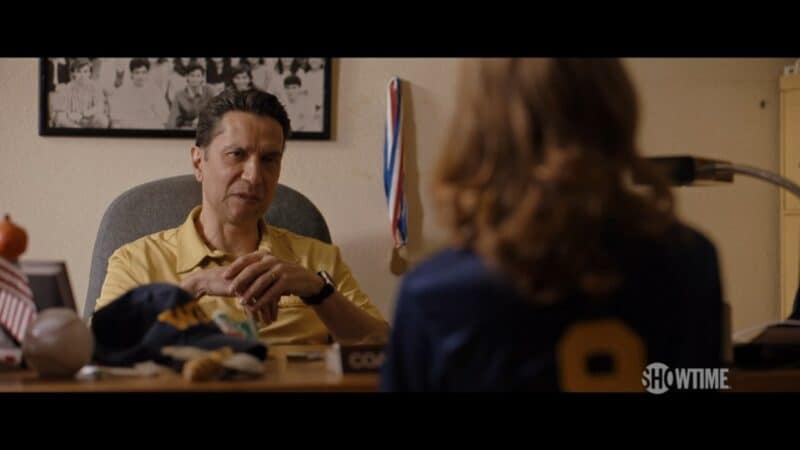 Coach Martinez is Javi and Travis' father, and the coach of the Yellowjackets.
End of Season 1
Unfortunately for Coach Martinez, the plane crash led to him landing in a tree, and when Travis tried to rescue him, he died when he fell from a branch.
Additional Information
Quotes & Gifs
Ben Scott (Steven Krueger)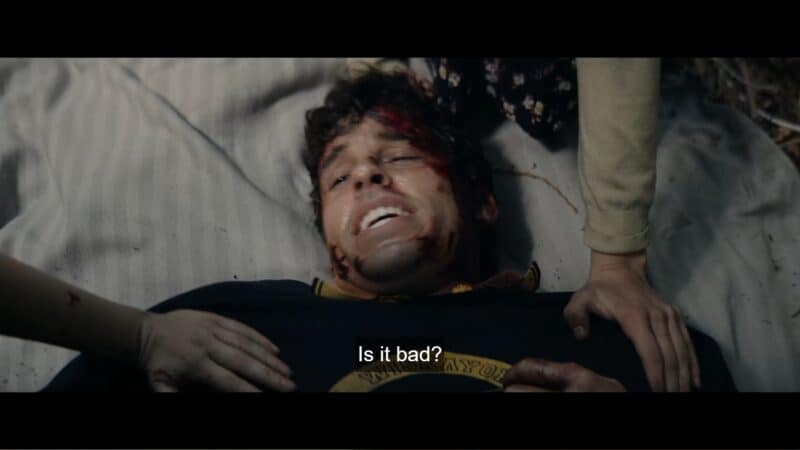 Ben is the assistant coach to the Yellowjackets who Misty is close to.
End of Season 1
While missing half of his leg, Ben is alive, out and proud, and losing his influence, via being the adult of the situation, more day by day.
Additional Information
Quotes & Gifs
Sammy (Aiden Stoxx)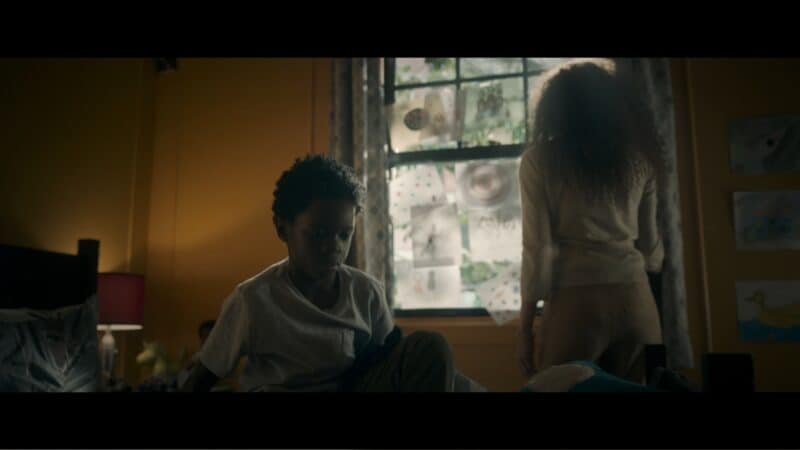 Sammy is Simone and Taissa's son who is starting to see an otherworldly spirit
End of Season 1
Sammy looks like his life is heading towards being the child of a divorce.
Additional Information
Quotes & Gifs
Adam (Peter Gadiot)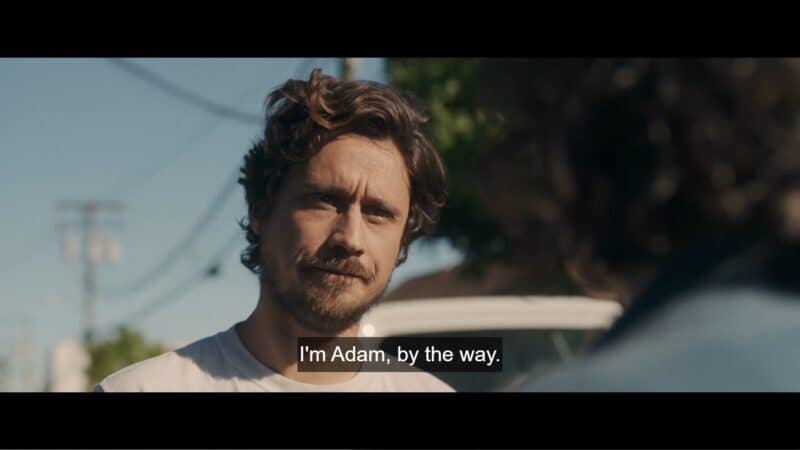 Originally, Adam meets Shauna because of a car accident but it seems he finds his staying power by strangely showing up at the right place at the right time.
End of Season 1
With Shauna thinking Adam was blackmailing her friends, and he was really suspect, he gets killed and Misty is brought in to help discard of his body.
Additional Information
Introduced In Season 1/ Episode 2 "F Sharp"
Background (1.8): He is from the suburbs of Houston and graduated high school in 2004.
Age and Location (1.10): Adam is 36 and lives in Hoboken, NJ
Quotes & Gifs
Nana Bassey (BJ Harrison)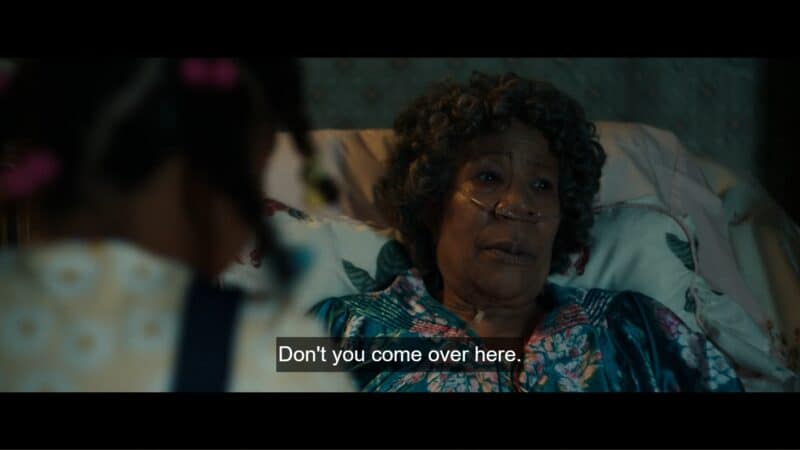 Nana Bassey is Taissa's maternal grandmother who saw some eye-snatching monster before her death.
End of Season 1
She's dead in the ground and still missing her eyes.
Additional Information
Quotes & Gifs
Diane (Lauren K. Robek)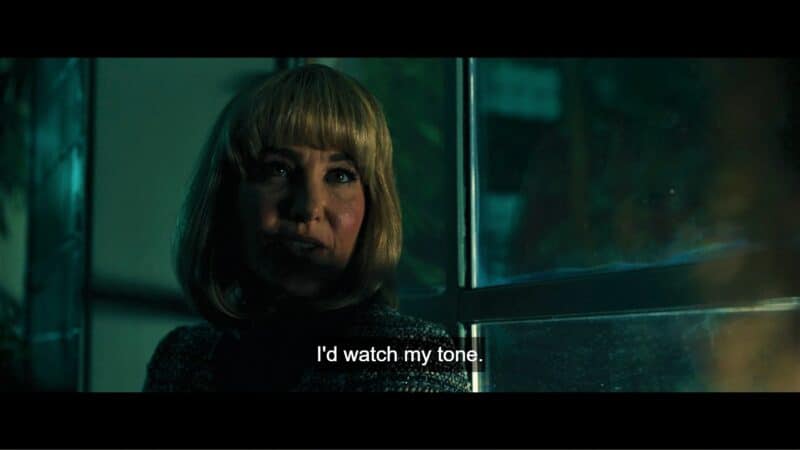 Diane is a major force in New Jersey's Democratic political scene, especially for people of color and women. Hence, at one time, Taissa wanted to woo her for an endorsement.
End of Season 1
Taissa wins without her endorsement but is likely to see her again since Diane is a major player still.
Additional Information
Quotes & Gifs
Callie (Sarah Desjardins)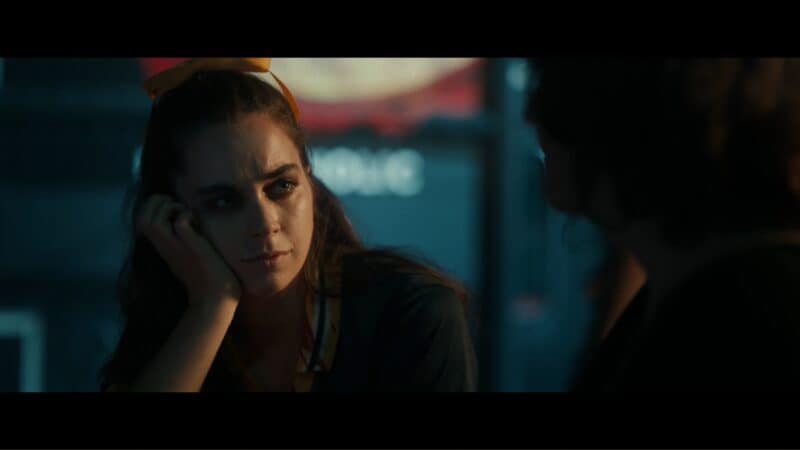 Callie is Shauna and Jeff's 16-year-old daughter who is a tad rebellious and also a bit of a thorn in Shauna's side.
End of Season 1
With her parents no longer being distant, but rather lovey-dovey, Callie is very confused. Especially since she knows her mother was having an affair.
Additional Information
Quotes & Gifs
Mari (Alexa Barajas)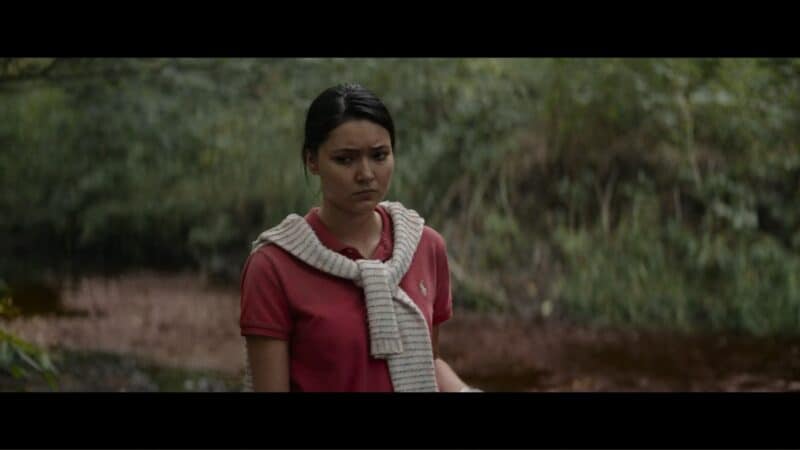 Mari is part of the junior varsity team.
End of Season 1
Mari has taken on the role of being one of the main cooks for the girls.
Additional Information
Quotes & Gifs
Akilah (Keeya King)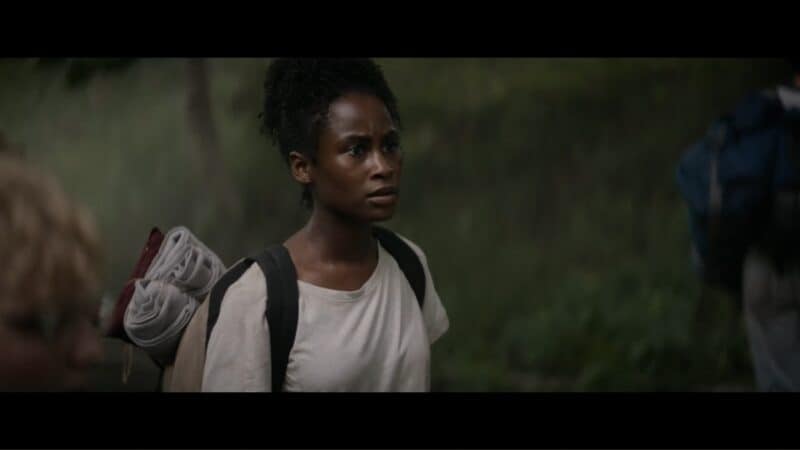 Akilah is a member of the junior varsity team who occasionally notes she was a girl scout and has a moderately close relationship with Taissa.
End of Season 1
Akilah, unfortunately, doesn't get much development and her friendship with Taissa isn't touched upon much. Seemingly, with Akilah knowing how to braid hair, that was what got them close but, things didn't proceed beyond that.
Additional Information
Quotes & Gifs
Suzie (Colleen Wheeler)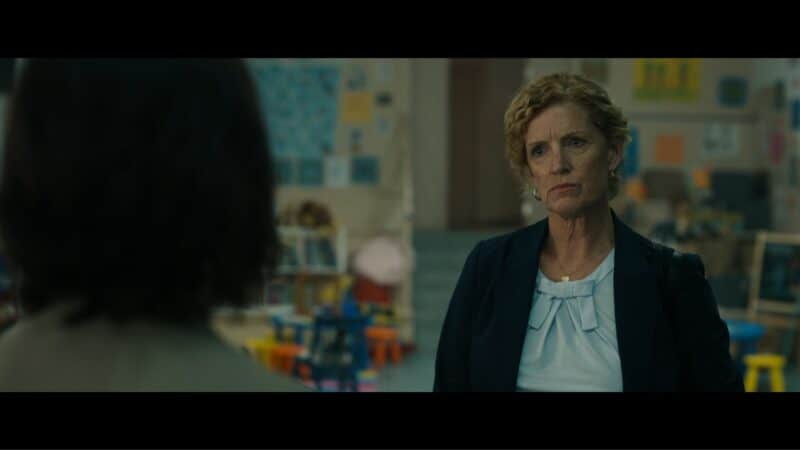 Suzie is Natalie's former sponsor who, about ten years ago, she assaulted. Seemingly due to no longer wanting to sell people's personally identifiable information with her anymore.
End of Season 1
After being blackmailed by Natalie, she discovers Charlotte is who closed Travis' account and now she fears she is being followed.
Additional Information
Quotes & Gifs
Randy Walsh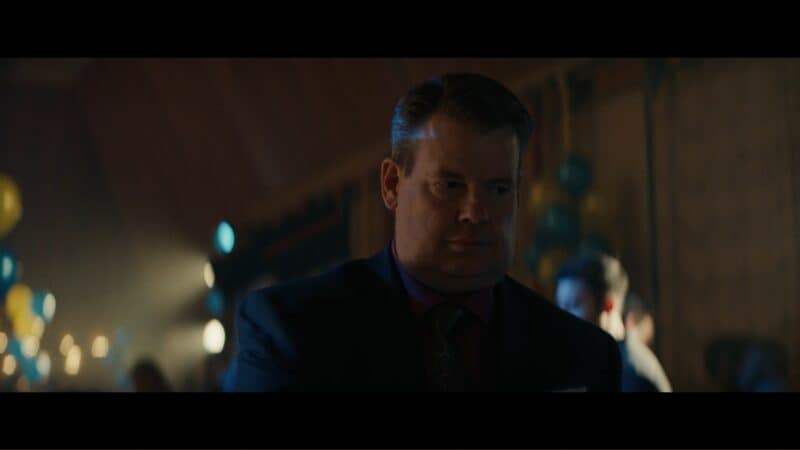 Randy is Jeff's best friend and has been since high school. Also, it was even a plan, before the plane crash, that Randy and Shauna would double date with Jeff and Jackie. However, we know how that went.
End of Season 1
With the secret of helping Jeff blackmail people weighing on him, especially since Shauna knows, Randy is doing okay. His wife still hasn't taken him back, but at least he still has his best friend.
Additional Information
Portrayed By: Jeff Holman
Introduced In: Season 1/ Episode 6
Marital Status (1.6): Separated and recently kicked out of the house
Walter(Elijah Wood)
A citizen detective, potentially part of Misty's online group.
Additional Information
Quotes & Gifs