Makoto Shinkai continues his streak of visually stunning and emotionally impactful anime with "Suzume."
Director(s)
Makoto Shinkai
Screenplay By
Makoto Shinkai
Date Released (Film Festival – New York Int'l Children's Film Festival)
March 5, 2023
Genre(s)
Action, Adventure, Comedy, Drama, Fantasy, Romance, Young Adult, Animation, Non-English (Japanese)
Duration
2 Hours and 2 Minutes
Content Rating
Not Rated
Noted Cast
Suzume
Nanoka Hara
Souta
Hokuto Matsumura
Tamaki
Eri Fukatsu
Daijin
Ann Yamane
Serizawa
Ryunosuke Kamiki
Chika
Kotone Hanase
Rima
Sairi Itô
This content contains pertinent spoilers. Also, images and text in this post may contain affiliate links which, if a purchase is made from those sites, we may earn money or products from the company.
Film Summary
16-year-old Suzume has long had a gift regarding things not of this world. It likely stems from the traumatic event which took her mother, but that isn't made 100% clear. All we know for sure is, that when a young man named Souta villages her town, talks about visiting ruins, and she follows him, she finds a door to what he later calls "The Ever-After" and frees a spirit named Daijin.
In doing so, this worm demon from the Ever-After finds a weakness between worlds and seeks to escape the Ever-After. But, while Souta is trained to close the door which the worm seeks to exit from, multiple issues get in the way of stopping the worm from escaping. The biggest one is that Daijin doesn't want to return to being what is known as a Keystone and do additional decades, if not centuries, of keeping the worm at bay. Following that is Daijin cursing Souta and turning him into Suzume's childhood chair, and Suzume finds herself taking on the role of a Closer, since Souta can no longer do it alone.
But reversing the curse isn't a simple task. Daijin forces them to travel across Japan, and while chasing him, they have to worry about the worm freeing itself. Add in part of the curse is Souta becoming the new Keystone, and this creates one of the most eventful weeks of Suzume's life. One that completely freaks out her aunt, Tamaki, who Suzume ignores for most of her adventure.
Things To Note
Why Is "Suzume" Rated Not Rated
Dialog: Minor, if any
Violence: There are battle scenes, some with blood, but it's nothing graphic
Sexual Content: Nope
Miscellaneous: Drinking and smoking
Question(s) Left Unanswered
Why did the worm turn into water when it was defeated?
What causes the worm to form?
Are Closers strictly people who had a brush with death, or is it hereditary?
How did Keystones seemingly go from bulky-looking men to cats?
Character Descriptions
Please Note: This character guide is not an exhaustive list of every cast member, and character descriptions may contain what can be considered spoilers.
Suzume
Suzume is a junior in high school who, following in the footsteps of her mom, plans to become a nurse.
Souta
Souta is a college student, just on the brink of graduating, who seeks to be a teacher. However, alongside going to school and studying for his teaching certificate, he is expected to act as a "Closer" and keep this ancient being, that appears in the form of a worm, from causing devastating to Japan.
Tamaki
Tamaki is Suzume's aunt and guardian.
Daijin
Daijin is a Keystone, meant to keep the worm from escaping the "Ever-After" who is given a chance to escape thanks to Suzume. Thus leading to him taking the form of a cat, and traversing Japan.
Serizawa
Serizawa is Souta's best friend, who is also trying to become a teacher, and finds himself joining Suzume's journey.
Chika
Chika is a junior in high school who works at her family's motel, who befriends Suzume during her journey.
Rima
Rima is a mother of two who runs a bar, that Suzume befriends during her journey.
Review
---
Community Rating:
---
Our Rating: Positive (Worth Seeing)
Highlights
An Emotional Story
While the love story is a bit rushed, the emotional depth regarding Suzume's familiar relationships runs deep. Tamaki is the younger sister of Suzume's mother, who has spent her last 12 years raising her niece and bearing the social brunt of it. She couldn't be young, get drunk, bring guys home, or date as others could. She had a kid, and while Suzume's mom had some sort of savings or insurance, it wasn't enough. To this day, Takami still has to work overtime.
This put a strain on their relationship, for it isn't lost on Suzume the sacrifice involved, but it wasn't like she or her aunt had a choice. They were all each other had, and with no mention of Suzume's father, or his family, to just abandon a four-year-old whose mother just died would be shameful.
Though this isn't to say this is the only emotional story. While Souta doesn't have the same level of trauma in his past, despite unanswered questions about his parents, he does bond with Suzume over losing a parent. Add in his grandfather literally on his deathbed, and you can tell Souta is in a place where he has to be strong for multiple people, including his best friend, Serizawa.
Daijin
Daijin, too, can stir up emotions. While touted as a God of some sort, his initial appearance of being a starving cat, whose physicality fluctuates based on how Suzume sees and treats him, speaks volumes. He, assuming his gender, wants to be loved, but the life of a Keystone is lonely. So why would he want to be trapped as a totem in a place no one is supposed to be when he can travel Japan and have his picture taken, be called cute, and people belove him?
Now, yes, he is a troublemaker, but one who clearly doesn't do anything out of malice.
Excellent supporting characters
We meet a slew of characters throughout Suzume's journey to return Souta to human form, and have Daijin return to being a keystone. To some surprise, nearly everyone is memorable in one capacity or another.
Chika is a girl who houses Suzume, has girl chat with her, and becomes the type of friend you wish joined her on her quest. Rima, and her kids, are something else. The kids are rambunctious and force the chair Souta to reveal himself, and Rima runs a local bar. One that she has Suzume help out in, in exchange for housing and a meal.
The list goes on and on, and not one character acts as filler, nor even a means to push Suzume to grow up. Rather, they all come off as people you encounter, willing to interact with a stranger, and for doing so, they leave a notable impression on your life.
Comical moments
From the start, "Suzume" is a comical film. From the facial reactions to when Souta has to pretend to be a chair to Daijins playfulness, while you may not get gut-punch feeling laughs, you'll be smiling and chuckling throughout.
On The Fence
Some Things Don't Feel Well Explained
When it comes to Closers, why the worm exists, how the Keystone went from grown men to cats, and a few other things, they go unexplained. Not that you won't be so wrapped up in everything else that these questions will be pressing, but you may have some questions lingering in your head when the film is over.
An Iffy Love Story
While Souta and Suzume could be a cute couple, it does feel like just pushing the idea of these two together hampers the bigger and better stories. Be it Suzume's suppressed or forgotten memories of life after her mother died or Daijin's completely absent backstory. Add in he is a college student, seemingly on the brink of graduating school and becoming a teacher, and she is a junior in high school? There is also an age factor that comes into play, making anything that could happen uncomfortable. Hence different jokes regarding her sitting on what could be considered his face, when he is a chair, amongst other potential, light-hearted, ecchi humor.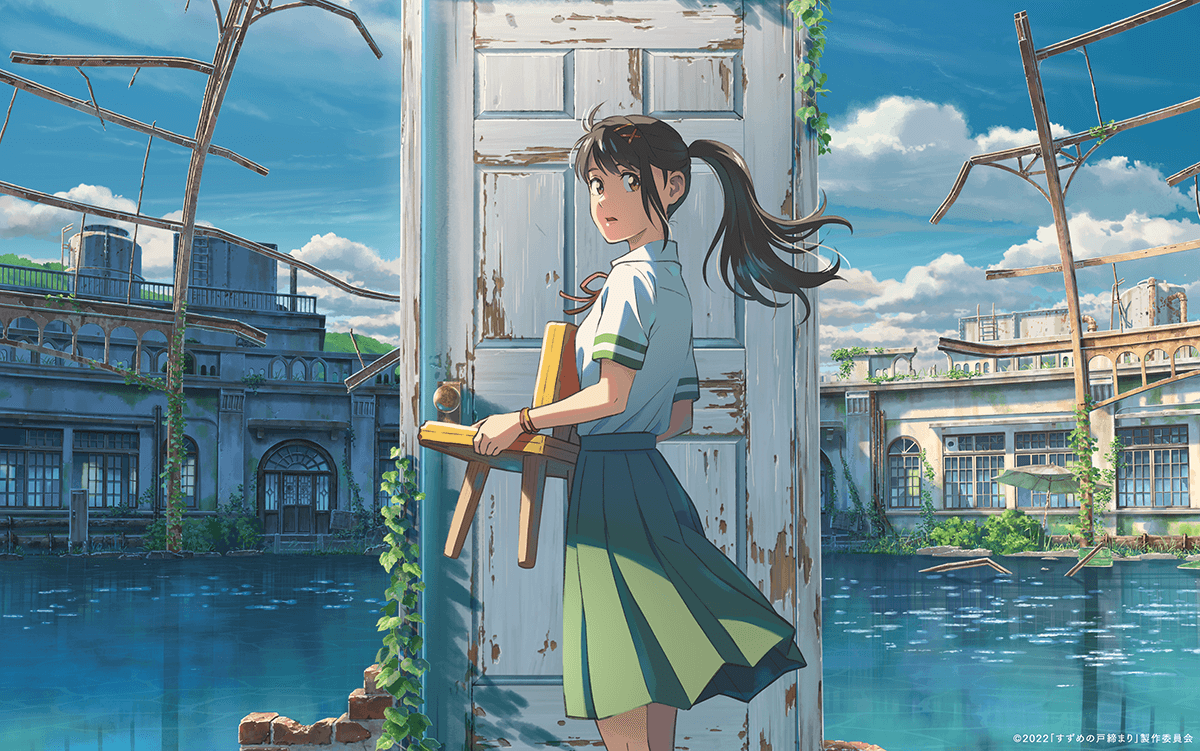 Suzume (2023) – Review/ Summary
Overall
"Suzume" makes it so, as the legendary Hayao Miyazaki ends his incredible career with one last feature, Makoto Shinkai can become the next figure who, when you hear his name, no matter where in the world you reside in, you know you are in for a joyful, tear-inducing, experience.
Highlights
Comical moments
Excellent supporting characters
Daijin
An Emotional Story
Disputable
An Iffy Love Story
Some Things Don't Feel Well Explained