The Blackening (2023) – Movie Review and Summary (with Spoilers)
"The Blackening" is one of the funniest films I've seen in years and has the makings of being a classic thank to being funny throughout the whole film, and not just a handful of scenes.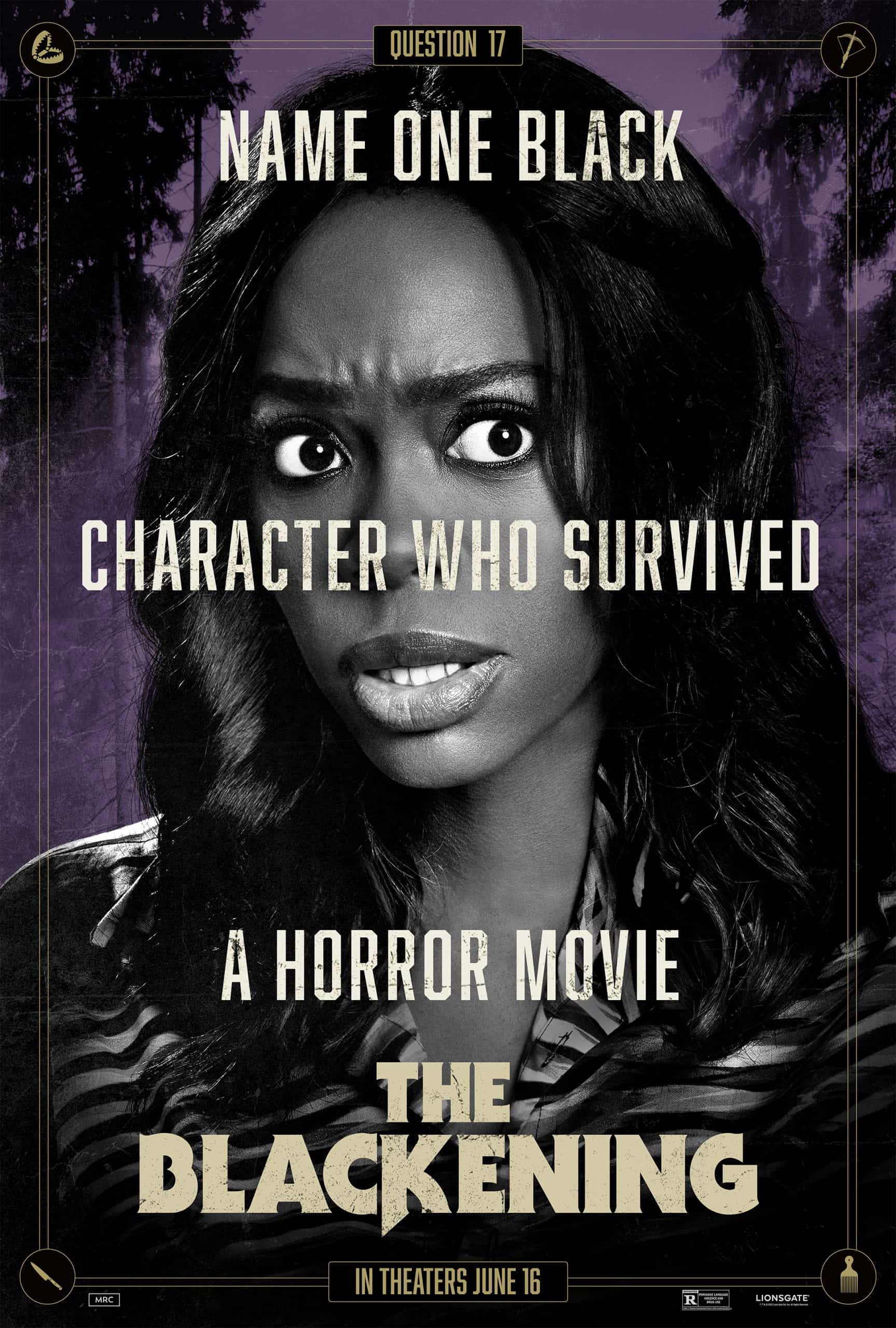 Film Summary
Images and text in this post may contain affiliate links. If a purchase is made from those sites, we may earn money or products from the company.
Morgan and Shawn are the first to arrive at their ten-year college reunion and set things up. But, when their friends Lisa, Dewayne, Nnamdi, Allison, Shanika, King, and Clifton come nearly a day later, Morgan and Shawn are nowhere to be found. They got a text that morning about them being back later, so, at first, everyone plays down their absence and starts playing spades, drinking, smoking, and enjoying Juneteenth.
However, as everyone is led to play this game called "The Blackening," things shift. They are now put in a life or death situation where they need to answer questions like, "What does the math in Nas' 'One Mic' equal" to "Who is the Blackest in the room." But, being that this is an all-Black movie, written and directed by Black people, they don't pursue surviving the night while a killer is hunting them down as you are used to.
Character Descriptions
Please Note: This character guide is not an exhaustive list of every cast member, and character descriptions may contain what can be considered spoilers.
Morgan
Morgan is the decorator and person who planned the entire reunion, and whose partner is Shawn.
Shawn
Shawn is Morgan's partner.
Lisa
Lisa is a lawyer, Dewayne's best friend, and Nnamdi's off-and-on girlfriend.
Dewayne
Dewayne is Lisa's best friend who is out, proud, and not for Morgan's idea of being in a cabin out in the middle of nowhere.
The Actor Is Also Known For: Hector in "The Upshaws"
Nnamdi
A gym trainer, Nnamdi has a reputation for being a bit of a dog. One who constantly says he is reformed but every two or so years leads many to question if that is just what he tells himself.
Allison
Allison is bi-racial, heavy into African American history and culture, and is very competitive.
The Actor Is Also Known For: Her role in Empire
Shanika
Shanika is the friend who likes to party with a good drink, weed, maybe some party favors, or whatever you have to get her lit.
King
King is a reformed gangster who is married and on the straight and narrow now, at least until the killer makes him come out of character.
Clifton
Coming from Vermont, Clifton didn't grow up with many Black people. So when it comes to the group Morgan formed, being part of them was exciting and made him feel connected. But, between his lack of knowledge regarding Black culture and nerdy ways, he sometimes finds it challenging to handle the jokes lunged at him.
Review
---
Community Rating:
---
Our Rating: Positive (Worth Seeing) – Recommended
Notable Performances or Moments
Clifton and Dewayne
You get the best of both worlds when it comes to Clifton and Dewayne. Clifton delivers a series of killer one-liners, and Fowler plays up the nerdy, OG Carlton Banks type so well that if the camera turns his way, you are given a need to get giddy. I'd add that, in terms of development, his character is potentially the most developed in terms of being given a backstory, an individual identity, and the ability to stand out within the movie and his archetype.
As for Dewayne, yes, he is a gay Black man, so you should expect sass, shade, flamboyance, and dramatic moments. But, life Fowler with Clifton, Perkins as Dewayne knows how to expand on what is an overdone character type and do more than put it through a Black lens but make it his own. Also, what Perkins gets to do that Fowler doesn't do as much as be in on the joke or make others the joke. This helps elevate the character in ways that allows you to get a two-for-one special regarding a film made to highlight the culture of Black Americans and give representation for gay Black Americans as well – just in time for both Juneteenth and Pride.
Highlights
Let's Use Logic, Common Sense, And Fight When Possible
It's the little things that matter in horror movies. As noted in our "The Boogeyman" review, watching a character investigate an open door, look on the other side, or even pass the threshold can be strange. "The Blackening" doesn't do that. Suddenly open doors are closed and locked, then walked away from. When enemies are down, they generally stay down, and if they do a rise from the dead move, like the Undertaker from WWE, that gets handled.
Pretty much all the things many people would yell at the screen for a character to do; generally, it gets done, and it provides you such a cathartic release, for it is hard to root for someone who, based on natural selection, likely should have been dead way before a psychopath was hunting them.
The Jokes
"The Blackening" is an equal-opportunity comedy. Whether it is joking about Allison being a zebra because she is bi-racial or her defining how White her dad is by adding an emphasis on the "Whi," or jokes regarding Nnamdi trying to be a better man every two years, everyone gets clowned on. Clifton likely the most, followed by Dewayne, but it's that s*** talking, doing the 9s on each other, that gives you the sense that this is a real friend group. One that knows how to hit hard enough to coerce a response but rarely, if ever, go so low to trigger someone confessing everyone's business.
On The Fence
You May Wish You Got To Know Some Characters Beyond Their Archetype
When it comes to "The Blackening," it is very much about setting up the situation, delivering the joke, and repeat, with not much in the way of developing its characters. Little things, like learning Lisa is a lawyer, is thrown out there, but because it doesn't set up a joke, like learning King is married to an Armenian woman, it isn't allowed to be more than a tidbit.
Which, in some ways is fine, because this is a comedy, not a drama, the point is you want to laugh. However, while Dewayne and Clifton get to move past being Black and the perceptions of the Black gay man or Black nerd, the others don't. Shanika, for example, doesn't get to be an evolved character. Note, there are no fat jokes of any kind, for this is 2023. However, you don't learn anything about her beyond her name because all she can do is crack a joke or set one up for another character. What did she go to college for? What does she do now? Like most, you don't get an answer to this. The only thing you learn about her as an individual is that she is biased toward iPhones and looks down on Androids. Which, again, is about setting up a joke.
General Information
Director(s)
Tim Story
Screenplay By
Tracy Oliver, Dewayne Perkins
Based On
N/A
Date Released (In Theaters)
June 16, 2023
Genre(s)
Comedy, Horror
Film Length
1 Hour 36 Minutes
Content Rating
Rated R
Noted Characters and Cast
Morgan
Yvonne Orji
Shawn
Jay Pharoah
Lisa
Antoinette Robertson
Dewayne
Dewayne Perkins
Nnamdi
Sinqua Walls
Allison
Grace Byers
Shanika
X Mayo
King
Melvin Gregg
Clifton
Jermaine Fowler
Movie Recommendations
If you like this movie, we recommend:
Scary Movie
You can also check out our movies page for more recommendations and find our latest movie reviews.
FAQs
Why Is the Film Called "The Blackening?"
Due to a game the killer uses to force everyone to prove their knowledge of Black culture and to cause division between them.
How Was The Twist(s) and Ending?
Excellent! The twist is set up in such a way it makes sense, and you may even feel bad for the villain but be perfectly fine with their (assumed) demise.
Is There A Mid-Credit or Post Credits Scene?
A mid-credit scene gives you an idea of what happened after the villain was handled.
Why Is "The Blackening" Rated R?
·        Dialog: Cursing throughout, and use of the N-word
·        Violence: Murder, multiple crossbow wounds, gun violence, and blood
·        Sexual Content: None – unlike the majority of horror, there isn't nudity and barely any innuendo
·        Miscellaneous: Drinking, smoking, and drug use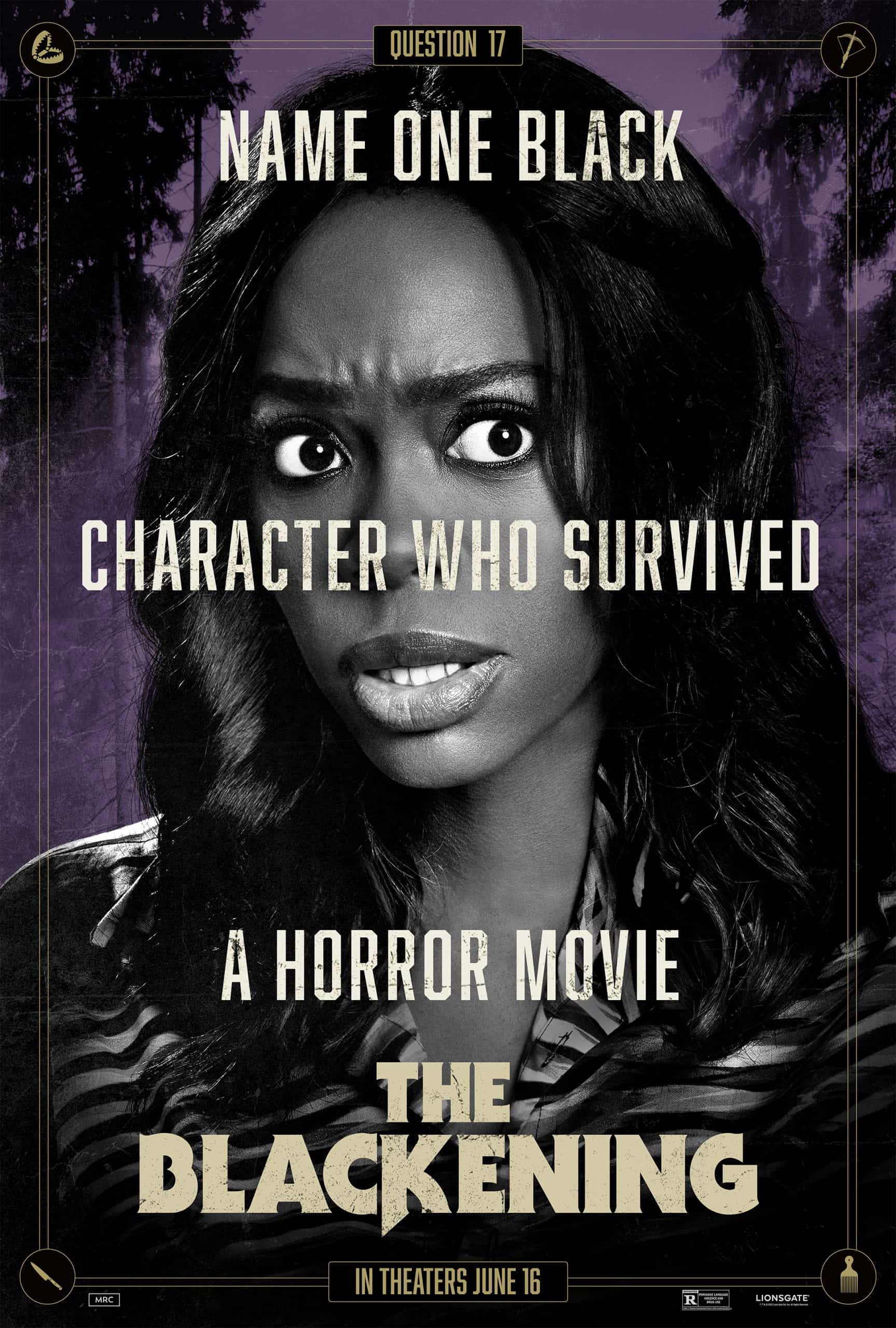 The Blackening (2023) – Movie Review and Summary (with Spoilers)
Overall
While "The Blackening" may be a slight bit lacking when it comes to its characters, you will willingly set that aside because everyone delivers a laugh, and from the start of the film to the end, you will be cracking up.
Highlights
The Jokes
Let's Use Logic, Common Sense, And Fight When Possible
Clifton and Dewayne
Disputable
You May Wish You Got To Know Some Characters Beyond Their Archetype
---
Follow, Like, and Subscribe
Community Rating: 80% (1 votes)