Girls Trip – Summary/ Review (with Spoilers)
Without question, Girls Trip is the funniest movie I have ever seen PERIOD. All thanks to, not necessarily the established stars, per se, but Tiffany Haddish. Summary After meeting in college, becoming successful and starting families, a group of friends who called themselves the "Flossy Posse" started to drift a bit. However, with Ryan (Regina…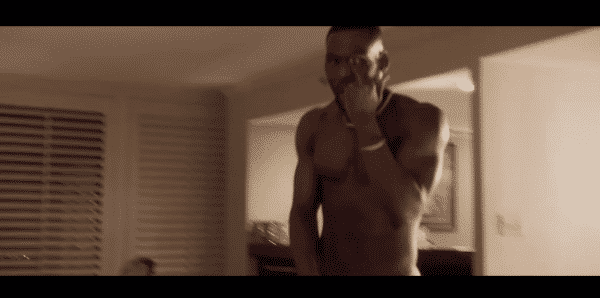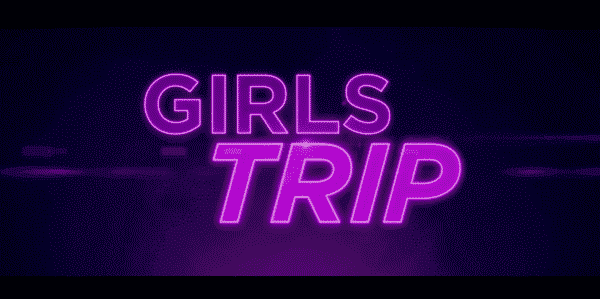 Without question, Girls Trip is the funniest movie I have ever seen PERIOD. All thanks to, not necessarily the established stars, per se, but Tiffany Haddish.
Summary
After meeting in college, becoming successful and starting families, a group of friends who called themselves the "Flossy Posse" started to drift a bit. However, with Ryan (Regina Hall) being the keynote speaker at the Essence Festival in New Orleans, she crafts a 5-year reunion in the making. One which was a much-needed escape for her girls.
For Dina (Tiffany Haddish), it was because she just got into a fight with another coworker and has been fired. For Lisa (Jada Pinkett-Smith), she needed that girls trip because it has been two years since her divorce, and she needed some. Then in terms of Sasha (Queen Latifah), she needed to escape a life that Ryan sort of forced her hand to take.
But while Ryan may be a keynote speaking for the Essence festival, this lifestyle guru, her life isn't perfect. In fact, her marriage is falling apart. However, through the strength of the relationship she has with her girls, she is reminded who she is without her husband. Much less, why she loves these 3 wild, intelligence, and loyal women.
Highlights
Tiffany Haddish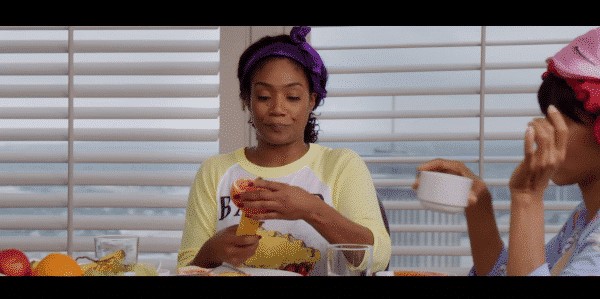 You know, between the Amy Schumer's and etc of the world, they try to be raunchy and funny and it often falls flat. With Tiffany Haddish though, don't you dare put her in that category. Don't compare her to Sarah Silverman, Amy Schumer, and etc. To me, she is, or rather should be, in the same category as the men. As in, she is universally funny, someone you fully expect to have her own show, movies, endorsement deals and etc. I'm talking about Kevin Hart type of money. For that is how funny and honestly how essential she is to this movie.
I mean, don't take Keanu or The Carmichael Show as a point of reference. Neither truly helps you understand how funny this woman is. Especially in terms of raunchiness. For when the women mentioned before approach sexual jokes and all that, it is about how awkward and weird they are. When Haddish does it, you are given an eye opening experience. The kind of shock I think people expect from women saying sexual things openly, yet she knows her craft to the point that over the course of 2 hours it somehow doesn't lose its luster.
Just to name some examples, what she does with a grapefruit and a banana was hilarious. Her one liners and how she acts when she learns about Stewart (Mike Colter), Ryan's husband, cheating are probably the funniest things I ever saw. And what really takes the cake is she has such good chemistry with these big time actresses that it is like she has been in the game as long as the rest of them. Even had the same level of success.
The Fan Service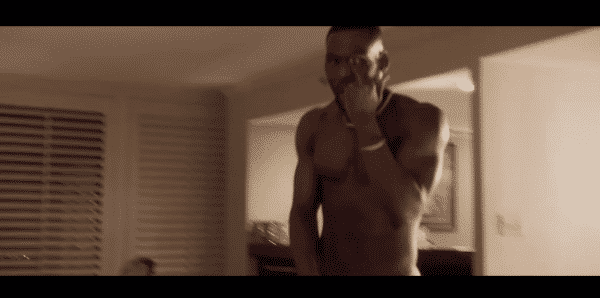 From an epic fight scene in which Jada Pinkett-Smith and Queen Latifah reference Set it Off, to singers Maxwell, Mariah Carey, New Edition, Bad Boy Entertainment, and more make appearances, to Queen Sugar's Kofi Siriboe being buck ass naked on screen [note] The only thing covering his body is some grapefruit. The rest of him, ass, thigh muscles and all, is fully exposed.[/note], there is something for everybody.
Criticism
The Quick Reconciliation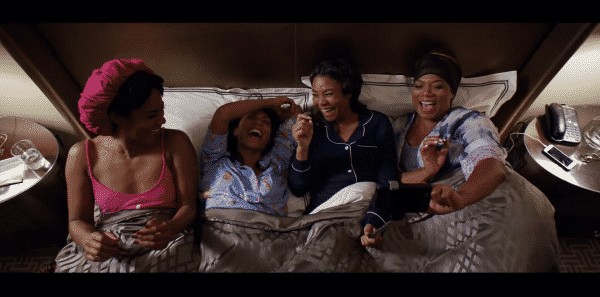 Like in romance movies, there is this huge fight where a lot of stuff is said which has been kept close to the heart. The type of stuff that definitely would make it so, unless there isn't an ounce of pettiness in your soul, you wouldn't be able to bring yourself to talk to a person for a couple days, weeks, months, years, or maybe the rest of your life.
Just to give you an idea of what was said, Sasha talks about the dynamic of the group and how she thinks Lisa and Dina are the worker bees behind the Queen Bee which is Ryan. Making it often feel like they are the lackeys and she is often on her own. On top of that, Dina's lifestyle gets called out in a way where you are surprised, with the way Dina goes off, she and the rest of the women are cool the following day. Much less that she ain't beat one of their asses.
On The Fence
The More Serious Moments
As has been shown over the years, Regina Hall is trying to show her more serious side. She wants to leave the Brenda character to those like Tiffany Haddish and let them pick up the baton. She'd rather join the likes of Queen Latifah and be funny, but also be taken seriously as an actress. Which is what she does in this film. For with Stewart cheating on her and her problems with Sasha, that is where the drama comes from. That is where we get those emotional moments between this group of women.
Something which, honestly, doesn't consistently hit it out of the park. More often than not, Haddish saves the day by being a comic relief. For, at least to me, while Malcolm D. Lee has shown through The Best Man series he can craft hilarious characters with touching moments, the same can't be said with Kenya Barris (Creator of Black-ish) and Tracy Oliver.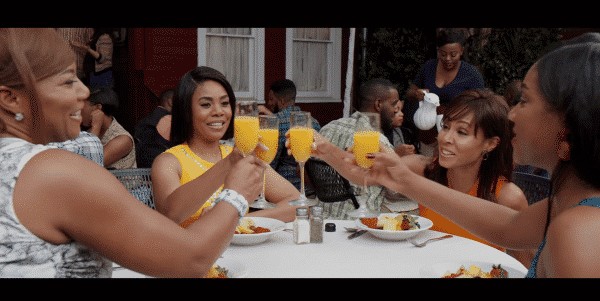 61 times I laughed during this movie. I'm pretty sure that is a record and one that likely isn't going to be broken anytime soon. For, once again singing her praises, Tiffany Haddish might be one of the first, or few, Black female comedians to really make it [note]Only other one I can honestly think of is Whoopi Goldberg[/note]. I'm talking about having a Kevin Hart, Will Ferrell, Steve Carrell, or even Eddie Murphy type of career. For truly, this is a breakout role. And considering the glimpses we have gotten of her dramatic acting, she may really end up being the stand-up comedian who busts down doors and destroys the glass ceiling for Black female stand-ups.
But, as a whole, the movie is being labeled positive, much less recommended because it is about women, Black women, in particular, presents their issues and culture yet has this universal vibe. One which infidelity, insecurities and more are talked about. Yet, even with Hall and Latifah not giving notable dramatic performances, they do help give the film heart.
So, definitely check out Girls Trip. If you like raunchy comedy, especially from a woman's point of view, this is for you. If you want to laugh to the point you cannot probably buy no theater snacks because you'll end up choking, this is for you. However, if you can't handle a lot of sexual jokes and characters maybe being a bit ratchet, keep your behind home and watch the overhyped stuff this is being compared to.
---
Follow, Like, and Subscribe
Community Rating: 0.00% (0) - No Community Ratings Submitted (Add Yours Below)