Zoey Deutch kills it as Peg and leads you to question why doesn't Buffaloed have a distribution deal yet? Particularly with Netflix.
---
Director(s)
Tanya Wexler
Screenplay By
Brian Sacca
Date Released
4/27/2019
Genre(s)
Comedy
Good If You Like
Debauchery

Women Who Take No Ones S***

Edutainment

Isn't For You If You
Aren't Much For Borderline Manic Performances

You Like Getting To Know More Than Just The Main Character

Noted Cast
Peg
Zoey Deutch
Graham
Jermaine Fowler
Frances
Lusia Strus
Backer
Lorrie Odom
Images and text in this post may contain affiliate links which, if a purchase is made, we'll earn money or products from the company. Affiliate links and external links include an upward facing, superscript, arrow.
Buffaloed Plot Summary
20-year-old Peg, for as long as she can remember, has been a hustler. After all, when you grow up feeling that you are poor, you either develop a hustler's spirit or succumb to poverty. That second one was never an option.
However, how does one hustle their way out? Drugs? Too illegal and who wants to get shot? Sex work? Still illegal, still dangerous. How about debt? No, not getting in debt, for that's for suckers, how about collecting it?
Think about it! Like most financial institutions, it lacks regulations, and what little regulations there are, they aren't enforced. Also, you don't need a degree, can have a record, and all you need is a good sales pitch. But, the question is, like most hustles that lead to quick money, are you willing to pounce on the vulnerable?
For Peg, that answer is yes.
Highlights
Zoey Deutch
I want you to imagine Leonardo DiCaprio in The Wolf of Wall Street. Combine that with the persona Deutch carries. That coked out persona in your head, that's Peg. Someone who may not get into as much debauchery as Jordan Belfort does, but Deutch's talent for comedy makes up for not seeing craziness like little people being thrown around for fun. In fact, with her dealing with the local mob, pretty much on her own, one can say Deutch and DiCaprio end up even.
For it is in being a scrappy 5'4 women, taking on an industry filled with men, that you root for the morally ambiguous Peg. Especially as she manipulates those around her, becomes this charismatic villain of sorts, and yet never becomes someone you love to hate. If only because Deutch either doesn't have the ability to become that hateful or she, and writer Brian Sacca, never let Peg go to the point of no return.
It Feels Educational
Based on the Q&A, it appears a lot of what Peg did was based on legit stories. Nothing legal mind you, but tactics commonly used to collect a debt. So with Peg having breakouts when she breaks the fourth wall, informs you how and why she is doing something, it makes you feel better informed. Not to the point of thinking you don't need to do some follow up research, but it does push you to be more aware.
On The Fence
All Deutch & No One Else
The film is written to highlight Peg, make Deutch the absolute lead, and in the process eclipse her co-stars. Which, partly, you may not mind too much. Peg's family isn't written to make you wonder more about her mom or brother. Heck, even when it comes to Graham, and her strange relationship with him, not getting to know him better and see them together more, it doesn't hurt the movie. It makes you question why he sticks around, but it's easy just to assume there are slim pickings and between charm or being p***y whipped, there is your answer.
However, when it comes to the friends Peg makes in jail, you'll wish their past, beyond the jokes which could be made, were included. Take what life does Backer have? She was the queen in prison and then became Peg's right hand without giving much lip. Why is she acting so humble? What led to her deciding not to learn the ropes and become the competition? Does she have a family?
Then with Frances, while we know she alienated most of her family by becoming a sex worker, because she is one of the few interesting characters in the film not named Zoey Deutch, there also is the question of what is she like away from Peg? Does she just go home, smoke, drink, and wait for work? Is she lonely, happy, what is her life like?
Said interest likely is more so a testament to the actors playing the roles than Sacca. However, even with knowing so little, I won't say they clip Buffaloed at the knee.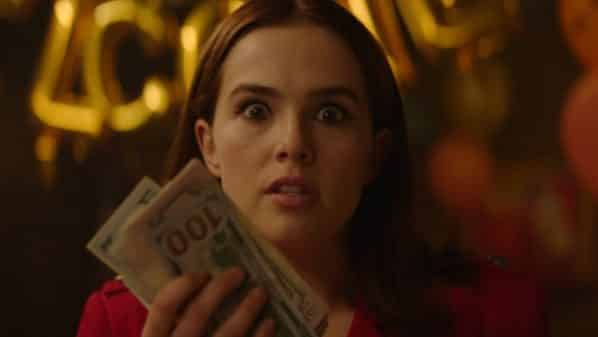 While Deutch is positioned to eclipse her co-stars, arguably she has the charisma and energy to do so. Making it so, while you may wish we got to learn more about Frances and backer, maybe see more of Peg's relationship with Graham, it doesn't ruin the movie omitting these things. Leading to why the positive label. For a lot of films seen at film festivals, you can understand why they don't have distribution deals. Buffaloed, on the other hand, seems like it should have long gotten snatched up by Netflix. Since this seems very on brand when it comes to their young adult featured comedies.
Follow Wherever I Look on Twitter, Like us on Facebook and Subscribe to the YouTube Channel.
Check Out Other Movie Reviews Below