Susie Searches (2023) Review
---
Community Rating: 0.00% (0) - No Community Ratings Submitted (Add Yours Below)
---
This post may contain affiliate links and spoilers. Please read our disclosure policy.
---
General Information
Director(s)
Sophie Kargman
Screenplay By
William Day Frank
Based On
Story By Sophie Kargman, William Day Frank
Date Released (Video On Demand)
June 29, 2023
Genre(s)
Comedy, Drama, Mystery, Young Adult
Film Length
1 Hour 45 Minutes
Content Rating
Not Rated
Noted Characters and Cast
Susie
Kiersey Clemons
Jesse
Alex Wolff
[adthrive-in-post-video-player video-id="7C6xMl28″ upload-date="2023-08-29T00:28:04.000Z" name="Susie Searches (2023) Review.mp4″ description=""Susie Searches" struggles due to letting you in on the secret that the film is about." player-type="static"]
What Is "Susie Searches" Rated And Why?
"Susie Searches" is Not Rated because:
Dialog: Cursing
Violence: Accidental murder and blood
Sexual Content: None
Miscellaneous: N/A
Film Summary
This content contains pertinent spoilers. Also, images and text in this post may contain affiliate links. If a purchase is made from those sites, we may earn money or products from the company.
Since she was a child, Susie loved mysteries. Her mom would read them to her every night, and after some point, she was able to guess the ending at the beginning of the book. This has led Susie to want to become a detective of sorts, but rather than simply go to school, earn her credentials, and train to be an officer, she is stuck in a dead-end part-time job and doing school part-time.
The reason? Her mom has MS, and no one but Susie to take care of her. But, undeterred, Susie starts a true crime podcast, with dozens of episodes for she would like her mom to see her become successful and even make enough to get a nurse. But, with no traction or interaction, Susie's dreams seemingly aren't merely deferred but won't happen.
That is until Jesse is kidnapped, and Susie, using her detective skills and access to the police, seemingly will crack the case. But, as Jesse's case gets more and more complicated, so comes the question if the young Susie Willis might be far in over her head.
Character Descriptions
Please Note: This character guide is not an exhaustive list of every cast member, and character descriptions may contain what can be considered spoilers.
Susie
Susie has loved mysteries all her life because of a routine her mom made to read her a mystery at bedtime. But, what her mom could never predict is that she'd be able to pick up on mysteries so well she'd guess the ending, and with that, Susie thought she could and should become a detective.
Jesse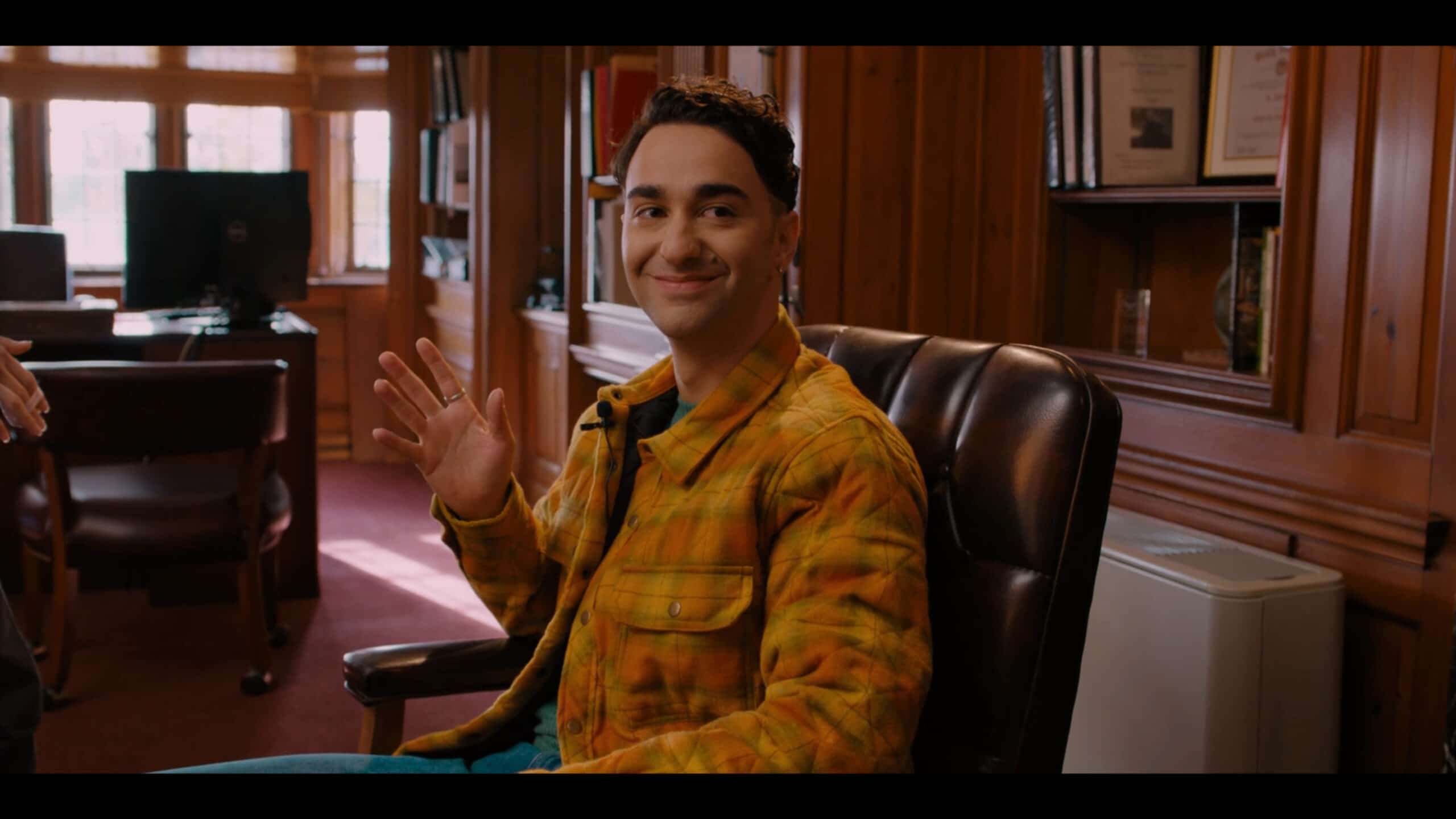 Popular for his meditation and zen videos, Jesse's kidnapping is originally seen as his uncle's doing to get back at Jesse's dad. Which, even with that family drama, we see Jesse still try to be positive, nice, and loving to all. Since, that is his goal to be that for others in life.
Review
Our Rating: Mixed (Divisive)
Who Is This For?
"Susie Searches" is for those who like a mystery when they are in on what happened vs. trying to pick up on clues and figure out who did it.
On The Fence
Wondering If Susie Will Get Caught Isn't As Good As A Driving Force As It Needs To Be
With being an hour and forty-five minutes, watching Susie try to use her detective skills for what can be deemed evil vs. good, can be entertaining, especially regarding her covering her tracks. The problem is, the film doesn't have the supporting cast needed to compensate for you already knowing who caused all the drama.
Jesse and the rest are not necessarily generic characters, but they certainly don't provide something notable for Susie to play off of in a way that feels like they can challenge her. They are just small-town people who may not be stereotypes but also are not made to stand out in ways where any can be seen as notable, wild cards, people who are smarter than they seem. Which makes you being in on what Susie has done, and continues to do, feel like the kind of spoilers that ruin the viewing experience.
Not Utilizing Well Characters Who Can't Be Used For The Kidnapping or Murder Mystery
Whether it is this kid in Susie's class who seems like her friend and maybe has a crush on her, to her co-worker, played by one of the hardest-working women in show business, Rachel Sennott, what you see, time and time again, is that "Susie Searches" doesn't know how to utilize the talent it has. Yes, including Sennott's character helps build up the world she lives in and establishes how much Susie is an outsider. However, it isn't like Sennott is given the space needed for one-liners or memorable moments. She is toned down, and as for that friend? They aren't even notable enough to catch their name, and as the Jesse thing really ramps up, they disappear almost as quickly as Susie's mom – who should be part of the heart of the film since everything Susie does is to become famous and rich enough to help her mom live with MS.
Recommendations
If you like this movie, we recommend:
Check out our movies page for our latest movie reviews and recommendations.
FAQs
Answers to some questions you may have regarding this movie:
The Reason The Movie Is Named "Susie Searches"
Because Susie is a detective searching for the truth
Does "Susie Searches" Setup A Sequel or Prequel?
Technically it does end on a cliffhanger where the story could continue, but it wouldn't justify another full-length film.
Does "Susie Searches" Have A Mid-Credit or End Credit Scene?
Susie Searches Overview
Overall
I find myself wondering if this film could have been better if it wasn't revealed until the end, like it was for Jesse, what Susie did. For with knowing early on Susie kidnapped Jesse and did so much more, it became a game of if, or when, would she get caught. Which, with only one character notably catching on, and paying for that, it left a level of dissatisfaction that eventually made this a tad boring to watch.
Plot and Dialog -

74%

Character Development and Performances -

73%

Visuals (VFX & Direction) and Sound (Music and Audio) -

80%

Pacing -

78%

Value For Intended Audience -

75%

Wondering If Susie Will Get Caught Isn't As Good As A Driving Force As It Needs To Be -

72%

Not Utilizing Well Characters Who Can't Be Used For The Kidnapping or Murder Mystery -

70%
Disputable
Wondering If Susie Will Get Caught Isn't As Good As A Driving Force As It Needs To Be