Hearts Beat Loud is the type of indie you wish was on Netflix for the sake of being accessible yet also presents the argument of why some films must be seen in theaters.
---
Community Rating: 0.00% (0) - No Community Ratings Submitted.
---
---
Director(s)
Brett Haley
Screenplay By
Brett Haley, Marc Basch
Date Released
6/8/2018
Genre(s)
Drama, Musical
Good If You Like
LGBT Movies Which Don't Make It A Big Deal | Father/Daughter Relationships | Movies With Music Sung and Played By Actors But Not In The Style of a Musical | Movies Featuring Black Actors That Don't Bring Up Race
Noted Actors
Sam
Kiersey Clemons
Frank
Nick Offerman
Rose
Sasha Lane
Leslie
Toni Collette
Summary
Since Sam was 12, perhaps around the time her mother died, Frank has been pushing her to get in a band with him. Perhaps as a means to cope with losing his wife, who he formerly was in a band with. However, while Sam humors him with jam sessions, her focus has been getting into med school. But, with only a summer between them being separated, for she plans to go to UCLA, it seems she finally gives on. Though, to add fuel to the fire, Frank giving up the record shop he has owned 17 years, due to rent hikes, is also a factor. Leading to them creating the song "Hearts Beat Loud" and Frank loving it so much he puts it on Spotify – without Sam's permission by the way.
And while their song gains notice from an indie label and gets onto a Spotify playlist, Sam finds love in the form of a girl named Rose and Frank has an increasingly personal relationship with his landlord Leslie. One that could be, for the first time in a long time, a love interest for him.
However, there comes the question that with Sam moving cross country and Frank losing the shop, what could that mean for their band, "We Are Not A Band" and their relationships? You gotta see to find out.
Question(s) Left Unanswered
Where is Danielle's (Sam's mom) family? Did they basically have nothing to do with her and Sam?
Highlights
Not since God Help The Girl have I heard a soundtrack I honestly believe I may not get tired of. For while it all sounds very indie rock or pop, not only can Clemons sing but you can imagine her being a legit singer. If not, like Zooey Deschanel or Emmy Rossum, her main output being movies and shows but putting out an album quietly every now and then. Releasing random singles.
For whether you talk about the title track, this love song Sam writes for Rose or one Frank crafted to say goodbye to the shop and Sam, you may want to go beyond just streaming them. You may actually want to buy them to have at a moment's notice. Since they truly give the kind of vibe which could capture a moment or person in your life so well.
Father/Daughter Relationship
Single fathers aren't seen that often, alongside father/daughter relationships in which the dad not only plays an active role but wants to fully engage with their kid. So watching Clemons and Offerman interact crafts simple and sweet moments. Nothing on the level of Lady Bird or anything that complex, touching, or something to put on a pedestal, but nice enough to give a thumbs up.
Sam and Rose
While Clemons usual charm is dialed down a bit, her character's relationship with Lane's Rose is cute. Though, like Sam's relationship with her dad, it isn't something to hoot and holler about. Yes, it is a Black lesbian couple in a film which doesn't have them going through hell for one reason or another. So, in terms of that, major plus. Yet, at the same time, the film crafts "just is" kind of relationships. Making it where something is as cute as you seeing a random blue jay out of your window or something of that ilk.
On The Fence
The Way It Presents Things As Just Is
As a whole, nothing is really made into that huge of a deal in this movie. Sam being bi-racial or queer is just something treated as nothing. Also, in a way, the death of Sam's mom, while it affects her and her dad, it isn't made into something which really hangs over them. Hell, Frank giving up his shop is also treated as something just part of life.
Which is enjoyable in a way for it isn't like Frank wanted to maintain this reminder of him never making it big as a musician. Much less, there are enough movies and films which dive into being queer and making it a big deal or making coming out seem traumatizing or difficult. Let them talk on those storylines. Heck, even in terms of Danielle dying in a cycling accident, as much as it meant Sam not knowing how to ride a bike and Frank now wanting to always start a band with his kid, it isn't made to be the sum of their lives. Something I rather appreciate.
Yet, considering how many films would blow one of those things up to be some sort of focal point, instead of a dad trying to make a few memories, some may not dig the direction this film took.
Overall: Positive (Worth Seeing)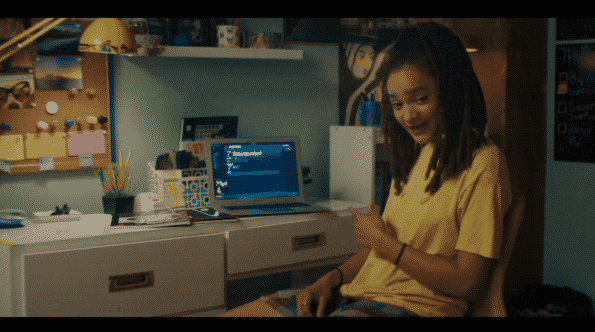 Hearts Beat Loud
is the type of film which people discover going through an actor's filmography and being surprised they never heard of it or other people don't talk about it that much. For this is the kind of film that you can imagine an interviewer asking Clemons of Offerman, years from now, if there is a chance this may get a sequel. If we may get more music out of the father/daughter duo, what happened with Rose and Sam, and things of that nature.
Hence the positive label for even though I'm a huge Clemons fan, even with them dialing down her personality and pushing her to be less theatrical, she nails her part. Alongside that, while many of Offerman's adult relationships in the film are forgettable, when it comes to the relationship he has with your kid, it is so adorable. And really, just having a lighthearted movie that doesn't try to be overly political or dramatic, just present a dad struggling with losing two major things around the same time, feels like a rare experience you should savor.
Follow Wherever I Look on Twitter, Like us on Facebook and Subscribe to the YouTube Channel.
---
---
---