Usually, it takes years for a trilogy to be built, but with Fear Street, Netflix is giving you the full story in three weeks, and 1994 sets a positive tone.
---
Director(s)
Leigh Janiak
Screenplay By
Kyle Killen, Phil Graziadei, Leigh Janiak
Date Released
7/2/2021
Where Can You Watch?
Netflix
Genre(s)
Action, Fantasy, Horror, Romance, Thriller, Young Adult, LGBT, Historical
Duration
1 Hour 46 Minutes
MPAA Rating
Rated R
Noted Cast
Mayor Will Goode
Matthew Zuk
Sheriff Nick Goode
Ashley Zuckerman
Josh
Benjamin Flores Jr.
Sarah Fier
Elizabeth Scopel
Deena
Kiana Madeira
Samantha "Sam" Fraser
Olivia Scott Welch
Kate
Julia Rehwald
Simon
Fred Hechinger
Ruby Lane
Jordyn DiNatale
This content contains pertinent spoilers. Also, images and text may contain affiliate links, which, if a purchase is made, we'll earn money or products from the company.
Film Summary
The hanging of Sarah Fier, an accused witch, has seemingly cursed the town of Shadyside for generations, thus leading to, around every 12 or so years, a notable, newsworthy series of murders. Yet, their neighboring town, Sunnyvale, hasn't had a violent crime in 30 years. Yes, they've lost people due to the psychos of Shadyside, like at a recent mall massacre that killed eight people. However, none of the crazies ever come to or from their town and cause trouble.
Some may submit that it is because of Mayor Goode and his brother and Sheriff, Nick Goode. However, the truth is, at least to some like Josh, Sarah Fier cursed Shadyside and possessed each serial killer for the last 300 years. But it isn't until his sibling Deena, her former girlfriend Sam, as well as Deena's friends Kate and Simon, find themselves dealing with the killers of yore that the horror story told to kids becomes something to take seriously.
Things To Note | Question(s) Left Unanswered
Reason(s) for Film Rating: Gun violence, lots of blood, puking blood and other fluids, bare ass (male), gore (bullet holes in bodies, heads bashed in, ripped apart, and open wounds), occult imagery, and cursing
So, were Josh and Deena siblings, and if so, what's the ethnic makeup of their parents?
Review/ Commentary
---
Community Rating:
---
Highlights
You Never Want To Pause or Take A Break
Okay, outside of moments that contain lore, this is probably one of the few Netflix productions I didn't pause throughout or feel distracted by due to the tons of other things I could be doing. Now, does this mean this is the best thing Netflix has ever released? No, that honor goes to Anne With An E. However, in terms of teen horror featuring many of the actors who have previously been seen on the platform? This is ace.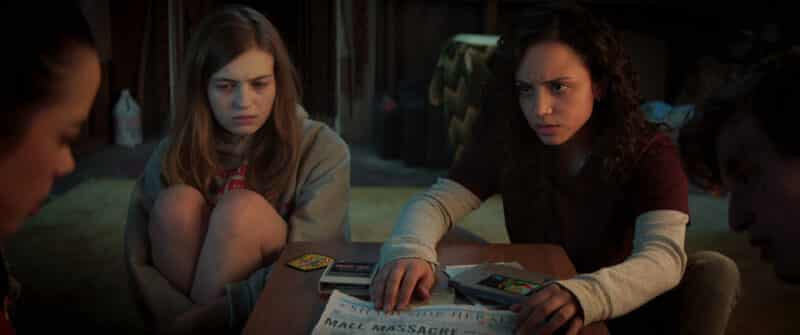 Why? Because it gives you everything you'd need. Between Deena and Sam, you get a queer storyline with so much drama. Josh gives you the lore and nerdiness necessary for everyone to potentially get out alive. What also helps is, while some characters definitely seem like they are introduced for later storylines, no one seems unnecessary. Everyone leaves an impression, and when it comes to those who die (you know someone has to die), you genuinely are shocked and a little pissed you won't see them in future installments.
Hypes You Up For The Sequels
From what it appears, each film will pay homage to at least one horror classic. This film pays homage to Scream, the next Friday the 13th, and the final one I'm not sure yet, but considering how many horror films have witches? It could be anything. But, what is also of great benefit is that, the way this film ends, it sets up the idea that we're not going to abandon this cast, as members of this cast have a connection to the crew we'll see in Fear Street Part 2: 1978.
So, if anything, we'll have extended periods in the past, while things continue to unravel in 1994 going into 1995.
A Good Amount Of Information About Past Killers Who Likely Won't Get Covered
When it comes to the various people Sarah Fier has allegedly possessed, we don't get to know all of them well, but many are introduced, and there is the possibility those we didn't see in this movie can be featured in later entries. But, while some just make an appearance, between Josh and the various news clippings we see and gruesome reminders of how they became infamous, like our heroes, our villains leave you craving more screen time – in the best way. And considering some, like Ruby Lane, became killers before the year the next film takes place, there is a good chance we may see more of her and the others, and we're just positively giddy.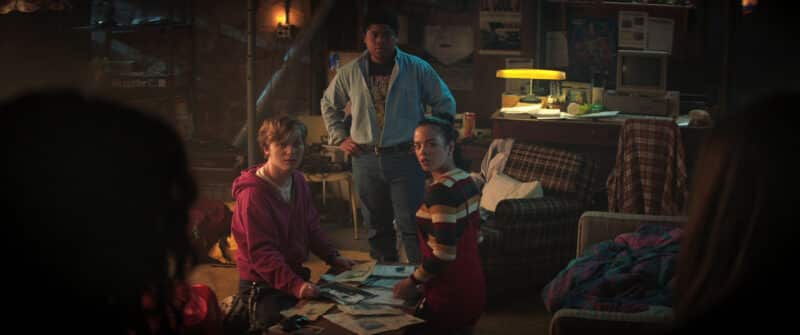 Our Rating: Positive (Worth Seeing) – Recommended
Fear Street Part 1: 1994 gives you a little bit of everything you'd expect and need. You get lesbians, of which one is closeted and afraid to live and love out loud. You got a multi-century curse caused by the death of an alleged witch. Also, you got rivaling towns, teens selling drugs, so many psychopath killers who kill in notably violent ways, and nearly everyone's presence on screen is welcomed, and when they are gone, you miss them.
Hence the recommendation label because, while maybe not the smartest horror film you may have seen of late, it is one of the most entertaining by far.
Who Is This For?
---
Community Rating:
---
You Never Want To Pause or Take A Break - 89%
Hypes You Up For The Sequels - 84%
A Good Amount Of Information About Past Killers Who Likely Won't Get Covered - 86%
Fear Street Part 1: 1994 is for those who enjoy horror movies that are meant to be entertaining present a quality story and lore to you yet not take itself too seriously.