Encanto (2021) – Review/ Summary (with Spoilers)
---
Community Rating: 0.00% (0) - No Community Ratings Submitted (Add Yours Below)
---
This post may contain affiliate links and spoilers. Please read our disclosure policy.
---
Fully expect Encanto to dominate this upcoming award season for its lessons, its themes, its characters, even its immigrant story, it is all too perfect.
---
Director(s)
Jared Bush, Byron Howard, Charise Castro Smith
Screenplay By
Charise Castro Smith, Jared Bush
Date Released
11/23/2021
Where To Watch
In Theaters
Genre(s)
Adventure, Comedy, Fantasy, Romance, Young Adult, Animation, Non-English, Family, Musical
Duration
1 Hour, 39 Minutes
Content Rating
PG
Noted Cast
Alma
María Cecilia Botero
Bruno
John Leguizamo
Julieta
Angie Cepeda
Pepa
Carolina Gaitan
Mirabel
Stephanie Beatriz
Antonio
Ravi Cabot-Conyers
Isabela
Diane Guerrero
Luisa
Jessica Darrow
Film Summary
For over 50 years, the Madrigal family has lived in the mountains of Colombia after escaping a local menace that was destroying people's homes. But, while trying to find a new home, the menace caught up with them, and if it wasn't for Abuelo Pedro, they might not have gotten away. Well, that and the magic of a candle which blew back the menacing figures, raised mountains and gave Pedro's widow, Alma, a home and community.
But, this was no ordinary home, the house was magical, and each of Alma and Pedro's kids, Bruno, Julieta, and Pepa, were given powers and their descendants – until Mirabel. She is the odd one out, and because of how much Alma has come to value and rely on her children having powers and grandchildren, it has left Mirabel feeling like a black sheep. Add in the community also takes advantage of their various abilities, this further makes Mirabel question her place in her family.
Which is why, when her little cousin, Antonio, gets powers, there is the question of how Mirabel feels since the gift skipped her? A question that quickly becomes a second thought as something goes wrong with the house's magic, and everyone starts to lose their powers. Something that Mirabel is blamed for, and because of that, she seeks a means to save the house and her family's magic, one way or another.
Things To Note | Question(s) Left Unanswered
Reason(s) for Film Rating: There is a weird incest joke by Bruno when he talks about a telenovela but beyond that? This film is harmless.
Review
Highlights
So Many Moments That'll Make You Cry
When a lot of these films focus on family, it often feels like a concept. One that doesn't really try to break the mold and explore relationships beyond parents and siblings. In Encanto, we're reminded how much extended family, from cousins to grandmothers, matter in a person's upbringing. Antonio, for example, loves and adores Mirabel, and when he is scared, during the ceremony where he'll learn if he'll get powers and what they'll be, he asks for Mirabel to walk with him.
Now, as to be expected, she tries to encourage him to do it on his own and have his moment, but when he says he needs her? Just bringing that memory back messes me up. But it isn't just that one.
Bruno, who can see visions of the future, has gained the reputation of being a bad omen. Which, with Abuelita Alma very much about what her family can do for the community and their image, Bruno feels a bit cast aside and like a blemish on the family. And seeing the means he goes to keep his distance yet still feel one with everyone will also have you crying.
And, just in general, the weight Abuelita Alma puts on everyone is becoming a crushing force. Which is why, in the last 20 to 30 minutes, as Mirabel asserts herself, has a bit of a breakdown, and we get the full story of how Abuelita Alma and Pedro met, and the magic was born, you'll be crying off and on every few minutes.
The Story, The Themes, The Message
The beauty of Encanto is that it touches upon so many deep subjects ranging from the negative reasons people immigrate to family not just being your blood relations, but also your community. Add in societal pressure, family pressure, the trouble of seeing yourself only valuable when people need something from you, and more, there is so much here!
But, what is probably the most important is the message: if your foundation isn't right, everything built up in your life is bound to crumble. If your relationships are at an impasse with neither side willing to make the first move, that is a crack. If you don't learn to say no and relax, that is going to cause a crack. If you forget what are the real gifts you were given and only focus on the superficial, you will find yourself on a fault line and unable to handle life when the earthquakes.
And whether you are an adult or kid, all of this is presented for you to absorb, reflect on, and maybe do better because of what you just saw and experienced.
On The Fence
The Songs Weren't That Catchy
The only song I remember are when Mirabel mentions the powers of her family members and the songs her sisters, Luisa and Isabela, sing about the pressure they're under. But don't ask me what the lyrics were. I can tell you what the songs were about, no problem, but the lyrics are a blur in my mind.
Overall
Our Rating: Positive (Worth Seeing) – Recommended
If the worst thing that can be said about a movie is that you can't remember the lyrics of a song, but they helped carry the message, that's pretty good. Especially considering all this film set out to do. It told the story of many an immigrant who left their home because of threats of violence. Encanto explored the complicated relationships that exist within families, and how a family is perceived, and what it gives to a community, can put a strain on an individual. Also, it touches upon people's worth, the strain of pursuing perfection, the importance of rest, and so much more.
So while Encanto may not be perfect, it does further Disney's deserved dominance in animation and furthers the nearly impeccable legacy of Lin Manuel-Miranda.
[ninja_tables id="46802″]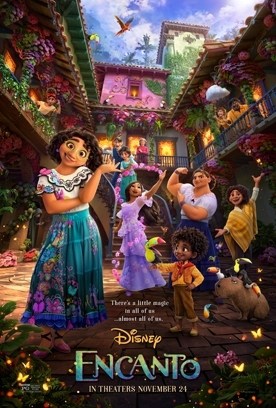 Encanto (2021) – Review/ Summary (with Spoilers)
Who Is This For?
First off, those who need a good cry. But, besides that, Encanto is for those who like their family-geared animation with strong themes, lessons, and that both exhibit how one person is part of a community, yet one person can't do it all.
Highlights
So Many Moments That'll Make You Cry
The Story, The Themes, The Message
Disputable
The Songs Weren't That Catchy
Related Topics:
Adventure
,
Angie Cepeda
,
Animation
,
Byron Howard
,
Carolina Gaitan
,
Charise Castro Smith
,
Comedy
,
Diane Guerrero
,
Family
,
Fantasy
,
In Theaters
,
Jared Bush
,
Jessica Darrow
,
John Leguizamo
,
María Cecilia Botero
,
Musical
,
Non-English
,
Rated PG
,
Ravi Cabot-Conyers
,
Romance
,
Stephanie Beatriz
,
Young Adult