"Cocaine Bear" meets the expectations of madness you'd expect it to have.
Director(s)
Elizabeth Banks
Screenplay By
Jimmy Warden
Based On
A True Story
Date Released (In Theaters)
February 24, 2023
Genre(s)
Action, Comedy, Thriller
Duration
1 Hour 35 Minutes
Content Rating
Rated R
Noted Cast
Bob
Isiah Whitlock Jr.
Peter
Jesse Tyler Ferguson
Liz
Margo Martindale
Sari
Keri Russell
Deidra
Brooklynn Prince
Henry
Christian Convery
Daveed
O'Shea Jackson Jr.
Eddie
Alden Ehrenreich
Sydney White
Ray Liotta
This content contains pertinent spoilers. Also, images and text in this post may contain affiliate links which, if a purchase is made from those sites, we may earn money or products from the company.
Film Summary
Sydney White is a drug dealer out of St. Louis who was trying to have some Colombian cocaine transported across the southern United States. Unfortunately, there were complications between the person who flew his plane and was supposed to drop off the coke in certain locations to his son Eddie and right-hand Daveed. A black bear has become addicted to the coke, alongside her cubs, two teens, Henry and Deidra, lost in a Georgia forest, with Deidra's mom, Sari looking for her, and a slew of other people getting in Sydney's way.
They range from a cop named Bob, a ranger named Liz who is trying to have alone time with an animal lover named Peter, local hoodlums who took some of his coke, and the list continues.
Things To Note
Why Is "Cocaine Bear" Rated R
Dialog: Cursing
Violence: Dismemberment, decapitation, entrails showing, gun violence, stabbing, bleeding, gore/ open wounds
Sexual Content: N/A
Miscellaneous: Drug use by animals and kids
Question(s) Left Unanswered
How much coke does it take to kill a bear?
Character Descriptions
Please Note: This character guide is not an exhaustive list of every cast member, and character descriptions may contain what can be considered spoilers.
Sydney White
A well-known drug dealer of the 80s, Sydney may be on the cops' radar, but is not easy to catch, even though it is clear his workers aren't the sharpest tools in the toolbox.
You May Also Know The Actor From Being: An unknown character in Charlie Day's upcoming "Fool's Paradise," Gordon Evans in "Hanna," and Matt Wozniak in "Shades of Blue."
Eddie
Eddie is Sydney's biological son who got out of the drug game, but Sydney is hoping that, with the recent death of his partner, he can take advantage of the mourning Eddie to bring him back into the fold.
You May Also Know The Actor From Being: An unknown role in the upcoming "Ironheart," Richard Feynman in the upcoming "Oppenheimer," and Luke in "Fair Play."
Daveed
Daveed is Sydney's right hand tasked with getting the missing cocaine from the Blood Mountain area of Georgia and help transition Eddie back into the fold.
Henry
Henry is Deidra, aka Dee Dee's, best friend who lives with his dad, who isn't the most watchful of parents.
Deidra
Deidra, aka Dee Dee, is a rebellious 13-year-old who doesn't like her mom dating someone new, especially since it requires her to adapt rather than this new guy.
You May Also Know The Actor From Being: Moonee in "The Florida Project," an unknown role in the upcoming "The Marsh King's Daughter" with Daisy Ridley, and Flora Fairchild in "The Turning."
Sari
Sari is a single mom with a deadbeat for an ex, who works in the medical field as a nurse and tries to be a good mom.
You May Also Know The Actor From Being: Felicity Porter in "Felicity," Olivia Drew in the upcoming "Extrapolations" on Apple TV+, and Elizabeth Jennings in "The Americans."
Liz
Liz is a park ranger hoping to get some from Peter.
You May Also Know The Actor From Being: Mattie Fae Aiken in "August Osage County," Elizabeth in "Your Honor," and Lcuianne Goldberg in "American Crime Story."
Peter
Peter is a forest inspector who is a big-time environmentalist and animal advocate.
You May Also Know The Actor From Being: Mitchell Pritchett in "Modern Family"
Bob
Bob is a cop from out in Tennessee who is tracking down Sydney's cocaine shipment and hoping to arrest him.
You May Also Know The Actor From Being: Charlie Figaro in "Your Honor," Reginald King in "The Kings of Napa," and State Senator R. Clayton 'Clay' Davis in "The Wire."
Review
---
Community Rating:
---
Our Rating: Positive (Worth Seeing)
Highlights
It's Indiscriminately Violent
"Cocaine Bear" isn't a movie focused on good guys or bad guys getting their comeuppance. Yes, Sydney and his associates are drug dealers, but they are given layers and nuance. Just as much as a lot of the decent people, like Liz, Peter, and Bob, are. This makes the fact that the bear doesn't care whether you are a good person or not hilarious and worrisome.
Why? Because the bear mauling the good guys, just because the bear is high, or they smell of cocaine, really pushes you to worry about every character. I mean, for goodness' sake, we see two kids swallow a tablespoon of cocaine at the beginning of the movie, a nice couple get attacked, and one loses a limb. That should be the first sign that anything can happen in this film, and you're in for a wild ride.
You Learn Just Enough About The Characters to Care
While relatively short, compared to most movies that overstay their welcome, even with a rather large cast, of which most die, you still get enough to know who is who. I'd even submit you learn enough to care about who lives or dies, whether they are a villain, neutral, or have the flavor of a good person.
Liz may just want some alone time from Peter, damn, Sari trying to find kids who are barely teenagers, but that doesn't make her a bad person. Heck, a part of you wants to see her have her feelings reciprocated by Peter. Daveed might be a drug dealer, working for a villain like Sydney, but even without learning his background, you get more than enough of his personality to get invested and want him to make it out of this movie alive.
That's the kind of writing Jimmy Warden presents here. Unlike many a movie where these characters would just be fodder for elaborate kills, with you having no connection to them at all, Warden's writing, and the performances, make each person an individual worth caring about, or at least you getting an emotional response from. Especially since nearly every character, even the local hoodlums, are given a goal or dream.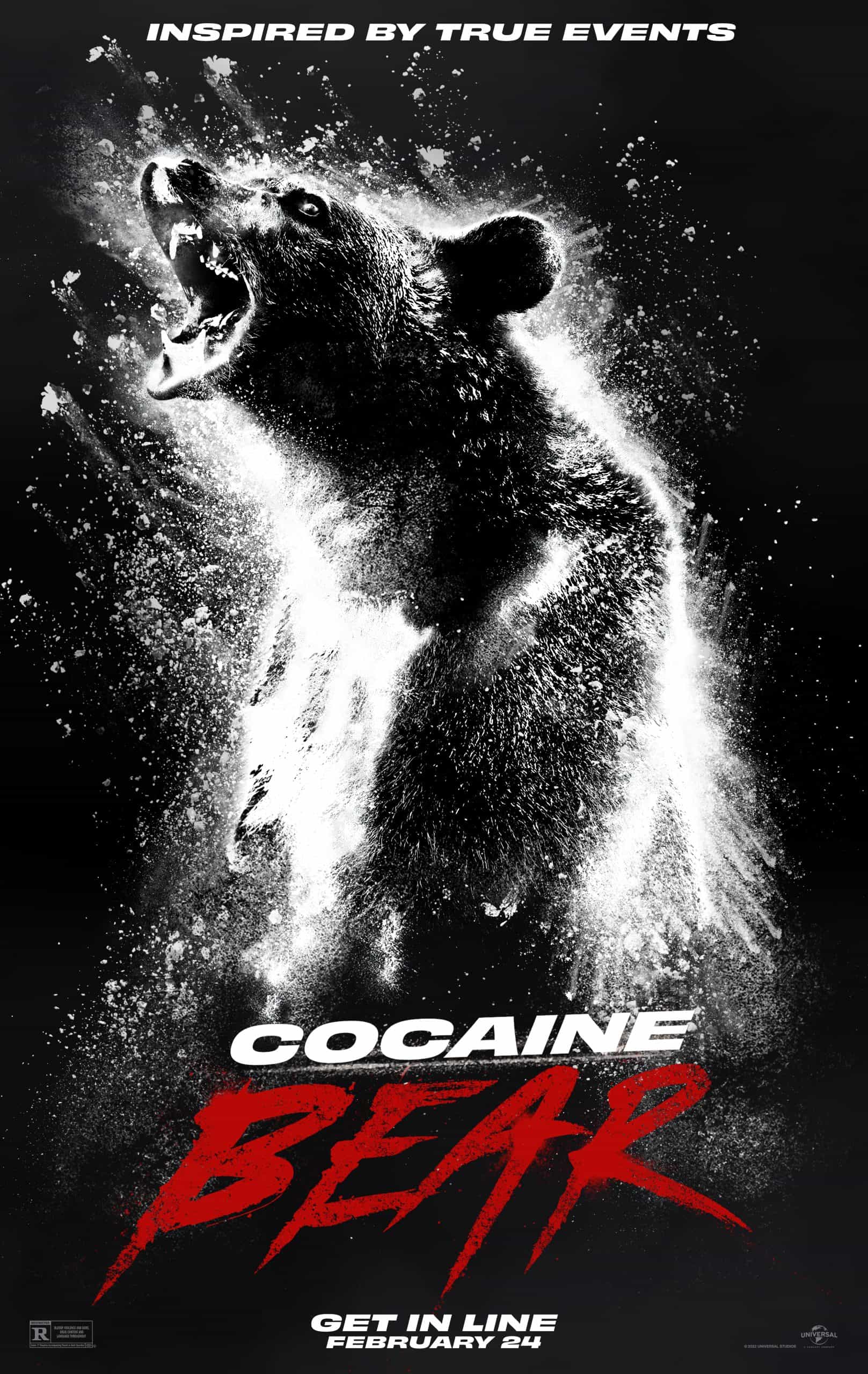 Cocaine Bear (2023) – Review/ Summary
Overall
"Cocaine Bear" lives up to what is advertised in the trailer and is truly a bizarre, hilarious, and also violent film.
Highlights
It's Indiscriminately Violent
You Learn Just Enough About The Characters to Care