What starts as a cute love story set in the financial world becomes the type of film that will infuriate you and make you yell at the protagonist about what they need to do to win you back.
Director(s)
Chloe Domont
Screenplay By
Chloe Domont
Based On
N/A
Date Released (Film Festival – Sundance Film Festival 2023)
1/24/2023
Genre(s)
Drama, Romance, Young Adult
Duration
1 Hour and 53 Minutes
Content Rating
Not Rated
Noted Cast
Emily
Phoebe Dynevor
Luke
Alden Ehrenreich
Campbell
Eddie Marsan
This content contains pertinent spoilers. Also, images and text in this post may contain affiliate links which, if a purchase is made from those sites, we may earn money or products from the company.
Film Summary
With things going well over two years of dating and spending some time living together, Emily and Luke get engaged. However, between Emily getting a promotion Luke was sure would be his to his insecurities eating at him because of Emily's relationship with his idol and their boss, Campbell? Prince charming slowly descends into a petty and vicious monster beyond a combination of every wicked stepmother you can think of.
Things To Note
Why Is "Fair Play" Rated Not Rated
Dialog: Cursing and misogynistic comments
Violence: Domestic violence
Sexual Content: Partial nudity and rape
Miscellaneous: Drinking and smoking
Character Descriptions
Please Note: This character guide is not an exhaustive list of every cast member, and character descriptions may contain what can be considered spoilers.
Emily
A notable person since having an article published in the Wall Street Journal at 17, Emily has worked her way up in the financial world, and it hasn't gone unnoticed.
You May Also Know The Actor From Being: Daphne Basset or Daphne Bridgerton in "Bridgerton," an unknown role in the upcoming "The Threesome" with Logan Lerman and Clare O'Brien in "Younger."
Luke
With multiple connections, Luke appeared to have paralysis and lacked direction for a good part of his life. At least until he heard Campbell speak, and his world was changed. Thus, he modeled himself after the man and wanted to become just like him. However, one problem is, while Luke and his family had the network, it is questionable if Luke has the intelligence and talent to be someone Campbell would not only take notice of, but see as an asset.
You May Also Know The Actor From Being: An unknown role in the upcoming "Cocaine Bear," Richard Feynman in the upcoming "Oppenheimer," and an unknown role in the upcoming "Ironheart."
Campbell
The head of One Crest Capital, Campbell is renowned for his company's work and portfolio and to impress him means you showing you aren't a one-trick pony or a seat filler who can't do much more than muck up his carpet.
You May Also Know The Actor From Being: Inspector Lestrade in the upcoming "Sherlock Holmes 3," Mitch Winehouse in the forthcoming Amy Winehouse biopic "Back to Black," and John Adams in the upcoming "Franklin."
Review
Our Rating: Positive (Worth Seeing) – Recommended
Notable Performances or Moments
Phoebe Dynevor
While many would consider Dynevor's breakout role to be "Bridgerton," I'd submit "Bridgerton" for Dynevor would be like Spiderman for Zendaya. It may have expanded her audience, but for Dynevor, "Fair Play" is akin to Zendaya in "Euphoria." However, one notable difference is that this doesn't feel like a light-and-day performance. This feels like an evolution if you aren't familiar with Dynevor's other work.
What we get from her as Emily is everything you could want. Emily begins as the lead in what looks like a romance if you didn't read a summary of the film. This man loves her so much he doesn't care if she is on her period; he'd still do anything and everything she wants. Not only that, but in the process of having sex in the bathroom, she learns he is going to propose. And with that, you could assume you are in for a blissful affair.
But that is until Luke reveals himself, and you get frustrated as you watch Dynevor try to make herself small so that Luke can have parity or feel bigger than he is. Note, Emily is the name of her character, but there comes a point that, eventually, your investment transcends the character, similar to how your investment would transcend whoever Tom Cruise plays, Denzel Washington, Viola Davis, or Angela Basset and what you care about is the actor. You want the actor, who is just playing a role, to stand up for themselves, do something, and it is as this happens you realize Dynevor has transcended being Daphne Basset, or Daphne Bridgerton, and has become a movie star.
Highlights
How Luke Makes You Want To Flip A Table
Luke takes us through the many stages of male entitlement. Be it thinking that because he is decent-looking and has a good job, he should undoubtedly have someone like Emily. Then, because he believes he works hard and has been at a company for a while, it is only natural for him to be promoted. But, if things don't go to plan, if he doesn't get what he thinks he deserves? Oh, it is because someone is a woman, cheated or hacked the system, and something unfair has happened.
In some cases, this is true, but the way Luke handles it helps you understand why "Toxic Masculinity" and so many other terms have become part of the English lexicon. For it is men like Luke who help you understand the status quo and why there is a need for social, economic, and political upheaval. The total disregard of privilege, whether you want to say White, male, heterosexual, take your pick, and the audacity to think minimum output should lead to great gains is all on display.
Ultimately making it so, the want, the need, the desire to not only see Emily stop trying to make Luke feel good, but remember how she got to where she is and tear him (Luke) down? Never mind cutting her losses? It is something that becomes a necessary vicarious experience.
Time Flies By
Alongside the performances of "Fair Play," you have to celebrate the writing, directing, and especially the editing. The build-up from Luke wallowing to becoming a hateful demon is masterfully done to the point you never want to check how much time is left. If anything, you are just biding your time into it clicks in Emily's head she is better than this, him, and deserves better. And with masterful pacing, just as you are ready to throw something, all you wished for begins to happen, and a weight is lifted off your shoulders. Making it feel like you just finished an intense workout and are flushed with endorphins.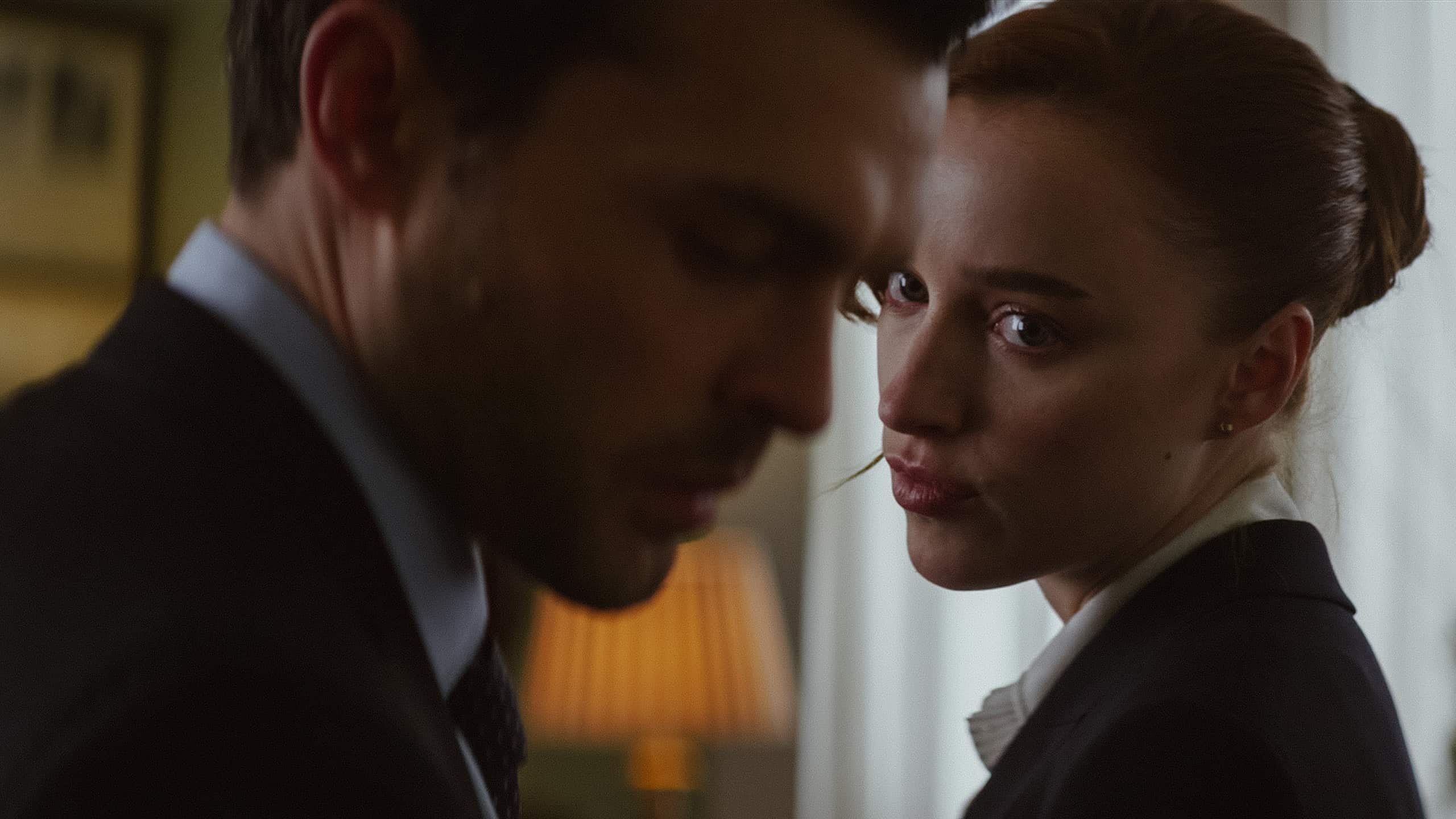 Fair Play (2023) – Review/ Summary (with Spoilers)
Overall
"Fair Play" has the rare perfect storm of performances, writing, directing, and editing that makes for a fully engaging film that causes something akin to spontaneous human combustion as you find yourself enraged over what happens throughout the story.
Highlights
Phoebe Dynevor
How Luke Makes You Want To Flip A Table
Time Flies By