Bridgerton: Season 1 – Review/ Summary (with Spoilers)
Bridgerton on its surface can be breezy and a quick watch. However, if you choose to analyze it, it can be far deeper than a girl finding love in a newly diverse world.
---
Network
Netflix
Creator(s)
Chris Van Dusen, Julia Quinn
Aired
12/25/2020
Episodes
8
Genre(s)
Comedy, Drama, Fantasy, Romance, Young Adult, Historical
Noted Cast
Daphne
Phoebe Dynevor
Penelope
Nicola Coughlan
Marina
Ruby Barker
Simon
Regé-Jean Page
Lord Hastings
Richard Pepple
Lady Danbury
Adjoa Andoh
Nigel
Jamie Beamish
Lady Whistledown
Julie Andrews
Queen Charlotte
Golda Rosheuvel
Will
Martins Imhangbe
Alice
Emma Naomi
Anthony
Jonathan Bailey
Siena
Sabrina Bartlett
Colin
Luke Newton
King George
James Fleet
Lady Violet
Ruth Gemmell
Genevieve
Kathryn Drysdale
Archibald
Ben Miller
Lady Portia
Polly Walker
Eloise
Claudia Jessie
This content contains pertinent spoilers.
Season Summary
It's the spring of 1813 and for many families, like the Bridgerton and Featherington families, it is a notable year for their daughters are coming of age and are being prepped to be married off. For some, like Daphne, the season is of ease and with the blessing of Queen Charlotte, she is considered the diamond of the season. However, for many of the Featherington family, the season is a struggle.
Why? Well, between Penelope feeling invisible for not being a thin beauty, and her sisters similar to Cinderella's stepsisters, things are rather quiet in that household. At least until a "cousin" named Marina shows up. But, with her comes drama and also a sense of love and war. For as everyone jockeys for a husband or wife, we're reminded how political and exploitative the whole process is.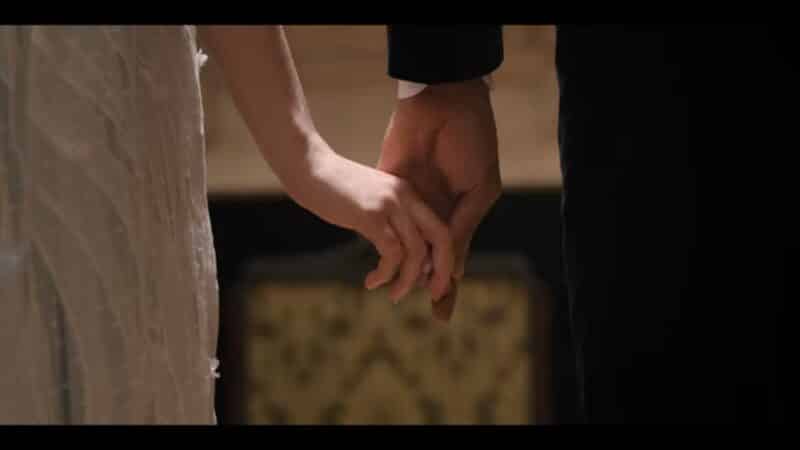 Be it Daphne's pursuit of the Duke of Hastings, the control over Marina courting who she wishes, and so much more. For as much as Bridgerton can be seen in a similar fashion to any period romance, just with more interracial interactions, there is far more beneath the surface.
Review
Highlights
Despite Being A Period Piece, It Only Takes The Entertaining Parts Of The Times
There isn't a sweeping orchestra, a Downton Abbey level of prim and proper, and the general feeling this is a period drama that requires a love for that culture. Between modernizing the music and featuring classical versions of modern songs, like "Thank You, Next," Bridgerton also focuses mainly on aesthetics. Whether it is the attire, manner of talking, or certain procedures, Bridgerton doesn't desire to bore you with what is historically accurate. It just wants to give you all the things you love, and water down the less undesirable parts of 1800 society.
Simon's Backstory
It's hard to summarize how important Simon's backstory is to understanding the Black experience for other characters. Especially due to Simon being the sole character, of any race, to have their backstory fleshed out with flashbacks. Because with that, we get to see a lot of which becomes subtle or not talked about when Simon is a grown man.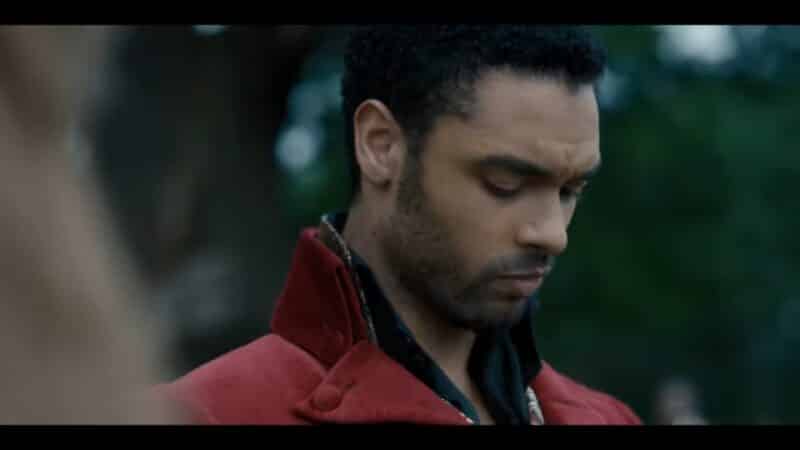 For example, in the flashbacks we meet Simon's dad, the former Lord of Hastings, and see what it was like to be the first generation given a title, integrating with white high society, and the pressure which comes with it. Mind you, pressure Simon's dad didn't handle well for it made him a tyrant. Yet, in comparison, we're also shown Lady Danbury who, with no sign of a husband at all, is calm, cool, and collected.
And speaking specifically about Simon, you get to understand what it means to be the first generation who benefits from their parents' hard work. There is this pressure to fit into some form of perfection, having access to more than your parents did, yet having to operate in such a limited scope, and knowing all their work, their legacy, could live and die with you.
That last part, the Hastings legacy, you see is one of the ways Simon gains power over his father by simply committing to not continuing the line. For that is the only way for a man whose presence made him stammer can feel empowered. Otherwise, he'd be the same boy abandoned by him and reliant on Lady Danbury and paid staff to give him a sense of belonging.
Showing The Ways Women Have Power Even When Oppressed In Society
Bridgerton operates during a time when women didn't have agency and as much as it pushes things forward with race mixing and Black people having some sense of power, other things remain circa 1813. However, through the takedown of a man named Nigel, we're reminded as much as women didn't have the ability to control certain things, their network empowered them. For whether it was taking down Nigel or how Lady Whistledown became daily reading, it forced many to understand a woman's word can be as strong as a man's might. Especially due to everyone at the mercy of preserving a reputation.
Lady Danbury & Queen Charlotte
Hands down, what will sell you on watching the series, especially if Daphne and Simon's romance doesn't click with you, are Lady Danbury and Queen Charlotte. Why? Well, when it comes to Lady Danbury, it is her possessing this strength that makes her formidable yet no less feminine. Add in her maternal relationship with Simon and it makes you more envious of him having Lady Danbury in his life than Daphne.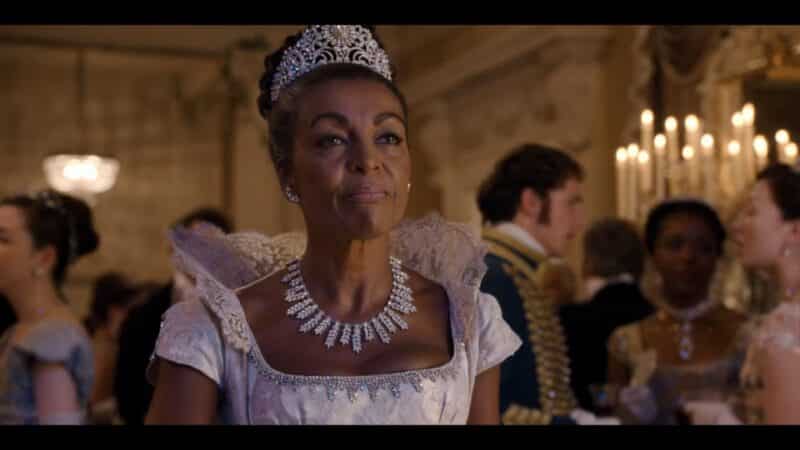 Then, with Queen Charlotte? Oh, it is just the shade. Be it her talking about whether her husband died, her interest in gossip, and so much more, Queen Charlotte gives you everything and more! Add in that this is a real historic figure, one not dived into much on screen, and it adds another layer to what makes this probably the most interesting queen taking note of in decades.
Will & Alice
It's funny that, when it comes to nearly all relationships we see on the show, they aren't rooted in love. The Featherington household doesn't have a marriage built on love but children and money. The Bridgerton household, well, Lady Violet is a widow and all we hear her speak is longingly of her husband. And while there is Anthony and Siena, Marina courting Colin, Penelope crushing on Colin, Queen Charlotte and King George, as well as Daphne and Simon, there is only one who are #CoupleGoals – Will and Alice.
With those two, nearly everything you hear from Lady Violet about her husband, and more, is seen. Alice, unlike most of the women, has power, tenacity, and just as much feel comfortable talking to men as women, be it social or about business. On top of that, Will doesn't do or say anything to make his wife smaller. He appreciates her initiative and loves her for who she is. All the while still making moves he may not talk to her about, but with this vibe that there is a trust there that either one can make a decision and know the other will support them.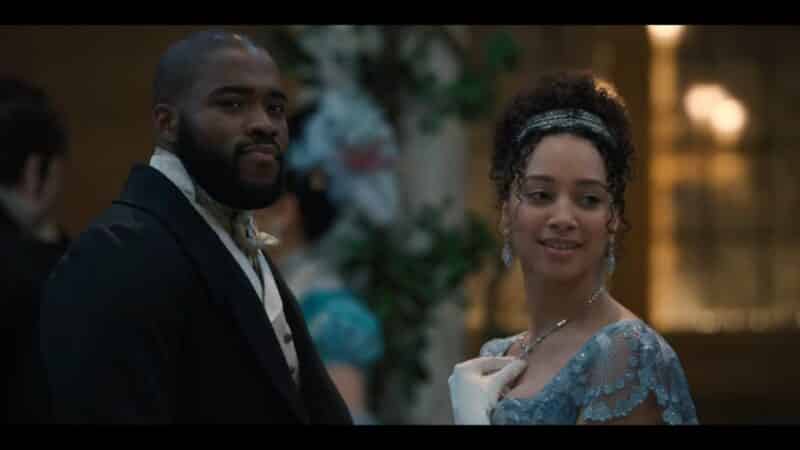 And considering this is a show which mainly focuses on interracial or relationships between white characters, a Black couple having the most functional relationship was a lovely touch.
Low Points
Marina's Storyline
I'm a member of Clubhouse and before listening to some of the discussions, I wasn't fond of Marina's storyline but I learned to deal with it. However, as you dig into the idea that it was a Black girl who had to be the pregnant one, how she was put away just as she was starting to eclipse Lady Portia's daughters, and how she was basically pushed off onto some older man, and her agency completely stolen, it's a lot. Add in Penelope likely outing her pregnancy and it pushes the idea the writers refused to allow Marina to have a single win.
And even the consolation prize that is her arc's ending, being with the brother of her dead lover, just doesn't sit well. Especially since Marina was one of the few Black girls in the season who spoke.
The Diversity Issue
When a show like Bridgerton decides to do diversity, there is a hope they will take it every which way they can. However, Bridgerton instead does the Hollywood minimum. Which is cast a few light-skinned, possibly multiracial actors, throw in a gay character, someone who isn't skinny, and call it a day. This is a bit frustrating, especially for a Shondaland production since it was her shows on ABC which were treated as what ushered in a new age of diversity.
So with only the mothers and Penelope being women who didn't look stick thin, that felt insulting. Add in Penelope treated like a ghost, it makes you wonder why couldn't history be re-written to make her desirable? Then, when it comes to diversity in ethnicity, it's strange that we have Asian people in the background, but never hear one of them talk. That we have a whole lot of dark skin Black men with speaking roles, but not a single dark-skinned Black woman speaks once.
Do they exist? Oh yes. Like Asian characters, they exist at parties and are seen for a moment, but what are their names? Your guess is as good as mine.
Then, when it comes to Genevieve, the closest thing to someone of Spanish origin? She is a seamstress that also moonlights as someone who partakes in orgies. Which the show tries to clean up with the possibility she is Lady Whistledown but, that doesn't pan out. Leaving the sole character who could be Spanish, Latinx, or Caribbean being a working girl in more ways than one.
On The Fence
Daphne & Simon As A Couple
The challenge of falling for Daphne and Simon comes from their age difference, and how Simon ends up coerced to be with Daphne. Mind you, does he find her attractive? Yes. However, Simon is also pretty adamant on not wanting kids, not wanting to be married, yet Daphne continues to entertain him and when forced to marry her, she raped him in episode 6.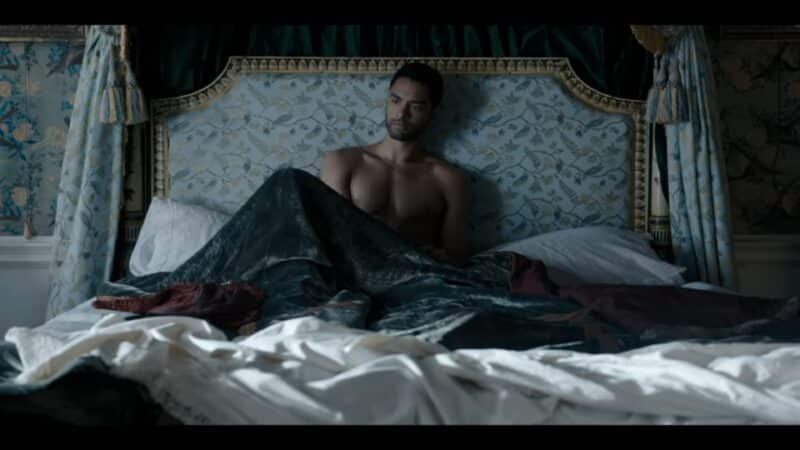 Which in itself was jarring since, when it comes to men being raped, it isn't something thought about since the logistics of it, beyond sodomy, aren't really gone into. So to have this 16 something-year-old rape a man at least 24, it is shocking. Especially since Daphne, and her family, have manipulated Simon basically into submission. And as much as Bridgerton shows Simon can take a punch, at a certain point you do have to wonder if he has become so accustomed to his body and mind being abused he can't differentiate between a healthy relationship and one that is toxic.
The Featherington's Take Most Of The Season To Get Their Storylines Together
A part of you may feel that it would have been better if, as a contrast, there were the generations-long Bridgertons and then the second or third generation Black Featheringtons rather than what we got. Not to say I would want all that drama placed on a Black family, but it would at least give this rather uninteresting family some oomph. For really, between Archibald's gambling habits, what little we see of his oldest daughters, Lady Portia always on the verge of being a social pariah, and how Penelope and Marina were treated, this family had very little in terms of draw.
Heck, even as there were reveals about how they functioned, it didn't make you care more but rather provide an understanding of why things are as they are. Which makes how the season ends for the family almost welcomed since it opens the door for another to enter in season 2 and hopefully do what the Featherington family could not.
It's Handling of Race
Was there a need for Bridgerton to be militant and do a deep dive into racial relations? No. However, while we appreciate how subtle things sometimes were, be it through Simon's backstory or Lady Danbury's reminder of how things were for her growing up, it didn't feel like enough. Mind you, there are moments, like when Archibald was talking down to Will, you get reminded that the old ways were certainly not as pleasant and friendly as we see. But considering the dramatic shift Queen Charlotte likely brought on, things seem way too adjusted – even in the privacy of people's homes.
Eloise & Penelope
Eloise is the kind of character who seems like the lead of her own show, shrunk to fit under Daphne's storyline. And even when she tries to break out, with the search for Lady Whistledown, there is still this push and pull between making Eloise her own person vs. just Daphne's opposite.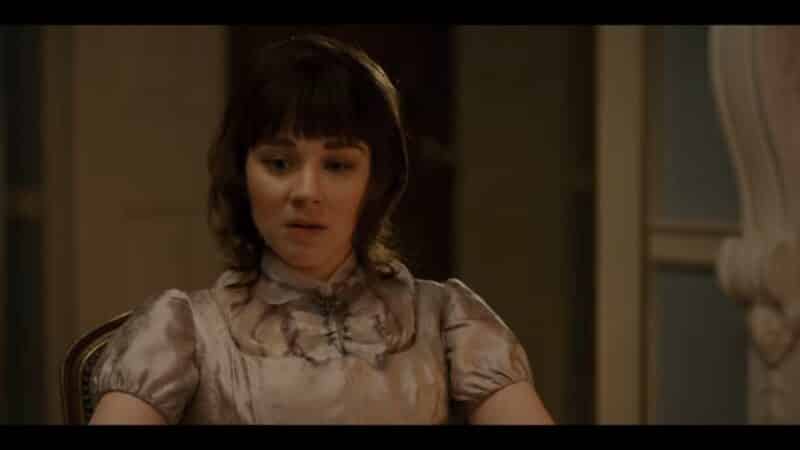 Then with Penelope, there is this desire to want to see good things happen to her, like her fall in love, get married, be a true part of society. Yet, perhaps to make her from someone you purely give sympathy to, you see her ruin Marina's reputation, even if it means destroying her family in the process. All because of some boy who has friend-zoned her for the longest.
And while you get why she'd be jealous and act so rash, it doesn't excuse the actions she took.
The Lady Whistledown Mystery
Bridgerton is often said to be a mix of Pride & Prejudice alongside Gossip Girl, thanks to Lady Whistledown. This is why the pursuit of exploring who she is, in the first season, seemed strange. It did give Eloise purpose, yet it also threatened one of the best-unseen characters, marvelously voiced by Julie Andrews. And honestly, whether Whistledown is a network or who it was revealed to be, here is hoping they back down from the story and pretend the reveal she might be Penelope didn't happen.
Overall
Clearly, with 12 headings, we got really invested in Bridgerton and while there was more criticism than praise, it is because we want this show to live up to not only its potential but its predecessors in Shondaland. Hence the stick around label. A lot of good things are done in the first season of Bridgerton and as long as the writers and cast are open and put the effort to change certain elements, this could be a show that doesn't experience a sophomore slump but improves on the original.
[amazon bestseller="Julia Quinn" items="3″]
[ninja_tables id="54199″]
Summary
Despite Being A Period Piece, It Only Takes The Entertaining Parts Of The Times - 81%
Simon's Backstory - 85%
Showing The Ways Women Have Power Even When Oppressed In Society - 83%
Lady Danbury & Queen Charlotte - 86%
Will & Alice - 87%
Marina's Storyline - 68%
The Diversity Issue - 65%
Daphne & Simon As A Couple - 74%
The Featherington's Take Most Of The Season To Get Their Storylines Together - 73%
Its Handling of Race - 75%
Eloise & Penelope - 76%
The Lady Whistledown Mystery - 72%
. A lot of good things are done in the first season of Bridgerton and as long as the writers and cast are open and put the effort to change certain elements, this could be a show that doesn't experience a sophomore slump but improves on the original.
Related Topics:
Adjoa Andoh
,
Ben Miller
,
Bridgerton
,
Bridgerton: Season 1
,
Chris Van Dusen
,
Claudia Jessie
,
Comedy
,
Drama
,
Emma Naomi
,
Fantasy
,
Golda Rosheuvel
,
Historical
,
James Fleet
,
Jamie Beamish
,
Jonathan Bailey
,
Julia Quinn
,
Julie Andrews
,
Kathryn Drysdale
,
Luke Newton
,
Martins Imhangbe
,
Netflix
,
Nicola Coughlan
,
Phoebe Dynevor
,
Polly Walker
,
Regé-Jean Page
,
Richard Pepple
,
Romance
,
Ruby Barker
,
Ruth Gemmell
,
Sabrina Bartlett
,
Young Adult