Girl Picture (2022) – Review/ Summary (with Spoilers)
In this coming-of-age tale, which takes place over three weeks, we watch 3 girls explore what it means to be loved or in love, to varying degrees of success.
---
Director(s)
Alli Haapasalo
Screenplay By
Ilona Ahti, Daniela Hakulinen
Date Released
1/24/2022
Where To Watch
Film Festival (Sundance Film Festival)
Genre(s)
Comedy, Drama, Romance, Young Adult, LGBT, Non-English (Finnish and French)
Duration
100 Minutes
Content Rating
Not Rated
Noted Cast
Mimmi
Aamu Mionoff
Ronkko
Eleonoora Kauhanen
Emma
Linnea Leino
Film Summary
Best friends Mimmi and Ronkko are complete opposites, and that's probably why they love each other. Mimmi has a bit of a chip on her shoulder but can let her guard down around Ronkko, and with Ronkko having a more realist view of life, she can give Ronkko an occasional reality check when necessary. But, while they go to school together and work together, they also live separate lives.
For Ronkko, want she wants is love, a relationship, someone who can potentially make her orgasm, and as for Mimmi? Well, being closer to her mom is the top thing she wants, but what she gets is a professional figure skater, Emma, falling for her and perhaps coercing her to realize she may not be ready for a serious relationship. Yet, with Emma having dedicated her life solely to competing and Mimmi being her first everything, so it seems, so comes the question if Mimmi may run away, step up, or ease expectations? While Ronkko tries to figure out if it is all these guys or maybe it is just her?
Cast & Character Guide
Please Note: This is not an exhaustive list of every cast member.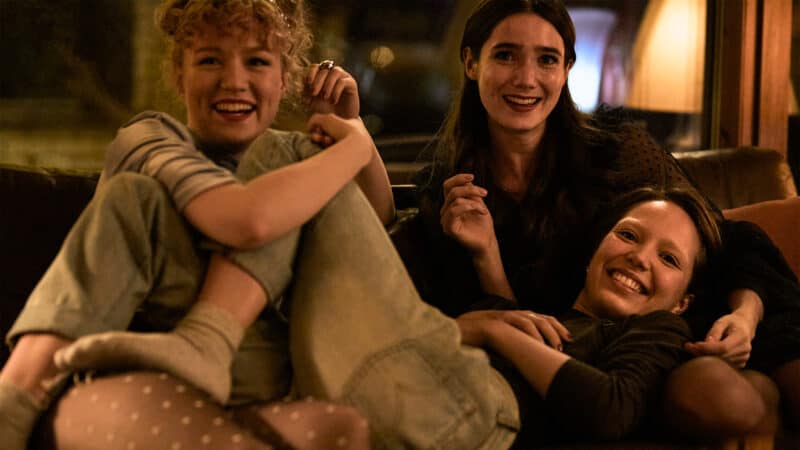 Mimmi
With her mother leaving her behind to start a new family and her guilt from that just leading to new clothes, Mimmi can be a bit of an angry young person at times. But, Ronkko seems to know how to break through to Mimmi and get her to calm down and be the playful person she knows.
Ronkko
Ronkko is the type who believes love and lust should be at first sight, but she hasn't felt it yet, and that worries her. For while she meets nice and interesting guys, the type who are decent enough to spend time with, she never reaches that climax with them romantically or sexually.
Emma
With a life dedicated to becoming a professional figure skater, Emma has to be pushed to go to parties, be young, and be social. However, her mother doing so ends up leading to Emma meeting Mimmi, who teased her badly earlier that day. But, upon their second meeting, Mimmi ends up creating a shift in Emma's life that was by no means planned or expected.
Other Noteworthy Information
Reason(s) for Film Rating: Sexually suggestive situations
Question(s) Left Unanswered
Did Mimmi live with her father, considering her mother seemingly started a whole new family a few towns over?
Review
Highlights
Ronkko, And The Possibility Of Hetero-Romantic Asexuality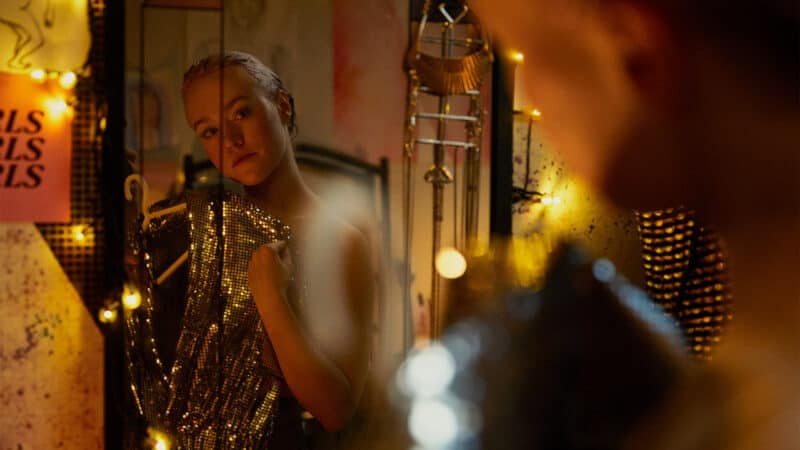 One of the things not explored much in media is the potential of asexuality. For the most part, being gay, lesbian, trans, and then bi is what you likely see, with the A of LGBTQIA+ some mistakenly thinking represents allies and not asexuals. But, in Girl Picture, they get their champion in Ronkko, who appears to be a hetero-romantic asexual. Which, yes, presents a very complicated view of sexuality and romance, but as people increasingly learn there are layers to desire, if not a spectrum, it makes characters like Ronkko important.
She spends time with multiple young men, most of whom seem lovely, only to find herself questioning what she feels. She has fun with them on dates or just hanging out, yet the sex? Whether she takes Mimmi's advice and is vocal about what she wants or needs or hopes they know what they are doing, it just isn't satisfying. Yet, there is still a desire to be with a man, as she notes she specifically is interested in men, but seemingly not in the way most men would like to be with her.
It's a story we don't see often, and with it featuring a young woman going through this, it's especially notable.
When You Don't Grow Up With Stable Love, Having Someone Who Is Intense About It Is Frightening
With Mimmi and Emma's storyline, we're reminded how much a person's upbringing affects their ability to be a good partner. Now, mind you, at most, these girls might be 17 or 18, considering they are in high school. But, there is no denying that Mimmi's abandonment issues made it so being with Emma was challenging when it was no longer about lust and fun, and she was expected to do more.
I mean, based on their story, you can understand that Mimmi having someone stable was exciting and frightening at the same time. So there was just as much a desire to sabotage it before Emma ended it, yet keep Emma close since she is one of the most consistent people in Mimmi's life.
Also, from Emma's standpoint, with her whole life being figure skating, having someone like Mimmi is exciting. She has this alternative look, is funny, edgy, and knows how to work her fingers and tongue. But, unlike with Mimmi, Emma doesn't see this as an escape from the norm or a vacation she is afraid will end before she's ready. For her, Mimmi was something unexpected and yet so dearly needed so that Emma could truly live life.
I'd even go so far as to say, if you look at how Emma performs on ice before and after Mimmi comes into her life, you can see a notable difference. Before Mimmi, Emma is focused on technique, thus her getting so deep in her head versus actually enjoying what she has spent most of her life committed to. But with Mimmi opening her mind to other things in life, on top of technique, she reattains a sense of passion in her work, which allows fluidity and the kind of impression which could lead to high marks from judges.
Mimmi and Ronkko's Friendship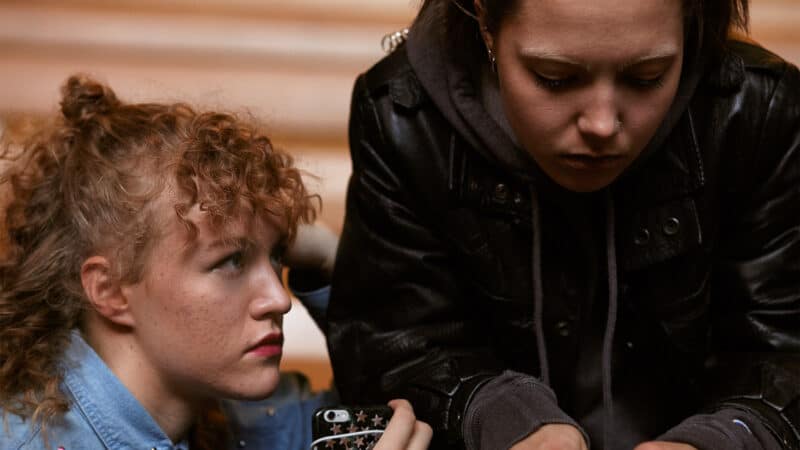 Opposites attract is often used to talk about romantic relationships, but it is also a beautiful thing to see in friendships as well. Mimmi and Ronkko give each other space to verbalize their insecurities their fears, and while they sometimes do come at each other's throats, there is no ego there. No sooner than Mimmi may flip out and Ronkko adds fuels to the fire, she squashes it for she realizes that isn't what the situation, or Mimmi, needs. She needs reassurance, love, understanding, and the space to be unlovable yet not be discarded. Which is so beautiful to watch that it might bring a tear to your eye.
Overall
Our Rating: Positive (Worth Seeing) – Recommended
With its exploration of relationships that are complicated, messy, yet without sensationalized drama, Girl Picture feels like it was truly made to explore the unique perspective young women have in a world far too often focused on men and their desires. If not creating a male version of something already established.
[ninja_tables id="46802″]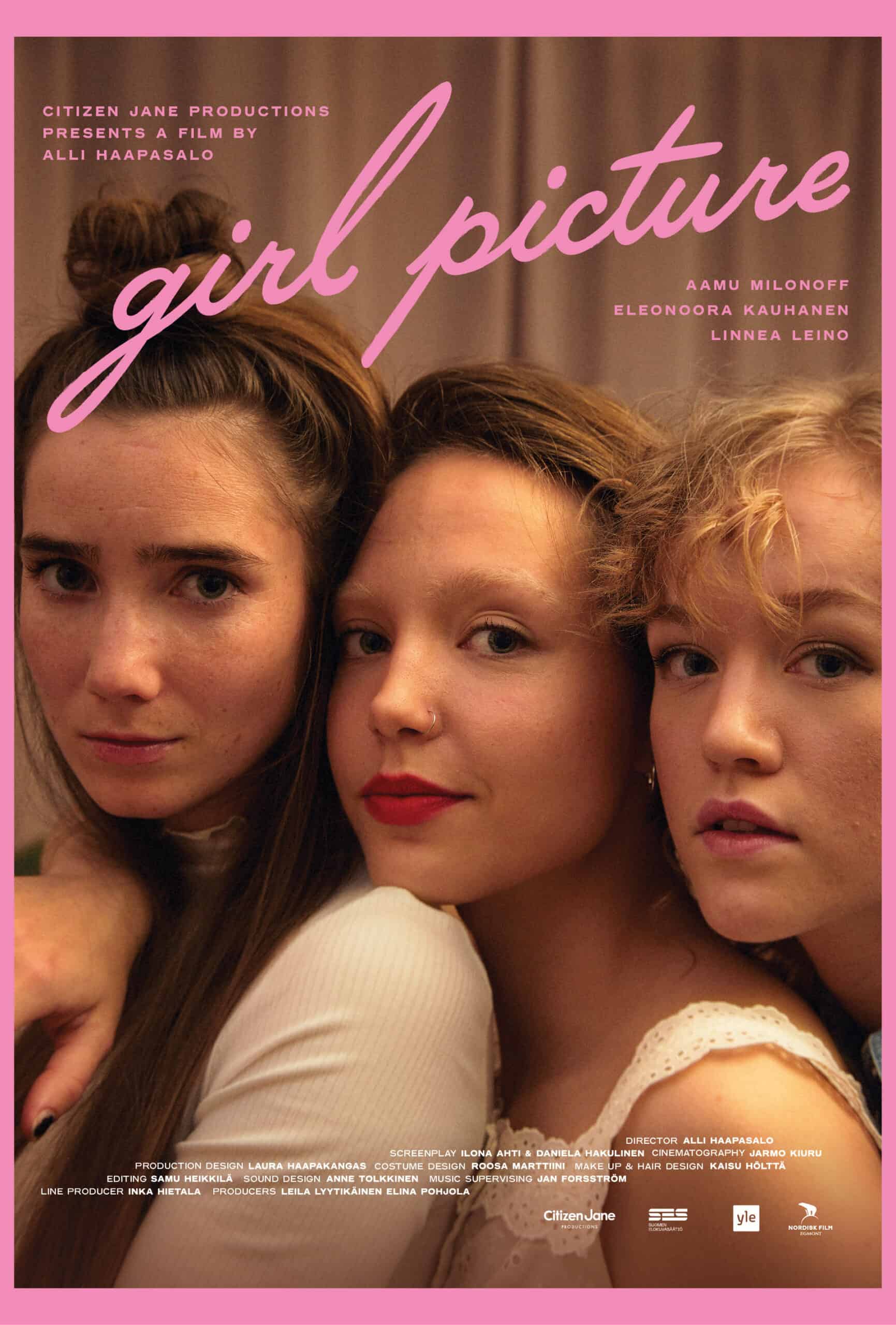 Girl Picture (2022) – Review/ Summary (with Spoilers)
Who Is This For?
Those who enjoy and prefer movies about young women, by a woman, and with the coming of age focus not completely being on their first time, or anything like that, but truly getting to discover themselves.
Highlights
Ronkko, And The Possibility Of Hetero-Romantic Asexuality
When You Don't Grow Up With Stable Love, Having Someone Who Is Intense About It Is Frightening
Mimmi and Ronkko's Friendship
Related Topics:
Aamu Mionoff
,
Alli Haapasalo
,
Comedy
,
Daniela Hakulinen
,
Drama
,
Eleonoora Kauhanen
,
Film Festival
,
Finnish
,
French
,
Ilona Ahti
,
LGBT+
,
Linnea Leino
,
Non-English
,
Not Rated
,
Romance
,
Sundance Film Festival
,
Young Adult