As The Chi continues to prune and grow, you can see it is fearless as it pursues avoiding routine and stagnancy.
---
Network
Showtime
Creator(s)
Lena Waithe
Aired
6/21/2020 – 8/23/2020
Genre(s)
Crime, Drama, Romance, Young Adult, LGBT
Noted Cast
Emmett
Jacob Latimore
Jada
Yolonda Ross
Ronnie
Ntare Guma Mbaho Mwine
Kiesha
Birgundi Baker
Kevin
Alex R. Hibbert
Nina
Tyla Abercrumbie
Dre
Miriam A. Hyman
Jake
Michael Epps
Trig
Luke James
Douda (Otis)
Curtiss Cook
Papa
Shamon Brown Jr.
Maisha
Genesis Denise Hale
Jemma
Judae'a
Tiffany
Hannaha Hall
Imani
Jasmine Davis
Miss Ethel
LaDonna Tittle
Roselyn
Kandi Burruss
Camille
Lena Waithe
Opal
Juanita Jennings
Dominique
La La Anthony
Tomas
Salvador Chacon
This content contains pertinent spoilers.
Season Summary
A maturing Emmett tries to alter the way his mother sees him, moving from unmotivated teen to full-fledged businessman, but Jada has her sights set on her own next chapter. Ronnie is unsure of his life's purpose but hopes it's not too late to transform himself. Kevin, Kiesha, and their newlywed mothers, Nina and Dre, undergo a seismic shift in their family. Jake finds himself in a tug-of-war between his estranged brother Trig, and Douda, his powerful new father-figure, while Papa finds love in an unlikely place. | Showtime
Question(s) Left Unanswered
So, how did Brandon die exactly?
Review
Highlights
Kiesha's Storyline – 87
While it did feel like it went on a bit too long, what needs to be understood about Keisha's storyline is that it represented a necessary shift in the show. For the first two seasons, The Chi has primarily focused on the trauma of Black boys, and the fears siblings and parents had for them. However, with Keisha being kidnapped and raped, things shifted to focus on Black girls and women.
Because, alongside all eyes being on Keisha, it allowed for Jada and Kiesha's mother Nina to open up and talk about their own trauma and issues. Thus the show started to pursue parity between the Black men and women on the show, rather than it being primarily, sometimes feeling exclusively, male-focused.
Kevin and Papa's Storylines & Romances – 86
The boys are growing up, and while Papa starting to have a thing for Maisha seemed a bit strange, considering how much he teased Kevin and was always picking a fight with her, I guess teasing was supposed to be adjacent to flirting? But, how strange this new decision may have felt at first, as you see how he talks to her, pursues her, and her response to his affection, they make one cute little couple.
But I would be remiss to not also mention Papa's evolving relationship with his faith and questioning his father. It isn't something touched upon too heavily in the season, just enough to plant a few seeds, but it does give Brown the ability to show off his dramatic chops unlike ever before.
As for Kevin? Can I say Kevin and Jemma give Maisha and Papa a run for their money? Mind you, for very different reasons. First and foremost, we are always here for two dark-skinned Black folk being together since that is rare. Add in the maturity we see when it comes to their relationship, the ebbs, and flows, as well as how Kevin tries to step up, and you can see that there is an attempt to really fill that gap that Brandon and Jerrika left.
In terms of Kevin as an individual? Seeing how he handles Kiesha's kidnapping and getting to focus on their relationship, it really helps you understand that he isn't that kid we once knew. Yeah, he isn't a grown-ass man yet, somewhere between, but the growth is apparent and welcomed.
Jemma – 85
With that said, Jemma, in a handful of episodes, probably got further than Jerrika did. Which isn't to take anything away from Jerrika, considering what the actress was going through. However, with Jemma, she has such presence and personality outside of Kevin that it makes you hope as the show pursues having its female characters exist without a male counterpart or child, she gets the shine she deserves.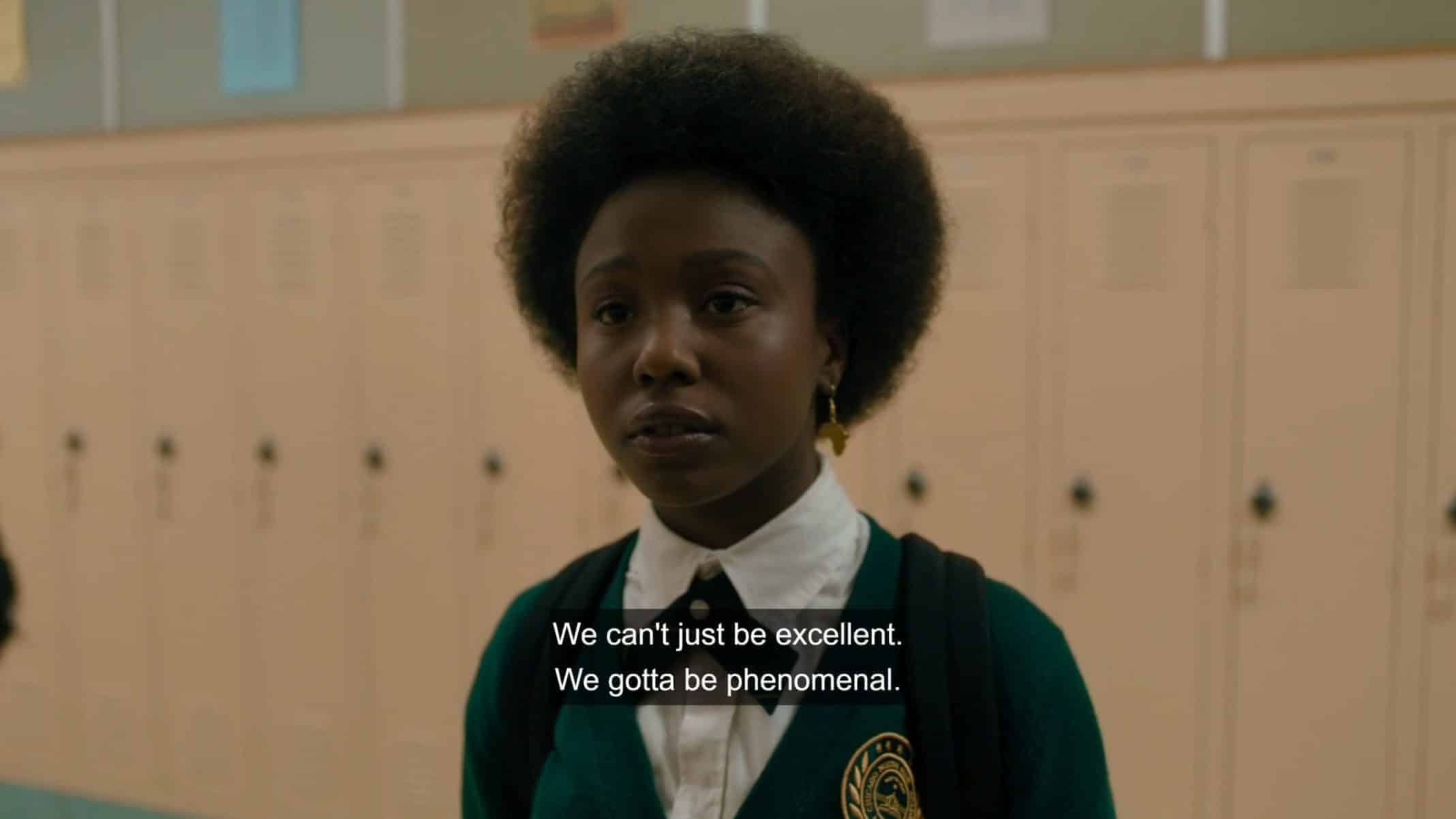 Tiffany Became Far More Than One Of Emmett's Baby Mommas – 82.5
For a lot of people, Emmett's growth might be worth focusing on as he steps into a more central role on the show. However, I'd submit what made him interesting was his relationship with Tiffany and how she acted as a catalyst for him to get his life together. Plus, with seeing her deal drugs and really get a taste of her personality, she got to benefit from this season lessening its focus on the men.
Granted, we don't meet her family, and when we are introduced to her friends, they don't get to leave much, if any, of an impression. However, out of all the women Emmett has messed around with, it feels like they are now becoming more than baby mommas and exes and could become actual women with lives before Emmett's penis got involved.
What Imani Brings To The Show – 84
Imani is a trans woman, with a man who considers himself straight, and her presence brings a lot of conversations about trans identity. Not to the degree you may like, especially considering Trig only wants her and seems to reject the community she belongs to. However, considering how the show didn't have a trans character previously, and the fact Nina and Dre felt like background characters, having Imani, and those two become prominent gave a major boost to LGBTQIA+ representation on The Chi.
Ronnie's Redemption Journey  – 82
Each season felt like it could be the one when Ronnie finally breaks his addiction and ends up on the straight and narrow until he falls off and starts drinking and screwing up. However, this time around, things seem to stick as he finds religion, once again, and you see him get the community support he needed. Making it so, in his final scene, while you may not love what happened to him, the fact he exits on a positive note makes the situation bittersweet.
Dre & Nina Feeling Like More Than Tokens – 84.5
Since their introduction, Nina and Dre being a queer couple didn't feel like they were truly included and part of the show. Rather, Dre's presence was about showing a lesbian couple with a family more than really take note of the ins and outs of their dynamic and relationship. However, things changed this season.
With this season, Nina isn't just Kiesha and Kevin's mother, but someone's wife, and Dre gets to step up in a BIG way because of it. Thus showing her complicated relationship with Kiesha, how hard it sometimes is for her to parent, and how Nina can be difficult to love sometimes. Yet, because of how Dre is, and their type, she stays, sticks it out, and shows she isn't going anywhere just because Nina might be lashing out.
Which is also worth mentioning. Nina, between her anxiety and hinting to what happened to her when she was younger, she gets to evolve as a person. Mind you, not to the point of feeling like we caught up on two seasons without much development, but she is going in the right direction.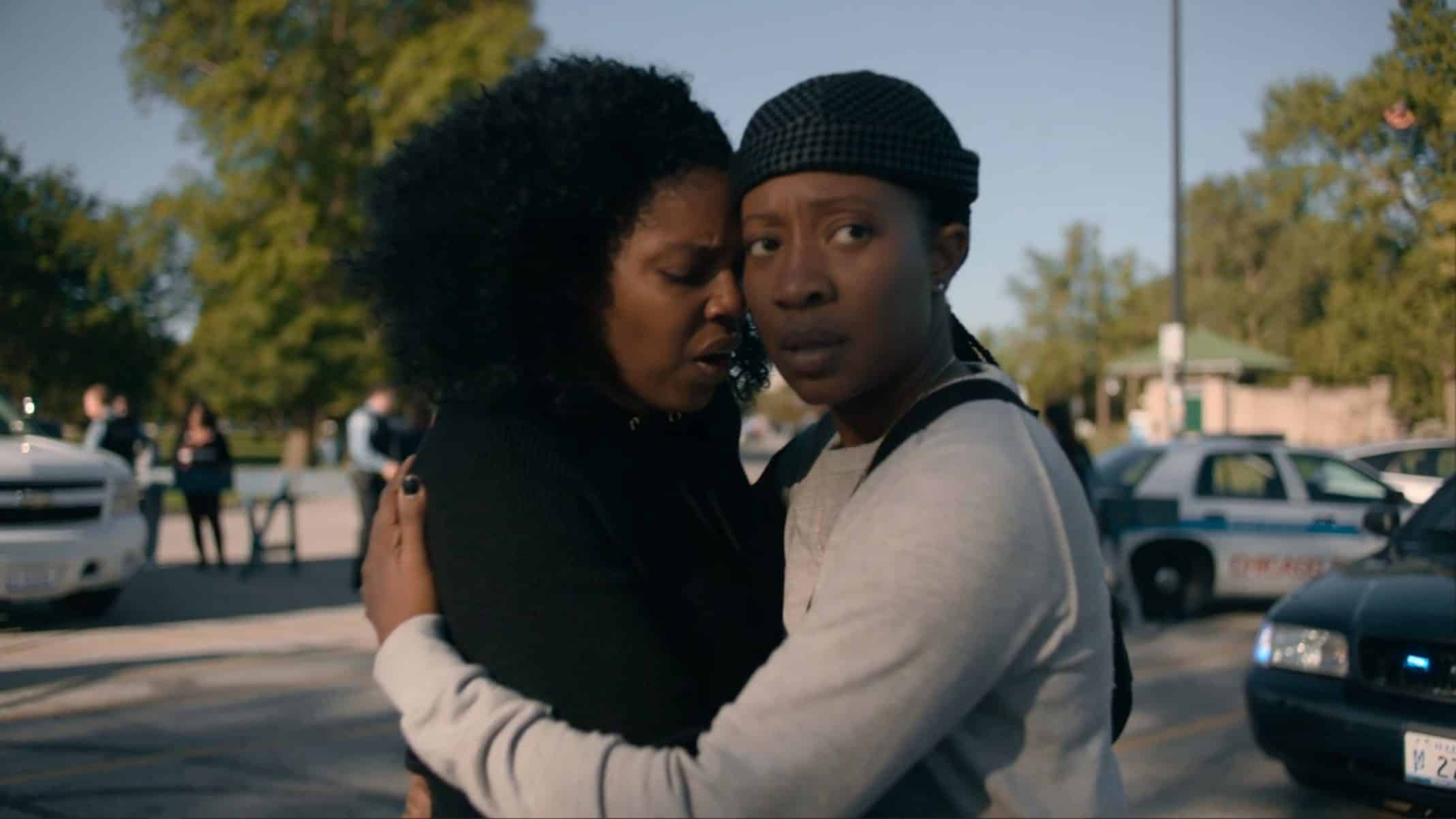 Miss Ethel's Goodbye – 83
One of the best and worst things about The Chi is that it has nothing against writing off characters. Be it because their storylines aren't working, like the whole cop storyline, or because the character has run their course. Such is the case for Miss Ethel, who, while beloved and representative of the senior community in Chicago, has also been through hell and back. So things ending for her with a day of clarity and glory, it was a wonderful send-off.
The Presence of Therapy – 80
Does therapy play a huge role? Nope. But seeing Emmett and Tiffany in couple's counseling is a beautiful sight. Dre advocating for Kiesha to go because of what happened to her, it's a beautiful thing. And as you take note of others who could benefit, it makes you hope it becomes increasingly common on the show.
On The Fence
Otis & Jake's Storyline – 73
Otis running for mayor was a lackluster storyline. Granted, Lena Waithe playing his opponent, the inclusion of Kandi Burruss, as his wife, and Juanita Jennings as his mother did give temporary boosts. However, in the long run, whether you're talking about Otis as a mayoral candidate, kingpin, or father figure, there was a lack of investment.
This didn't help Jake either. For while we do praise the inclusion of Imani, and her relationship with Trig, when it comes to Trig's relationship with Jake, there wasn't any real reason to care. Trig was new, barely mentioned, and his little spats with Otis, and eventually joining him, made it so Trig felt like the kind of character who should have been just someone new in the neighborhood than Jake's older brother.
Dominique – 70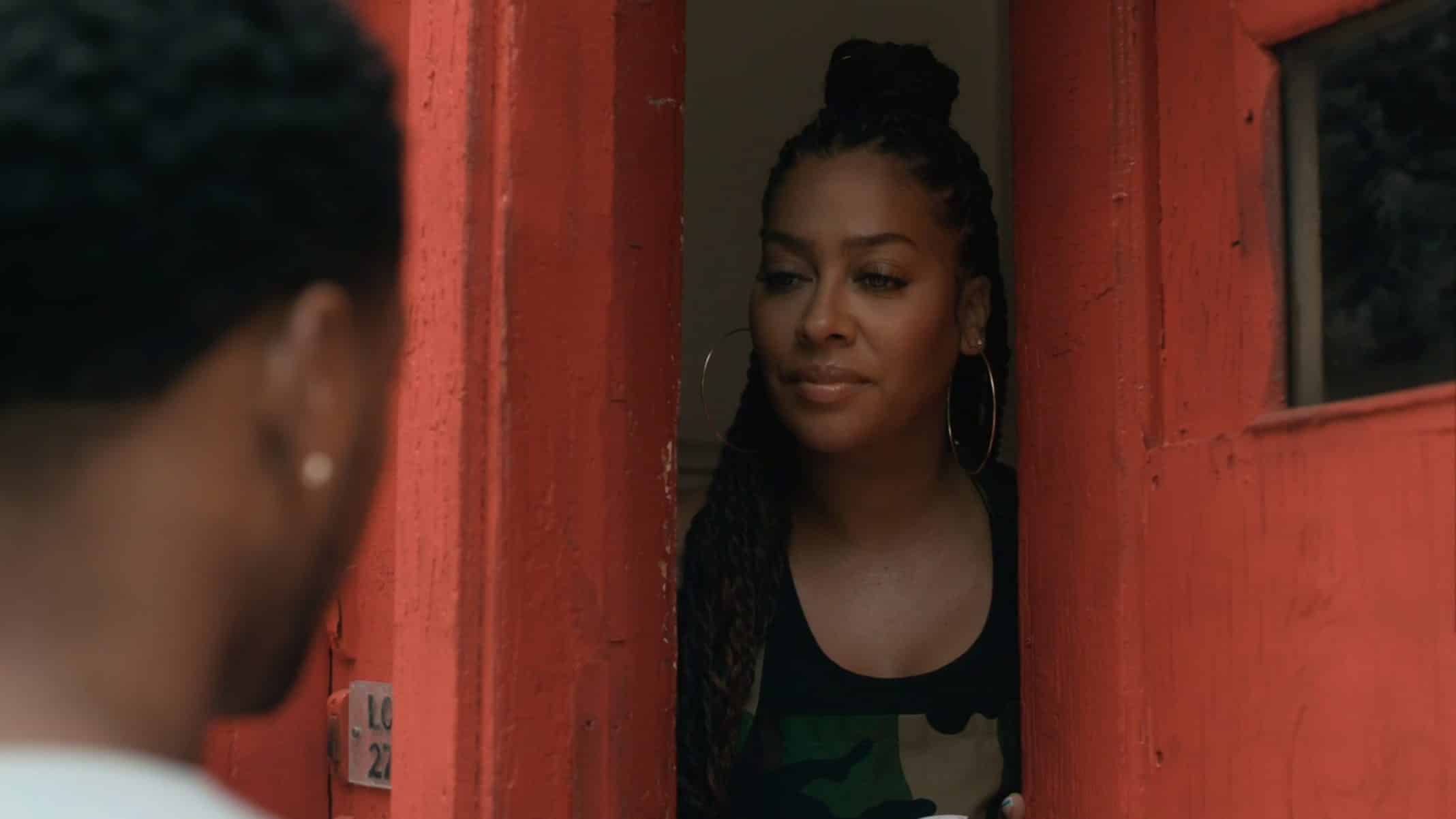 Our issue with Dominique is that her entire existence seemed to be based around challenging whether or not Emmett truly had evolved. As for who she was beyond someone he could use to replace Brandon, that isn't gone into. She is just someone with cooking talents and ass – Nothing more, nothing less.
Jada – 71
Off and on, there have been attempts to give Jada a life outside of Emmet, and season 3 shows that Jada just doesn't work as a character with her own life. Take her relationship with co-worker Tomas – it was ass. However, her connecting with Tiffany and Kiesha? That was some of her best scenes. So, hopefully, in the 4th season, Jada is just relegated to a notable supporting role and not pushed towards being front and center since it just doesn't work for the character.
Overall
Season 3 of The Chi is clearly a transition season. For with its former lead killed off, you can see a vacuum. However, from an increased presence from the female characters and established characters who may not have gotten their shine stepping up, The Chi doesn't skip a beat. If anything, as it continues to prune and develop, if not introduce new characters, it shows that like the city of Chicago, The Chi is evolving.
Kevin and Papa's Storylines & Romances - 86%
Tiffany Became Far More Than One Of Emmett's Baby Mommas - 82.5%
What Imani Brings To The Show - 84%
Ronnie's Redemption Journey - 82%
Dre & Nina Feeling Like More Than Tokens - 84.5%
Miss Ethel's Goodbye - 83%
The Presence of Therapy - 80%
Otis & Jake's Storyline - 73%
The Chi doesn't skip a beat. If anything, as it continues to prune and develop, if not introduce new characters, it shows that like the city of Chicago, The Chi is evolving.