High School Musical: The Musical: The Series: Season 3 – Summary/ Review (with Spoilers)
While the third season of "High School Musical: The Musical: The Series" only covers two weeks, it is jam-packed with notable new characters and storylines that maintain, or improve, the series.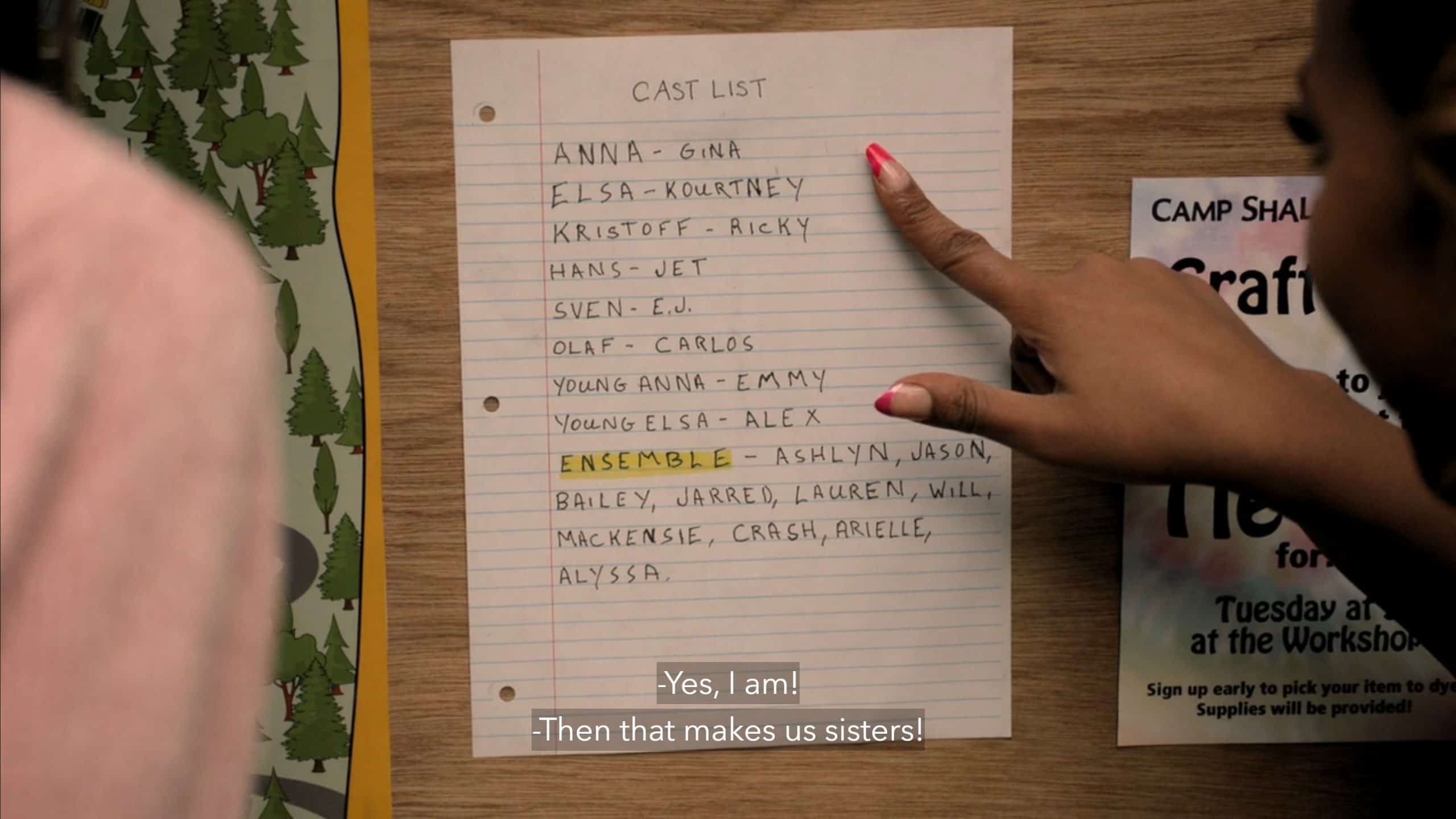 While the third season of "High School Musical: The Musical: The Series" only covers two weeks, it is jam-packed with notable new characters and storylines that maintain, or improve, the series.
Aired (Disney Plus)
July 27, 2022 to September 14, 2022
Genre(s)
Comedy, Drama, Romance, Young Adult, Musical
Noted Characters
EJ
Matt Cornett
Kourtney
Dara Reneé
Carlos
Frankie A. Rodriguez
Gina
Sofia Wylie
Ashlyn
Julia Lester
Ricky
Joshua Bassett
Nini
Olivia Rodrigo
Corbin Bleu
Corbin Bleu
Channing
Ben Stillwell
Val
Meg Donnelly
Maddox
Saylor Bell
Jet
Adrian Lyles
Alex
Aria Brooks
Emmy
Liamani Segura
Madison
JoJo Siwa
Big Red
Larry Saperstein
Lily
Olivia Rose Keegan
Seb
Joe Serafini
This content contains pertinent spoilers.
Summary
With each season covering a season, it's now summer, and a notable part of the cast are left behind in Salt Lake City as the rest go to Camp Shallow Lake. This includes EJ, who is a counselor in training, Kourtney, Carlos, Gina, Ashlyn, and, later on, Ricky. Nini also appears, briefly, as she meets her birth father in California. But, for the most part, the camp where EJ and Nini met is focused on, and not too long after arriving, they learn the summer musical to be put on within two weeks will be "Frozen."
But it doesn't end there, as Corbin Bleu of the original "High School Musical" shows up and reveals that Camp Shallow Lake will be the first to do the production, and Camp Shallow Lake's preparation will be documented for Disney+. This causes issues. Why? Because Channing, who has experience in reality TV, finds everyone boring, even the new kids, like Val, Maddox, Jet, Alex, and Emmy.
This leads to EJ, who finds himself having to direct the production of "Frozen" because there are no true adults able or willing to, working with Carlos to try to make people different archetypes. That creates initial interest but quickly spirals out, and while it doesn't lead to notable fights, it does open up more than one character as playing a role crashes with who they are, sometimes beyond who they thought they were when they first started camp.
Things To Note
Review
---
Community Rating:
---
Our Rating: Positive (Watch This)
Notable Performances, Moments, or Episodes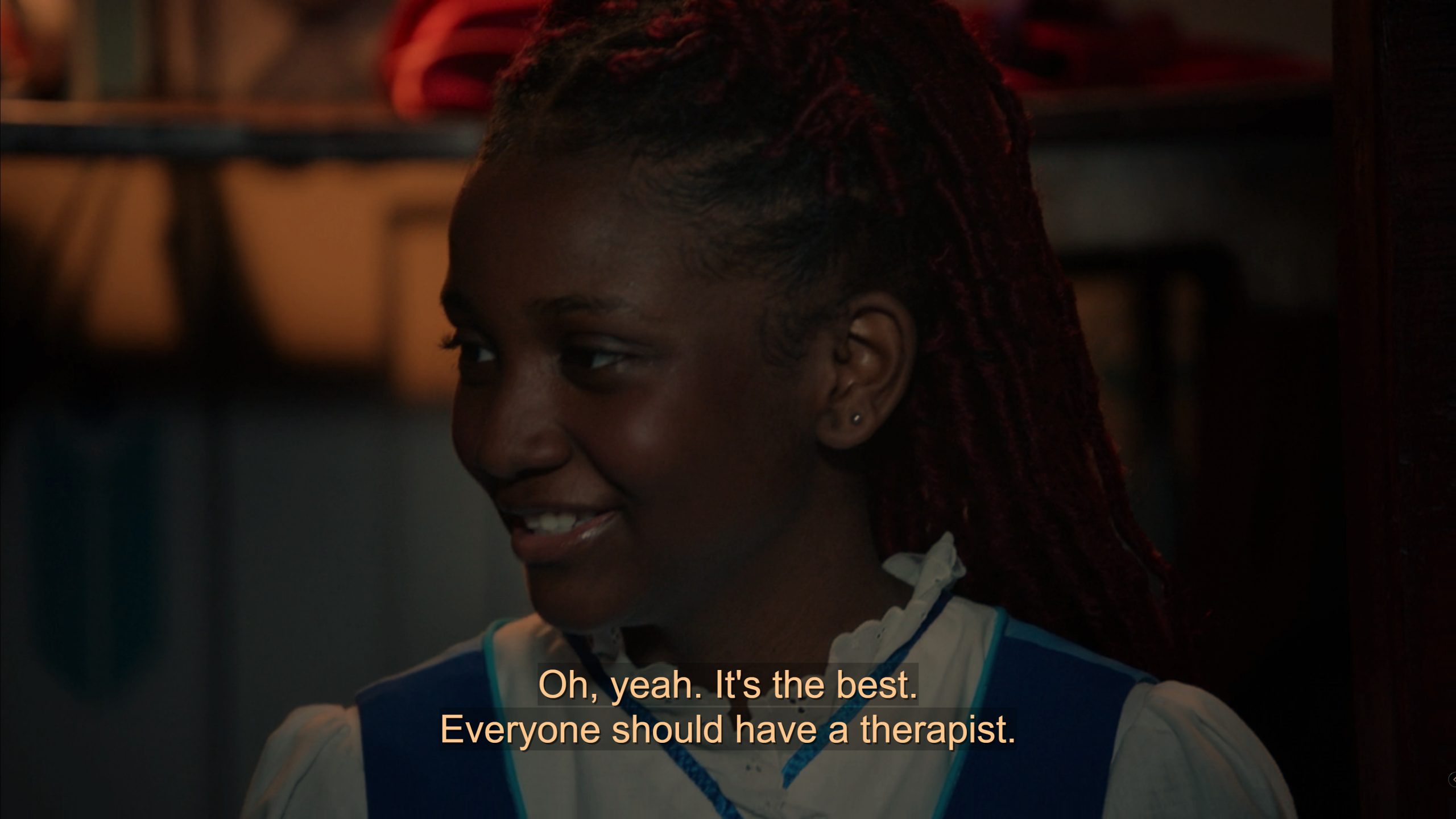 Kourtney dealing with anxiety throughout the season, and making it clear having one moment when you get past it, doesn't mean you no longer have anxiety.
How Ashlyn talks about realizing she is bi and how she talks about the LGBT+ community
Gina realizing that EJ is too old for her
Highlights
The Majority Of The Characters Introduced At Camp Shallow Lake
Whether it is the lesser seen Alex and Emmy, or the more integrated into the main storyline Val, Maddox, and Jet, the new characters leave their mark. Between sharing moments with Gina, or Alex revealing she has anxiety and has a therapist, Alex and Emmy become what you'd think would be the next generation for when the current cast graduates. Now, Emmy doesn't get much, or any notable, storyline, but she does sing better than many of the original cast members get to in this season. But, with the actress, Liamani Segura, announcing via Instagram that they will return for season 4, there is hope she could have something going in the future.
Then when it comes to Val, while her failed musical theater career isn't dived into, and her new path looking into psychology gets dropped halfway through the season, you can't deny the potential. Between her triggering Ashlyn's bi-sexual awakening to the potential of her and EJ, there is something long-term there. Like the rest of the new cast, it isn't clear if we may ever see her again, but there is enough foundation laid to explore more of her character.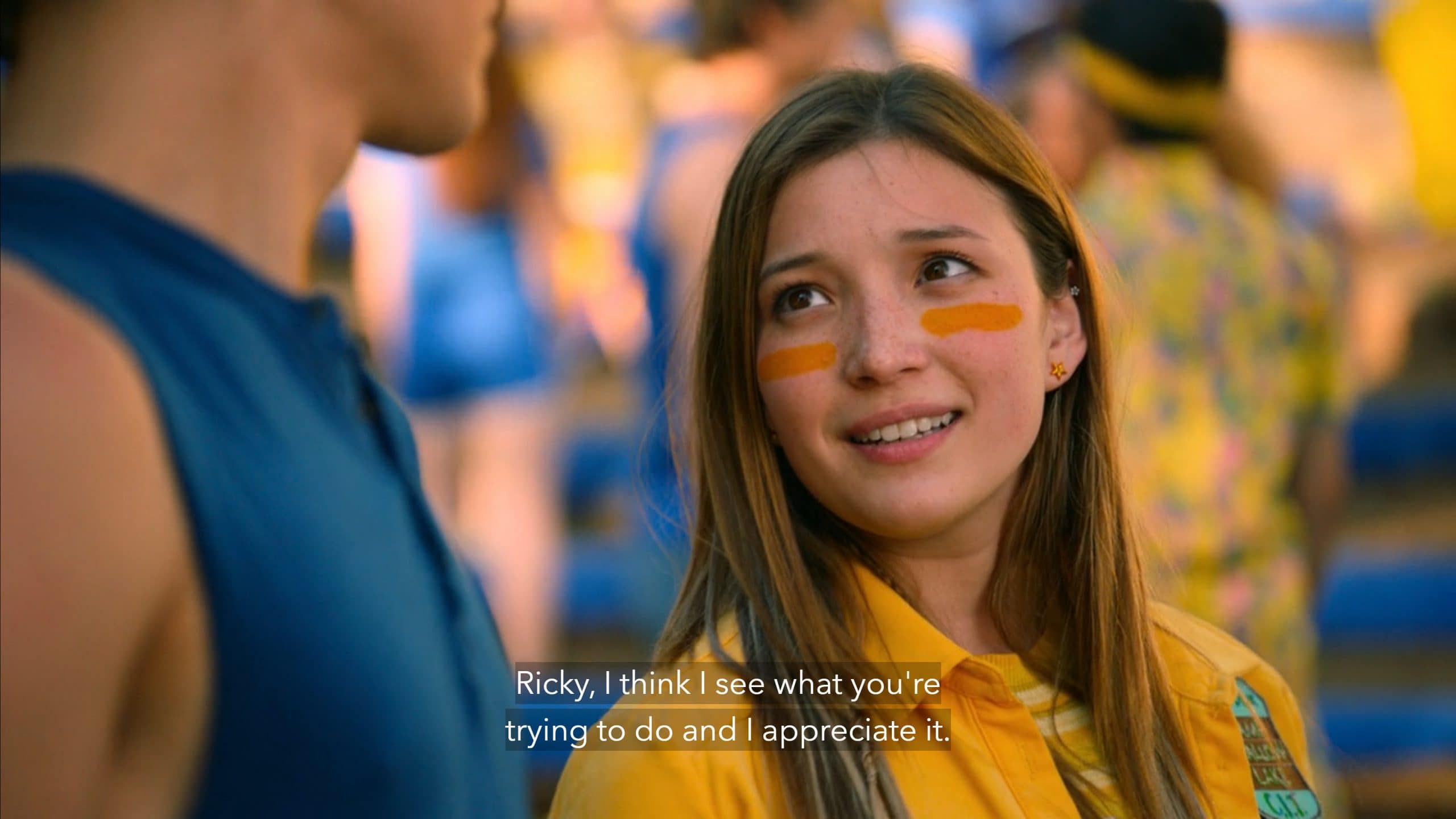 Which leaves Jet and Maddox. Jet begins as some generic rebel without a cause, but through him, we see the best of what Ricky offers the show and eventually get not only notable music performances but the most touching storyline yet. Mainly in seeing him reconcile with his sister, Maddox, who is queer and whose relationship with Madison is quite noteworthy. Not only because it is the first teen lesbian relationship, Nini's parents are the first lesbians, but also because there were complications there.
Between fears of coming out, Maddox getting clingy, and more, we got reminded that you can show a less-than-ideal queer romance without violence or trauma-inducing rejection.
Depiction Of Mental Health
While anxiety isn't a new topic for Disney productions, "Andi Mack" explored that through one character prior, it can never be lost on what it means to show different-looking people go through disorders. In the case of Kourtney, a Black girl, and Alex, another Black girl, showing them dealing with anxiety, sometimes it being debilitating, yet also seeing them seek help? That is notable. It normalizes not only the feeling but seeking a therapist.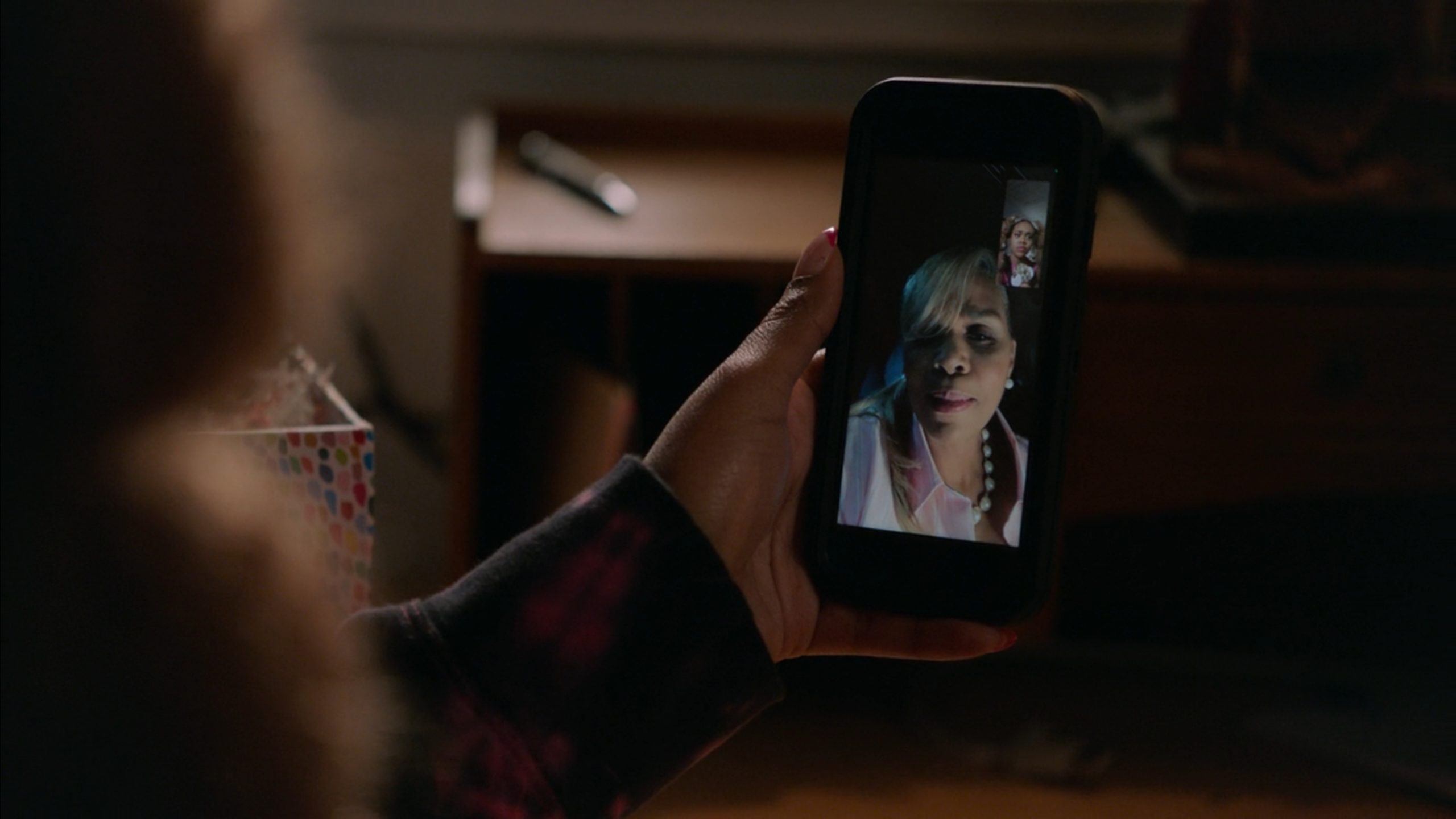 And while Black media for adults has increasingly discarded the idea that therapy is for crazy people, presenting the option when Black people are young is rarely depicted. So who knows how many may see what Kourtney was going through, hear Alex talk about seeing a therapist, and then them asking for the help they need. Which if they are like Kourtney's mom, hopefully, their parents will realize it is beyond what they can do or their church and get their kid the services they need.
Queer Storylines
While Carlos and Seb aren't that active this season, it doesn't mean "High School Musical: The Musical: The Series" withdrew from depicting queer people and couples. As noted above, there was Maddox and Madison's storyline. Nini meeting her father and us seeing her moms together was included. However, one of the more interesting plots dealt with Ashlyn developing females for Val.
Now, she never confesses to Val or jeopardizes her relationship with Big Red, who also comes out as bi, but in her explaining what it is like to discover a new part of herself, you get the most beautiful coming out moment. As she talks about her dating pool getting bigger and her heart and world, you truly see the balance "High School Musical: The Musical: The Series" is trying to harness. Specifically what it means to be Gen Z while avoiding the generation's more negative and dramatic perceptions.
Gina and EJ's Breakup
Dating older is something romanticized throughout the world, especially when it comes to girls dating older guys. However, while age originally isn't more than a number for Gina and EJ, towards the end of the season, as she realizes what she gets excited about is something normal to him at this point, you see a different view. His maturity isn't so much of an asset as it is a buzzkill. Not because Gina wants someone who bounces off the walls and makes fart jokes, but because she recognizes they are at different points in their life, and he can not regain those first-time jitters no more than she can always try to keep things chill.
This is her first real relationship with her boyfriend, who is dealing with the problems of an adult who graduated from high school and can't be there for everything and do what he needs to get done. For us, this is one of the rare depictions that didn't have the older guy pretty much chew up the younger woman and spit her out when she outgrew him. Instead, Gina's part was front and center, and she just as much decided to be with EJ, try to make it work, as she did ending it when she realized it was a pyrrhic battle.
Low End
Shutting Down A Lily and Ricky Relationship Quick
Lily, a holdover from last season, appears early on in season 3, and rather than explore who she is, beyond a White version of Gina 1.0, she's just dropped. For some reason, Lily has Ricky's harness from Beauty and the Beast, which gets discovered, and off he runs to Camp Shallow Lake.
On The Fence
Nearly Every Actor Getting A Chance To Shine As A Singer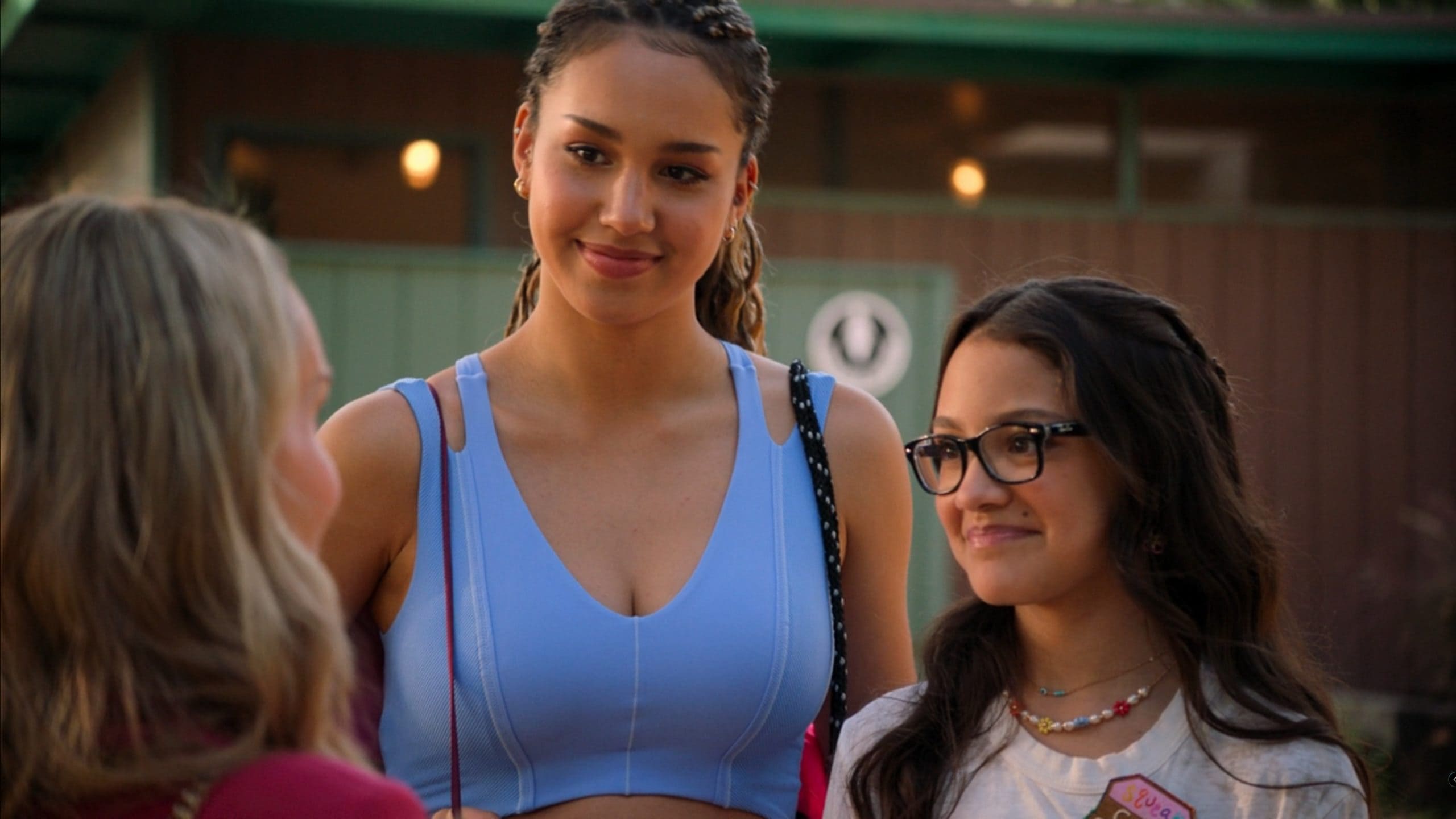 While almost every actor can carry a tune, not all of them are talented singers. Some, like Ricky, Nini, and Kourtney, never mind Emmy, can blow. Emmy, especially, is a talented singer. But in comparison to Carlos and Gina, whose best offering isn't their singing voice? While you have to appreciate everyone getting a chance to have the spotlight, it's hard to deny some deserve it more than others.
Nini's Write Off
Olivia Rodrigo clearly is getting to the point where a show like this is more of a hindrance on her career than something of benefit. However, while meeting her dad and feeling like California is a better vibe for her music career than Salt Lake City is understandable, it is hard to not look at how they are writing off a lead character and not wince. But, at the same time, between a major album and tour, there is the realization that getting more than a handful of voice-over moments is something "High School Musical: The Musical: The Series" should feel lucky they got.
Gina's Journey Of Reconciling Her As A Competitor And As A Friend Was Dropped
When Gina originally showed up, having no friends meant she would do anything to be the lead and prove herself to her brother, her mom, and her own person. That Gina scared a few people because she could be petty and manipulative, and while not dangerous in a violent way, it did make her hard to trust, which is necessary when working in theater.
With being posed to become a lead at Camp Shallow Lake, originally, there was a worry that Gina, to be seen as a star, would become a problem. There was even a moment with Emmy and Alex that made it seem Gina could fall into her old ways. Yet, everything shifted to be about her relationship with EJ and lingering feelings towards Ricky, and ultimately this individual storyline was dropped.
Not even in a way which reaffired Gina was beyond what was called "Gina 1.0," but simply put, it seemed Gina's love life was of more interest than her personal development or lack thereof.
Ashlyn's Storyline
The same problem could be said for Ashlyn. Going from a lead role as Belle in "Beauty and the Beast" to being cast in the ensemble was devasting for Ashlyn. Yet, rather than explore that, maybe even use that to help us understand how Val felt going from a big fish in a little pond to a small fish in the ocean, things shifted, and Ashlyn's romantic life was focused. Between Maddox pushing the idea she is queer, to Ashlyn realizing she is bi, that became her storyline.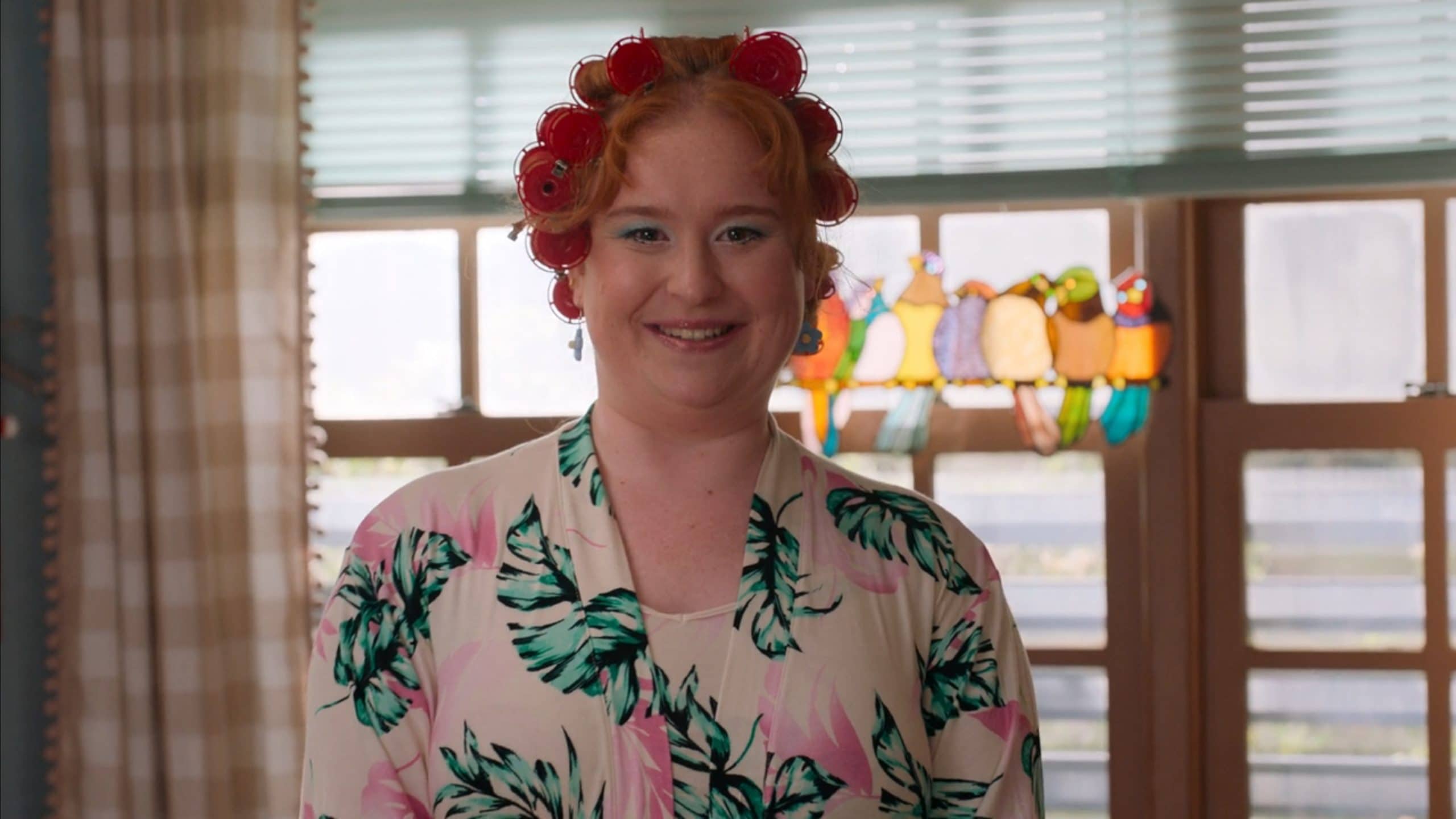 Which isn't to say it was a bad one, considering it isn't often you see someone who looks like Ashlyn, who is featured as much as her coming out, but considering season 2 was largely about her seeing her own value and knowing her worth? For that not to be explored when one of the things which gave her a major boost got stripped, never mind investigated properly, was a missed opportunity.
[ninja_tables id="70037″]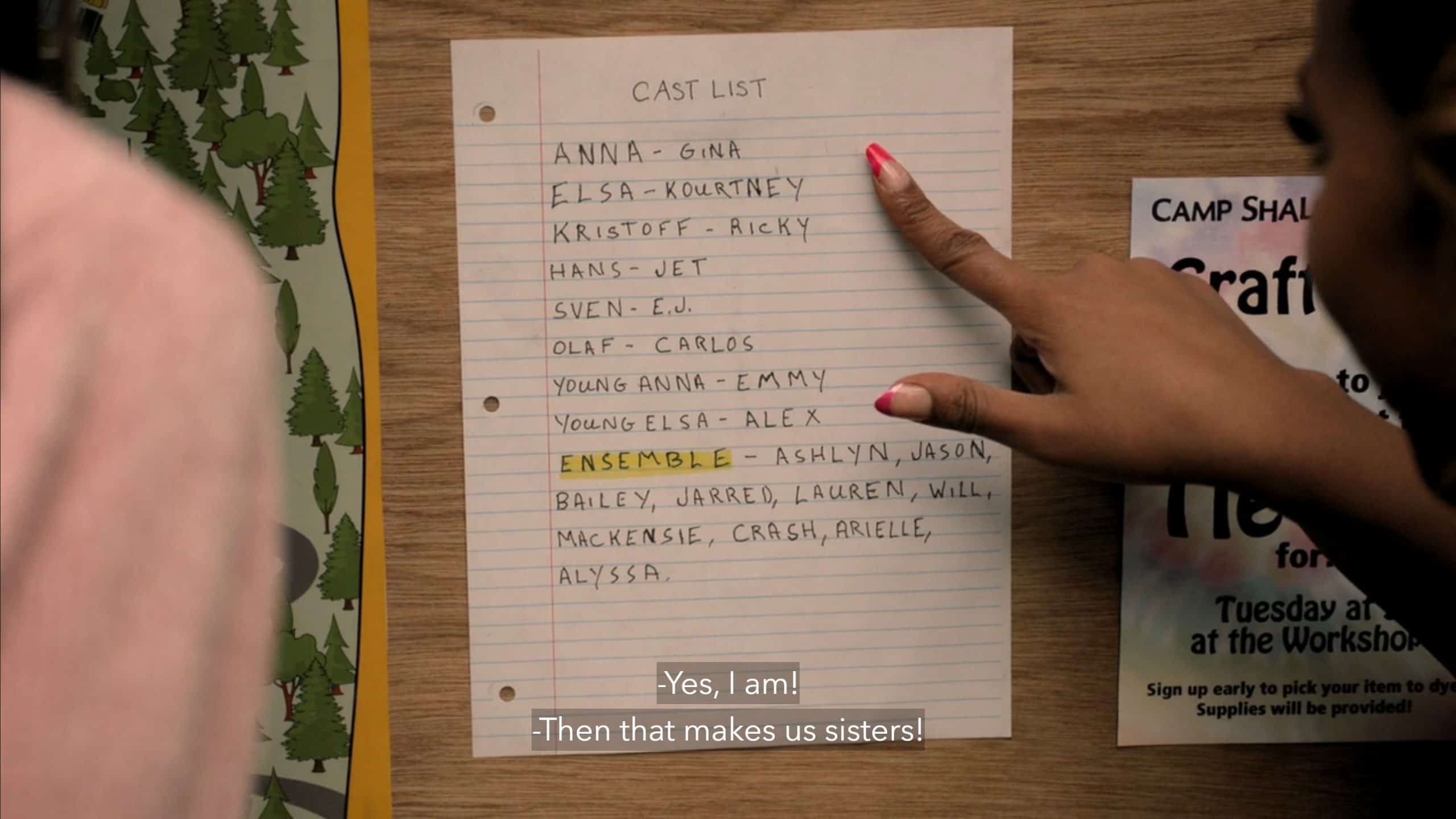 High School Musical: The Musical: The Series: Season 3 – Summary/ Review (with Spoilers)
Overall
"High School Musical: The Musical: The Series," in its third season, continues to be some of the best tween television we're aware of. Which isn't to say it still doesn't struggle with consistency issues or how many storylines focus on relationships, but it still has that special something.
Highlights
The Majority Of The Characters Introduced At Camp Shallow Lake
Depiction Of Mental Health
Queer Storylines
Gina and EJ's Breakup
Disputable
Shutting Down A Lily and Ricky Relationship Quick
Nearly Every Actor Getting A Chance To Shine As A Singer
Nini's Write Off
Gina's Journey Of Reconciling Her As A Competitor And As A Friend Was Dropped
Ashlyn's Storyline
---
Follow, Like, and Subscribe
Community Rating: 0.00% (0) - No Community Ratings Submitted (Add Yours Below)