Fortune Favors Lady Nikuko (2022) – Review/ Summary (with Spoilers)
---
Community Rating: 94% (1 votes)
---
This post may contain affiliate links and spoilers. Please read our disclosure policy.
---
This coming-of-age story subverts what you may think it is about, based on the "Fortune Favors Lady Nikuko" trailer, and leaves you a tear-stained mess by the time it's over.
---
Director(s)
Ayumu Watanabe
Screenplay By
Satomi Ohshima
Date Released (In Theaters)
6/2/2022
Genre(s)
Comedy, Drama, Young Adult, Animation, Non-English (Japanese), Family
Duration
1 Hour and 37 Minutes
Content Rating
Not Rated
Noted Cast
Kikuko
Cocomi
Nikuko

Shinobu Ôtake

Maria
Izumi Ishii
Ninomiya
Natsuki Hanae
Miu
Riho Yoshioka
This content contains pertinent spoilers.
Film Summary
Kikuko has had a bit of an unstable life. Her mother, Nikuko, who is child-like and naïve, often moved around, reinventing herself, after falling in and out of love with men who often were terrible and used her. But, after the last man, a novelist, left, potentially to end his life, Nikuko found herself in a port town, where she settled.
There, Kikuko found herself trying to navigate local drama between her first friend Maria and the other girls; deal with having a very eccentric mother, and handle one of her first crushes in Ninomiya. All while dealing with her feelings about how the community sees her mother, trying to keep her head low when it comes to all that is going on, and dealing with the fact that she is on the brink of becoming a teenager and all that means.
Things To Note
Reason(s) for Film Rating: Cursing (Nope), Violence (Nope), Sexual Content (Nope), Miscellaneous (Drinking, smoking)
Question(s) Left Unanswered
Did Nonomiya have tourettes?
Character Descriptions
Please Note: This character guide is not an exhaustive list of every cast member, and character descriptions may contain what can be considered spoilers.
Kikuko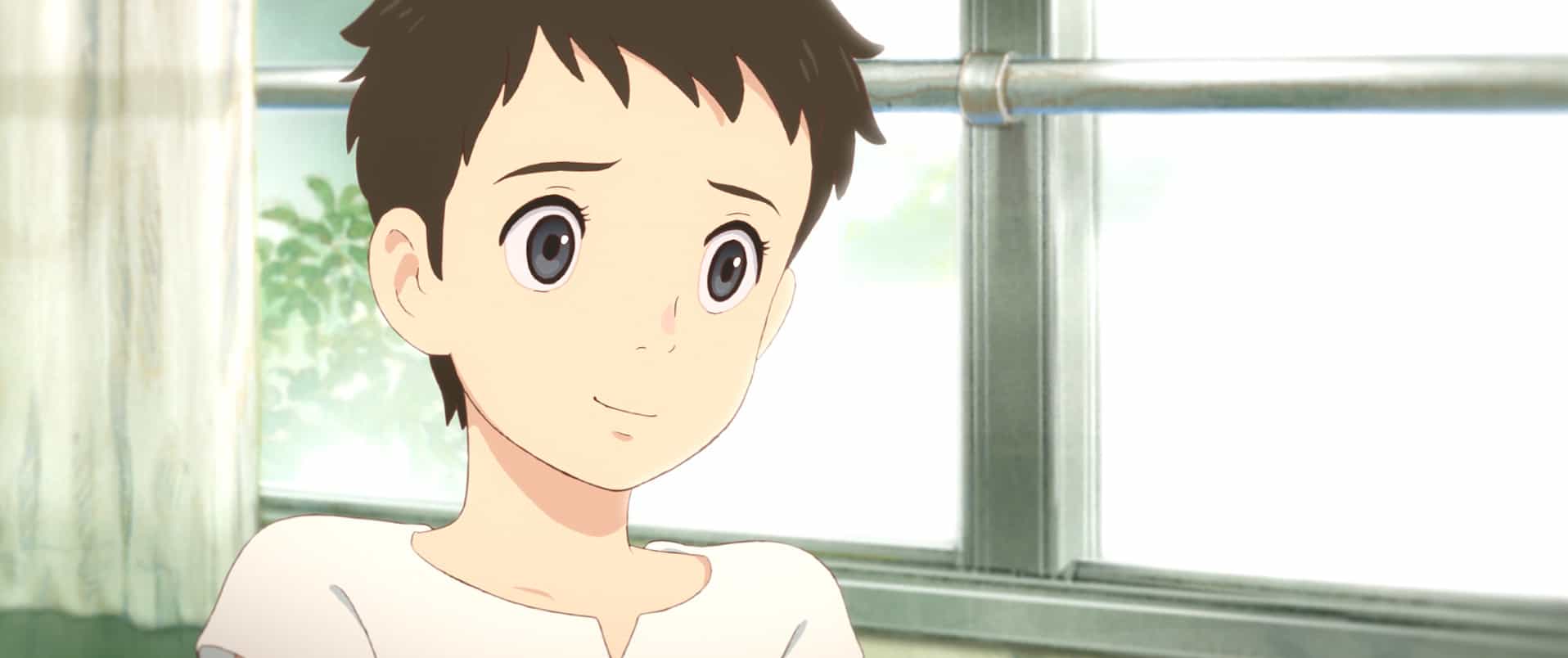 Teenaged Kikuko is lanky and proud of it and hopes to remain that way her whole life. It allows her to be one of the best in her class at basketball, and considering the borderline nightmares she has about becoming heavyset, she might think being happy is connected to being skinny.
Nikuko
Barely 5 feet, over 140 pounds, and in her 30s, Nikuko is a woman you cannot miss. But beyond her size, it is also her energy. She is a comical woman who loves a good pun and loves being in a relationship. Sadly, most of them don't end well, and it does push you to wonder if she eats her feelings, but with Kikuko in her life, she doesn't feel the same loneliness she used to.
Maria
Maria is the first friend Kikuko made, and Maria, like Nikuko, stands out. Not because she is a big girl, but because she is one of the most feminine girls around. She likes frilly dresses and maintaining a certain look. This is why she isn't universally liked, alongside her trying to cause drama because she doesn't like how the girls act in the town.
Ninomiya
While generally quiet, usually looking off somewhere, Kikuko brings out something in Ninomiya. With her, he feels less weird and can embrace what makes him different, and that's why he seeks out her company.
Miu
Before Kikuko was born, Nikuko, under another name, lived and was the best friend of Miu. Someone who worked in the same club as her and supported her as she paid off the debt of one of her exes at the time. But, beyond being a friend and support system, the two became like sisters and helped Nikuko regain a sense of family after hers died.
Review
Highlights
It Talks About Being A Girl
I don't think in too many shows or movies, even coming of age tales, have I heard a girl talk about having her period. Not to imply it's a topic throughout the film, but the conversation about not wanting it, having a desire to not develop into a woman, and things like that? You don't hear that too often, especially in animation, maybe never in Japanese animation.
But beyond that, there is also the politics of being a girl. Whether you're sporty or overtly feminine, and managing being neutral when lines are drawn, for whatever reason. Never mind trying to deal with feelings and having to navigate that struggle, on top of imaging what life could be like as an adult. Especially with an example like Nikuko, and potentially looking down on the experience or the person who set the example in your life, and swearing you won't slip into the same pitfalls they did.
The Work Made To Make Characters Individuals, As Well As Develop Relationship
Most characters are given a sense of individuality. Kikuko is a girl who likes basketball and wants to make friends, and while we aren't made privy to what she wants to be when she grows up, besides being happy, she feels like a full-fledged person. One with fears, moments of indecision, and the desire to keep the drama in her life to a minimum.
The same goes for Nikuko, as the movie notes how her parents died by the time she was in junior high and being raised by her grandmother. Everyone, on the surface, may fit a trope, but "Fortune Favors Lady Nikuko" wants you to know there is more to them as individuals than the foundation that looks familiar.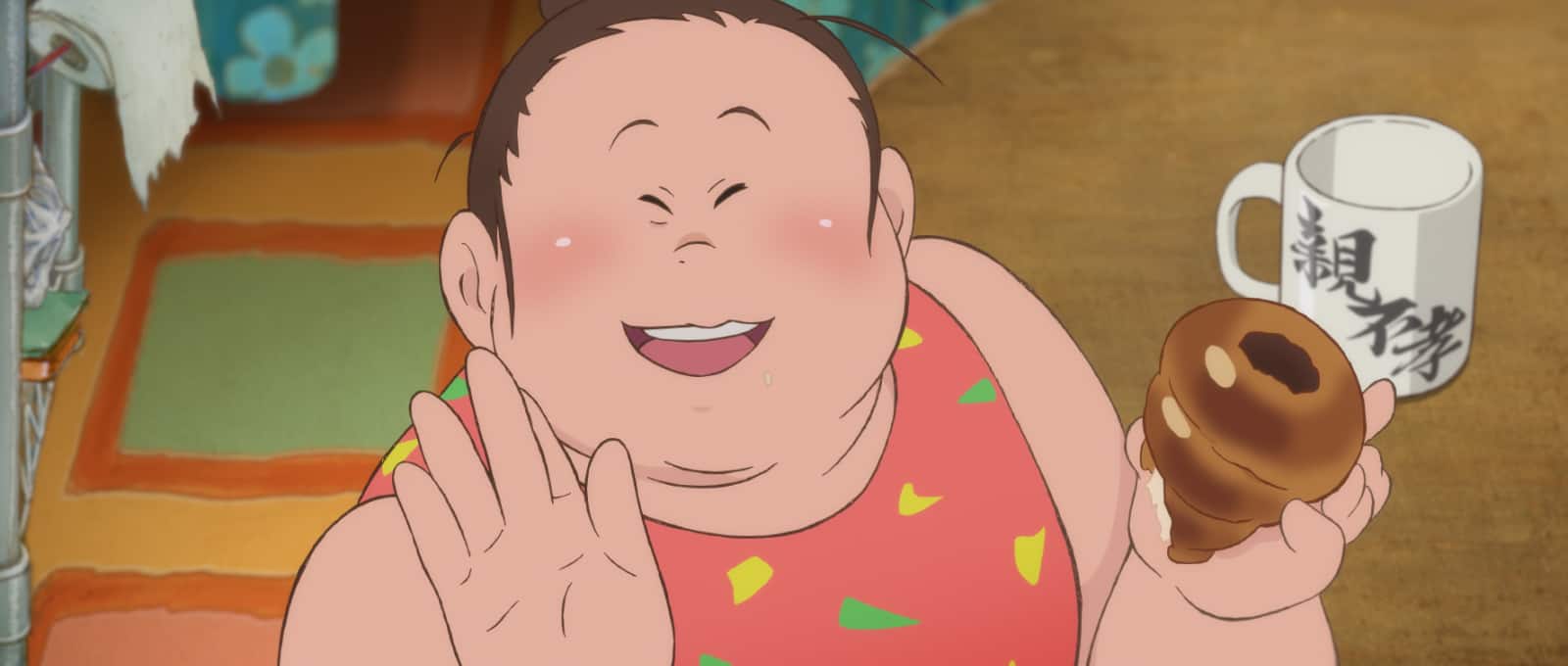 But what really allows the film to shine is the relationships. Nikuko's with Kikuko's especially, for as much as Nikuko is embarrassing, that relationship has so much love there that, as we're given the complete history of their relationship, it's impossible to not cry. Their mother/daughter connection, how Nikuko is doing her best to hold it together to make Kikuko proud, and how, despite what she says and does, Kikuko never strips Nikuko of the title of "Mom?" It stirs up feelings.
Add in how Kikuko's relationships with Maria and Ninomiya are written, while those won't bring you to tears, it does push you to understand "Fortune Favors Lady Nikuko" may have comical moments, but it mainly is focused on the heart of two people who have found a community who want to laugh with, not at, them.
Fatphobia
Internalized fatphobia is real. In Kikuko's nightmares, especially when she eats, she sees a Nikuko-type image, which really pushes you to think Kikuko fears getting fat. Add in how she talks about her body changing and wanting to stay skinny, and it really shows you that, despite how loving and sweet Nikuko is, a lot of the negative aspects in her life, Kikuko associates as a side effect of Nikuko liking to eat.
Now, I should note this isn't explicitly said, but you have to remember Kikuko is a teenager, and Nikuko, while an individual, also can feel like a stereotype. One that, you could submit, there is an effort to add layers to, but a stereotype nonetheless.
On The Fence
At Times You May Want To Check Your Watch
Admittedly, there will be times when you wonder where is this going? What's the end game here because it's a very slice-of-life film. We watch Nikuko, and Kikuko get up, go to school or work, chat with friends, shop, hang out a bit, then repeat. This goes on for quite a bit of the movie until Miu is introduced, and even then, you aren't sure of what is to come of that.
However, once the film ends, you realize the focus is on Kikuko losing her fear over her childhood ending, and the uncertainty of what's to come next, and Nikuko learning to love herself and get beyond her abandonment issues.
Overall
Our Rating: Positive (Worth Seeing)
From addressing abandonment, girlhood, and potentially fatphobia (though I could be projecting for what I know), and building the type of individuals and relationships that stir up your emotions, "Fortune Favors Lady Nikuko" is a wonderful experience. One that delivers on giving you a good cry and reaffirming your love for animation.
Good For Those Who Like
Light-hearted family dramas
Drama between children
Stories about someone's first crush, but without them trying to jump into a relationship
[ninja_tables id="46802″]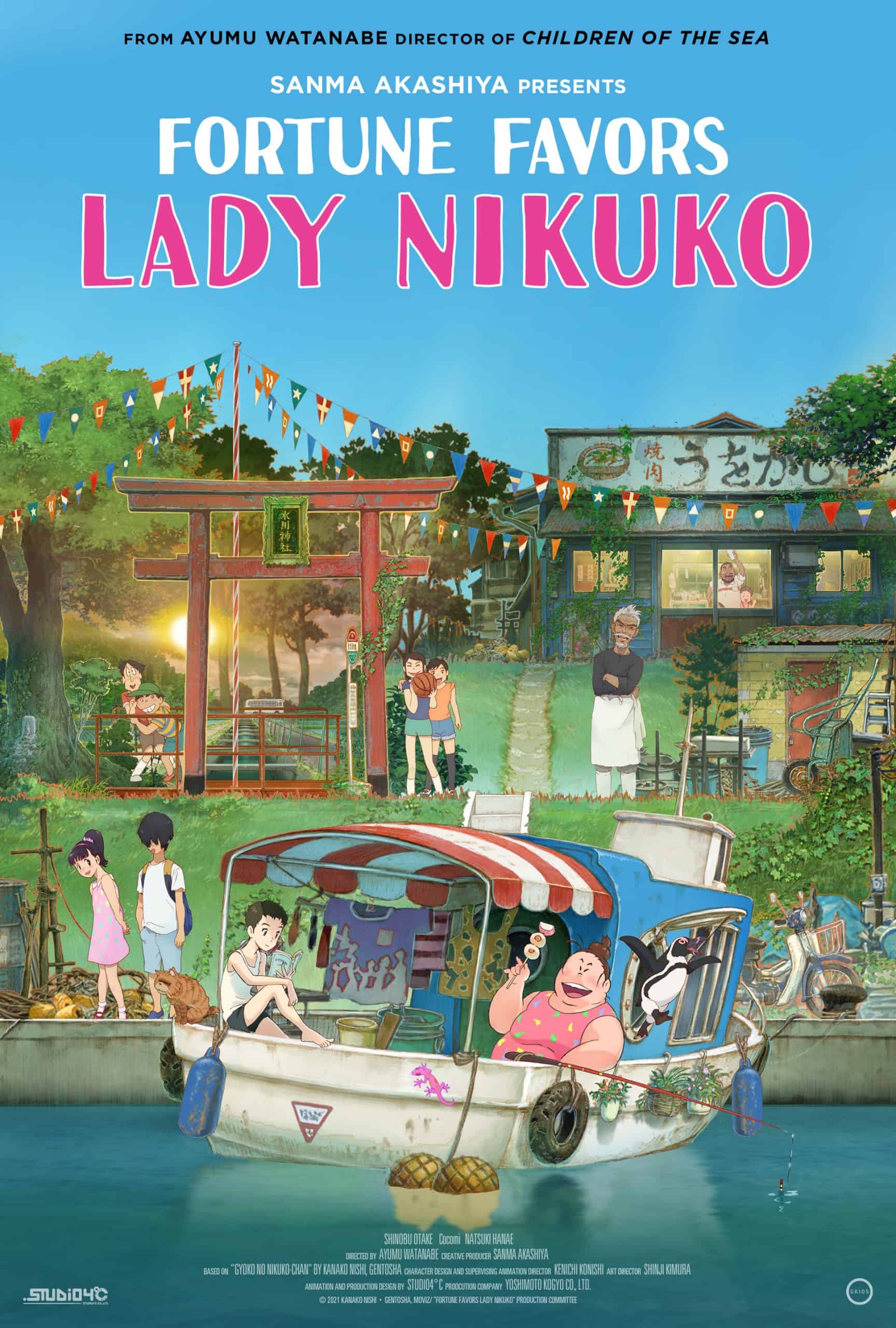 Fortune Favors Lady Nikuko (2022) – Review/ Summary (with Spoilers)
Overall
"Fortune Favors Lady Nikuko" is a tear-inducing film that makes you feel invested to the point of forgiving that it lacks a clear goal or direction until the end.
At Times You May Want To Check Your Watch
77
The Work Made To Make Characters Individuals, As Well As Develop Relationship
92
It Talks About Being A Girl
85
Highlights
It Talks About Being A Girl
The Work Made To Make Characters Individuals, As Well As Develop Relationship
Fatphobia
Disputable
At Times You May Want To Check Your Watch
Related Topics:
Animation
,
Ayumu Watanabe
,
Cocomi
,
Comedy
,
Drama
,
Family
,
Izumi Ishii
,
Natsuki Hanae
,
Non-English (Japanese)
,
Not Rated
,
Riho Yoshioka
,
Satomi Ohshima
,
Shinobu Ôtake
,
Young Adult