Dear Zoe (2022) – Review/ Summary (with Spoilers)
While there are times when the drama of Tess' life makes this tedious to watch, by the end of "Dear Zoe," you'll nonetheless find yourself potentially in tears.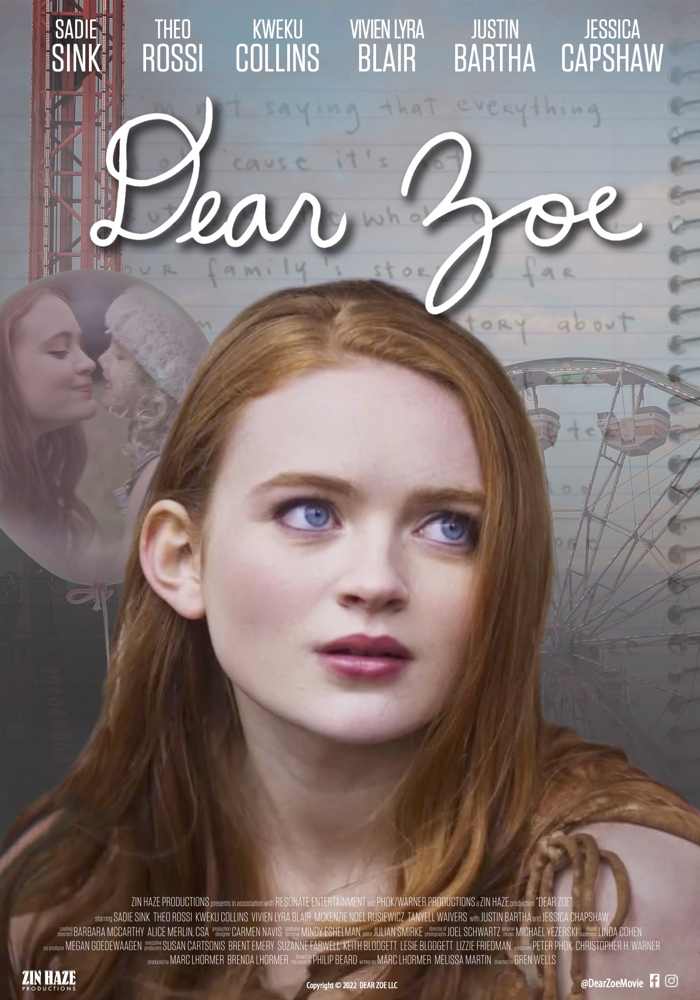 While there are times when the drama of Tess' life makes this tedious to watch, by the end of "Dear Zoe," you'll nonetheless find yourself potentially in tears.
Director(s)
Gren Wells
Screenplay By
Melissa Martin, Marc Lhormer
Based On
Philip Beard's Novel Dear Zoe
Date Released (Video On Demand)
11/4/2022
Genre(s)
Drama, Romance, Young Adult, Family
Duration
1 Hour 34 Minutes
Content Rating
Rated R
Noted Cast
Tess
Sadie Sink
Zoe
Mckenzie Noel Rusiewicz
Elly
Jessica Capshaw
David
Justin Bartha
Nick
Theo Rossi
Emily
Vivien Lyra Blair
This content contains pertinent spoilers. Also, images and text in this post may contain affiliate links which, if a purchase is made from those sites, we may earn money or products from the company.
Film Summary
On 9/11/2001, Tess lost her youngest sister Zoe. But because that day had a much more universal event, Zoe's death was eclipsed. But, With Tess having a hard time coping, especially with her mom, Elly, and stepdad, David, shutting down, she decides to run off to live with her estranged father, Nick. Mind you, while leaving her now new youngest sister, former middle child, Emily, behind with her grieving parents.
But, in Braddock, where Nick lives, Tess seems to be able to finally heal as she bonds with her dad, his neighbor Jimmy and experiences a very different life than the one Elly created for her family when she left Nick and Braddock behind.
Things To Note
Why Is "Dear Zoe" Rated R
Dialog: Some cursing
Violence: Depiction of planes hitting twin towers
Sexual Content: Implied but not seen
Miscellaneous: Drug use, drinking, a child dying
Question(s) Left Unanswered
How old is Jimmy? He seems to be beyond 18, and Tess is 16 going on 17, so I have questions.
Collected Quote(s)
I needed a little distance to feel something that wasn't sadness or anger.
— Tess
Character Descriptions
Please Note: This character guide is not an exhaustive list of every cast member, and character descriptions may contain what can be considered spoilers.
Tess
16 going on 17-year-old Tess grew up in the suburbs, and while she didn't have the best relationship with her stepfather, biological father, or mother, she had Zoe and also Emily. But, guilt comes over her as she believes Zoe's death is her fault, and with no desire for therapy and needing to escape home, she seeks out her father to find a place to heal.
You May Also Know The Actor From Being: Max in "Stranger Things," Ziggy Berman in "Fear Street," Haley in "Eli" and Ellie in "The Whale"
Zoe
Zoe was a toddler who loved wearing her bunny ears, that died while everyone was distracted by the events of 9/11
Elly
Elly is the mother of Tess, Zoe, and Emily, also Nick's ex and David's current wife, who is a bit delicate and known to escape difficult moments and places in life.
You May Also Know The Actor From Being: CJ Albright in "Tell Me Lies"
Nick
Nick is Tess' father who is known for being unreliable and unable to hold a notable job.
You May Also Know The Actor From Being: Al Edwards in "The Devil You Know," Youcef in "Emily The Criminal" Hernan 'Shades' Alvarez in "Luke Cage" and Gene in "True Story"
David
David is the breadwinner of his household and father to Zoe and Emily.
You May Also Know The Actor From Being: Doug in "The Hangover" Riley Poole in "National Treasure"
Emily
Before Zoe's death, Emily was the middle child of her household, slightly ignored but still loved.
You May Also Know The Actor From Being: Leia in "Obi-Wan Kenobi"
Jimmy
Jimmy is Nick's neighbor who goes back and forth between his dad's house and grandmother's as both hope that he'll eventually get his act together.
Review
---
Community Rating:
---
Our Rating: Mixed (Divisive)
Highlights
Tess' Pain Being Her Awakening
Throughout the movie, Tess is journaling and drawing to Zoe as a means to navigate her grief, and you can see, as much as Zoe's death has devastated her family, it has also awakened something in Tess. Her suburban life, where things seemed safe, and she wasn't necessarily pushed to grow, got shaken. Tess' relationship with her dad, who is a bit unreliable, became a refuge over something to avoid, and between Nick and Jimmy, you see Tess was allowed to be a kid, and while she worried about both, she was also allowed to just worry about herself as well.
For as she shifted through her pain and found a different place to rebuild than where she formed her former self, a new Tess awakened who was not only stronger than who she was but also a bit more adaptable.
On The Fence
The Lives Of Tess' Parents
Whether you are talking about Nick, Elly, or David, Tess' parental figures don't necessarily carry their weight. It can be noted they are supporting roles, so diving into Elly potentially having a mental illness beyond grief isn't the focus here. Never mind how David is dealing with one of his kids dying, beyond going on autopilot via heading to work, home, and who knows what else. This sometimes makes the rare moment we do get to peer beyond Tess' world to be almost within the extremes of either meager, in David's case, to overdramatic, in Elly's, even when you recognize what she is going through.
Then, when it comes to Nick, honestly, after seeing enough Theo Rossi films, it sometimes seems the only thing he adjusts is whether his character is violent and/or psychopathic, or simple and potentially harmless. Which makes his performance as Nick utterly forgettable since it seems so in his wheelhouse that this doesn't seem to be more than another check.
Feeling Em Was Wasted
After Blair's performance as Leia in "Obi-Wan Kenobi," watching her as Emily in "Dear Zoe" will make you think she wasn't utilized and outright was wasted. Em is the character we see the least of, and considering she lost one sister through death, another through abandonment, and then both of her parents going on auto-pilot because they can't deal, she had the most heartbreaking character. Yet, it is like between the w
riting and directing, she was given nothing to push how Emily felt, and her character diluted to not take any attention off Sadie Sink's.
Tess' Relationship With Jimmy
So, our main issue is not being sure how old Jimmy is. Yes, Jimmy implies he is still in school, so he could be 17, 18, or 19. However, there is something about Tess and Jimmy that doesn't seem cut. More so, it feels icky. Part of the reason could be that Tess is from the suburbs, and Jimmy a more urban area, and with it being pushed Tess isn't as experienced as Jimmy in various things, there is the vibe he is taking advantage of that. Not in a full-on predator kind of way, but Sink's baby face doesn't help you listening for how old Jimmy is to make the situation less creepy.
But, beyond that, another issue is that it is made clear Tess likes older guys, and that is part of why she makes herself up as she does, so even though Jimmy tells her, repeatedly, she doesn't need as much makeup as she puts on, again, something feels off, if not wrong, here. So you can't just swoon at Tess finding a boyfriend who is genuinely sweet, not trying to pressure her to do anything, and seemingly just enjoys her sarcasm, company, and her vibe.
[ninja_tables id="46802″]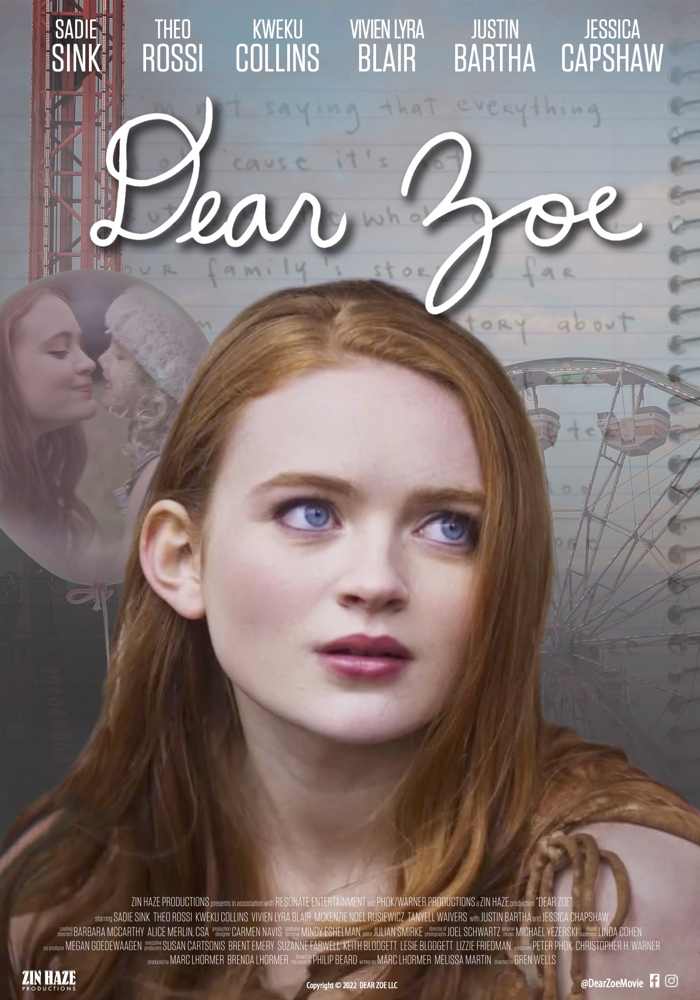 Dear Zoe (2022) – Review/ Summary (with Spoilers)
Overall
"Dear Zoe" wastes the majority of its talent. Even when it comes to Sadie Sink, it doesn't give her the story or development to really drive either the grief Tess is going through, the challenge of her building a relationship with her biological father, or what could be her first relationship. "Dear Zoe" seems to just rely on knowing the death of a child triggers empathy and hopes that will be enough to get you into what is served.
Highlights
Tess' Pain Being Her Awakening
Disputable
The Lives Of Tess' Parents
Feeling Em Was Wasted
Tess' Relationship With Jimmy
---
Follow, Like, and Subscribe
Community Rating: 0.00% (0) - No Community Ratings Submitted (Add Yours Below)