Aftersun (2022) – Review/ Summary (with Spoilers)
"Aftersun" is a dry, slice-of-life family movie that makes you wonder if you missed something of note while watching.
Director(s)
Charlotte Wells
Screenplay By
Charlotte Wells
Based On
N/A
Date Released (In Theaters)
10/21/2022
Genre(s)
Youth, Family
Duration
1 Hour and 42 Minutes
Content Rating
Rated R
Noted Cast
Calum
Paul Mescal
Sophie (11 Years Old)
Frankie Corio
Sophie (Adult)
Celia Rowlson-Hall
This content contains pertinent spoilers. Also, images and text in this post may contain affiliate links which, if a purchase is made from those sites, we may earn money or products from the company.
Film Summary
In the era where dancing the "Macarena" was appropriate, 11-year-old Sophie goes on a trip to Turkey with her 30-ish-old dad, Calum; that she reflects on as an adult since it seemed to be the last good memory she has with her father.
Things To Note
Why Is "Afterson" Rated R
Dialog: Minor to no notable cursing
Violence: N/A
Sexual Content: Calum is seen nude from the back, laying down
Miscellaneous: Drinking and depiction of smoking
Character Descriptions
Please Note: This character guide is not an exhaustive list of every cast member, and character descriptions may contain what can be considered spoilers.
Sophie
Sophie is an 11-year-old girl, enjoying time with her dad before school starts.
Calum
Calum is not Sophie's custodial parent, but he still has a close relationship with Sophie despite him seemingly not living anywhere near her. Though, she does give him the side eye when he does tai-chi or dances in public.
You May Also Know The Actor From Being: Connell in "Normal People," Junior in "Foe," Harry in "Strangers," and Aidan in "Carmen"
Review
Our Rating: Mixed (Divisive)
Highlights
Mescal and Corio's Chemistry, As Well As Corio Solo
The dynamic between Mescal and Corio is the sole thing that will keep you from nodding off or being tempted to leave the theater to save you time. Their relationship is one of the few you'll see between a single parent hanging with their child that doesn't play out as them having to reconcile after abandonment or trauma. Also, there isn't any yelling, minor, if any, fights, and it is just a loving relationship between a dad who is trying and not doing too bad and a daughter who is still at that point of adoring her dad.
And I'd even add when Corio is on her own, taking note of teenagers or the young adults at the hotel she is staying at, you see a burgeoning coming-of-age story. One that doesn't get to develop into anything notable, but it does hint that Corio could demand the screen without Mescal there.
Low Points
Adult Sophie Doesn't Provide Insight, Just Leaves You With More Questions
A handful of times, "Aftersun" jumps to what appears to be the present day, where we see an adult Sophie waking up on her birthday with her partner in her bed and a child screaming in another room. With the few times we see Sophie, there is hope that we may get some idea of what happened after the vacation with her had. However, all we get is this weird club scene which paints the picture she lost her father to some form of darkness in a place where she can potentially visit but not break through to him.
You'll End Up Checking Your Watch To See How Much Time Is Left
After a certain point, it isn't clear what "Aftersun" wants to say or deliver. Sophie and Calum's trip is nice and all, but with there being no notable issues in their relationship, you're left wondering what's the conflict, what's the end goal, what is the point of this movie? Which, with seeing Adult Sophie, there is hope she may answer that question.
However, all you get are random club scenes with her trying to talk to her dad, and that's about it. Leaving you to check what time it is, even wanting to go so far as to see how long this movie was again, as it loses its luster and makes you wish this was online so you could fast forward and see if it gets better.
[ninja_tables id="46802″]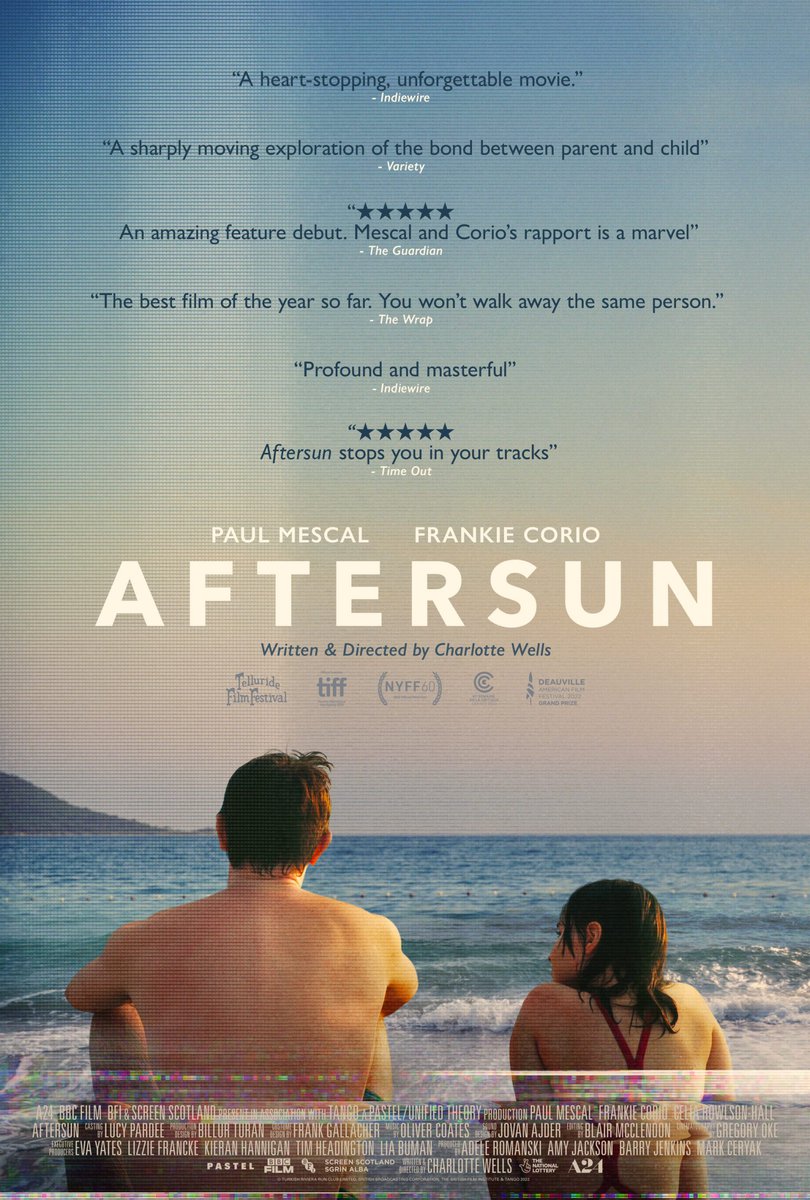 Aftersun (2022) – Review/ Summary (with Spoilers)
Overall
"Aftersun" is very much an indie film that offers very little, if any, payoff, and while the performances are good enough, the storyline leaves you unfulfilled.
Highlights
Mescal and Corio's Chemistry, As Well As Corio Solo
Disputable
Adult Sophie Doesn't Provide Insight, Just Leaves You With More Questions
You'll End Up Checking Your Watch To See How Much Time Is Left