Black Panther: Wakanda Forever (2022) – Review/ Summary (with Spoilers)
---
Community Rating: 94% (1 votes)
---
This post may contain affiliate links and spoilers. Please read our disclosure policy.
---
Vengence, death, and colonization fuel "Black Panther: Wakanda Forever," but rarely as far as you wish it would.
Director(s)
Ryan Coogler
Screenplay By
Ryan Coogler, Joe Robert Cole
Based On
Black Panther Comics by Stan Lee and Jack Kirby
Date Released (In Theaters)
11/11/2022
Genre(s)
Action, Adventure, Drama, Sci-Fi
Duration
2 Hours 41 Minutes
Content Rating
Rated PG-13
Noted Cast
Riri
Dominique Thorne
Namor
Tenoch Huerta
Agent Ross
Martin Freeman
Ramonda
Angela Bassett
Shuri
Letitia Wright
Okoye
Danai Gurira
This content contains pertinent spoilers. Also, images and text in this post may contain affiliate links which, if a purchase is made from those sites, we may earn money or products from the company.
Film Summary
Neither Shuri nor Queen Ramonda are given much time to mourn T'Challa. Queen Ramonda, now head of state, is thrown into all her son started by opening Wakanda up to outsiders and dealing with those who want to take and give nothing. Meanwhile, Shuri has buried herself in the tech and feels immense guilt for being unable to, despite her intelligence, come up with something that could have saved T'Challa's life.
This would explain why, after learning of an American named Riri, soon to be known as Ironheart, has discovered a way to find minor traces of vibranium, both Shuri and Okoye are tasked to save the girl. For not only is she on the US government's radar, and likely including France who tries to, by force, take vibranium from one of Wakanda's outreach centers, but also Namor and the Talokans.
Now, why do they wish to kill Riri? Well, for many years, their leader, Namor, has been able to protect them solely by keeping them hidden in the sea. However, Riri presents a real threat, and it isn't lost on Namor the plight of Wakanda and what his people went through when colonizers threatened their survival.
So, with that in mind, Namor begins by wanting Riri dead for his people's safety, but with the potential to find Talokan now a reality, wiping out all land civilizations is now a desire. One in which Shuri finds herself being the center of regarding whether or not Namor, and Talokan, should consider Wakanda an ally or foe, with Namor making it clear there is no in-between.
Things To Note
Why Is "Black Panther: Wakanda Forever" Rated PG-13
Dialog: Nothing noteworthy
Violence: A lot of fighting and some deaths, but very little blood
Sexual Content: Nope
Miscellaneous: Depiction of slavery
Question(s) Left Unanswered
What specifically did T'Challa die about
Was the mid-credit scene situation written before or after Chadwick Boseman's death?
I'm not the only one who thought Ramonda could be Storm for a hit second, right?
Character Descriptions
Please Note: This character guide is not an exhaustive list of every cast member, and character descriptions may contain what can be considered spoilers.
Riri
Cambridge's answer to Shuri, Riri is a genius doing what no one else can. From making her own Iron Man suit to finding a way to find vibranium, she is the epitome of what Killmonger had anger for since, imagine how far Riri would have been if Wakanda fought to save their skin folk.
You May Also Know The Actor From Being: Riri Williams in "Ironheart," Judy Harmon in "Judas and the Black Messiah" and Sheila Hunt in "If Beale Street Could Talk"
Namor
The God of the Talokan, he was gifted with not only winged feet, the ability to breathe underwater, super strength, and more, but a people to take care of. Which is something he takes serious as, while they all are mutants in their own way, he is the strongest among them by far.
You May Also Know The Actor From Being: Alejandro Muñoz 'Blue Demon' -in "Blue Demon," and Rafael Caro Quintero in "Narcos: Mexico"
Agent Ross
While not as big of a role as he held previously, Agent Ross continues to be the contact for Wakanda when it comes to the United States government, and Shuri saving his life in the past creates a notable amount of conflicts when his loyalty is questioned.
You May Also Know The Actor From Being: Paul in "Breeders," Dr. John Watson in "Sherlock" and Bilbo in "The Hobbit"
Ramonda
With her son's death, Queen Ramonda is the head of state and finds herself and Wakanda challenged like never before as the world tries to undermine Wakanda in the hopes of gaining vibranium.
You May Also Know The Actor From Being: Athena Grant in "9-1-1," Various Characters in "American Horror Story," and Tina Turner in "What's Love Got To Do With It"
Shuri
The princess of Wakanda, and its most technologically advanced minds, is a young woman in transition. She is no longer a child, and the closer she gets to being head of her kingdom, the more you see her having to reconcile with all she has either put off or ignored due to her desires or comfort levels.
You May Also Know The Actor From Being: Renie in "Humans" and Altheia Jones in "Small Axe"
Okoye
The head general of the Dora Milaje, Okoye, finds herself investing more than ever in the royal family's care as they have become her everything. But trials, tribulations, and mistakes threaten her position.
You May Also Know The Actor From Being: Michonne in "The Walking Dead," Afeni Shakur in "All Eyez On Me," and Jill in "Treme"
Review
Our Rating: Positive (Worth Seeing)
Highlights
Unexpected Deaths & Returns
Because we all know what is planned for the MCU 3, 5, and maybe even 10 years into the future, it makes the element of surprise rare. However, with "Black Panther: Wakanda Forever," the predictability isn't really there for outside of Chadwick Boseman's version of the Black Panther, the rest of the cast hasn't really been part of the larger MCU – outside of the final battle with Thanos. So in many ways, everything feels self-contained, making one notable death and one notable return feel so big.
As for the death, it is unexpected for while it is someone you can't imagine the franchise being built around, it doesn't discount their major role in the first or this movie. Then, as for the return, it makes perfect sense due to the journey Shuri is on and what the person she meets represents in terms of revenge and vengeance. Thus acting as a reminder that, while the MCU is highly interconnected, most franchises are at their best when it isn't about setting up the next film but what is happening within the world the heroes live in.
Shuri's Arc
Shuri's arc is notable because it is a bit of a coming-of-age story. In the first movie, she was simply T'Challa's little sister with quick quips and a penchant for technology. In "Black Panther: Wakanda Forever," she is now firmly in line to be the head of state, and you can see how that weight affects her.
Yes, Queen Ramonda is handling that for now, but with it being less than 8 years since her father died and one year since her brother, and it isn't like between Namor and the many nations out there, Queen Ramonda can't be assassinated like her father. This, you can see, is part of Shuri's fuel as she exits an age of innocence and is forced to realize she is now a major player in Wakanda. Hence Namor, with getting nowhere with Queen Ramonda, tries to negotiate with Shuri.
Everything we see is about building Shuri up and not into an image similar to her mother, brother, cousin, or even father, but Shuri, on her own, trying to reconcile the traditions Wakanda holds dear with the knowledge and foresight that she has been gifted.
Low Points
It Doesn't Take The Topic Of Colonization Far Enough
What the original "Black Panther" does well is make it clear Killmonger isn't a villain. Similar to Thanos, he is complicated and isn't easily pinned because you can understand his logic and that he sees himself almost like a hero of his own story. Namor doesn't bring that same oomph. While Killmonger had notable lines, presence, and a killer backstory, Namor, unquestionably, has a few quality action scenes, but that's it.
His whole thing about colonizers and how that led to, after a blessing, his people ending up in the sea, it makes for good historic fiction, but it doesn't create the type of driver you'd want for an adversary to our heroes. I'd even say, continuing the Killmonger comparison, Namor doesn't get to dive deep into the pain of being people who had to create a new home because of being run off their old one. I'd say "Encanto" does a far better job depicting this than "Black Panther: Wakanda Forever."
But, to be fair, the death of T'Challa sometimes overwhelms "Black Panther: Wakanda Forever" to the point that grief seems to be far more the villain than Namor could ever be. Even with Namor's desire to do a preemptive strike against those who colonized his people's homeland, and surely would do the same to Talokan if they were ever discovered.
On The Fence
Some Of The Highlights Of The First Film Are Gone
Does this film have funny moments? Yes. But they are forgettable. What about afro-futurism technology? Absolutely. However, it doesn't take it to the next level. In many ways, you can tell all the flashy and commercial moments that keep a movie in the zeitgeist, past the performances, are stripped from here.
Now, to compensate, we get a wonderful story and notable performances for Shuri and Queen Ramonda. But with this being two and a half hours, it is hard to not wish the moments of levity or what is given beyond the drama didn't all exist on the same level.
The Action
While certain members of the Dora Milaje are given new weapons and armor, and Okoye, as always, kicks ass, the action isn't a highlight. Even in Namor's final battles, because this franchise is firmly PG-13, as brutal as you recognize the fight should be, because there is no blood or anything to put an exclamation mark on anything, it all feels rather tame. Add in a lot of Namor's people going to battle, even one on one, just doesn't give that special something to make the few named individuals worth noting, and it's all hunch worthy.
[ninja_tables id="46802″]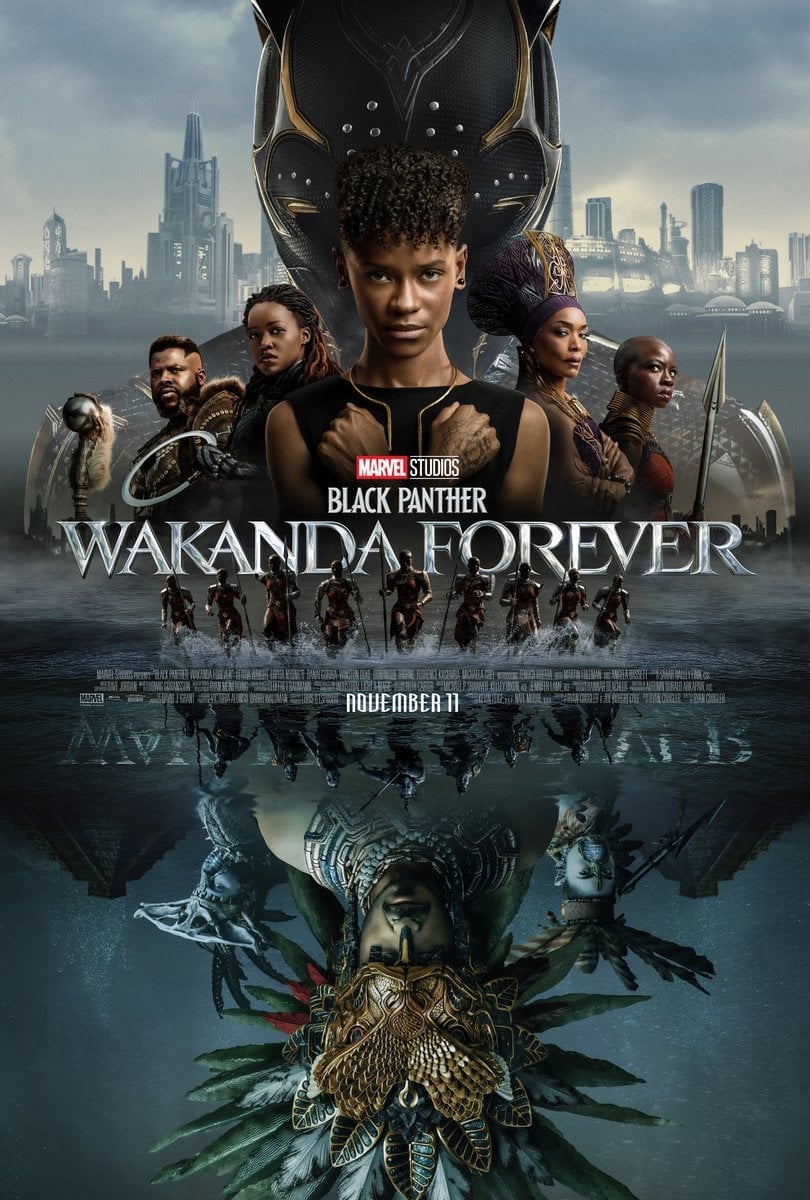 Black Panther: Wakanda Forever (2022) – Review/ Summary (with Spoilers)
Overall
"Black Panther: Wakanda Forever" is by no means a disappointment, but sometimes it does feel it never moves beyond the dark cloud of Chadwick Boseman's death, and that hampers anything which isn't directly influenced by his passing.
Highlights
Shuri's Arc
Unexpected Deaths & Returns
Disputable
The Action
Some Of The Highlights Of The First Film Are Gone
It Doesn't Take The Topic Of Colonization Far Enough
Related Topics:
Action
,
Adventure
,
Angela Bassett
,
Black Panther
,
Danai Gurira
,
Dominique Thorne
,
Drama
,
In Theaters
,
Jack Kirby
,
Joe Robert Cole
,
Letitia Wright
,
Martin Freeman
,
Rated PG-13
,
Ryan Coogler
,
Sci-Fi
,
Stan Lee
,
Tenoch Huerta