Jaja's African Hair Braiding (2023) – Play Review and Summary
"Jaja's African Hair Braiding" is the type of play that demands an audience reaction as it exhibits community on stage and fosters it within the audience.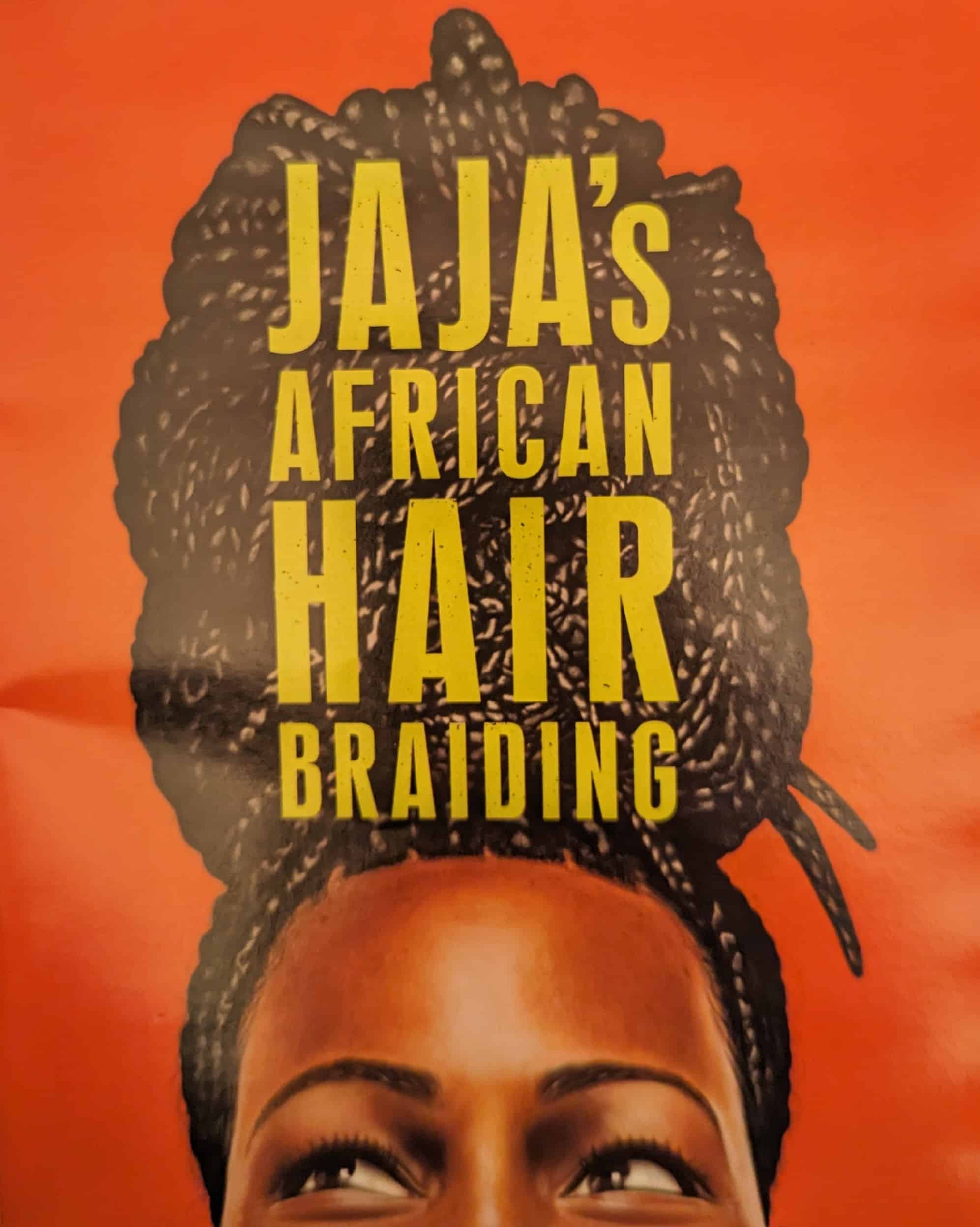 General Information
This section includes information about the production, cast, staff, venue, and crew.
Director(s)
Whitney White
Writer(s)
Jocelyn Bioh
Organizer(s)
Manhattan Theatre Club
Language
English
Attendance Type
Offline – In Person
Event Status
On Schedule
Venue or Network (Samuel J. Friedman Theatre)
261 West 47th Street, New York, NY 10036
Performance Date
September 12, 2023
First Performance At This Venue
September 12, 2023
Opening Night Performance
October 3, 2023
Last Performance At This Venue
October 29, 2023
Venue URL
https://www.manhattantheatreclub.com/shows/2023-24-season/jajas-african-hair-braiding/
Tickets Starting At
$74.00
Genre(s)
Play
Duration
90 Minutes
Noted Performers
Jaja
Somi Kakoma
Marie
Dominique Thorne
Bea
Zenzi Williams
Aminita
Nana Mensah
Miriam
Brittany Adebumola
Crew
Scene/ Set Design
David Zinn
Costume Design
Dede Ayite
Lighting Design
Jiyoun Chang
Sound Design
Justin Ellington
Summary
This content contains pertinent spoilers. Also, images and text in this post may contain affiliate links. If a purchase is made from those sites, we may earn money or products from the company.
It's the summer of 2019, and in Harlem, while Jaja preps for her courthouse wedding, her daughter, Marie, opens and runs the shop. That is no easy task, for while Miriam is nice and easy to get along with, the same can't always be said for the aunties, Bea and Aminita. From the gossiping to Bea being jealous of another woman in the shop, Ndidi, and even Jaja, she is a bit of a spitfire, and sometimes Aminita joins in.
However, in "Jaja's African Hair Braiding," which takes place in a day, you'll see that no matter the background, age, or status, Jaja is part of the community and has created a family. One that will, despite their difference, put all that aside when any member of the shop is in need.
Content Information
Character Descriptions
Please Note: This character guide is not an exhaustive list of every cast member, and character descriptions may contain what can be considered spoilers.
Jaja
For over a decade, Jaja has been in America, and after working in a domestic capacity, she opened her own shop, which has become a community staple that has not only provided opportunities to newly arrived Africans but also helped her put her daughter through private school.
Marie
Marie is Jaja's daughter who hasn't been in her home country of Senegal since she was 4 but has flourished in America. Thanks to her mom, she went to a private school, and she was a top student. However, she isn't sure if she wants to become a doctor, as her mom expects, or become a writer.
Bea
Bea, out of all the ladies, has the longest history with Jaja, back when she was working in people's homes, and she makes sure everyone knows that she could have co-owned the shop if Jaja gave her more time to get her money together.
Aminita
Bea's best friend is Aminita, who is the only one besides Jaja, who is in a relationship in the shop, albeit one where her man is a deadbeat, but a relationship nonetheless.
Miriam
Miriam is a single parent from Sierra Leone whose daughter is back home with her mother. It has been three years, but she seems to have gotten adjusted to living in America and working in Harlem.
Review
---
Community Rating:
---
Our Rating: Mixed (If Affordable)
Highlights
Sense of Community
While Bea and Aminita may joke about Juju's wedding dress, at the same time, it is clear they are like sisters to her. They laugh, console, and make money together. Then, when it comes to girls from the continent like Miriam, Juju provides a job opportunity and a sense of home.
I don't think it can be understated how much love is in Juju's shop. Yes, tough love at times, but then a stranger sits in the chair, and with the intimacy that comes from having someone touch you for hours, renew your sense of self, and almost require you to be in a vulnerable state, so comes the stories spilling out, connections being built, and while money is exchanged for services, there comes a point where the line between client and braider blurs into what can seem like friendship. For whether African directly from the continent or African-American, there is a sense of a shared story and sisterhood that makes every interaction personal.
A Different Immigrant Experience Depiction
The immigrant experience, at least in the United States, often focuses on those throughout Latin America or else the Asian experience, as of late. However, it can be forgotten how many Black people, in this case, people from Sierra Leonne, Senegal, Nigeria, and Ghana, have their own unique immigrant experience.
But, the beauty here isn't just naming off various countries, but that the ladies aren't wholly defined by where they come from. Everything isn't about how they did things or how life was back home. There aren't arguments about who makes the best Jollof rice or anything of that nature. Don't get it twisted; these are proud African women, and from their dancing to their dialect, their culture is on display. However, it isn't a crutch used in the writing of these characters, for they are more than where they came from.
The best example of this is Miriam who came from Sierra Leonne and talks about her life there, but as specific as it is to her, it doesn't feel specific to her home country. And while she, like many of the ladies, plan to visit home, it is also established that they have made friends and gained new experiences, and while their homeland will always be a part of them, it isn't the sole interesting thing about them.
Criticism
How Much Is Left Unresolved In The End
What I and I'm sure many others may find frustrating, is that because this whole play takes place in one day, and it is realistic about what can happen in a day, a lot of things are left on a cliffhanger. Going into details would mean giving major spoilers, but let's just say no situation presented, no issue in any character's life, is wrapped up.
You're sent home having to hope and wait with a name like Taraji P. Henson attached, maybe she can get this optioned for a show or a movie so all the characters can get a proper end to their story rather than what will make you question whether this is really 90 minutes without an intermission.
On The Fence
Now All Characters Are Developed The Same
"Jaja's African Hair Braiding" does not have all of its characters treated equally. The title character is basically a whirlwind who is maybe on stage for less than ten minutes. Meanwhile, Miriam is able to talk about everything that led up to her coming to America and working with Jaja. These are the extremes when it comes to the characters, and even though Bea and Aminita are on stage for most of the 90-minute play, what we learn about them is minimal.
Bea doesn't even get to speak her narrative, and instead, most of what we learn comes from people trying to insult her. Ndidi gets something of substance via talking about her life in Nigeria, but it's a blurb compared to Miriam going on for so long that you'd almost think Jaja was a Trojan Horse so Miriam could tell her story.
Who Is This For?
Those who love the drama and jokes that go on in a hair salon and want some African flavor added into the mix.
Check out our Live Performance page for our latest reviews, as well as recommendations.
---
Follow, Like, and Subscribe
Community Rating: 0.00% (0) - No Community Ratings Submitted (Add Yours Below)
Jaja's African Hair Braiding (2023) – Overview
Summary
Something about "Jaja's African Hair Braiding" makes you want audience participation as the drama on stage unfolds, but while you appreciate the comedy and drama, it is hard to get past not getting to know all characters the same or how everyone's story feels unfinished as the cast takes a bow.
Sense of Community -

83%

A Different Immigrant Experience Depiction -

84.5%

How Much Is Left Unresolved In The End -

63%

Now All Characters Are Developed The Same -

74%
Highlight(s)
Sense of Community
A Different Immigrant Experience Depiction
Disputable
How Much Is Left Unresolved In The End
Now All Characters Are Developed The Same