In this epic exploration of an Iranian Mother and her American-raised daughter's relationship, you get a story that feels like a friend revealing a recent discovery of their family history to you.
Director(s)
Maryam Keshavarz
Screenplay By
Maryam Keshavarz
Based On
N/A
Date Released (Film Festival – Sundance Film Festival 2023)
1/24/2023
Genre(s)
Comedy, Drama, Young Adult,
Duration
1 Hour and 46 Minutes
Content Rating
Not Rated
Noted Cast
Leila Jamashidpour
Layla Mohammadi
Shirin Jamashidpour (Modern)
Niousha Noor
Shirin Jamashidpour (1960s)
Kamand Shafieisabet
Ali Reza Jamashidpour (1960s)
Shervin Alenabi
Ali Reza Jamashidpour (Modern)
Bijan Daneshmand
Maximilian Balthazar
Tom Byrne
This content contains pertinent spoilers. Also, images and text in this post may contain affiliate links which, if a purchase is made from those sites, we may earn money or products from the company.
Film Summary
American-raised Leila has long been a bit of a crutch for her Iranian-born and raised mother, Shirin. Naturally, Leila assumed all the duties came from her being born a girl and the assumption of misogyny. However, as Leila, a writer, begins to write her next production, which is based on her relationship with her mother, she does the kind of research which helps her understand her mom's history beyond the inspirational story many know.
Things To Note
Why Is "The Persian Version" Rated Not Rated
Dialog: Some Cursing
Violence: Threats Of Gun Violence
Sexual Content: Sexual Situations
Miscellaneous: Depiction Of Giving Birth, Drinking, Smoking
Collected Quote(s)
Remember to live amongst all those ambitions.
— Grandma
I needed to be silent. My silence was my strength. It was me keeping control of my story. A way of dealing with the sadness and not being touched by it.
— Shireen
Pain can't touch you if you don't talk about it.
— Leila
Character Descriptions
Please Note: This character guide is not an exhaustive list of every cast member, and character descriptions may contain what can be considered spoilers.
Leila
Raised in Brooklyn and part-time spending life in New Jersey, Leila considers herself the black sheep of her family. She is a creative, a writer, and while that draws the ire of her mother, alongside Leila identifying as a lesbian, family is family. No matter what cruel things they say.
You May Also Know The Actor From Being: Brittany in "The Sex Lives of College Girls" and Celeste in "iCarly."
Shirin
Born and raised in Iran, Shirin was a brilliant student for a good part of her life. But, with being married off before she could attend 7th grade, her trajectory was thrown off. But, when a nearly tragic event disrupts her life, Shirin picks up where she left off and surpasses what many likely saw for her.
You May Also Know Niousha Noor From Being: Nazan Abassi in "Kaleidoscope," Donya in "Here and Now," and "Neda Naderi in "The Night."
Ali Reza
Ali Reza lost his father at a young age, and if you listen to Shirin tell it, that stunted him a bit as he was thrust into adulthood, becoming a doctor, and going into auto-pilot.
You May Also Know Shervin Alenabi From Being: Milad Kahani in "Tehran" and Norman in "Skins"
You May Also Know Bijan Daneshmand From Being: High Priest in "House of the Dragon" and Dr. Kourosh Zamestani in "Tehran"
Max
Max plays the lead role in "Hedwig and the Angry Inch," and by chance, ends up sleeping with Leila, despite her living her life as a lesbian for quite some time.
You May Also Know The Actor From Being: Prince Andrew in "The Crown" and Anthony in "A Discovery of Witches."
Review
---
Community Rating:
---
Our Rating: Positive (Worth Seeing) – Recommended
Notable Performances or Moments
All Versions of Shirin
Both Niousha Noor and Kamand Shafiesabet, with Maryam Keshavarz's writing as their backing, create the kind of character likely to bring you to tears. In some ways, their story could remind you of the 2021 film "India Sweets and Spices," but rather than pretend Leila is the lead and have Shirin eclipse her, things are crafted differently.
It seems clear from the start Leila is our medium to get to know Shirin. Also, that, despite appearances, learning about Shirin is a shared experience. Not just in terms of Leila learning as she goes but also regarding Noor and Shafiesabet playing her.
It is like watching a relay race, and even if Shafiesabet doesn't get introduced until the middle of the film, the laps she and Noor do, passing the baton back and forth between them, stirs something in you. For even if you aren't an immigrant or a first-generation American, there is something to be said about a person who figured out a way to thrive where most would have been satisfied with simply surviving.
And it is through Noor's version of Shirin that you truly get to understand, to a certain degree, why so many immigrants in America value the opportunities they can achieve here. For while, yes, the United States is far from perfect, you are given a chance to fail, succeed, reinvent yourself, and all you need is a will and the desire to find a way. This leaves you with an inspirational story that is an ode not just to the Iranian women the director/writer specifically applauds but to all women who, even when dealt a bad hand, hustled their way to owning the casino.
Highlights
Leila Breaking The Fourth Wall
Leila breaking the fourth wall helps Mohammadi avoid being in Shirin's shadow or trying to keep up. For while the younger Shirin does break the fourth wall, Leila does it first, and through creating a personal relationship with you, you gain this sense of friendship. It allows you to get invested in her and her problems beyond what her mother influenced, and I would say it even enhances Shirin's story to a point.
How? Mainly by lowering the wall of how Shirin can be othered. She goes from a character on the screen to your friend's mom or someone in your community you are hearing about. And I think the way things are set up, that is probably why, even without sharing much with either Leila or Shirin, background-wise, there were multiple points I was left confused as I found myself in tears.
On The Fence
Sometimes Wishing We Got To Learn More About The Men In Leila's Life
Leila has 8 brothers, and we only learn anything notable about one. The rest you'd likely have a hard time identifying if you were given each one's name and a row of pictures. Then with Max, being that he is the only White dude in the film, you remember him mainly for that fact and because he gets Leila pregnant.
As for Leila's father? His story doesn't extend too far beyond Shirin. He is a supporting character in her life, which is fine, but it doesn't lessen your desire to ask questions and seek answers. Especially since so much is omitted regarding Shirin's relationship with Ali Reza once they immigrated to America. Never mind, when it came to the boys, were her expectations for them on the same level as what she had for Leila? Because we don't see her say much, if anything, to them as we go through the 80s and 90s unless it is time for them to eat.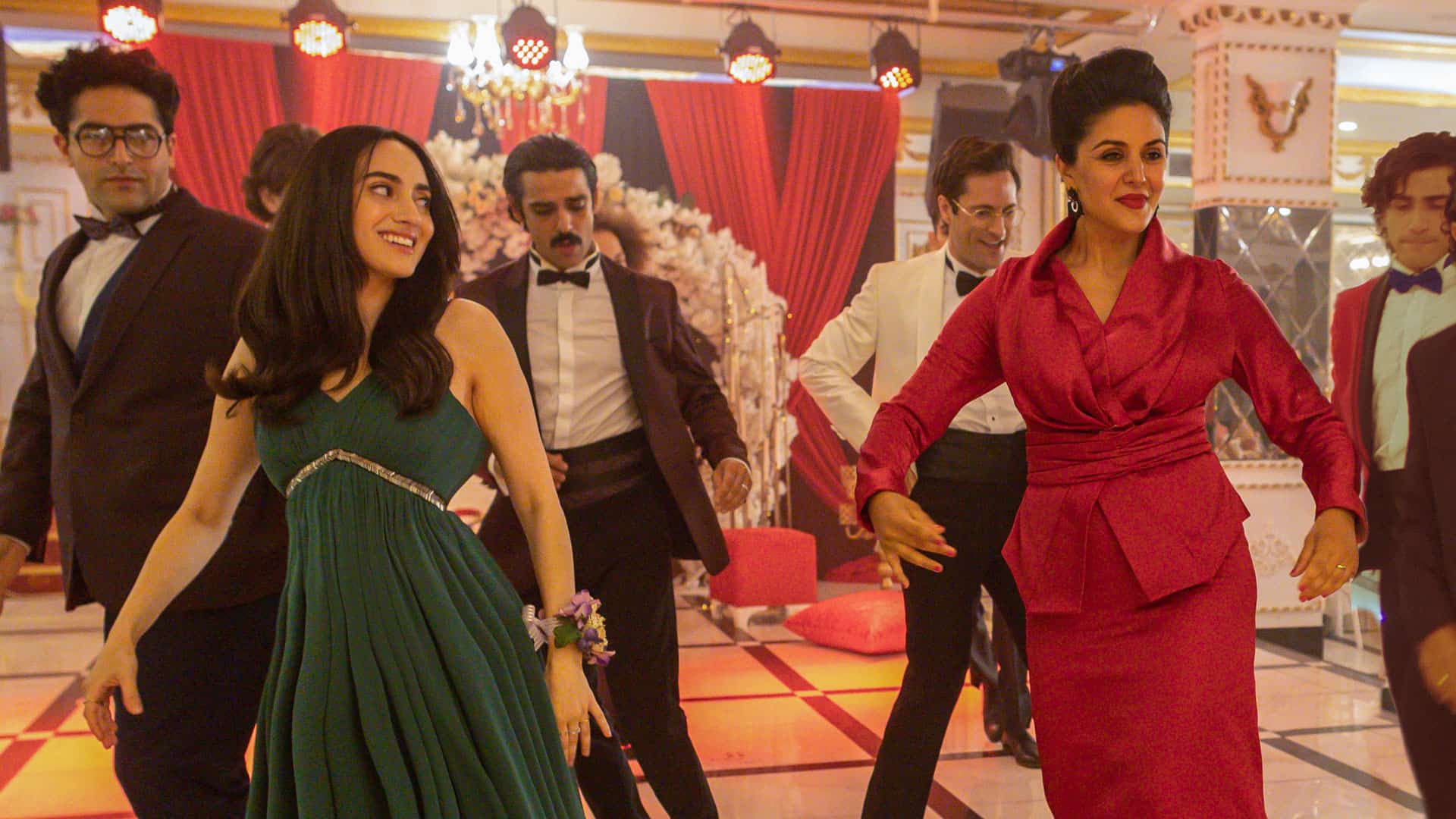 The Persian Version (2023) – Review/ Summary (with Spoilers)
Overall
"The Persian Version" is laid out in such a way that it feels like you are binge-watching your favorite show as we watch Leila discover her mom's past, and get to see, firsthand, all her mom went through to become the woman she is today. And it is in watching that journey you find yourself getting emotional, longing for more, and left with questions that, even though unanswered, things are so perfect the way they are, you almost don't want anyone to mess with the formula.
Highlights
Leila Breaking The Fourth Wall
All Versions of Shirin
Disputable
Sometimes Wishing We Got To Learn More About The Men In Leila's Life