"Fancy Dance" may have a name that makes you think you'll watch something lighthearted, but as it dives into indigenous people's continued injustice, you only get that in doses.
Director(s)
Erica Tremblay
Screenplay By
Erica Tremblay, Miciana Alise
Based On
N/A
Date Released (Film Festival – Sundance Film Festival 2023)
1/24/2023
Genre(s)
Adventure, Crime, Drama, Young Adult
Duration
90 Minutes
Content Rating
Not Rated
Noted Cast
Jax
Lily Gladstone
Roki
Isabel Deroy-Olson
Nancy
Audrey Wasilewski
Frank
Shea Whigham
JJ
Ryan Begay
This content contains pertinent spoilers. Also, images and text in this post may contain affiliate links which, if a purchase is made from those sites, we may earn money or products from the company.
Film Summary
For two weeks, Roki's mother, Jax's sister, Tawi, short for Wadatawi, has been missing. As she has for most of her life, Jax holds the family down in a time of crisis, but her frustration is mounting. Her brother JJ, a cop, isn't able to do much, and as the State questions whether Jax can be a temporary guardian because of her record, her father, Frank, and second wife, Nancy, threaten her ability to maintain custody of her niece.
As all this happens, Roki is prepping for a powwow, which is one of the main ways she would bond not only with her mother but her family's people, and in a desperate attempt to give Roki hope, Jax says her mother will be there. However, with Tawi being gone for two weeks and neither tribal nor federal police being of much help? It leads Jax to play detective, keep her niece from ending up with a man who abandoned her and her sister the first chance he got, and trying to not get arrested.
Things To Note
Why Is "Fancy Dance" Rated Not Rated
Dialog: No notable amount of cursing
Violence: Gun violence, but nothing graphic
Sexual Content: Scenes in a strip club, but no nudity
Miscellaneous: Drinking
Character Descriptions
Please Note: This character guide is not an exhaustive list of every cast member, and character descriptions may contain what can be considered spoilers.
Jax
Whether it is making money to keep the house, formerly taking care of her mom, or helping to raise Roki, Jax has long been the rock of her family. This especially became true after Frank decided he didn't want to be a father, but rather a guest in the lives of his kids and grandchild.
You May Also Know The Actor From Being: Mollie Burkhart in Martin Scorsese's upcoming "Killers of the Flower Moon," and Roxanne in "Billions."
Roki
13-year-old Roki has only known reservation life and loves the culture she was born and raised in. She and her mother have even won dance competitions from going to Powwow, and she has learned to sew to make her own regalia. Which makes the threat of being with her White grandpa and his pro-assimilation wife frightening.
You May Also Know The Actor From Being: Kara Two-Rivers in "Three Pines"
Nancy
Nancy is Frank's second wife, after his first died, who seems to have no real interest in learning about the local indigenous people or their culture. Heck, when it comes to Jax and Tawi, there is even a need to question if she likes them, considering what she does in this movie.
You May Also Know The Actor From Being: A voice actress in "Horizon Zero Dawn," "Fallout 4" "Kingdom Hearts III," and more
Frank
Frank is Tawi and Jax's father who, not too long after their mother died, offered them the ability to live with him, but with knowing that would mean leaving not only the reservation but every bit of culture that came with it, they stayed. Which, while he understands, he takes no responsibility for Jax or Tawi's hardship due to their decision.
You May Also Know The Actor From Being: Jason Briggs in the Tom Cruise "Mission: Impossible" franchise, George Stacy (voice) in the upcoming "Spider-Man: Across the Spider-Verse" and Elias 'Eli' Thompson in "Boardwalk Empire."
JJ
JJ is Tawi and Jax's brother, who is a local tribal cop but is not Frank's son.
You May Also Know The Actor From Being: Guy Atcitty in "Dark Winds" and Clipper in "Get Shorty"
Review
---
Community Rating:
---
Our Rating: Positive (Worth Seeing)
Highlights
Understanding The Importance Of Community
It can be easy and ignorant to question why, considering nearly every depiction of a reservation shows some form of poverty and lack of opportunity, why do indigenous people stay there? Well, "Fancy Dance" provides an answer. Yes, things are hard, but you can be amongst your people, keep your language and customs alive, and not have to constantly code-switch for the sake of people, and a nation, which doesn't give a damn about you.
I mean, look at Roki, that pride from going to a powwow every year, making her regalia, and sharing the experience with her mom? It all is invaluable, and while you could bring that culture into pockets of any city, as we see in Koreatowns, Chinatowns, and the like, it just isn't the same. You can make a home away from home, but a replica never amounts to the real thing.
Jax Finding Joy
Throughout Jax's journey, it seems the one thing that takes the edge off is her seeing a stripper she likes. Beyond that, everything is a responsibility that has fallen upon her. Taking care of Roki? Fell on her. Finding a way to keep the house? Again, on her. Trying to find Tawi? Yeah, JJ is a cop, but it seems he doesn't have a network or power or is willing to take the initiative, so it falls on Jax.
Seeing all this weigh on her makes it so when you get to the end of the film, and she shares a moment with Roki in which you see her truly joyous and not finding a distraction or using a substance to take her mind off things? It could potentially bring a tear to your eyes.
A Two-State System In Which The Indigenous Are Oppressed
It shouldn't be lost on viewers that the response for a missing woman versus a missing child put into the care of a White family were very different. In a way, as much as some may submit that what the State was doing was simply trying to provide a safe home for Roki, it also reeks of trying to get Roki to assimilate.
Now, this isn't to say areas around reservations are racist, but there is a pattern in most indigenous media, whether fictional or news, that the world outside the enclosure isn't often safe for them. It is where the opportunities are, but things can be spotty regarding being who they are when in communities that tolerate them.
And as much as the world may look upon Israel and Palestine and note how one pursues tyranny over the other, it seems the United States, once again, can be seen as a potential source of inspiration on how to be an oppressor and barely take responsibility for it, and suppress the narrative.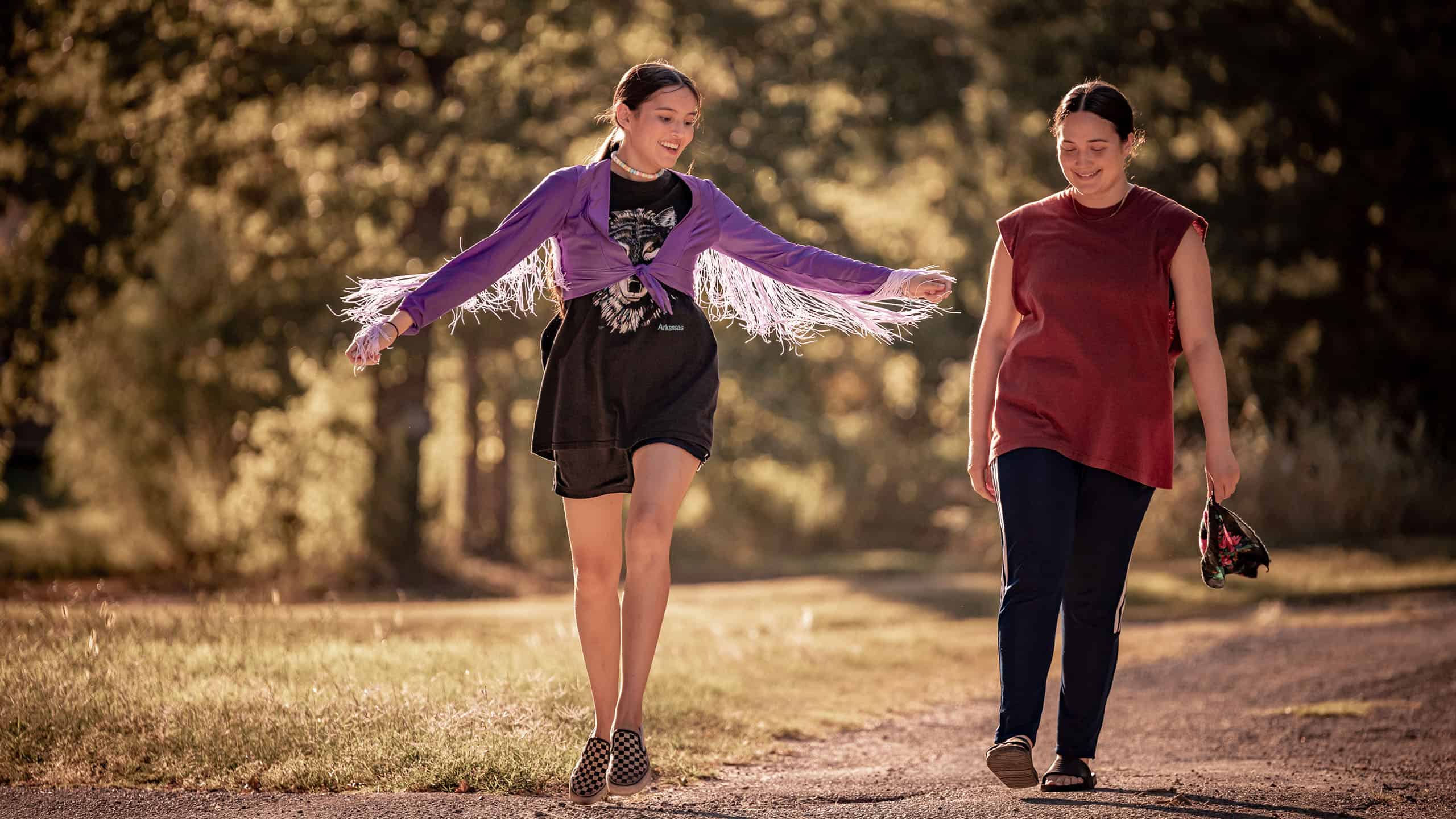 Fancy Dance (2023) – Review/ Summary (with Spoilers)
Overall
"Fancy Dance" shows all sides of what indigenous life can be. It can be joyous as you get to relish in a centuries-old culture that is still alive and vibrant and creates an ample sense of community. But, at the same time, it can be alienating for when things get tough, you are forced to realize how limited your resources are, and while you always have your neighbors, those in power either have their hands tied, or aren't invested, which can leave you feeling on your own. The balance of all aspects of just a pocket of indigenous life gives you a glimpse that helps expand an underserved voice in American culture.
Highlights
Understanding The Importance Of Community
Jax Finding Joy
A Two-State System In Which The Indigenous Are Oppressed