The Inspection (2022) – Review/ Summary (with Spoilers)
---
Community Rating: 0.00% (0) - No Community Ratings Submitted (Add Yours Below)
---
This post may contain affiliate links and spoilers. Please read our disclosure policy.
---
In this moving, biographical first feature from writer/director Elegance Bratton not only gives a stirring film but pulls from Jeremy Pope and Gabrielle Union the best performances of their careers.
Director(s)
Elegance Bratton
Screenplay By
Elegance Bratton
Based On
Elegance Bratton own life
Date Released (Film Festival – Newfest)
10/20/2022
Date Released (In Theaters)
11/18/2022
Genre(s)
Drama, Young Adult, LGBT+
Duration
1 Hour and 35 Minutes
Content Rating
Rated R
Noted Cast
Ellis
Jeremy Pope
Inez
Gabrielle Union
Sgt. Rosales
Raul Castillo
Sgt. Laws
Bokeem Woodbine
This content contains pertinent spoilers. Also, images and text in this post may contain affiliate links which, if a purchase is made from those sites, we may earn money or products from the company.
Film Summary
In 2005, Ellis and his mother, Inez, have a fraught relationship. She had him at 16, and by the time he turned 16, he came out to her and, with doing so in the late 90s, early 00s, was promptly kicked out of the house. This left Ellis struggling and homeless for years while trying to earn back his mother's love. So, in his latest effort to do so, he decides to join the marines.
Mind you, this isn't a decision taken lightly. But, despite his situation, Ellis doesn't see this as a career, a chance for a home or consistent meals, or as a means to man up or present more masculine. It's all to change his mother's perception of him. For with him, even five years after being kicked out, refusing to give up on their relationship, he is clearly willing to do anything but renounce who he is to win her back.
Things To Note
Why Is "The Inspection" Rated R
Dialog: Use of the word f****t and curse words
Violence: Hazing and fighting that leads to bloodshed
Sexual Content: Partial nudity and implied sexual situations
Miscellaneous: Drinking and homo-averse language
Question(s) Left Unanswered
Considering the way Inez talks sometimes, is it solely Ellis being gay that has led to her low opinion of him? At times it almost seems like that isn't the only disappointment, and he has done other things which has made the sacrifice she sees herself as making futile.
Character Descriptions
Please Note: This character guide is not an exhaustive list of every cast member, and character descriptions may contain what can be considered spoilers.
Ellis
Proud to be gay, despite how he has suffered for it, Ellis is a kind-hearted young man who just wants to experience the love his mother gave him before he came out. However, while she still loves him, she finds herself unwilling to
You May Also Know The Actor From Being: Archie Coleman in "Hollywood," Christopher in "Pose," and he'll be seen as Jean-Michel Basquiat in "The Collaboration," and Sammy Davis Jr. in "Scandalous!"
Inez
A correctional officer at East Jersey State prison, Inez has had a hard life. She got pregnant and had a child at 16, and raised said child, Ellis, with no help from the father and seemingly minimal help from anyone she was kin to. Then came the shock and surprise her son is gay, and while partly religious, it seems the real shock for Inez came in the form that the kid she molded to make all her dreams come true and sacrifices worth it, would never be who she wanted. Thus creating some resentment that has yet to dissipate.
You May Also Know The Actor From Being: Sydney Burnett in "L.A.'s Finest" and "Bad Boys II," Isis in "Bring It On," and Mary Jane Paul in "Being Mary Jane."
Sgt. Rosales
While Sgt. Laws may hold command over the fate of platoon 20-14, Sgt. Rosales doesn't take the same stance on how to mold them. Sgt. Rosales approaches things as more of a mentor or teacher, while Sgt. Laws prefers the traditional drill Seargent route, where they break you and then rebuild you. Which often leads the two to clash, especially as Sgt. Rosales takes a liking to Ellis.
You May Also Know The Actor From Being: Joseph in "Cha Cha Real Smooth," Baco in "Vida" and Nick in "Atypical."
Sgt. Laws
Sgt. Laws has been given the command to whip platoon 20-14 into fighting shape, and with being a veteran of Desert Storm with confirmed kills, and trauma, what he wants is perfect monsters for the war on terror. But, with being harsh, especially on those who don't fit the profile of a straight Christian male, so comes the question of whether he despises his recruits who are different or are paying special attention to them to make it so they can have long careers in the military.
You May Also Know The Actor From Being: Uncle Earl in "Queen & Slim," Joshua Alexander in "Jason's Lyric," and Cleon in "Dead Presidents"
Review
Our Rating: Positive (Worth Seeing)
Highlights
Jeremy Pope
What Elegance Bratton seemingly wanted to bring out of Jeremy Pope is someone who exemplifies love, but can identify abuse. Yet, in recognition he too is flawed, is willing, and has a desire, to not give up on anyone.
Which isn't grace Ellis exclusively gives people like his mother, Inez, but also to his platoon and commanding sergeant Laws. Between them, Ellis and Laws, you can see a complicated love-hate relationship that mirrors Inez's averse feelings towards Ellis' sexuality and what Laws can represent.
In many ways, Laws can be seen as the absentee father Ellis didn't grow up with. One who, perhaps, like his mom, wanted him to fit a certain dream they had, but due to Ellis' sexuality, he didn't fit. Yet, through their back and forth, you can see Ellis doing for Laws as he tries to do with his mom, in terms of being defiantly proud of who he is, while trying to balance wanting to be liked and loved perhaps, despite of. For, again, Ellis is willing to love and easy to forgive but has no desire to enable the worst in someone and allow them to think he won't push back. Which gets shown through him, verbally, holding people accountable, or, in the case of his platoon leader, coming to blows with him to prove, homosexual or not, don't think Ellis can't whoop your ass.
Gabrielle Union
What Gabrielle Union gives as Inez is reminiscent of what Mo'Nique gave audiences as Mary in Lee Daniels' "Precious." It's an unexpected performance, which breaks the mold and typecasting she has long been under and reminds you that what made Union famous isn't all she has to offer.
As Inez, there is a type of cruelty that is quiet, subtle, yet no less cutting. Through threatening her absence, use of silence, and like a boxer, seemingly knowing the perfect time to strike, you can see each blow to Ellis leaves him stumbling but never willing to quit their relationship.
Yet, you can see there is more to Inez than being a religious bigot. In a way, you can imagine she wanted normalcy for her son and maybe wanted to avoid blame for any hardship he may go through as a queer Black man. After all, she was a girl who got pregnant at 16, which, even in modern times, as much as we've lived through shows like "16 & Pregnant," isn't normalized nor looked highly upon. Especially when you add that she was a single mom and a Black single mom.
So as Inez talks about her dreams and sacrifices for Ellis, you can tell that religion might be the factor you can quickly latch onto, but it's more so how her sacrifice didn't lead to the dreams she wanted coming true which is the issue. It's purely selfish, and while a part of her will always love Ellis, even be proud of some of his accomplishments, she will nevertheless struggle with the idea she might have done something wrong, failed her child, and think that led to her son being a homosexual. And with the pride Inez has, she will refuse to take on that guilt and rather distance herself from Ellis.
How Lines Blur In Homo-Social Relationships
Homo-Social relationships are complex. As shown in another NewFest feature, "Close," the relationship between boys and men can easily blur from platonic to erotic, depending on the perception of participating members and onlookers. In the case of "The Inspection," Ellis being in the military, solely around men, leads to different feelings and relationships.
One of his sergeants, Rosales, is a mentor to him and looks out for him. But with Ellis having the unfortunate mindset some queer men, Black especially can have, where he thinks all kindness is about an exchange, usually for a sexual favor, it always seems there is a blurry line there. Is Ellis expecting one day to be told he needs to suck off his sergeant for the tenderness he gives him? There are multiple fantasies in "The Inspection," which make you wonder if Ellis is having fantasies or mentally prepping for what he expects to be asked. For with it seeming Ellis doesn't know the kindness of older men without it turning sexual, it seems he is confused.
Then, when it comes to his platoon? You can see some have an issue with his sexuality, particularly after an awkward moment of him getting a hard-on while in a group shower. But that's the weird thing. You expect these men to shower together, train together, and form bonds, yet it remains platonic for everyone. There is no expectation, and a outright hatred in some ways, for things to turn Spartan and for there to be any allowed intimacy, for that is seen as weak. You are supposed to be strong enough to carry your brother but never vulnerable enough to let your brother see you cry.
It almost makes you wonder if the PTSD many veterans face isn't just because of the sights they saw but the conditioning they were trained to have undoing the very fabric of what made them human. Since, likely, as Laws stated, they are meant to become controllable monsters.
On The Fence
Sometimes Wishing We Got To Know More About Ellis' Platoon Squad
There is clearly so much going on beyond Ellis' world. Rosales is dealing with a situation at home with his wife it appears. The leader of Ellis' platoon is a legacy kid trying to build a squad to maybe make his family proud. There is a member of the platoon who is Muslim, singing up for the marines, who he knows could send him into combat, more so based on the vitriol people think of his people than because anyone is just targets. The list goes on and on, and unfortunately, while Ellis shares moments with many of them, the relationships aren't built too much past their foundation. Thus creating the kind of gap that doesn't take away from anyone's performance. However, it definitely takes away your ability to get as emotional as you may expect.
[ninja_tables id="46802″]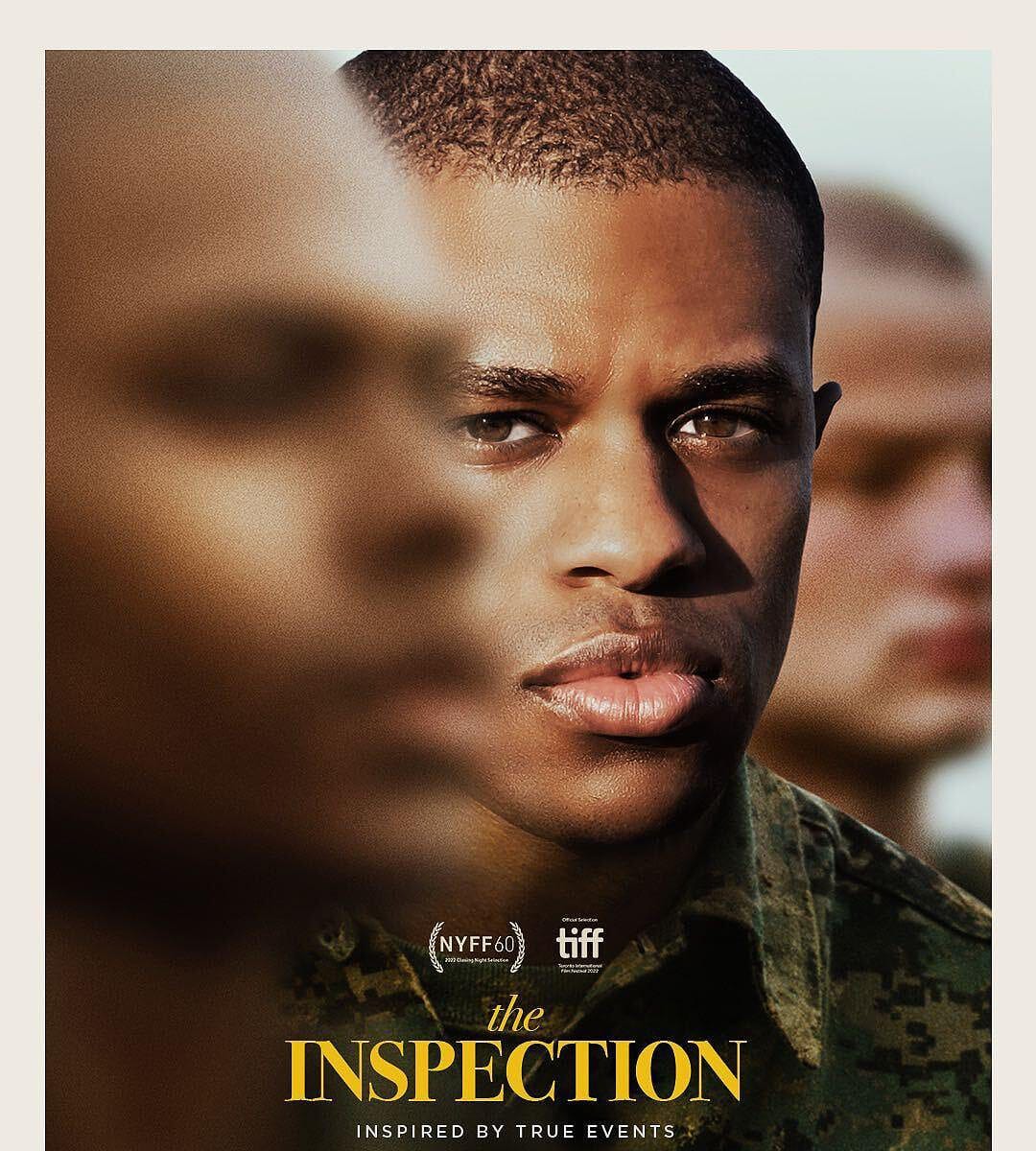 The Inspection (2022) – Review/ Summary (with Spoilers)
Overall
What Elegance Bratton delivers through Jeremy Pope and Gabrielle Union is the kind of story the queer canon needs in film. A story in which there might be trauma, a level of disenfranchisement, but it being shown as a part of life easily connectable to anyone. For while Bratton has delivered a personal story, which is a queer story, feelings of rejection aren't exclusive to queer people. The desire to heal old wounds with parents is not exclusive to him. It's universal and the lengths many have and will go for the love of a parent, mother especially, are easily understood as we see Ellis suffer in the marine corps.
Highlights
Jeremy Pope
Gabrielle Union
How Lines Blur In Homo-Social Relationships
Disputable
Sometimes Wishing We Got To Know More About Ellis' Platoon Squad
Related Topics:
Bokeem Woodbine
,
Drama
,
Elegance Bratton
,
Film Festival
,
Gabrielle Union
,
In Theaters
,
Jeremy Pope
,
LGBT+
,
NewFest
,
Rated R
,
Raul Castillo
,
Young Adult