In the musical Sneakerella, you get an almost DCOM vibe from the latest Disney+ release.
---
Director(s)
Elizabeth Allen Rosenbaum
Screenplay By
David Light, Joseph Raso, Tamara Chestna, Mindy Stern, George Gore II
Date Released (Disney Plus)
5/13/2022
Genre(s)
Adventure, Comedy, Drama, Romance, Young Adult, LGBT+, Musical
Duration
1 Hour 52 Minutes
Content Rating
TV-G
Noted Cast
El
Chosen Jacobs
Rosie
Mekdes Teshome
Trey
Bryan Terrell Clark
Zelly
Kolton Stewart
Stacy
Hayward Leach
Kira
Lexi Underwood
Darius
John Salley
Sami
Devyn Nekoda
Gustavo
Juan Chioran
Liv
Robyn Alomar
This content contains pertinent spoilers.
Film Summary
El and his mom Rosie were sneakerheads, and while Rosie owned a store, El has aspirations to design sneakers. Sadly, Rosie passed on and left El in the hands of Trey, and his two kids, Zelly and Stacy. As with all Cinderella stories, El found himself mistreated and struggling to live his dream under the tyranny of his brothers and his step-father's need for him to work day in and day out.
But luckily for El, his best friend Sami never stops encouraging him, a man from the neighborhood named Gustavo acts as a fairy godfather, and then there is El's princess. Kira King, daughter of Darius King, is trying to discover a major design for her father's sneaker empire, and after running across El, she thinks she has found someone who could turn things around for the company.
However, between El being 17 with no professional credentials, there is a need to question if he can pull off something major despite all his step-father and step-siblings do to him.
Things To Note
Reason(s) for Film Rating: Miscellaneous (Mischief)
Question(s) Left Unanswered
What happened to El's biological father?
What did Trey do before taking over the store?
Character Descriptions
Please Note: This character guide is not an exhaustive list of every cast member, and character descriptions may contain what can be considered spoilers.
El
17-year-old El lost his mother years ago and is now being raised by his stepdad. For as long as he can remember, he has been a sneakerhead but bringing his dreams of designing sneakers into reality is hard. This is mainly due to Trey having El do so much work to keep up his mom's shop, while his step-brothers get to pursue their interests.
Rosie
Rosie is El's mom, who died and fostered his love for sneakers.
Trey
Trey is Rosie's husband, who has inherited her business, which he is struggling to keep up with, and her son from a past relationship.
Zelly
Zelly is less concerned about El than Stacy, for his focus is mainly on Judo.
Stacy
Stacy, like his brother, has very little desire to work in Rosie's shop, but he makes far more of an effort than Zelly to make El's life a living hell. Mainly because the things that make El miserable could also lead Rosie's shop to fail and Stacy getting back to New Jersey.
Kira
Kira is Darius' younger daughter who aspires to shake things up at the company with a design based on artistic talent, not just research.
Darius
A former basketball player turned sneaker mogul, Darius has been dealing with falling sales in recent years, so he relies on his daughters and team to help turn things around.
Sami
Sami is El's best friend who is really into photography, skateboarding, and girls.
Gustavo
Gustavo acts as a fairy godfather to El and is often seen in the community garden.
Liv
Liv is Kira's older sister and Darius' oldest daughter, who has been handling the creation of the next big sneaker line for her father's company.
Review
---
Community Rating:
---
Highlights
The Changes To The Classic Formula
Beyond a gender swap, there are some notable and good changes when it comes to Sneakerella's take on Cinderella. First and foremost, Trey isn't a wicked step-father. If anything, he maintains the favoritism but isn't necessarily a bad guy. Ignorant about what is going on in El's life? Absolutely. However, he isn't cruel to him. More so, that is Stacy and Zelly, and in a way, you get it.
Trey isn't pushed to be seen as a gold digger who married Rosie for her money and business. But, to be with her and combine families meant Zelly and Stacy had to move from all they knew in New Jersey and adjust to Queens. As you can imagine, if they are El's age, having to leave everything at the tail end of the high school experience sucks. So when they learn there is a possibility they can go back to Jersey if Rosie's store fails? You get it.
As for Kira and her family? The benefit of the changes we see there is that she is made to be more than a love interest. She wants to contribute to the family legacy, and while there is some friendly competition between her and her sister Liv, at the end of it all, they are family and trying to do what is needed to keep the family business alive.
El and Kira's Relationship Was Cute
El and Kira's first date, when he showed her around Queens and his mother's garden, was cute. Add in them singing together and just how Underwood is cheesing at Jacobs, and it makes for one of the cutest couples you can find in a G-rated movie.
Rosie Was Featured Just The Right Amount
To understand El, you need to understand Rosie. You have to understand what she meant to the community and El, and even how El, with him being so absorbed in his mom, not recognizing Trey's contributions. Especially at the tail end of Rosie's life. Which through flashbacks, you can see as much as Trey is painted to be part of the problem, it is because neither Trey nor El really made an effort to get to know the other person. So they kept a face value perception of each other.
It's Black Enough
Sneakerella doesn't stray from the recognition the majority of its talking cast is Black. From Kira's various protective styles to featuring rapping and the recognition of how sneakers and basketball play a notable role in Black culture, it is all there. Mind you, not to the point where something is specifically noted as a Black thing at any time in the movie. However, you can recognize the people behind Sneakerella wanted to make it clear this wasn't just a meek diversity remake of a classic tale.
A Lowkey Queer Character
If you walk away for a minute, you could completely miss it being revealed Sami is queer. It isn't clear where she is on the spectrum, but it is noted that she has had multiple girlfriends previously. This, for someone who grew up when Disney was very conservative about anything, and everything was different. But, what we appreciated about Sami is that her being queer was a minor thing. Her bigger focus was her photography, being a support system for Eli yet not getting trapped in his orbit.
Overall
Our Rating: Positive (Worth Seeing) – Recommended
Even if you aren't someone who enjoys musicals, Sneakerella puts enough of a spin on the classic tale to keep you engaged. It has an underdog with a dream you want to invest in, a cute romance, and an awesome community that supports its lead. Then, when it comes to its villains? As mischievous as they can be, you understand why they are averse to what El wants to accomplish.
Leading to why this is being recommended: Despite being nearly two hours, Sneakerella is enjoyable to watch, has catchy tunes, and while I don't have any desire to watch it twice, I could imagine those who this was made for putting it on repeat.
[ninja_tables id="46802″]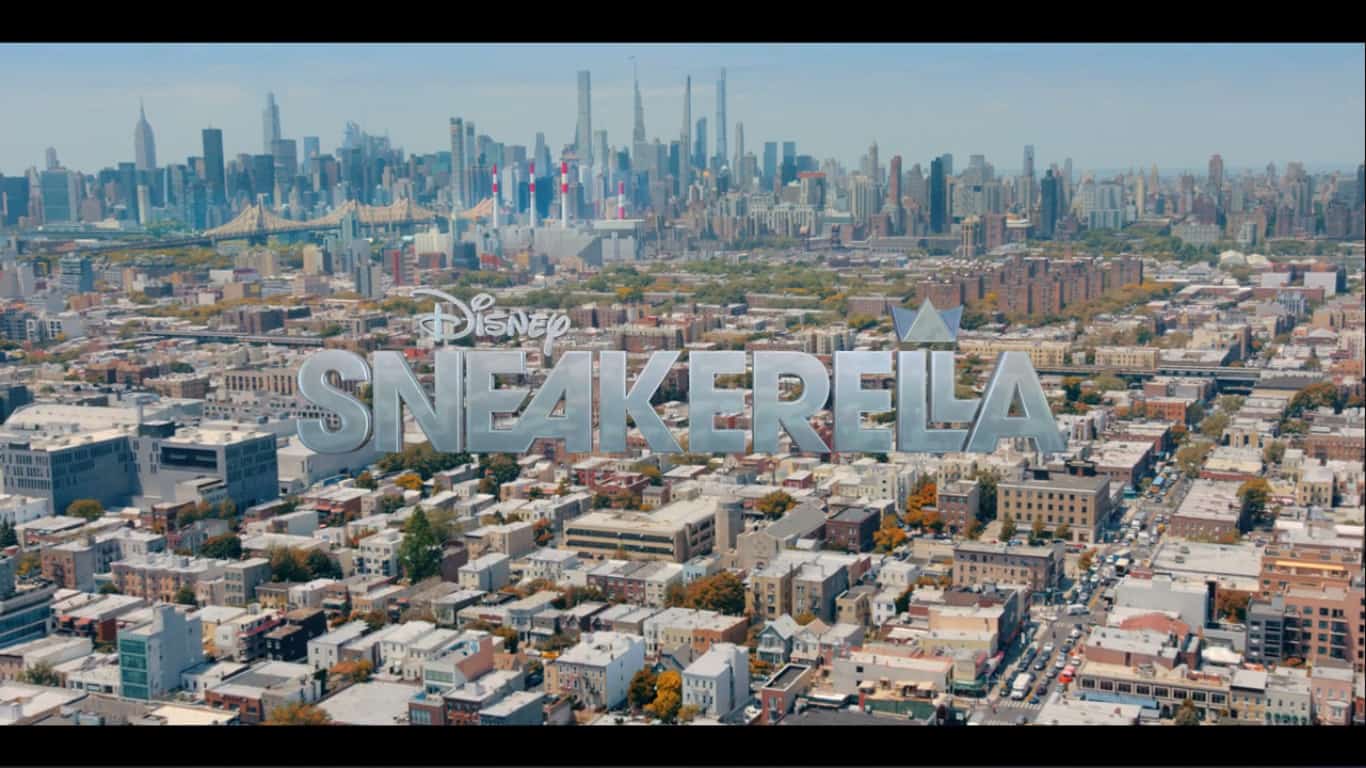 Sneakerella (2022) – Review/ Summary
Who Is This For?
In addition to those who love musicals, also those who love simple love stories with an underdog story included.
Highlights
A Lowkey Queer Character
It's Black Enough
Rosie Was Featured Just The Right Amount
El and Kira's Relationship Was Cute
The Changes To The Classic Formula