Slotherhouse (2023) – Review and Summary
---
Community Rating: 0.00% (0) - No Community Ratings Submitted (Add Yours Below)
---
This post may contain affiliate links and spoilers. Please read our disclosure policy.
---
General Information
Director(s)
Matthew Goodhue
Screenplay By
Bradley Fowler
Based On A Story By
Bradley Fowler and Cady Lanigan
Date Released (In Theaters)
August 30, 2023
Genre(s)
Comedy, Horror, Young Adult
Film Length
1 Hour 33 Minutes
Content Rating
Rated PG-13
Noted Characters and Cast
Emily
Lisa Ambalavanar
Madison
Olivia Rouyre
Brianna
Sydney Craven
Zenny
Bianca Beckles-Rose
What Is "Slotherhouse" Rated And Why?
"Slotherhouse" is Rated PG-13 and contains:
Dialog: Minor Cursing
Violence: Blood, violence against and by animals, gun violence, depiction of open wounds
Sexual Content: None
Miscellaneous: Drinking
Film Summary
This content contains pertinent spoilers. Also, images and text in this post may contain affiliate links. If a purchase is made from those sites, we may earn money or products from the company.
With coming up on their final years of college and living at Sigma Lambda Theta, Emily and Madison, alongside Zenny, are trying to enjoy all the house offers before being expected to go into the world. However, one thing complicating that is House President Brianna. She desires to be the queen bee for an additional year, and with Emily posing a threat, she starts to pick with her.
As she does this, Emily becomes tempted by a poacher to buy a sloth to help not only her social media following but her potential campaign for House President, and while she gets the sloth, later named Alpha, under dubious circumstances, it ends up being a hit. Thus leading to Brianna pushing her minions to get rid of it, and everyone in Sigma Lambda Theta learning this sloth may have been named Alpha to be ironic, but it surely does not have a beta personality.
Character Descriptions
Please Note: This character guide is not an exhaustive list of every cast member, and character descriptions may contain what can be considered spoilers.
Emily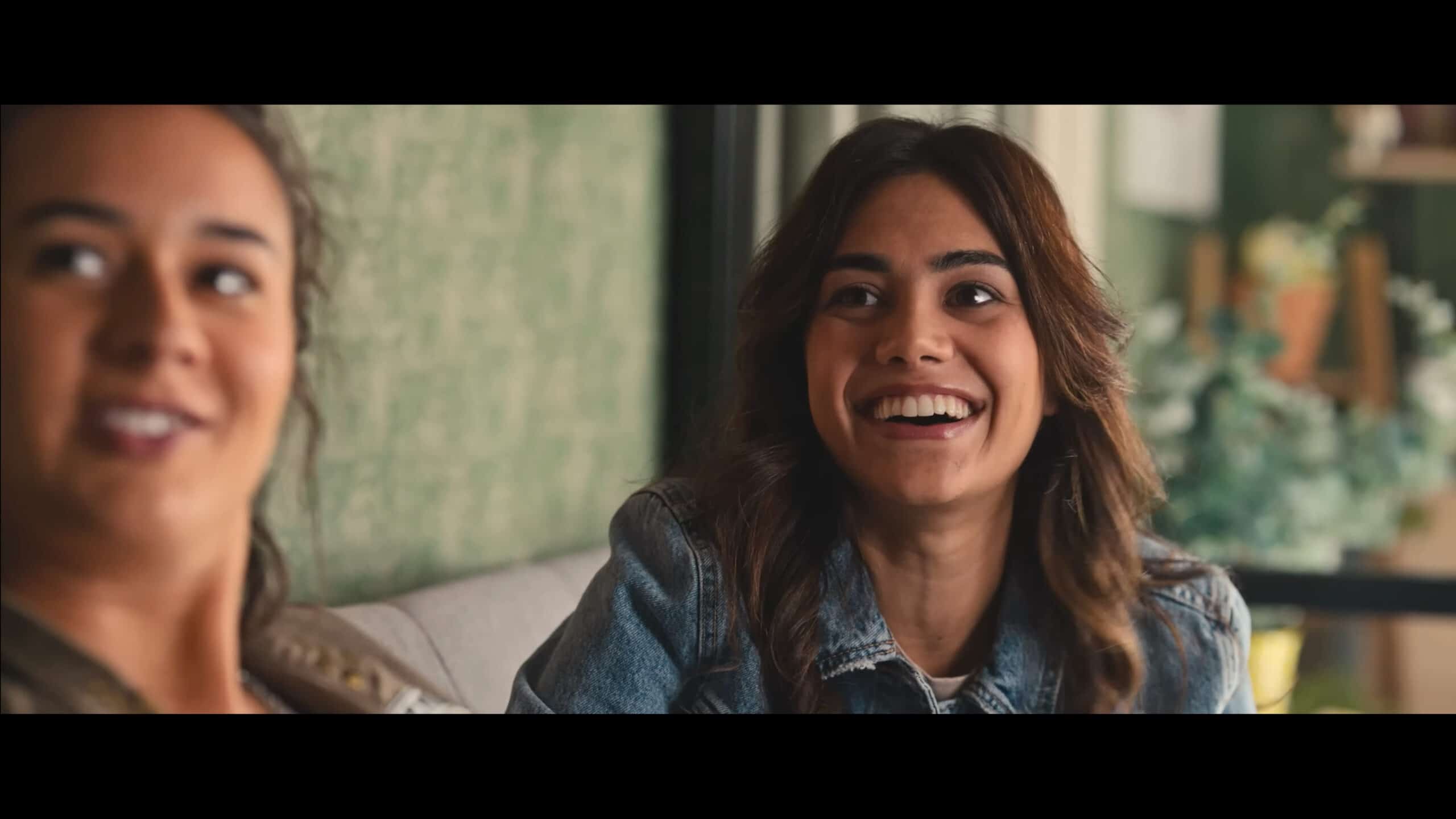 Emily is a legacy member of the Sigma Lambda Theta house, as her mother was a member.
Madison
Emily's best friend, Madison, acts as a moral compass of sorts, sometimes in the most annoying way possible, as Emily's popularity grows.
Brianna
Brianna is the president of the house, two years running, and is trying to break a record and become one of the few, if only, to be voted House President three times – by any means necessary.
Zenny
Zenny is a member of Emily's friend group who is queer and quirky.
Review
Our Rating: Mixed (Divisive)
Highlights
It's As Ridiculous As Expected
If you've ever seen the show "Martin," specifically the episode/ scene (embedded above) when a rodent attacks him, that is what you see in "Slotherhouse," but with the addition of blood and open wounds. It's ridiculous and on top of the comical violence, and the push to think Alpha cannot die, there are the cuter moments before it goes rabid and attacks everyone where it is dressed up and treated like a human.
The combination delivers something as ridiculous as expected, often in the best way.
On The Fence
Some Of The Performances May Push You To Wonder If The Actor Is Green Or Performed This Way On Purpose
The issue with a film like "Slotherhouse" is that you know is not meant to be taken seriously, so it pushes you to wonder if that means the bar should be lowered when it comes to the performances. For when it comes to most characters, they are adequate. They aren't going to make you cry or overtly invested, but do the job expected.
However, when it comes to Zenny, there is a need to question if the actor is green, if their director pushed them to play the character that way, or what? Because there are moments when Zenny gets a little bit cringeworthy to the point you aren't sure if you should be laughing at or with them, or be in a state of dismay.
A Huge Amount Of Scene Fillers
Beyond the characters named, there are more. The issue is they have no real effect on you. I'd even say, with you knowing Alpha is going to kill, you may not care who may die beyond those named since everyone else is a face with a barely rememberable name. Mind you, the movie does run through who each person is and gives you a glimpse of their social media to get a short bio.
However, even the house mom who knew Emily's mother, while you may remember she is a drunk, like most, she doesn't contain that necessary oomph to not be someone who could end up fodder without you caring much.
Recommendations
If you like this movie, we recommend:
Check out our movies page for our latest movie reviews and recommendations.
FAQs
Answers to some questions you may have regarding this movie:
Slotherhouse (2023) – Overview
Summary
"Slotherhouse" may not rise above being a novelty and silly film, but for those who don't need their horror to be complex, truly terrifying, or the least bit realistic, this is for you.
It's As Ridiculous As Expected -

83.5%

Some Of The Peformances May Push You To Wonder If The Actor Is Green Or Performed This Way On Purpose -

72%

A Huge Amount Of Scene Fillers -

73%
Highlight(s)
It's As Ridiculous As Expected
Disputable
Some Of The Performances May Push You To Wonder If The Actor Is Green Or Performed This Way On Purpose
A Huge Amount Of Scene Fillers
Related Topics:
Bianca Beckles-Rose
,
Bradley Fowler
,
Cady Lanigan
,
Comedy
,
Horror
,
Lisa Ambalavanar
,
Matthew Goodhue
,
Olivia Rouyre
,
Rated PG-13
,
Sydney Craven
,
Young Adult