"Shortcomings" desires to push back against the spectacle of representation as it dives into the day-to-day conversations of an unlikable lead.
This content contains pertinent spoilers. Also, images and text in this post may contain affiliate links which, if a purchase is made from those sites, we may earn money or products from the company.
Film Summary
Ben is miserable. Both in terms of being around and as an individual. He works at a movie theater on its last legs, his film career has long-stalled, while his girlfriend, Miko, is flourishing, and people keep bringing up his wandering eye for White blonde women. Heck, even his girlfriend, while using his computer, sees the kind of porn he prefers, and it isn't with girls who look like her.
So, with an opportunity in New York and seeing things aren't going anywhere with Ben, she decides they should be on a break. Ben struggles with this, even with his best friend Alice sticking around for a bit, but Ben becomes especially lost when Alice finds a reason to leave for New York too.
Enter Autumn and Sasha, two girls who fit Ben's fantasy. However, can his fantasy become a healthy reality, or is he just as much someone who fetishizes White women as he claims White men do Asian women?
Things To Note
Why Is "Shortcomings" Rated Not Rated
Dialog: Cursing periodically
Violence: None
Sexual Content: A strange naked man
Miscellaneous: Drinking and smoking
Collected Quote(s)
Just because I'm a hypocrite doesn't mean I'm wrong.
— Alice
Character Descriptions
Please Note: This character guide is not an exhaustive list of every cast member, and character descriptions may contain what can be considered spoilers.
Ben
A college dropout, who leans on film critique since his attempt at becoming an auteur failed, Ben isn't a happy camper. He works a dead-end job at a dying movie theater, and his unhappiness in his life festers to the point of being overtly critical about almost anything anyone else has going on.
You May Also Know The Actor From Being: Christopher in the upcoming "Turn Me On," Ben Hargreeves in "The Umbrella Academy," and Yang in "After Yang."
Miko
Miko is Ben's girlfriend who, after screening her first film and getting major notice for it, just wanted Ben to be supportive. But, with him unable and unwilling to, she finds herself seeking other places and potentially faces to be what she wanted Ben to be for the 6 years they have been dating.
You May Also Know The Actor From Being: Taylor in "Hacks," Ikumi in "Dear White People," and an unknown role in the upcoming "Exploding Kittens" with Tom Ellis and Lucy Liu.
Alice
Alice is a queer, soon-to-be doctor who has issues with being in a serious relationship. It isn't 100% clear why, but part of it might be that, with her parents having so much influence over her life, her only form of rebellion might be that she isn't married or in a serious relationship, and they can't brag about that.
You May Also Know The Actor From Being: Alice Kwan in "Good Trouble," Helen (voice) in "Turning Red," and an Unknown role in the upcoming "A Family Affair" with Joey King, Kathy Bates, Nicole Kidman, and Zac Efron.
Meredith
Meredith is a professor Alice meets in New York who flips a switch in her.
You May Also Know The Actor From Being: Mysaria, aka The White Worm in "House of the Dragon," Dr. Azumi Fujita in "Maniac," Jane in "Am I OK?" Araminta Lee in "Crazy Rich Asians," and Kyoko in "Ex Machina."
Autumn
Autumn is a performance artist who starts working at Ben's movie theater.
You May Also Know The Actor From Being: Kate Keller in "Gossip Girl" and Helena St. Tessero (voice) in "Neo Yokio."
Sasha
Sasha is a bi-sexual young woman, and grad student, who Ben is interested in.
You May Also Know The Actor From Being: Hannah in "The Resort," Patty Bladell in "Insatiable," and Jessie Prescott and Bailey Pickett in multiple Disney Channel shows
Review
---
Community Rating:
---
Our Rating: Positive (Worth Seeing)
Highlights
The Social and Cultural Commentary
From whether films like "Crazy Rich Asians" are truly impactful beyond the display of capitalist excess to the feelings some Asian people have over being with a White partner, there are conversations that have to do with race but not racism. This, as a Black person, I love, for it truly allows you to see the internal workings, flaws, and takes of a culture without an outside influence.
I mean, even outside of Ben's issues, which we're going into more below, there is also Alice bringing up the issue Koreans have with the Japanese and the breakdown of how Asian people are far from a monolith culturally and historically.
Alice's Storyline
While Alice, like everyone but Ben it appears, comes from money, she doesn't fit into a model minority realm. Yes, she is privileged, but she is also queer, a bit of a player, and it seems her parents are averse to her being homosexual. And you can see, while Alice is extroverted and social, Ben might be the only person she can rely on. Which is strange in a way, since Ben is a walking dark cloud, but there is a kind of chemistry there that is undeniable.
Note, it isn't romantic, but it does make it so that, as Alice slowly but surely becomes the far more interesting character, her being willing to give Ben grace allows you to give Ben grace. Though I must say, as Alice moves to New York, meets Meredith, and begins to mature, I was ready for them to drop Ben and make this Alice's movie. For never mind seeing a queer romance, but also to see someone like Alice, who ghosts people when they try to get serious, to her co-habiting with someone she met a few weeks ago and being in bliss? It's hard to not want the full details of that trajectory. Especially since Meredith seems lovely and had her own journey worth exploring. This becomes clear when Ben discovers a way to get under her skin.
On The Fence
Ben Being Unlikable In The Best And Worst Ways
The problem you can have with Ben is that he seems like every White guy who fits the bill of toxic masculinity, but now from an Asian standpoint. Now, this isn't to say his sense of entitlement and ego leads him to do the type of things we see in "Fair Play," which is also screening at Sundance. More so, Ben has normal, hypocritical, delusional, and privileged masculinity.
Which in some ways is fine and good for Ben as a character. His inability to recognize the power dynamics involved with liking Autumn, and his hypocrisy in his pursuit of Sasha, while deeming a White man who likes Miko as a "Rice King," allows him to be flawed. And while he lacks self-reflection, accountability, and even empathy to a certain degree, he is thankfully called out on it throughout the movie – hence the title of it being "Shortcomings."
Now, getting to the criticism, there is a need to recognize that due to lack of representation, there is a deft of flawed characters like Ben. The kind who may not represent a community as a whole but certain players who exist within it, that apparently need to be called out. Also, you have to consider it isn't often that you can get a person of color, an Asian person of color at that, who gets to be unlikeable and not have any desire to be redeemable – without being a villain. Yet, even with that said, it feels like the same character we always get, but with different verbiage.
What we mean by that is, Ben feels like the White guy we're so used to but adapted for an Asian actor/character. This leaves us torn between appreciating Ben as someone who lacks likability, yet I can't help but wish the reasons to dislike him didn't feel so generic and lacked layers or complication. Outside of Ben noting he grew up in a predominately White area, there is no background to help you understand why he thinks as he does. So you're just given this guy who likes to gaslight and incite fights and then questions why is the other person getting so emotional? And GOD help you if you push him to see the hypocrisy of the situation, for in Ben's defensiveness, he just starts lighting matches to burn any bridge towards peace between all parties.
This ultimately leaves you with a character who, maybe, in some ways, you might be meant to love to hate, but as it becomes clear Ben isn't as much a character as he is representative of a type of man, he falters in ways that lead you to take an interest in anyone but him.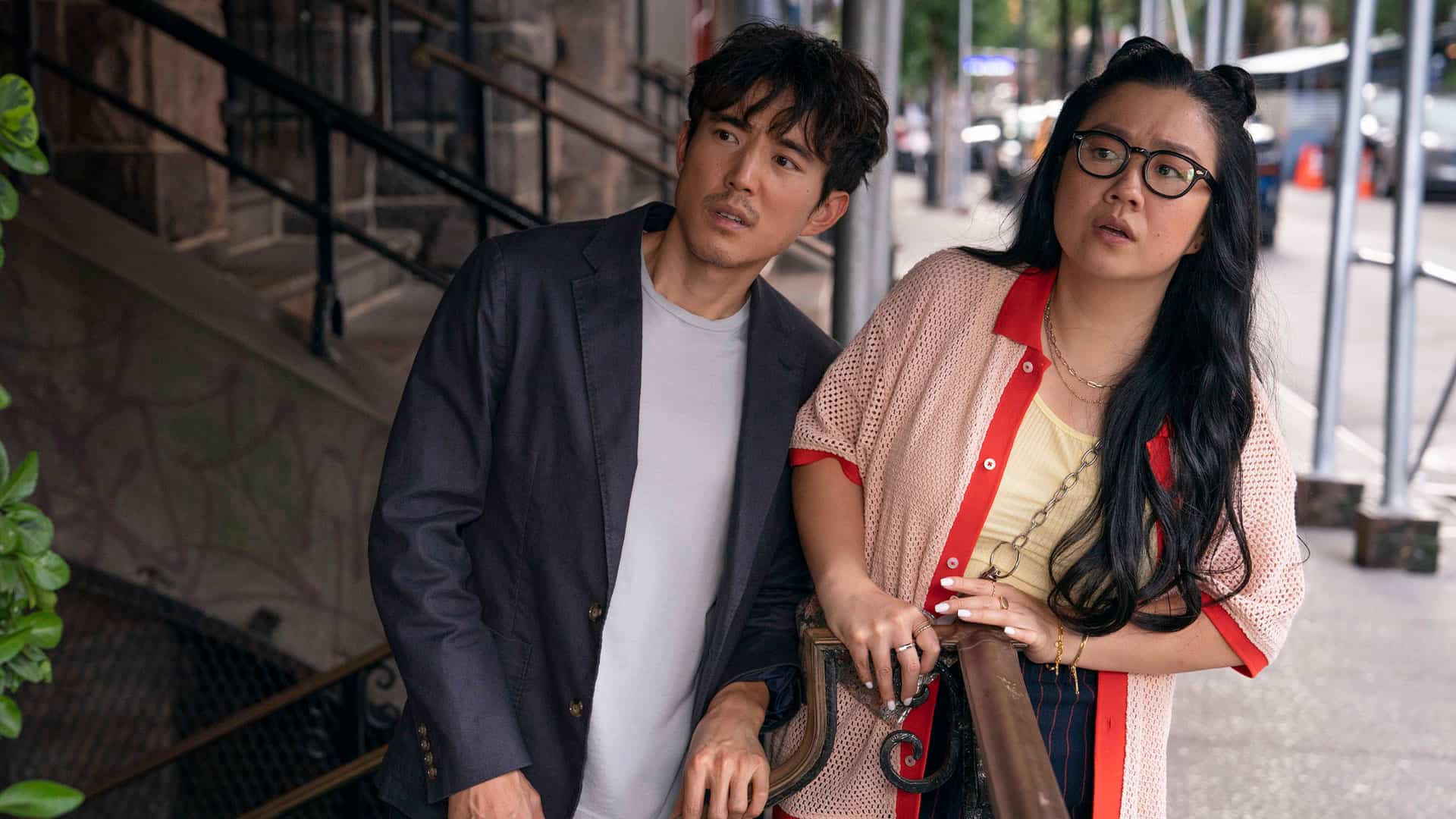 Shortcomings (2023) – Review/ Summary (with Spoilers)
Overall
In "Shortcomings," pursuit of having an Asian man present himself as the toxic male we're so used to seeing as White, there is a new take on the character. However, as the character itself lacks the development needed, the entitlement and insults diminish the character in ways that just leads you to wonder about other storylines and wish Ben would have been left in California, rather than travel to New York.
Highlights
The Social and Cultural Commentary
Alice's Storyline
Disputable
The Showing Of Entitlement & Lack Of Accountability Not Just Being A White Guy Thing