Respect puts respect on Aretha Franklin's name while still addressing her demons, sordid relationships, and her father.
---
Director(s)
Liesl Tommy
Screenplay By
Tracey Scott Wilson, Callie Khouri
Date Released
8/13/2021
Where Can You Watch?
In Theaters
Genre(s)
Drama, Romance, Young Adult, Biopic, Musical, Religious, Historical
Duration
2 Hours 25 Minutes
MPAA Rating
PG-13
Noted Cast
Aretha Franklin
Jennifer Hudson
10 Year Old Aretha Franklin
Skye Dakota Turner
C. L. Franklin
Forest Whitaker
Reverend Dr. James Cleveland
Tituss Burgess
Ted White
Marlon Wayans
Martin Luther King Jr.
Gilbert Glenn Brown
Dinah Washington
Mary J. Blige
Film Summary
Covering Aretha Franklin's life from 1952 to 1972, we watch the rise of Aretha Franklin, at one time simply known as C. L. Franklin's daughter, to a global star with multiple enduring hits and a legacy like no other. But, to get to superstar status, she had to deal with a father who was as much a saint as he was a sinner who was careless in raising his child. Also, there were multiple men in Aretha's life, from the Reverend Dr. James Cleveland to Ted White and, of course, Martin Luther King Jr.
But through it all, the young and talented Queen of Soul may have had her demons, but in the face of liquor and unappreciative men, she never lost her soul or her faith.
Things To Note | Question(s) Left Unanswered
Reason(s) for Film Rating
Heavy drinking, implied pedophilia/ rape, violence against women, and cursing
Review
Highlights
Skye Dakota Turner as Young Aretha Franklin
Sometimes the younger version of a well-known persona is just used to set a foundation. But Ms. Turner presents the kind of performance that is usually saved for coming of age dramedies. For as the young Aretha Franklin, as we see her interact with some of the greatest musicians who ever lived, get a taste of her relationship with her father and siblings, as well as see her deal with being raped, her mother dying and more? I'd say any praise given to Jennifer Hudson without crediting Skye Dakota Turner for setting things up would be a massive snub.
Honest, But Not Exploitative
One of the main differences between Respect and Genius: Aretha Franklin is that Respect will apply subtlety where Genius: Aretha Franklin would exploit for entertainment, if not shock value. One of the most notable examples is that C. L. Franklin, while noted to be a piece of work and shown occasionally to be so, it isn't like Genius: Aretha Franklin, where he was portrayed as a misogynistic whore. Heck, even when it came to Aretha, it is clear that she may not have been a very active mother to all of her children, and her drinking problem is made clear. However, while honest, you can see a respect for her legacy involved so that both the legend and the people who crafted it, including Franklin, are given grace.
You Rarely, If Ever, Want To Check How Much Time Is Left
Two and a half hours is a long amount of time to ask anyone to sit anywhere and pay attention. Thankfully, even with minimal comic relief moments, the songs, the performances, they carry you through the entire film. Almost to the point of you being surprised this ends in 1972, considering there were so many songs left to cover and experiences.
You'll Get Chills
Before the film, Jennifer Hudson notes that she wasn't trying to imitate Aretha Franklin but take how she inspired her and tap into that. In doing so, it produced a chill when she sings some of Franklin's famous songs, like "Ain't No Way." For while Hudson's voice is distinctly different, you get that soul that can only come from a church upbringing and training within a choir.
Faith On Full Display
The role of church and faith can sometimes feel downplayed once it is no longer necessary to be seen. However, with Ms. Franklin being the daughter of a preacher, you see how gospel informed her step and directed her way. Be it scenes in her father's church or churches they were visiting, to ending things with the creation of the "Amazing Grace" album. To watch Respect is to understand how being a Baptist gave Ms. Franklin the validation to use her full voice to invoke the spirit.
Mary J. Blige Leaves An Impression
Admittedly, part of the reason Blige leaves a lasting impression is because she is one of the few intentionally funny ones, and as Dinah Washington, she has a moment with Hudson that eclipses all those name-dropped throughout the film. However, as Washington, you are also reminded that Blige is by no means a bad actor, and while it may not be perfect casting, it is definitely the kind of performance that makes you want to look up how Dinah Washington was.
On The Fence
Hudson and Wayans' Accents Are a Bit Weird
It could just be me, but listening to Hudson and Wayans' talk made me question where were their accents from? Granted, you could submit they were channeling the sources, but at times it less put you further into the film as it took you out.
The Handling of Dr. Martin Luther King Jr.
Setting aside the look was off, I'd even add Gilbert Glenn Brown wasn't pushed to deliver. He just was an actor playing an obligatory role. Someone who seemingly wasn't supposed to bring any attention to himself and thus seemed small. Thus one of the most pivotal figures in world history felt like a blip barely worth noting.
Though considering most of those featured or named dropped, outside of Dinah Washington, didn't make the grandest of impressions, maybe this was for the best?
Overall
Our Rating: Positive (Worth Seeing)
Respect may not feel like the definitive source to learn about Aretha Franklin, and there are definitely some kinks regarding the performances and story. However, with the comparison to Genius: Aretha Franklin there, this comes out as the better production and leaves you wishing they'd cover the rest of Franklin's life.
Movie Directory
On The Radar
---
Ratings
---
Special Categories/ Tags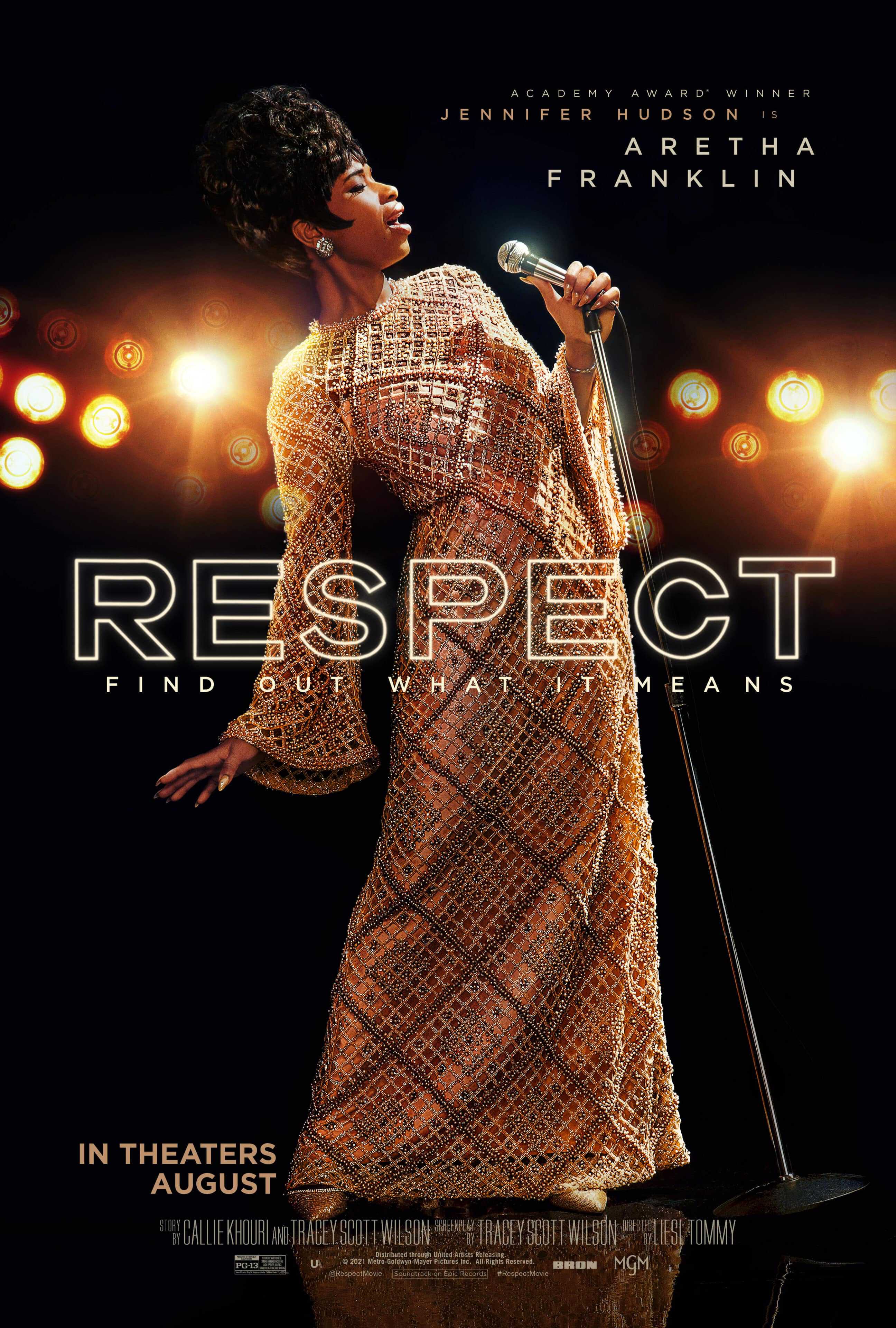 Respect (2021) – Review/Summary (with Spoilers)
Who Is This For?
Aretha Franklin fans or those interested in the early part of her life.
Highlights
Skye Dakota Turner as Young Aretha Franklin
Honest, But Not Exploitative
You Rarely, If Ever, Want To Check How Much Time Is Left
You'll Get Chills
Faith On Full Display
Mary J. Blige Leaves An Impression
Disputable
Hudson and Wayans' Accents Are a Bit Weird
The Handling of Dr. Martin Luther King Jr.