Emma Roberts and Luke Bracey act as Trojan horses for a movie about love, companionship, and marriage after 60.
Director(s)
Michael Jacobs
Screenplay By
Michael Jacobs
Based On
N/A
Date Released (In Theaters)
1/27/2023
Genre(s)
Comedy, Drama, Romance, Young Adult, Elder
Duration
1 Hour and 35 Minutes
Content Rating
Rated PG-13
Noted Cast
Allen
Luke Bracey
Howard
Richard Gere
Grace
Diane Keaton
Sam
William H. Macy
Michelle
Emma Roberts
Monica
Susan Sarandon
This content contains pertinent spoilers. Also, images and text in this post may contain affiliate links which, if a purchase is made from those sites, we may earn money or products from the company.
Film Summary
Allen and Michelle are feeling torn. Michelle is focused on the future, building what she has with Allen through marriage, and he is happy where they are and doesn't see a reason to change it. The reason they are this way? Their parents.
Allen's parents, Sam and Monica, stayed together strictly for him, and it is clear in how they talk and treat each other. Sam is miserable and cracks jokes to deal with it, and Monica? She has been seeking relief, joy, and satisfaction from Howard rather than wallowing in misery with her husband.
As for who is Howard? Howard is Michelle's father who, after four months, is ready to break up with Monica, but she swears revenge if he does. Which, upon Michele and Allen trying to reconcile, leads her to meet Howard's wife, Grace, and Howard to meet Sam. This is immensely awkward, for while nothing sexual happened, Sam and Grace were on a path to explore an affair.
But, with Sam reminding Grace all she just wanted Howard to pursue, so comes the question of whether, once this meeting of the families is over, will any of these relationships survive and be reconciled?
Things To Note
Why Is "Maybe I Do" Rated PG-13
Dialog: minimal, if any, cursing
Violence: none
Sexual Content: Sexual situations, but no sex
Miscellaneous: drinking
Character Descriptions
Please Note: This character guide is not an exhaustive list of every cast member, and character descriptions may contain what can be considered spoilers.
Allen
Allen is a young man who has been in relationships, maybe even in love, before Michelle, but being with her made it clear he has not been in a serious relationship before. But, with being haunted by two parents who clearly should have divorced decades ago, there is a fear that between an engagement and signing for a marriage license, his relationship with Michelle will change for the worst, which makes him question why does anything need to change?
You May Also Know The Actor From Being: Jesse in the upcoming "One True Loves," Jerry Schilling in "Elvis," and Jackson in "Holidate," with Emma Roberts.
Howard
Howard and Grace appear to have the perfect marriage. They are playful with one another, both seem somewhat religious, yet something is off for him. Be it physically or just how amiable Grace is, it leads him to stray.
You May Also Know The Actor From Being: A unknown role in the upcoming "The Making Of," with Blake Lively, Diane Keaton, and Lin-Manuel Miranda, John Clark in "Shall We Dance," Billy Flynn in "Chicago," and Edward Lewis in "Pretty Woman."
Grace
Grace is lonely. She wants someone to talk to, go on vacations with, and while she has a husband, it seems he has withdrawn a bit. Especially when their daughter isn't around.
You May Also Know The Actor From Being: Diane in the "Book Club" franchise, an unknown role in the upcoming "A Childhood History Plan" with Goldie Hawn and Better Midler, and Rita in "Mack & Rita."
Sam
Sam is stuck in the mindset of him letting the best person for him getting away, and with settling for Monica for decades, he has become unhappy. A part of him still, strangely, believes in love but knows whatever he felt for Monica has passed, and at this point, she is a source of companionship.
You May Also Know The Actor From Being: Frank Gallagher in "Shameless," An unknown role in the upcoming "Kingdom of the Planet of the Apes," and Dr. David Morgenstern in "ER."
Michelle
With seeing her parents as perfect, her Cory and Topanga (Writer/ Director Michael Jacobs made "Boy Meets World") the standard was set. But, because of her feeling like she often wasn't enough, there was a time she questioned if she would ever have what her parents have. Which made Allen seem like a blessing until he revealed how deep his trauma goes and that he was willing to let it affect their relationship.
You May Also Know The Actor From Being: Margot in "About Fate," Madison Montgomery in "American Horror Story," Mary Parker in the upcoming "Madame Web," and Sasha in the upcoming "Second Wife," co-starring Tom Ellis.
Monica
Desperately seeking stimulation, affection, and care, Monica is the opposite of Sam. While he may deal with things by being sarcastic, Monica is more than willing to go out there to get her needs handled. After all, she is vivacious, has no issue taking the initiative, and is the kind of spitfire many may like but few can handle.
You May Also Know The Actor From Being: Samantha Winslow in "Ray Donovan," Bette Davis in "Feud," Janet in "The Rocky Horror Picture Show," and Victoria Kord in the upcoming "Blue Beetle."
Review
---
Community Rating:
---
Our Rating: Positive (Worth Seeing) – Recommended
Notable Performances or Moments
Sam Explaining What Love Is
Sam breaking down the difference between the love between a parent and child, which is inherited and doctor-directed vs. finding love on your own, with no way to define it by rhyme or reason, will make you want to rewind that one scene.
Highlights
All The Conversations About Love
In fact, the way love and how complicated it can be, if you overthink it, is written and performed is what drives "Maybe I Do" to such excellence that it helps you understand why this wasn't a video-on-demand release. Because it certainly looks like that kind of movie, but as Michele and Sam talk about love and relationships from the perspective of a young woman in her twenties, thinking her parents had a perfect relationship and then hearing the jaded, but still hopeful, older, Sam? "Maybe I Do" forces you to adjust back into the mindset of what kind of films should or deserve to be theatrical releases.
The Humor
With two marriages complicated by an affair and all parties put into an awkward dinner party by their kids, things become comical. However, the comedy is mainly from the industry veterans, from Sam's sarcastic comments about his marriage and wife or Monica making people uncomfortable for her sole pleasure. Which isn't to say Grace and Howard don't have their moments, but the nuggets of "Maybe I Do" undoubtedly belong to Susan Sarandon and William H. Macy.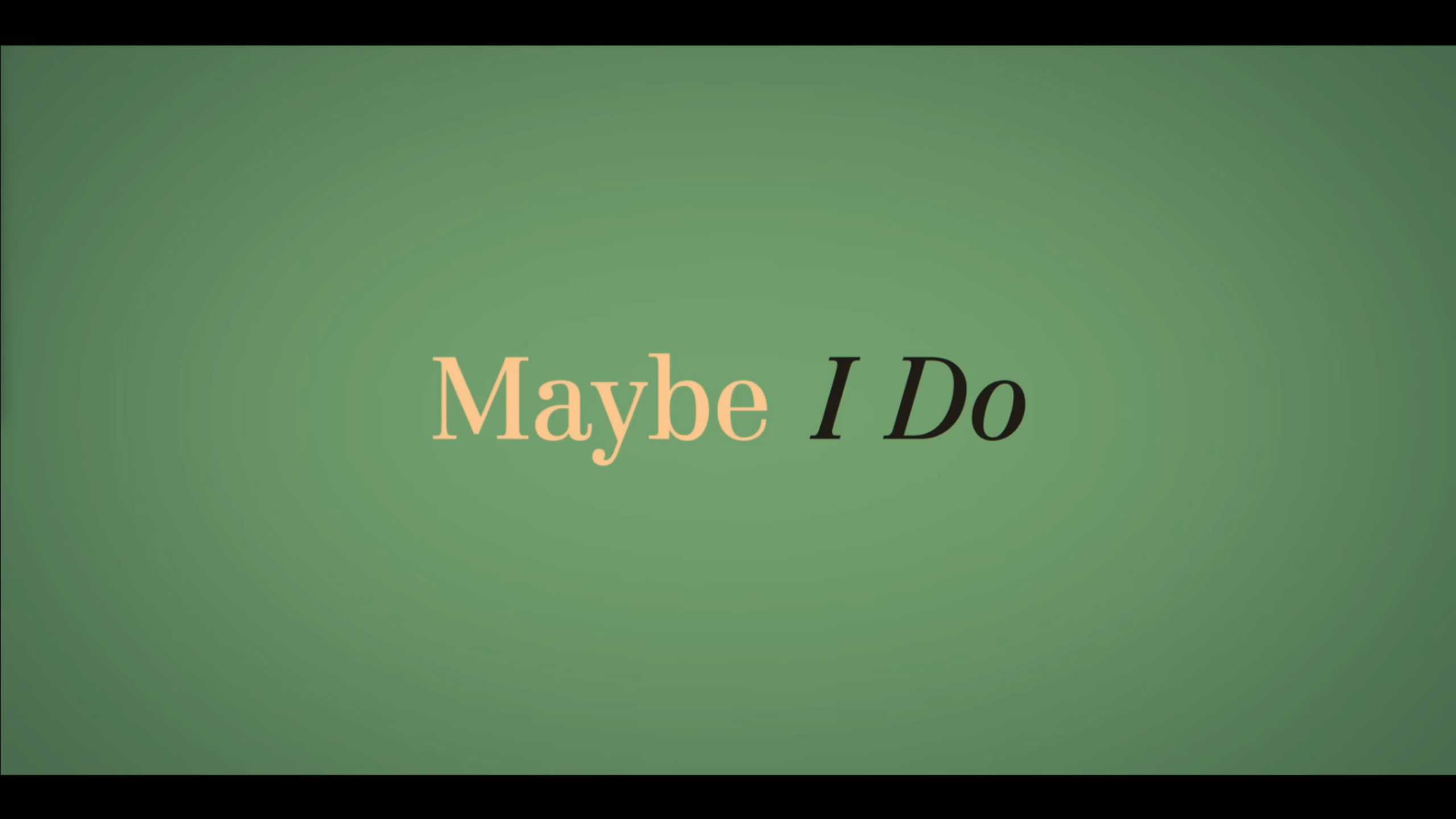 Maybe I Do (2023) – Review/ Summary (with Spoilers)
Overall
"Maybe I Do" is the perfect movie to release as we come up upon Valentine's Day, for as it explores young love and a more seasoned take on the topic, it allows nearly all involved to excel and even creates a reason for repeated viewing.
Highlights
Sam Explaining What Love Is
All The Conversations About Love
The Humor