If Teyana Taylor is going to give up on her music career, the gift of her performance in "A Thousand And One" makes up for it.
Director(s)
A.V. Rockwell
Screenplay By
A.V. Rockwell
Based On
N/A
Date Released (Film Festival – Sundance Film Festival 2023)
1/24/2023
Genre(s)
Drama, Young Adult
Duration
117 Minutes
Content Rating
Not Rated
Noted Cast
Inez De La Paz
Teyana Taylor
Terry (6 Years Old)
Aaron Kingsley Adetola
Terry (13 Years Old)
Aven Courtney
Terry (17 Years Old)
Josiah Cross
Lucky
Will Catlett
This content contains pertinent spoilers. Also, images and text in this post may contain affiliate links which, if a purchase is made from those sites, we may earn money or products from the company.
Film Summary
After growing up in the foster care system, abandoned by everyone, even her sister, Inez didn't want that kind of life for Terry. He was soft, quiet, and sweet, and as his mother, she was willing to do whatever it took to protect him. Now, some legal issues did get in the way, since Inez's man, Lucky, and her have records, but making a way out of what appears to be no way is what parents do. So, while rough at certain points, especially because Inez has a New Yorker's attitude, she took care of her boy, even as their world began to fall apart.
Things To Note
Why Is "A Thousand And One" Rated Not Rated
Dialog: Cursing
Violence: N/A
Sexual Content: You See A Man's Behind For A Hot Minute
Miscellaneous: Smoking
Collected Quote(s)
There's more to life than fucked up beginnings.
— Inez
Just be sensitive to my sensitivity.
— Inez
Character Descriptions
Please Note: This character guide is not an exhaustive list of every cast member, and character descriptions may contain what can be considered spoilers.
Inez
Born in New York City and raised in Harlem, Inez has lived a hard life. She spent a good amount of time in foster care and currently doesn't have any contact or knowledge of where any of her blood relations are. But, with a knack for doing hair and the will to survive, she finds ways to make ends meet. Even if it means some illegal activity to force them to.
You May Also Know The Actor From Being: Sabrina in "Madea's Big Happy Family," an unknown role in the upcoming "The Smack" with Kathy Bates, Alan Arkin, and Marisa Tomei, and an unknown role in the upcoming remake of "White Men Can't Jump," written by Kenya Barris.
Terry
Terry is a young man who is introverted, generally quiet, and by Inez's observation, soft. But, he is also smart, when he applies himself and has an interest in composing music, like Quincy Jones.
You May Also Know Josiah Cross From Being: TD in "King Richard," an unknown role in the upcoming "Masters of the Air" with Austin Butler, and the upcoming "Lady In The Lake" with Natalie Portman.
Lucky
Lucky is Inez's partner, Terry's father, known for his motorcycle, charm and getting on Inez's last nerve.
Review
---
Community Rating:
---
Our Rating: Positive (Worth Seeing) – Recommended
Notable Performances or Moments
Teyana Taylor
Like many, I'm used to Teyana Taylor, the singer and comedic actress. Even to this day, I still have stuck in my head the sound of her calling out Bow Wow's character, Byron, in "Madea's Big Happy Family." But that was ten years ago, and at this point, Mrs. Taylor has had two kids, got married, and had a slew of roles since. And it seems her role as Inez will be her breakout role.
As Inez, we get something real and by no means Oscar-bait, though it is certainly accolade worthy. For Taylor may not get that one monologue or have that one scene where she falls apart, but it's because Inez doesn't have the time, the safety net, or even option of how to really feel sorry for herself like that. In depicting Inez, and with Rockwell's writing, we're allowed to see a life that may have lacked mercy but isn't geared to be yet another example of urban trauma porn.
Throughout the film, Inez finds, sometimes makes, moments to laugh, celebrate, gather community, and even foster sisterhood. Now, when things get tough, they are certainly a b****, but as much as she wishes other people were consistent for her as she tries to be for them, again, she doesn't have the time to have that argument and wallow in what could bring her down. She has a kid to feed, a job to go to, a house to clean, and even dreams of her own, held off for the sake of her boy, to add details to so that when they can become a reality, she doesn't have to get ready for she already has a laid out plan.
And the way Taylor holds steady all that Inez is and can be, you are given the most gracious depiction of a Black woman you may have seen outside of "Queen Sugar."
Highlights
The Twist
Is what we call a twist a horror movie or thriller kind of twist? No. However, the initial reaction will shake things up and make you desire serious answers. And then when you get them, it only deepens your love for the film more, and might be what begins, or continues, your crying.
An Urban Story Which Depicted More Than What Some May Expect
Urban dramas can be very hard to watch. Whether you lived through similar circumstances or not, there is this expectation that they'll lean to poverty porn or trauma porn. "A Thousand And One" doesn't pursue or want that.
Is Inez a bit spicy and ready for a fight if you say the wrong thing? Yes. But, you get the kind of development that shows why someone could develop into an Inez. If you grew up without a family and didn't have many consistent people, every day is a fight. If someone can't respect and love you enough to fight to be in your life, you got to fight for yourself to show you deserve to be alive and get others to understand your existence matters. Even if you don't fit into the box of the lives they think have value.
And it is even in the depiction of a dark skin girl Terry talks to, in his later years, where you are shown the kind of layers and grace many, especially Black women, aren't given in films like these. For years, because she is dark-skinned and doesn't pursue straightening or perming her hair, Terry's friend has clowned her, but Terry still took a liking to her. And she makes it clear, on their first date, she isn't going to stand for anyone trying to make her hate herself.
She, alongside the first person who rents Inez an apartment in the movie, each are made to be, even if they aren't in too many scenes, whole-ass people with their own story, aside from whatever Inez and Terry go through. Yes, some can be uncouth, but there is so much life in the writing and performances that there is no denying these are more than characters; they are people.
Lucky Isn't Damned
Lucky is a man who could have been at a disadvantage, with this being a story mainly focused on women and written and directed by a woman. He is definitely older than Inez, but there isn't a pursuit to depict him as a predator. He also isn't made to be an outright deadbeat dad. Like Inez, there are layers to him and complications when it comes to his relationship with Inez, which doesn't make it so either one gets to be the victim while the other is the bad person.
In fact, noting the young lady Terry talked to, mentioned in the last topic, how Terry got the idea and ability to get a date is through Lucky. And mind you, it isn't through a way that makes Terry sound like a player or anything like that, but a way that allows Terry to be in his comfort zone, and be the sweet kid Inez has long kept alive, despite where he grew up. And though Lucky isn't consistent in Inez's life or Terry's, he still creates enough of a bond for Terry to recognize him as his father and get you emotionally attached.
How New York Changed
Talk to any New Yorker who knew what New York was like before Rudy Giuliani, during, and then life after his successor became mayor, and they will outright tell you how much New York, specifically New York City, changed. Many may say it got better in certain areas, especially those aimed at tourists. However, as depicted in the film, in many ways, it got worse. Yes, crime was an issue, but crime is an issue everywhere. If it wasn't, damn near every town wouldn't have a police station.
But, what "A Thousand And One" really wants you to understand is how each administration shifted the culture in a way that wasn't really to the benefit of those who lived in New York for generations and didn't fit the look that the mayors were going for. This made it so as they got things "cleaned up," as places were rezoned, and there was a lack of effort to protect those who established roots, abuses from police officers to landlords became rampant and only created additional stress on a system that barely was functioning in the first place.
Ultimately helping you to understand and realize, while New York City may always be one of the United States and the world's, shining beacons, it isn't without the blood, sweat, and tears of those who didn't get to experience the spoils of their labor.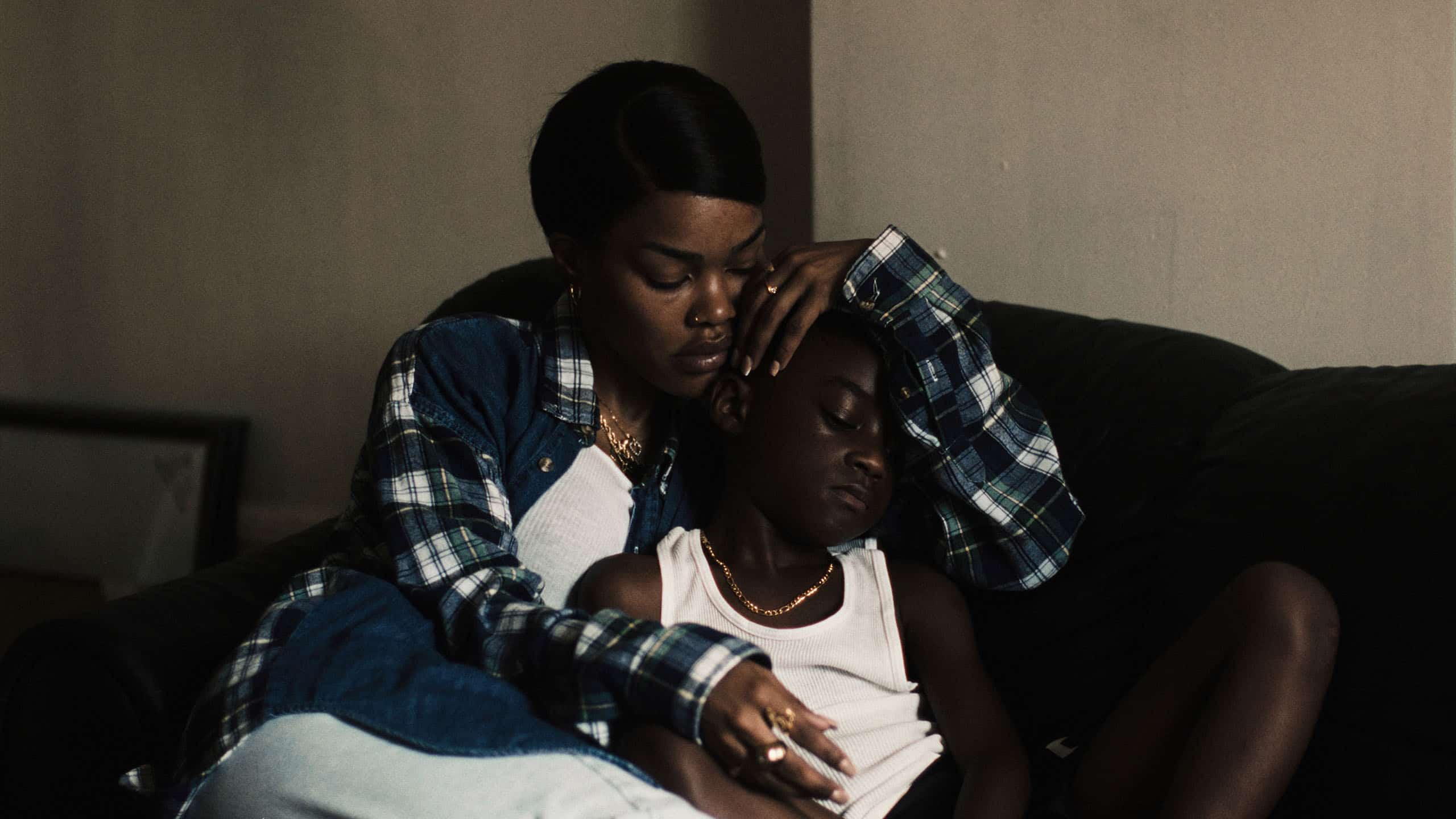 A Thousand and One (2023) – Review/ Summary (with Spoilers)
Overall
Driven by an astonishing performance by Teyana Taylor, "A Thousand and One" is a breakout role for her and a grand debut for writer/ director A.V. Rockwell.
Highlights
How New York Changed
Lucky Isn't Damned
An Urban Story Which Depicted More Than What Some May Expect
The Twist
Teyana Taylor