Maika (2022) – Review/ Summary (with Spoilers)
---
Community Rating: 0.00% (0) - No Community Ratings Submitted (Add Yours Below)
---
This post may contain affiliate links and spoilers. Please read our disclosure policy.
---
Maika is probably one of the most entertaining sci-fi action films, aimed at kids, I have either ever seen.
---
Director(s)
Ham Tran
Screenplay By
Ham Tran
Date Released
1/22/2022
Where To Watch
Film Festival (Sundance Film Festival)
Genre(s)
Action, Comedy, Drama, Sci-Fi, Non-English (Vietnamese), Family
Duration
108 Minutes
Content Rating
Not Rated
Noted Cast
Hung
Lai Truong Phu
Thanh
Ngoc Tyong
Beo
Tin Tin
Maika
Chu Diep Anh
Film Summary
After the death of his mother, Hung, and his father, Thanh didn't become estranged, but you can see the path to filling the void his mom left was a challenge. But, two years after she got sicked, they seem to have a rhythm. Unfortunately, Hung's life outside of his father gets upheaved with his best friend going to Saigon.
However, between a rich kid named Beo, an alien named Maika crash landing near Hung's home, the landlord wanting to sell the building to developers, and so much more, Hung doesn't have the time to mourn the loss of his friend.
Cast & Character Guide
Please Note: This is not an exhaustive list of every cast member.
Hung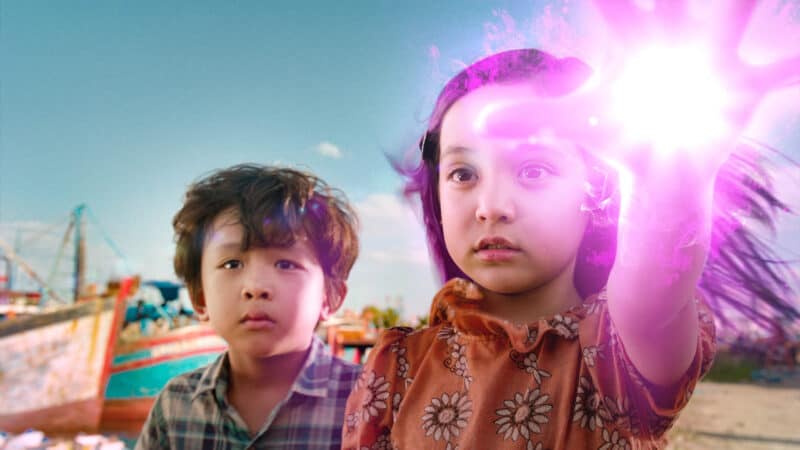 With a love of aviation, you can often find Hung playing with his plane, "Comet," given to him by his mother for his 6th birthday. But, with losing his best friend, and the place they used to play, and nearly Comet as well, things shift. Hung is forced to find a new place where he almost drowns when his plane crashes. Luckily though, that is when Maika comes into his life, and their journey together starts.
Thanh
Widowed but with pursuers, Thanh's life isn't too bad. He and his son get along, he has a shop that isn't necessarily profitable but gives him work, and he has a roof over his head. But, as his debts get higher and the landlord's minions continue to harass him, something will have to give.
Beo
Between an absentee father and older brother who doesn't spend much time with him, Beo often is forced to entertain himself. This leads to him being a bit of a mean rich kid at first, but with finding reasons to bond with Hung, he forces a friendship onto him while bugging his older brother on the side.
Maika
An alien from a planet named Maika, Maika, has come to Earth looking for her companion and in the process, makes a friend out of Hung. Someone who helps her look for her friend and helps her signal her mothership.
Other Noteworthy Information
Reason(s) for Film Rating: There is a scene where Beo pulls his pants down and moons someone (it's censored). Also, there are scenes of Hung's mother getting sick.
Review
Highlights
Beo Was Hilarious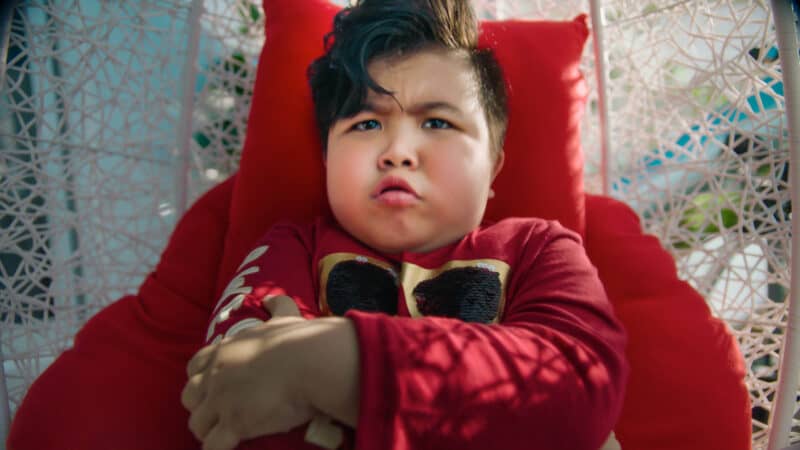 Let's just begin by saying Beo was hilarious. I'm talking scene and potentially movie stealing hilarious. His antics, from trying to crash Hung's plane with his drone, how he interacts with his older brother, his relationship with his tutor, and his crush on Maika? Each one is comical to the point that you get giddy to see what Tin Tin will be tasked to do next.
I'd even add, considering Tin Tin's home life, there was a taste of him being a bit more than a clown, but that isn't heavily tapped into.
The Bond Between Hung and Maika
While Beo is a supporting character who elbows his way towards being rather prominent, that doesn't mean Hung and Maika didn't put in the work. Their friendship is incessantly adorable, and you have to appreciate how Maika's actress handles dealing with CGI and putting on a performance that draws you in. For while this is a simple kids movie, from Hung's glee from meeting an alien to Maika's curiosity, this sense of wonderment is tapped into that is easy to be absorbed by.
Also, can I just add that, even with being a kids' movie, there were times I was able to suspend my disbelief and really worry about these two taking on the villains? Even with Maika being quite powerful?
The Villain's Motivations Were Understandable
Most films, and even shows, struggle with creating a formidable villain whose motivation makes you understand they see themselves as the hero of their own story. When it comes to Maika, the villains, ranging from a cruel landlord worried only about money to another who wants to instill pride across his nation, you get it.
With the landlord, he is basic, as are his two henchmen, who may remind you of the antagonists from Home Alone (mostly in a good way). But with the owner of the aerospace company Cygnus? You understand his need to capture and coerce Maika to work for him to put Vietnam on the map and further their place in the space race.
Does it make him wanting to exploit a kid's knowledge and powers any less wrong? No. However, at least you can see he is working towards something bigger than him, and while it will gain him notoriety, it will also lead to those like Hung gaining inspiration.
Overall
Our Rating: Positive (Worth Seeing) – Recommended
Maika is the ideal sci-fi action movie for kids. It has a likable alien with cool powers and a villain who can gain nuance as you get older. Also, Maika has a ridiculously hilarious character who almost makes you forget they aren't the star and the core duo who you would love to watch go on more adventures than the one the movie provides.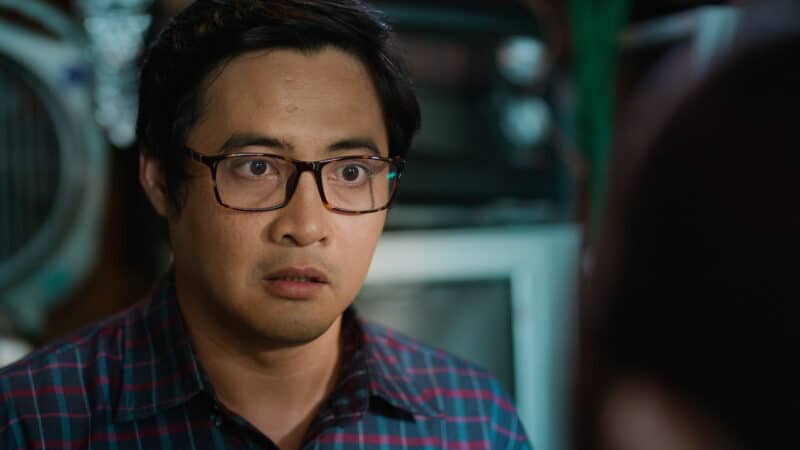 Add in a decent backstory for Hung and his father, including the trope of a dead parent and the one left behind not being the favorite, and you get one of the best sci-fi movies aimed at kids (especially younger than tweens) you may ever see.
[ninja_tables id="46802″]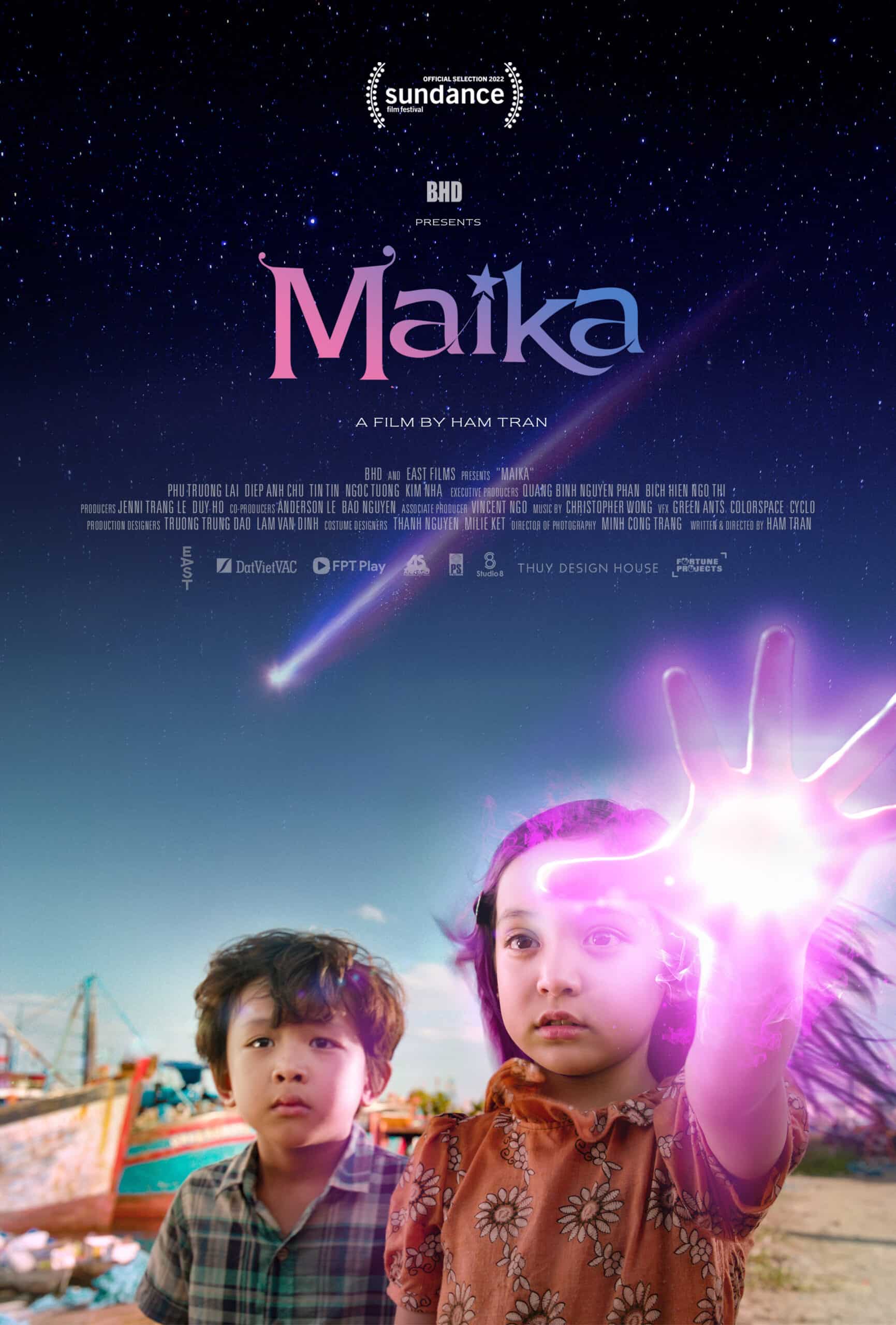 Maika (2022) – Review/ Summary (with Spoilers)
Who Is This For?
Those who like cute and simple sci-fi films that aren't aiming for a teen and above audience but squarely want to appeal to kids without feeling dumbed down for them.
Highlights
Beo Was Hilarious
The Bond Between Hung and Maika
The Villain's Motivations Were Understandable
Related Topics:
Action
,
Chu Diep Anh
,
Comedy
,
Drama
,
Family
,
Film Festival
,
Ham Tran
,
Lai Truong Phu
,
Ngoc Tyong
,
Non-English
,
Not Rated
,
Sci-Fi
,
Sundance Film Festival
,
Tin Tin
,
Vietnamese