Good Luck To You, Leo Grande (2022) – Review/ Summary (with Spoilers)
---
Community Rating: 0.00% (0) - No Community Ratings Submitted (Add Yours Below)
---
This post may contain affiliate links and spoilers. Please read our disclosure policy.
---
Good Luck to You, Leo Grande acts as a reminder that intimacy and vulnerability go well beyond sex and is really about allowing someone to know you beyond the physical.
---
Director(s)
Sophie Hyde
Screenplay By
Katy Brand
Date Released
1/22/2022
Where To Watch
Film Festival (Sundance)
Genre(s)
Comedy, Drama, Romance
Duration
97 Minutes
Content Rating
Not Rated
Noted Cast
Leo
Daryl McCormack
Nancy
Emma Thompson
Film Summary
Over the course of a month, Leo Grande and Nancy Stokes meet three times with the goal of having sex. Nancy is Leo's solicitor and what she wants is to do is experience all the things she didn't with her husband and tap into her wasted youth. However, the more they talk, the more both find themselves confronted about what they want and who they are. Thus sex, while still very much a part of their meetups, eventually doesn't become the sole objective.
Cast & Character Guide
Please Note: This is not an exhaustive list of every cast member.
Leo
A young man, likely in his mid to late 20s, Leo provides sex and intimacy as a service for at least 5 people on a regular basis. Why? Well, because he enjoys it and it seemingly being something he stumbled into and has found lucrative.
Nancy
A widow and retired school teacher, with a focus on religious studies, Nancy's life is okay, but not as she wishes it was. She has two children, one as boring as she seems, and the other a wild child, but neither are fulfilling; they are simply her children. So, with what money she has, she pursues Leo's time in hopes of exploring sex the way her husband, Robert, wasn't into. All while also getting to experience being intimate, in more ways than one, with another person who is younger.
Other Noteworthy Information
Reason(s) for Film Rating: Nudity (male and female), cursing, simulated sex, drinking
Review
Highlights
Once You Understand What This Is, You Get Into It
One of the things which may throw you off when the film first starts is how pensive Nancy is, despite her creating the situation. All she wants to do is talk and ask questions, and it makes you wonder if this is what you are going to sit through for an hour and a half? A woman, lonely, feeling discarded for being older, using this young man for a sounding board.
That isn't the case, not at all. What Nancy seems to want is intimacy, understanding, and desirability. The space to undo and unpack the trauma caused by her mother and get the time back she spent with a husband who she loved but who wasn't exciting. All of which Leo is glad to provide, but you come to realize this isn't a one-sided thing.
With her poking and prodding, perhaps to get comfortable with the idea of a stranger touching her and perhaps inserting things into her, he finds himself confronted. Leo, who has found himself easily giving away his built-up body, and seeing it as a service, in a non-pretentious way, is forced to reveal himself. Not the persona he has made for work, but the person who created the persona.
All of this is done comically with questions, Nancy talking about her kids, how she slut shamed girls when she was a school teacher, while realizing what she is doing. As for Leo? Well, like a therapist with humor, he digs into what she says and charmingly picks at it.
But, in time, as Nancy shows herself to potentially want more than a go-to sex worker, we see more to Leo, besides his penis and behind. We get the boy who feels the need to lie about what he does and has a complicated relationship with his mother. We also meet the man who crafted someone ideal and desirable, and even a taste of who Leo is when the façade and charm are set aside, and he is as vulnerable as Nancy chooses to be from the start.
Overall
Our Rating: Positive (Worth Seeing)
Good Luck To You, Leo Grande is one of the reasons we need more actresses getting to play more than a maternal role in films. Through Thompson's portrayal of Nancy, we get a whole person who has a life, wants new experiences, and while flawed, you can see her developed in such a way to either own those flaws or at least be willing to change. Plus, it is nice when the younger actor isn't there to siphon from the veteran, but rather is an equal, sometimes eye candy, and not meant to build their career off the already well-established person.
[ninja_tables id="46802″]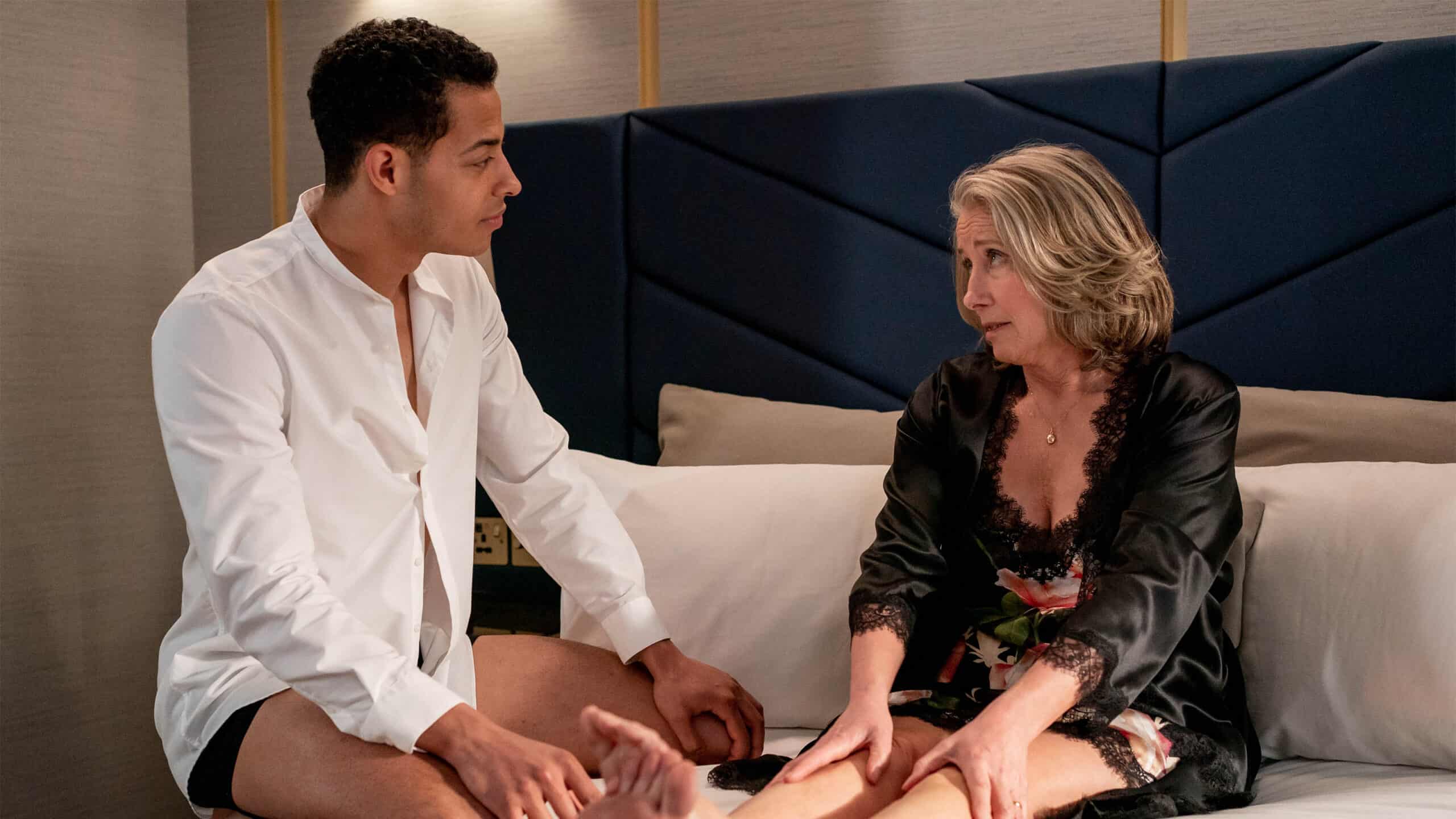 Good Luck To You, Leo Grande (2022) – Review/ Summary (with Spoilers)
Who Is This For?
Those who want to see an older woman/ younger man dynamic approached with an acknowledgement of the age difference, the awkwardness of paying for a sex worker and seeing the intimacy the situation can call for, beyond the stripping of clothes and naughty bits.
Highlights
Once You Understand What This Is, You Get Into It