"Knock At The Cabin" is another M. Night Shyamalan film where the trailer may have sold you, but the movie lacks payoff.
Director(s)
M. Night Shyamalan
Screenplay By
M. Night Shyamalan, Steve Desmond, Michael Sherman
Based On
The book "The Cabin at the End of the World" by Paul Tremblay
Date Released (In Theaters)
2/2/2023
Genre(s)
Drama, Horror, Mystery, LGBT+
Duration
1 Hour 40 Minutes
Content Rating
Rated R
Noted Cast
Andrew
Ben Aldridge
Eric
Jonathan Groff
Wen
Kristen Cui
Redmond (Rory)
Rupert Grint
Sabrina
Nikki Amuka-Bird
Ardiane
Abby Quinn
Leonard
Dave Bautista
This content contains pertinent spoilers. Also, images and text in this post may contain affiliate links which, if a purchase is made from those sites, we may earn money or products from the company.
Film Summary
Andrew and Eric, potentially for their daughter Wen's 8th birthday, rent a remote cabin in the woods. Unfortunately, this becomes where Redmond, Sabrina, Ardiane, and Leonard converge, under the belief that, unless Andrew or Eric voluntarily murder someone within their family, who are in that cabin, the world will end.
Things To Note
Why Is "Knock At The Cabin" Rated R
Dialog: Cursing throughout
Violence: Blood, self-harm, murder
Sexual Content: None
Miscellaneous: Minor drinking
Character Descriptions
Please Note: This character guide is not an exhaustive list of every cast member, and character descriptions may contain what can be considered spoilers.
Andrew
Andrew is a human rights attorney and the more aggressive member of his relationship, and he clearly doesn't believe Leonard or what his followers say. And is keen on doing whatever it takes, including violence, to save his family from them.
You May Also Know The Actor From Being: Thomas Wayne in "Pennyworth," Arsehole Guy in "Fleabag," and Captain James in "Our Girl."
Eric
The calm one of the relationship, Eric, is the main source of soothing for Wen during the whole ordeal.
You May Also Know The Actor From Being: Smith in "The Matrix Resurrections," King George in "Hamilton," Kristoff in the "Frozen" franchise, and Jesse St. James in "Glee."
Wen
7 going on, 8-year-old Wen was just having fun, enjoying nature by catching grasshoppers. But then Leonard showed up, using his calming demeanor to disarm her, but in time, she becomes the one most frightened by all that is going on.
Redmond
Real name Rory, Redmond is from Massachusetts and works for the gas company. He also shares a history with Andrew, which aids in Andrew's thinking he and Eric are being targeted versus Leonard's belief that they have all come together due to a shared vision.
You May Also Know The Actor From Being: Julian Pearce in "Servant," Charlie Cavendish in "Snatch," Daniel Glass in "Sick Note," and Ron Weasley in the "Harry Potter" franchise.
Sabrina
Sabrina is a nurse from Southern California who does her best to, like Leonard, use a more calm approach to help convince Eric or Andrew to kill one another, if not Wen.
You May Also Know The Actor From Being: Rav Mulcair in "Avenue 5," La Fontaine in "The Outfit," and Patricia in "Old."
Ardiane
Ardiane is a line cook from DC and a mother desperate to push Eric and Andrew to make a decision. For she fears that, with her son living in a major city, whether it is a tsunami, planes coming from the air, or a COVID-like disease, never mind fire, he could be at risk.
You May Also Know The Actor From Being: An unknown role in the upcoming "Hell of A Summer," Ali in "Landline," and Georgia in "Shithouse."
Leonard
Leonard is a coach and teacher for an elementary school in the Midwest who is the leader of the four horsemen-like group.
You May Also Know The Actor From Being: Drax in the "Guardians of the Galaxy" franchise, Batista in WWE, and Glossu Rabban Harkonnen in the "Dune" franchise.
Review
---
Community Rating:
---
Our Rating: Mixed (Divisive)
Highlights
You Get Invested In Whose Who
While we don't get much time to properly dive into anyone's backstory, you get enough to care about them as an individual, as someone's partner, or at least enough to care about them dying. Eric, while he doesn't evolve much beyond being Andrew's partner, does balance him out, so you can't imagine Andrew without him, never mind what Wen's life would be like without either.
Yes, we barely get to learn anything about Rory, but if there is one thing Rupert Grint is good for is taking a character with very little going for them, making them sarcastic and angry, and making you want more. I mean, to say he is using the same muscles, just with a different background, to his character on "Servant" wouldn't be a stretch.
As for the rest, they're likable. Even without the flashbacks Andrew and Eric benefit from, it does increasingly make you feel torn as it becomes clear Eric and Andrew aren't willing to sacrifice their family for the world, much less the four strangers in front of them.
It Does Feel Like You're Building To Something Interesting
With each Andrew usually speaking for his family and saying "No" when asked if he'll sacrifice someone, you quickly find yourself wondering, what will the end of the world look like? Leonard warns us throughout, but will Andrew and Eric truly give the world up for each other? Never mind, with some flaws in what Leonard says will happen, and Andrew quick to point them out, it makes you wonder if you are being set up for a twist, as anything with Shyamalan's name on it makes you think will happen.
Low Points
The Ending Lacks Payoff
At this point, I think it is safe to say M. Night Shyamalan suffers from the expectations of his early work, setting an impossible precedent to repeat. In the case of "Knock At The Cabin," it's another disappointment that lacks the kind of payoff you expect. Even the knocking sound after the credits feels like a missed opportunity to add a detail to the film to send you home happy.
For the ending as it is now, as much as you can tell it should be something emotional, it isn't. It just feels like a recognition that the movie had to end, they were stuck between a rock and a hard place, and rather than dream up a creative scenario, they came up with something they could live with so that the script could be handed in and people could get paid.
Feeling Like They Tried To Be A PG-13 Movie, But Then Gave Up
While there are many graphic deaths, you don't get the full visuals. Instead, the camera cuts away, or shies away from the depiction of violence, almost like there was some desire to make this a PG-13 movie. However, because someone at the MPAA wouldn't budge, they just left the cut they submitted, hoping for a PG-13 rating rather than fully embracing being R-rated and putting the gory bits in.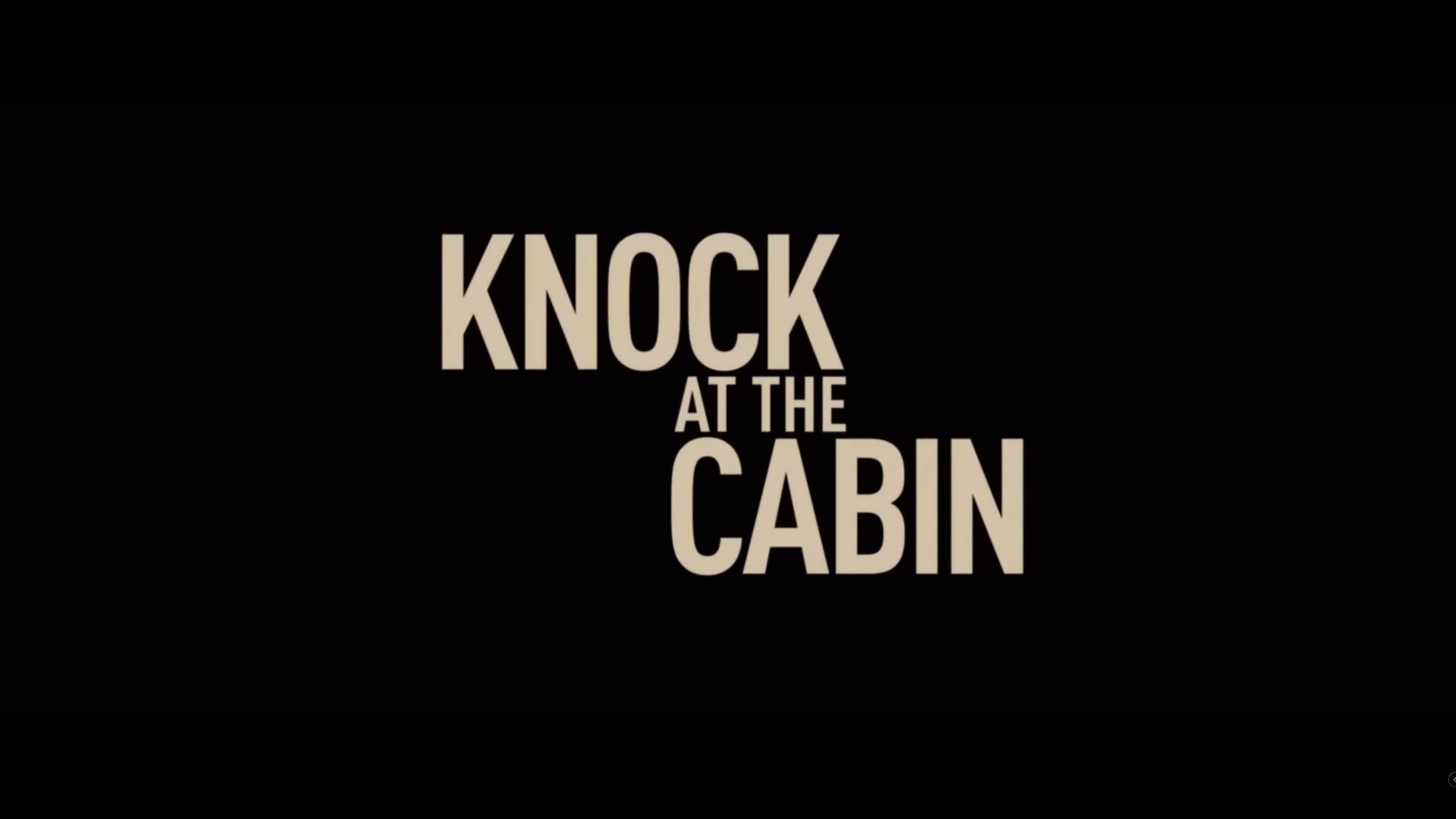 Knock At The Cabin (2023) – Review/ Summary
Overall
"Knock At The Cabin" might be one of the final signs that M. Night Shyamalan's name shouldn't be used to advertise a film like it still holds the credibility it used to.
Highlights
You Get Invested In Whose Who
It Does Feel Like You're Building To Something Interesting
Disputable
The Ending Lacks Payoff
Feeling Like They Tried To Be A PG-13 Movie, But Then Gave Up