Joy Ride (2023) – Movie Review and Summary (with Spoilers)
Alongside delivering the expected laughs, "Joy Ride" is an emotional story about culture, identity, and how friends can reaffirm who you are.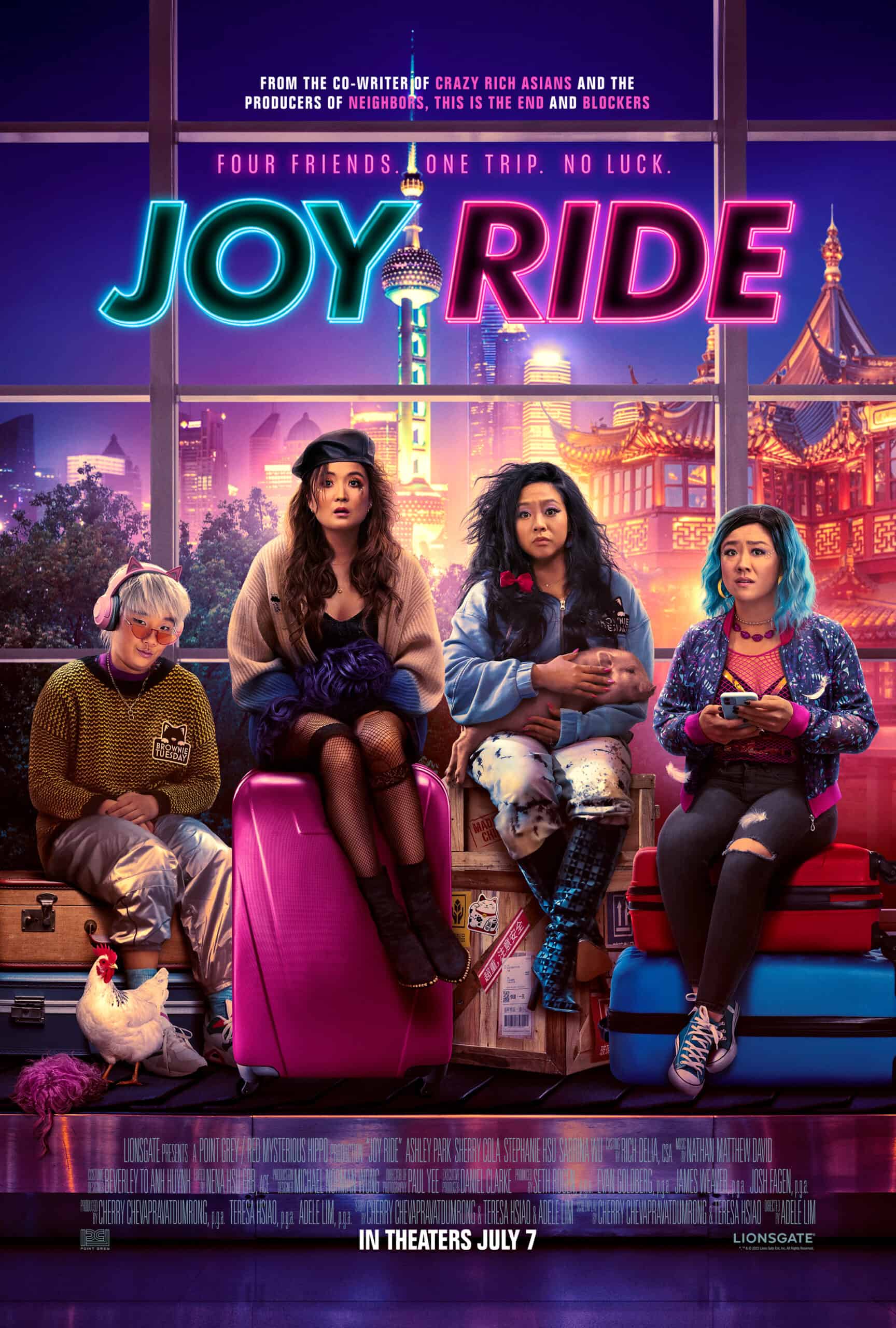 Film Summary
Images and text in this post may contain affiliate links. If a purchase is made from those sites, we may earn money or products from the company.
Since Audrey was adopted, she has always felt like she wasn't enough. She wasn't Chinese or American enough, so she compensated by trying to be perfect. To counter that, her childhood best friend Lolo, whose parents are immigrants, would introduce Audrey to Chinese culture and food and give her a sense of belonging, as did her parents.
But, with an upcoming work trip requiring Audrey to go to China, Lolo sees this as a perfect opportunity for Audrey to meet her mom. Add in she'd love to make this into an annual friends trip with her cousin Deadeye, and it is clear Audrey and Lolo aren't on the same page. However, as Audrey's college best friend Kat joins, and the client Audrey is meeting In China wanting to know where she came from, Audrey finds herself forced to seek out the answer to a question she tried to bury deep and leave behind.
Other Noteworthy Information
Lolo is noted to be 29, so that's roughly everyone's age.
Character Descriptions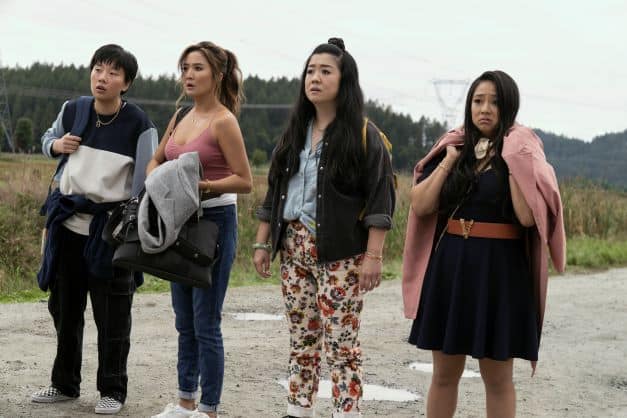 Please Note: This character guide is not an exhaustive list of every cast member, and character descriptions may contain what can be considered spoilers.
Audrey
Audrey is a lawyer who has, after growing up in a potentially small-minded town, how to deal with microaggressions, if not outright racism. But with gaining success due to her education and learning to take things on the chin, she has endured.
Lolo
An artist living in Audrey's backyard, Lolo has been Audrey's friend since they were kids and has also inspired Audrey, mainly in how to be uninhibited and yourself.
Deadeye
Deadeye is Lolo's cousin whose name comes from a dead stare they do.
Kat
Kat is Audrey's college roommate who, after they graduated, became a famous actress in China.
Review
---
Community Rating:
---
Our Rating: Positive (Worth Seeing) – Recommended
Notable Performances or Moments
When Audrey Meets Her Mother
I wasn't expecting to cry. There are moments, mentioned further down, that caught me off guard, but Audrey getting a chance to see her mom, her home, and meet her mom's husband? Honestly, I was on the verge of not only crying but having a snotty tear moment because, as much as you know this film is about Audrey finding her mom, feeling whole, and getting something America and her adopted parents can't give, when she gets to hear how she was loved and thought of, it just catches you off guard and delivers a punch to the gut.
How Emotional This Film Is Overall
But it isn't just Aubrey. Dead Eye, who claims they don't have friends, is shown as a black sheep of their family and tags along with Audrey and the rest uninvited. They are the kind of character who is sweet, and socially awkward but funny since, similar to Lolo, they are entirely themselves. They have rejected their birth name to form their own identity, and while they are lonely, they are still open, willing to try and bring their best selves. Which, as shown throughout the film, when given a chance, Deadeye is the best cousin or friend you can have.
Highlights
It Is Hilarious
From a dirty K Pop version of Cardi B and Megan Thee Stallion's "W.A.P" to the demon vagina, the crazy sex scene, and Lolo and Kat's beef? "Joy Ride" has so much to offer viewers who need a laugh. And we haven't even mentioned Deadeye, who I won't say is the Tiffany Haddish of this girls' trip, but they contribute more than enough, as this awkward, reads neurodivergent character, who is most definitely a member of Lolo's family.
The Conversations Regarding Culture And Identity
With Audrey lacking a cultural connection to China, with the exception of Lolo's family, you can see the difficulty of her existence. She was adopted by White people who relied on Lolo's family to be the sole Asian representation in her life. She was the only Asian kid, outside of Lolo, from elementary to high school, it seems, and she acclimated to her small suburban town.
Meanwhile, Lolo got all the details of where her family is from, as did Deadeye, and they had a connection to family members who didn't immigrate. On top of that, Kat has become famous in China, which is what Audrey has to compare herself to. People who look like her, yet, she doesn't get it. She feels like a guest in all situations, and amongst people who look like her, at best, she is pitied and, at worse, seen as a joke.
This, possibly, isn't the experience and feeling of all international adoptions. Still, you can imagine what Audrey goes through can resonate. But, alongside the disconnection, you have her friends knowing, joking, and educating her on customs and terms. There is a guy she meets who, speaking of how China believes in the collective, helps her understand that she has a community even without knowing her mother. It is all so touching and even comical, like when Deadeye jokes about how some elders act, and truly, this feels like what was promised when it was said there would be more diversity in Hollywood.
General Information
Director(s)
Adele Lim
Screenplay By
Cherry Chevapravatdumrong, Teresa Hsiao
Based On
Story By Cherry Chevapravatdumrong, Teresa Hsiao, Adele Lim
Date Released (In Theaters)
July 7, 2023
Genre(s)
Adventure, Comedy, Young Adult
Film Length
1 Hour 35 Minutes
Content Rating
Rated R
Noted Characters and Cast
Audrey
Ashley Park
Lolo
Sherry Cola
Deadeye
Sabrina Wu
Kat
Stephanie Hsu
Things To Note
Why Is "Joy Ride" Rated R
Dialog: cursing throughout
Violence: outside of a slap fight, and the off-screen killing of a chicken, there isn't notable violence
Sexual Content: one notable series of sex scenes which don't have nudity, and then a depiction of inside a vagina and also someone's labia
Miscellaneous: drinking and smoking, as well as drug use
Movie Recommendations
If you like this movie, we recommend:
Girl's Trip
You can also check out our movies page for more recommendations and find our latest movie reviews.
F.A.Q.s
Why Is the Film Called "Joy Ride?"
Beyond it being a fun girls' trip, there is also the fact Kat, Deadeye, and Lolo are coming along for the ride of Audrey's journey, originally for work and then to meet her mom.
How Was The Twist(s) and Ending?
It will make you cry tears to the point of learning whether or not you are dehydrated.
Is There A Mid-Credit Scene?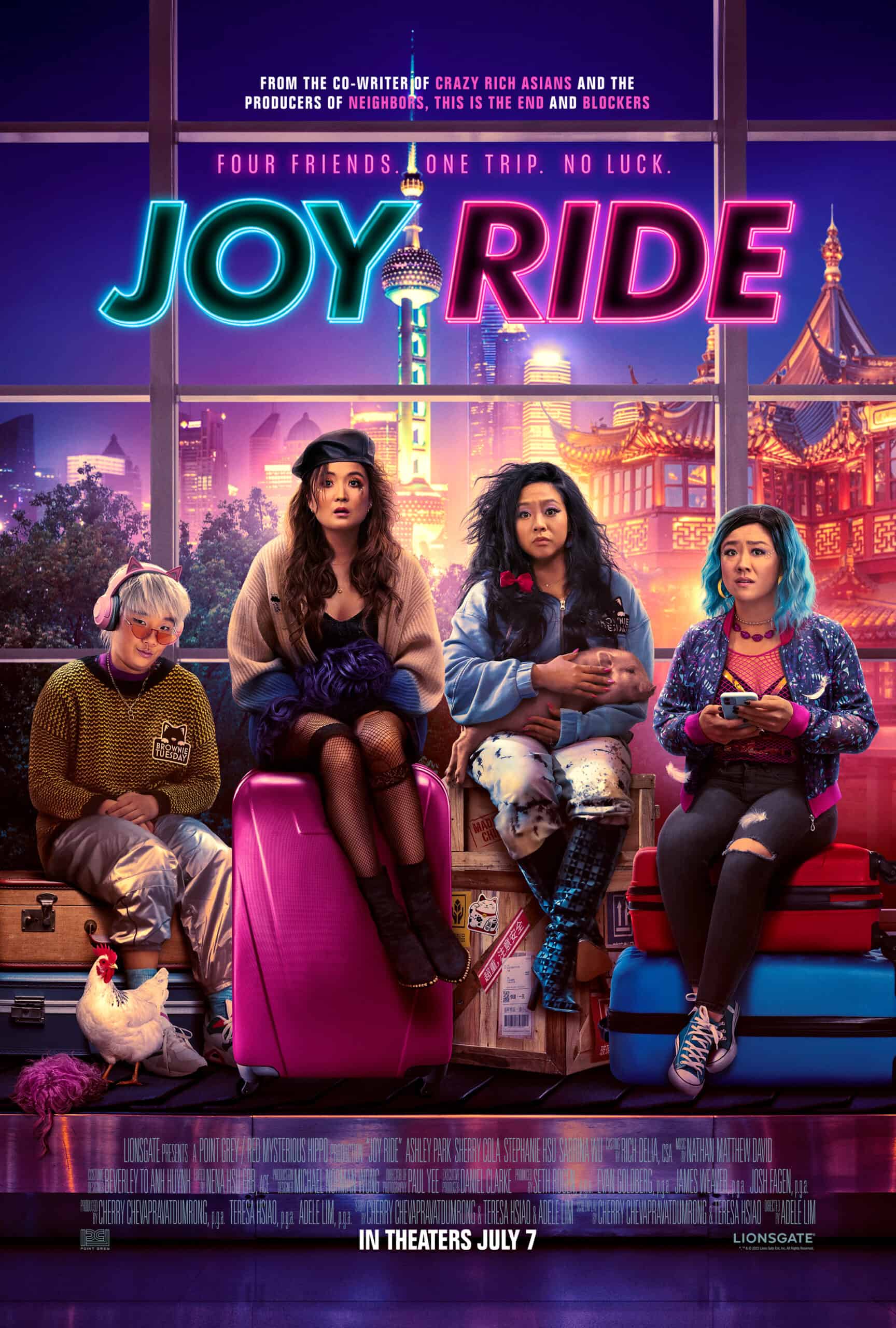 Joy Ride (2023) – Movie Review and Summary (with Spoilers)
Overall
"Joy Ride" is everything you could want and more as it makes you laugh, makes you cry, and gives you four talented actors who not only highlight and celebrate Asian culture, but push the belief that a renaissance is here for Asian actors.
Highlights
The Conversations Regarding Culture And Identity
It Is Hilarious
How Emotional This Film Is Overall
When Audrey Meets Her Mother
---
Follow, Like, and Subscribe
Community Rating: 0.00% (0) - No Community Ratings Submitted (Add Yours Below)