What starts off as a comical mockumentary about a megachurch trying to make a comeback becomes a film that struggles to shift to a serious tone as it addresses what led to the downfall.
---
Director(s)
Adamma Ebo
Screenplay By
Adamma Ebo
Date Released
1/23/2022
Where To Watch
Film Festival (Sundance Film Festival)
Genre(s)
Comedy, Drama, LGBT, Religious
Duration
102 Minutes
Content Rating
Not Rated
Noted Cast
Lee-Curtis Childs
Sterling K. Brown
Trinitie Childs
Regina Hall
Shakura
Nicole Behari
Keon
Conphidance
Film Summary
Thanks to Lee-Curtis' indiscretions, a church that used to have thousands in its pulpits had to shut down, and in hopes of a grand comeback, a documentary crew is invited to show how he and his wife Trinitie plan to rise from the ashes. But with this crew wanting the warts and all story, which includes featuring past congregation members and the rivals of Lee-Curtis' church, so comes the question if Lee-Curtis is ready for redemption or has simply grown tired of feeling punished?
Cast & Character Guide
Please Note: This is not an exhaustive list of every cast member.
Lee-Curtis Childs
A gifted pastor, at one time, Lee-Curtis always had a packed house, and this afforded him jets, the ability to build multiple buildings, and even pay off the county's debt. But, like many great men, Pastor Childs struggles with his secrets, and despite praying it away, temptation was all around him, and while he tried to let the steam out gently, eventually, he popped his top and seemingly ruined all he worked for.
Trinitie
The dutiful wife, as first lady, Trinitie has grown accustomed to a comfortable life. One with hats priced at over $2,000 and the attention of thousands every week. But now, despite her faith, so comes the question if she really wishes to stick by her man, go to counseling and pray anymore. For at what point is all that not enough?
Shakura
A pastor, alongside her husband, both Shakura and Keon were members of Lee-Curtis' Wander To Greater Paths Baptist Church before starting Heaven's House. But now, with Lee-Curtis' scandal, they are gaining membership, expanding, and readying to start a new chapter in local ministry.
Keon
In a way, you can see Keon is the quieter of the two pastors of Heaven's House. But when he has something to say, he says it.
Other Noteworthy Information
Reason(s) for Film Rating: Cursing, sexually suggestive situations
Collected Quote(s) & .Gifs
[…] these men, they'll do it to you won't they? Chew you up, spit you out and then curse you for not giving them enough nutrients.
— Vera
Review
Highlights
When It Pokes Fun At Mega Churches
Whether you grew up in a church or watched shows such as Greenleaf when Honk For Jesus. Save Your Soul begins, you get all the madness and comedy which comes from watching Southern Baptists shout, pray, and spread the good news. For whether it is Lee-Curtis praising all the material items he has, a child jumping around and speaking tongues, or even Lee-Curtis' rivals, Shakura and Keon Sumpter, showing the challenge of being a married couple? It is one comedic moment after another.
The Art Of Southern (Often Christian) Shade
But perhaps the one who gets to take the crown is Regina Hall as Trinitie, who deals with the brunt of her husband's issues. Her trying to maintain airs and graces, whether being insulted outright or given "Bless Your Heart" type of shade, it's something else. In fact, as the movie wears on and it becomes clear this ruse is becoming too much for her to bear, Hall might be the only one who handles the façade cracking.
Mind you, not to the point of saving the film when the tone shifts, but one of her final scenes tries to salvage what you can see was trying to be done.
Low Points
When It Shifts To A Drama And Touches On Lee-Curtis' Scandal
Naturally, Lee-Curtis' fall from grace had to be explored. But with that, you see the mockumentary style quickly lose its luster and beyond rough – it just doesn't work. In the complete tone shift, you are pushed to realize that while Ebo is an excellent comedy writer, for whatever reason, they couldn't effictevely dive into what Lee-Curtis did. There isn't any proper tapping into the pain of him exploiting people, vulnerable people at that. Never mind Trinitie's feelings with feeling obligated to stick beside him due to her culture, religion, and her momma pressuring her to.
You could submit, in one of Hall's final scenes, she tries to give oomph to the writing and at least deliver what you expect from her character, but at that point, it feels too late. By then, the film's pace has slowed down, it feels excruciatingly long, and you are likely clocked out waiting for the credits to roll.
Overall
Our Rating: Mixed (Divisive)
When it comes to every bit of comedy that can be squeezed out of the situation, Honk For Jesus. Save Your Soul is hilarious and the kind of film you want to talk about others watching. However, as it addresses the elephant in the room and shifts its tone and genre, it falters to the point of you almost wishing it wasn't shot in a mockumentary style. That way, as it transitioned to revealing Lee-Curtis' truth, it could have maybe allowed us to see a flawed, hypocritical man with a struggling wife. Rather than heavily rely on Brown and Hall's talents, without the writing to back it up, to hopefully deliver what you see Ebo was going for.
Movie Directory
On The Radar
---
Ratings
---
Special Categories/ Tags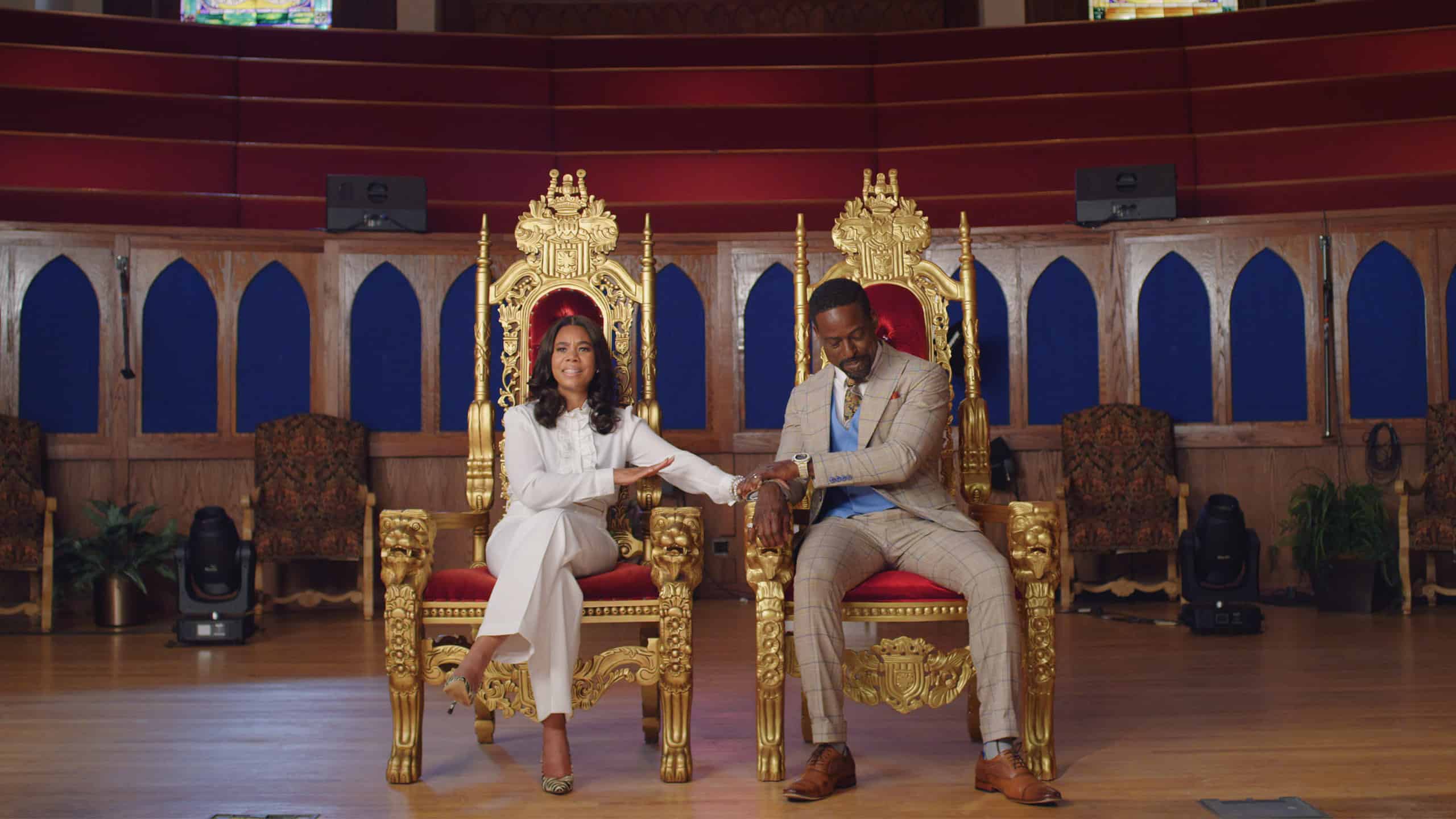 Honk For Jesus. Save Your Soul (2022) – Review/ Summary (with Spoilers)
Who Is This For?
Those who like the idea of Megachurches being poked fun at and the hypocritical priests who run them.
Highlights
When It Pokes Fun At Mega Churches
The Art Of Southern (Often Christian) Shade
Disputable
When It Shifts To A Drama And Touches On Lee-Curtis' Scandal