Funny, heartwarming, and potentially tear-inducing, Clifford The Big Red Dog not only brings back childhood memories but begins a lovable new story.
---
Director(s)
Walt Becker
Screenplay By
Jay Scherick, David Ronn, Blaise Hemingway, Justin Malen, Ellen Rapoport
Date Released
11/9/2021
Where To Watch
In Theaters
Genre(s)
Adventure, Comedy, Fantasy, Young Adult, Animation, Family
Duration
1 Hour, 37 Minutes
Content Rating
PG
Noted Cast
Emily
Darby Camp
Maggie
Sienna Guillory
Casey
Jack Whitehall
Owen
Izaac Wang
Mr. Bridwell
John Cleese
Zac
Tony Hale
Dr. D
Kennan Thompson
Film Summary
Emily and her mom Maggie just recently moved to a new apartment in Harlem, and things are tough for both. Maggie is a single mom with a demanding job, and her only support is her immature little brother Casey, who lives out of his van. Emily, at her fancy private school, is bullied because she isn't rich, and while this kid named Owen has a crush on her, he doesn't stick up for her at school. So when it comes to 12-year-old Emily's life, she is a bit lonely. Enter Mr. Bridwell, who appears when Maggie is out of town, and Casey tasked with watching his niece, who introduces her to Clifford when he was small.
But, overnight, after a tear touches his face, he becomes a big red dog who draws loads of attention – including from a genetic modifying company named Lyfegro, run by Zac Tieran, who sees Clifford as the potential genetic breakthrough he needs. Thus, he plans to steal the dog from Casey and learn what magic made Clifford grow.
Things To Note | Question(s) Left Unanswered
Reason(s) for Film Rating: Quite a few jokes hint at saying a curse word before a character is cut off. Also, there is slapstick violence.
What happened to Emily's father? He isn't mentioned at all?
Review
Highlights
Darby Camp
The sassy kid who often could steal a scene from seasoned actors like Reese Witherspoon in Big Little Lies gets her first starring theatrical release and handles it like it's nothing. Take note, we don't get sassy Chloe with the best playlist in this film. Instead, we get a young girl who feels like an outcast, is vulnerable, and, while smart, is never pushed to be an annoying level of precocious. She is just a private school kid who lives in New York.
But, what we love most about Camp's Emily is that even if you don't look like her or share different parts of her background, you can feel empathy for her. Heck, she may even remind you of what going to school was like, not having friends, and while the adults in your life mean well, they don't necessarily make anything better. This gives the film a lot of heart since it makes Clifford more than just a pet but more so a lifeline. Heck, for those who may not like the idea of having a pet or who don't understand the practice, Camp helps you understand why people treat their pets better than they treat human beings.
Everyone Gets To Be Funny
With that said, this isn't a doom and gloom type of movie. More often than not, there is a joke regarding Casey's living conditions or him being immature; Kenan Thompson, as Clifford's vet, is probably the funniest I can ever recall seeing him, and Emily also gets a few jokes in. Not only that, relative newcomer Izaac Wang, whose character has a crush on Zoe, makes his presence known, and he plays well off of Camp and Whitehall, thus leading to them all getting a chance to shine.
If You Are The Type Who Easily Cries, Prep Your Tissues
I should note, this film definitely will make you cry if you are sappy like me. It takes on loneliness, Casey feeling like a failure and a disappointment, not to his niece, but to his sister who did so much for him, to the point it will catch you off guard. Add in, despite the wonky CGI we get with Clifford at first, the bigger version is very emotive, and it pushes you to believe maybe seeing a multitude of writers shouldn't be the red flag it usually is. Rather, it might mean that we get multiple people pouring the best of themselves into a single film collectively.
On The Fence
The Clifford CGI Is Eh
When we first see Clifford, there is something about the way his body looks that makes it so, even with the right shadowing and seeing the surroundings affected by his movement, it looks off. I would even say it looked like an upscale Scooby-Doo from when the other famous dog had live-action movies come out. Though once Clifford becomes the size we know him for, you'll likely find the CGI a bit less jarring.
Overall
Our Rating: Positive (Worth Seeing)
If it wasn't for the CGI, this wouldn't just be considered worth seeing but recommended. However, something about the way Clifford's body looks early on pushes you to have a critical eye. Which, whether the larger version has less flaws or the comedic and dramatic moments compensate, the CGI leaves enough of blight to not forget what you saw. However, despite some qualms over the CGI, I'd say it would be a challenge to find a non-Disney property, released theatrically, that could make you laugh and feel as much as Clifford The Big Red Dog will do.
Movie Directory
On The Radar
---
Ratings
---
Special Categories/ Tags
---
Affiliate Link(s)
Links contain affiliate links which, If you make a purchase, we'll earn a commission from the company.
New Movie Releases
- Amazon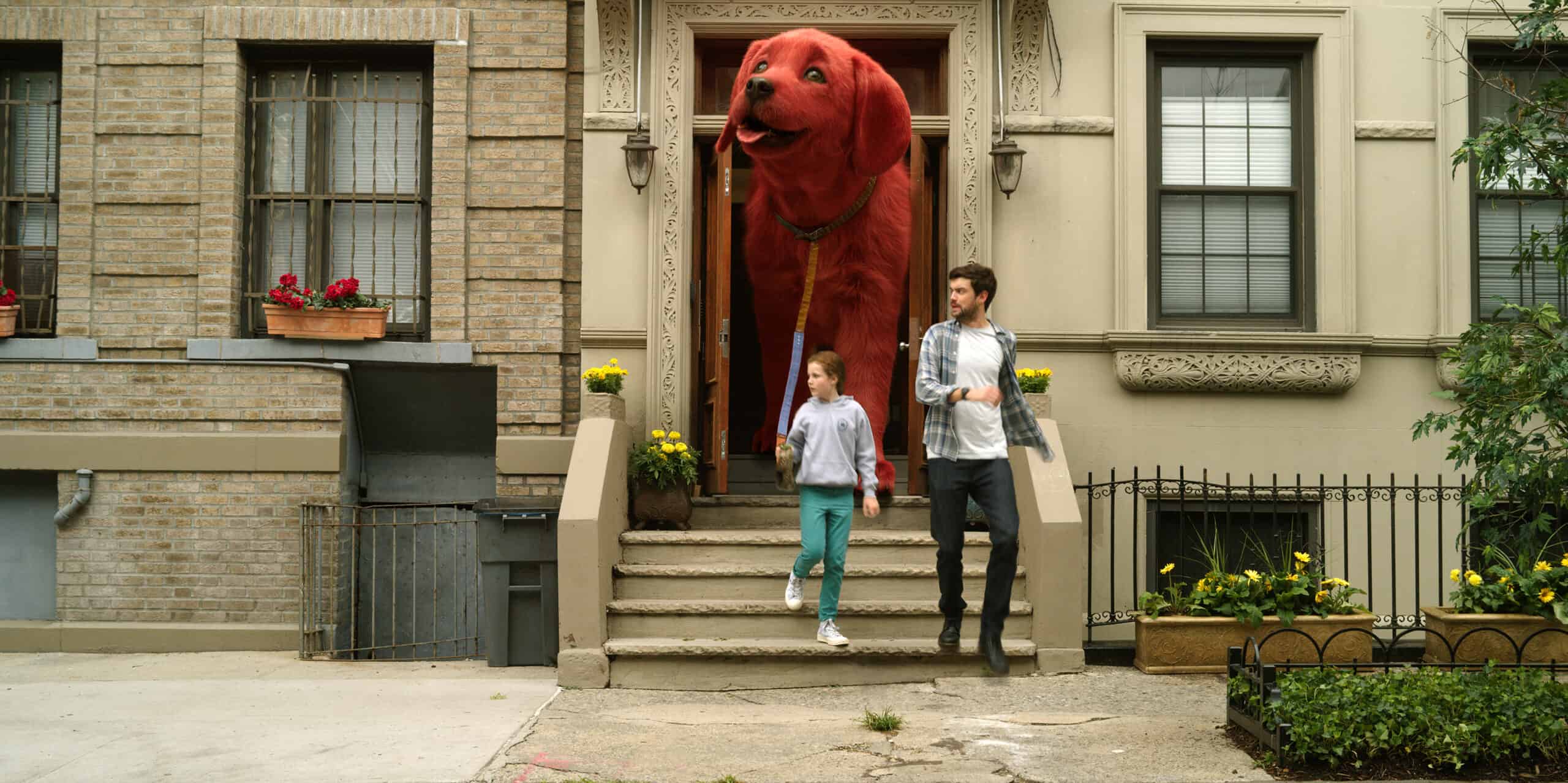 Clifford The Big Red Dog (2021) – Review/ Summary (with Spoilers)
Highlights
Darby Camp
Everyone Gets To Be Funny
If You Are The Type Who Easily Cries, Prep Your Tissues
Disputable
The Clifford CGI Is Eh