In the kind of girls' trip you didn't know you needed, "80 For Brady" shows how sports aren't just about the big win but the communities they create.
Director(s)
Kyle Marvin
Screenplay By
Emily Halpern, Sarah Haskins
Based On
A True Story
Date Released (In Theaters)
2/3/2023
Genre(s)
Adventure, Comedy, Elder
Duration
1 Hour 38 Minutes
Content Rating
Rated PG-13
Noted Cast
Mara
Rita Moreno
Trish
Jane Fonda
Betty
Sally Field
Lou
Lily Tomlin
This content contains pertinent spoilers. Also, images and text in this post may contain affiliate links which, if a purchase is made from those sites, we may earn money or products from the company.
Film Summary
Mara, Trish, Betty, and Lou have been friends for ages, but what has really bonded them is football. Originally, they weren't into it, but when Lou was going through chemo at the start of Tom Brady's career, he acted as an inspiration for them – but especially Lou. His grand comebacks coincided with her making one, so she and her friends have been fans for years.
But, as Lou becomes worried the cancer might be back, it pushes her to want to get her friends together and see Tom Brady in what could be one of his last Super Bowls. The problem is, while comfortable, none of the ladies are wealthy, so they'll have to get creative to get into the stadium.
Things To Note
Why Is "80 For Brady" Rated PG-13
Character Descriptions
Please Note: This character guide is not an exhaustive list of every cast member, and character descriptions may contain what can be considered spoilers.
Mara
Widowed, partly living in a retirement home, for the social interaction, but by no means wanting for company, Mara is a fun time. She also is one hell of a gambler, and for her husband, she used to feed him chips since he was not good at his games of choice.
Trish
Married and divorced multiple times, but still looking for love, while Trish isn't a mess, she is clearly willing to deal with something less than ideal if it means that love is on the other side. But, when not dating, she writes romance novels featuring Rob Gronkowski.
Betty
A retired professor, who her husband tries to push into being his secretary, Betty is seen as the responsible one. Which is a title she is fine with, but she does want to have a bit more fun than might be expected of her.
Lou
The biggest football fan amongst her friends, Lou is the driving force behind Sundays at her house. But, it can not be forgotten this tradition was born out of her getting cancer and needing something to believe in bigger than herself. Which ended up being Tom Brady.
Review
---
Community Rating:
---
Our Rating: Positive (Worth Seeing)
Highlights
Even If You Are Not A Sports Fan, You Can Follow
While I understand the basics of football, by no means do I fully get the first down to second, a field goal kick leads to this many points or the technicalities. However, "80 For Brady" doesn't require you to be a sports fan to get into it. The main thing it needs you to understand is how much sports and teams create a sense of community beyond the players and how that passion translates to almost becoming a religious experience for some.
Excellent Chemistry Between The Leads, Which Allows For Humor and Feeling
As we'll see multiple times this year, Jane Fonda and Lily Tomlin love working together as a comic duo, and Sally Field and the legendary Rita Moreno joining them creates a fun time. Moreno, as Mara, is naughty, Betty is the square, Fonda the flirt, as usual, and Tomlin the more sensible one, who gets erratic at times.
The combination works, allows for laughter, and while this grouping may not have worked together as a foursome before, you can easily see them having a Fonda and Tomlin-type relationship amongst themselves as they play off one another to great success. Be it with the humor or the emotional moments when Lou worries about her health, Trish about ending up alone, Betty in regards to disappointing the girls, or Mara, who is dealing with life post becoming a widow.
On The Fence
If You've Seen Any Of The Actors' Past Work, It May Feel Like They  Are Playing The Same Character Over Again
If you are a fan of these actresses, their roles in "80 For Brady" are within their comfort zone, and you can tell they are by no means trying to become the character. Like when Adam Sandler and his friends do a movie, they are just playing embellished versions of themselves, which is fine. But, if you aren't a fan of Jane Fonda playing someone slightly desperate for love, Lily Tomlin playing her voice of reason, Sally Field playing the square, dependable, and calm one, or Rita Morena playing someone naughty, but not to the point of going to jail? Then this won't be for you.
Each of these ladies have proved themselves, and you can tell while they want to work, they aren't necessarily trying to build new muscles or chase new accolades. They just want to have fun and have you join them in the pursuit of it.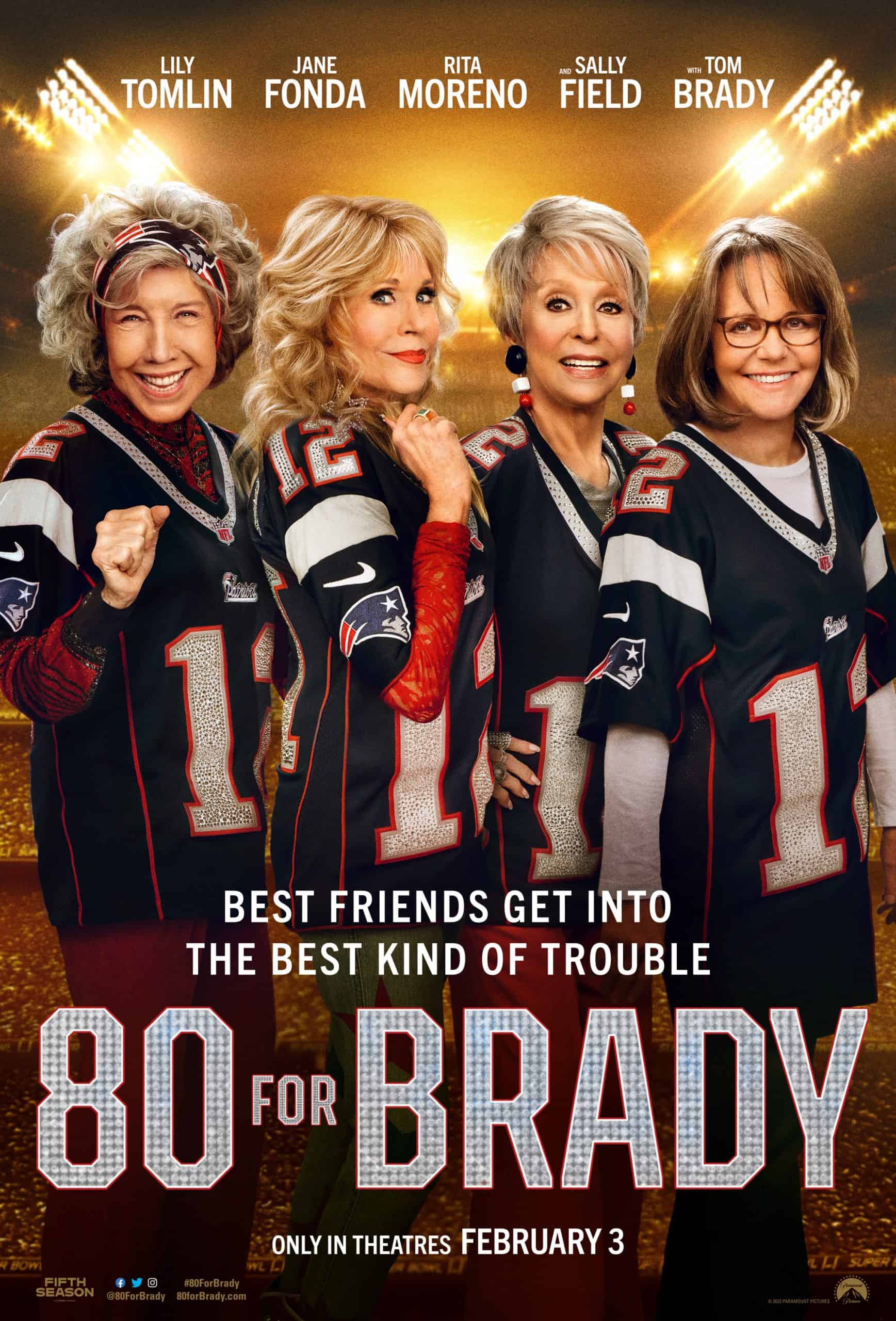 80 For Brady (2023) – Review/ Summary (with Spoilers)
Overall
"80 For Brady" is made for those who want to have a good time and want to see some of the legends in comedy be the hosts for the program that will deliver laughs and a few touching moments that may remind you why you need to laugh.
Highlights
Excellent Chemistry Between The Leads, Which Allows For Humor and Feeling
Even If You Are Not A Sports Fan, You Can Follow
Disputable
If You've Seen Any Of The Actors' Past Work, It May Feel Like They Are Playing The Same Character Over Again