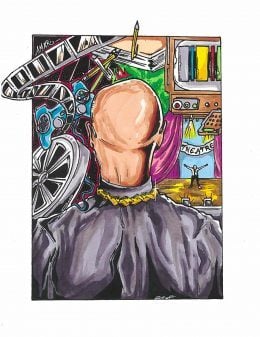 |
Overview
Youth is about a gentleman, currently retired, being asked to feel and perform once more. However, there is something gone, lost during his youth, which has made such a task difficult. Almost as difficult as sitting through this movie for 2 hours.
Characters & Story (with Commentary)
Fred (Michael Caine) has been a maestro for the majority of his life and, during his career, he often found himself neglecting his daughter Lena (Rachel Weisz). Someone who has, in his later years, become his assistant. One which reminds him, on a consistent basis, of the type of father he was.
But, as of now, what they both are trying to do is enjoy their holiday with Fred friend Mick (Harvey Keitel), who is working on a movie, and just enjoy the spa days, eccentric night performances and perhaps some moments of peace. All of which is short lived for between Mick having one issue after another with getting his latest movie off the ground, which includes an issue from its star Brenda Morel (Jane Fonda); Fred being badgered by a representative of Queen Elizabeth II for one more performance; and Lena dealing with Mick's son who cheated on her, there is no peace. Though, for all but one of the names mentioned, peace comes by the end of the film.
Highlights
Truly, the one thing worth highlighting is the relationship between Fred and Mick. For their lives are so intertwined, with their children being married, and essentially knowing each other since before their career were fathomable, that it makes every conversation like an epic within itself. Be it them talking about the girl who got away, the inability to piss, their children, or other topics, even a few sentences feel like they are readying for us to go on a grand tale down memory lane as they take in the Swedish landscape.
Low Points
Let me begin by saying, there is something about privileged white males which just don't connect with me as a movie goer. Which I mention since I think that affected my views of this film. For while, I enjoy Michael Caine to some degree, and his co-stars, I found the whole tone of people who were rich, and yet miserable, hard to really latch onto emotionally. Take for example Lena, now I'm sure the feeling of a neglectful father is easy to grasp, but with the balance being him providing her with such an extravagant life, it is hard to really feel for her. Then, even with her being cheated on, being that we don't get to know her well, it becomes simply a fact presented onto us than something that we could have guessed was to happen or worried it was a possibility.
As of late, I've been finding myself watching movies longer than the standard of 90 minutes, and yet I have found myself enjoying them for the most part. Youth is an exception. If only because it does almost nothing to compel you to care in its two-hour length. Fred is so indifferent to the world that he is on autopilot and as much as it seems Mick is supposed to balance Fred's weariness out, Keitel's energy can't compensate for Caine's dreariness. So all we are left with is 2 hours of dialog which is neither thought provoking nor does is push any sort of storyline along. It is simply actors working while people still want them, and you being left with the hope that something, anything, will happen to wake you up before you drift off asleep.
Which brings me to the topic of Mick's death. Now, while I get Brenda thoroughly told him about his career state, I just can't fully wrap my mind around why he jumped. Much less, why that moment didn't snap Fred out of being dull-eyed.
The weird characters of the film, of which include singer Paloma Faith, seemed so out of place when put alongside Fred and Mick.
On The Fence
Jimmy Tree (Paul Dano) is skipped over in the story summary, if only because all he did was just bring this weird vibe. One which, including many a side character, made this film seem like a Wes Anderson production without any sort of comedy, or appealing eccentric characters. But, to speak specifically about Jimmy, I do feel that he may have been one of the few interesting characters available. For he brought the issue of being known for one thing to the forefront and reinforced one of the first reasons why Fred didn't want to perform "Simple Songs" for the queen.
In the film, two children play a role in which they help Jimmy, and Fred, see that despite how they may see past work, it does mean something to someone. Which I wish was more explored for with Jimmy feeling down about his career, and Fred adamant about not revisiting it, I do wish they pushed the actual youth of the film to have stronger roles.
Overall: Skip It
Youth is perhaps the type of film for the serious filmgoer. One who doesn't need a comic relief and can deal with unrelenting melodrama and the type of dialog which perhaps searches for meaning, but rarely ever finds it. Or, simply put, Youth is anything but what you'd associate with the word. The film is tired, without any sort of gleam or life in it, and doesn't instill hope and investment, but more so the feeling of dread that if this is what is offered to actors like Michael Caine and co. that perhaps, like the character Mick, their best work maybe behind them and now they are just working for the sake of keeping busy.
Thoughts Since Original Review
I honestly don't remember it being so bad to say it is something to Skip but, at the same time, I wouldn't re-watch it either.