Learn about FOX's "Our Kind Of People," including the latest information about its characters, organizations, locations, and more.
---
Community Rating: 73.31% (3)
---
---
Please Note: This content contains pertinent spoilers, descriptions are updated as new information is presented, images changed as better ones are captured, and this is not an exhaustive list of every cast member, guest star, or reoccurring role.
General Information
| | |
| --- | --- |
| Network(s) | FOX |
| Created or Developed By | Karin Gist |
| First Aired | 9/21/2021 |
Groups & Organizations
Graceties (1.1): A sisterhood that does charity work, amongst other things, which has a long and storied history of supporting the entrepreneurship of Black women.
Eve's Crown (1.1): Angela's business, named after her mom, which focuses on hair care – specifically Black women and their hair
Franklin Holdings (1.1): The Franklin family business which has shares and assets of over 150 companies.
Kingship (1.1): The male equivalent of the Graceties
Jack and Jill (1.1): The young adult equivalent of the Graceities and Kingship, which has many Graceties and Kingship kids interacting all the way back to their time in diapers.
Darmon (1.2): Jack and Raymond's legacy company, founded by their great grandfathers that is 120 years old, and was nearly destroyed by Jack's mismanagement.
Notable Locations & Items
Oak Bluffs (1.1): Where Our Kind of People takes place
Theodore Franklin University (1.2): A university named after Teddy
Edgartown (1.3): Where Tyrique lives and has made a name for himself
Steel Bay Prison (1.3): Where Nikki's father is inprisoned.
Other Noteworthy Information
Grand Illumination Ball (1.1): One of the biggest events of the summer season that the Graceties host, and when new potential members learn if they made the cut or not.
Our Kind Of People Directory
| | |
| --- | --- |
| Character Guide | Created |
| Collected Quotes | Not Created |
| Season Reviews | Not Created |
Eve (Ashley Nicole Blake)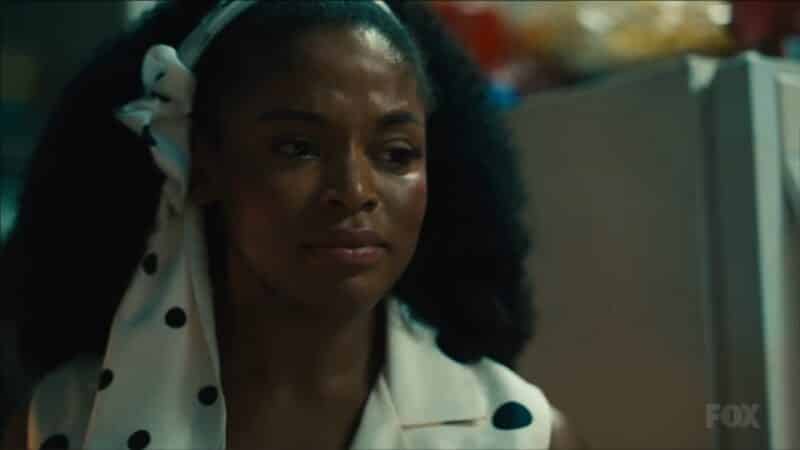 Eve is Angela's mom, Patricia's sister, who is an aficionado in doing hair, and her knowledge was passed onto Angela and allowed her to build her business.
Additional Information
Introduced In Season 1 Episode 1 "Reparations"
Never Have Just One Source Of Income (1.1): Allegedly, Eve would sell drugs alongside being a maid and doing hair.
Quotes & Gifs
Angela (Yaya DaCosta and Faith Bogle)
The founder of "Eve's Crown," Angela is an East Boston native who has made a career out of doing hair care and hopes to use the building her mother left her in order to make Oak Bluffs not only her new home but a place where she and her daughter, Nikki, can get a fresh start.
Additional Information
Introduced In Season 1 Episode 1 "Reparations"
Birthday (1.2): 3/4/1985
Debt (1.3): Her debt comprises 4 credit cards, default on her student loan for Howard, and a balloon payment on a small business loan she took out
Quotes & Gifs
Nikki (Alana Bright)
Nikki is Angela's 17-year-old daughter who got in trouble in Boston due to fighting and even needed her grandmother Eve to vouch for her to avoid jail time. But, in Nikki's mind, her mother set her up by putting her in private schools and with the kind of people who live in Oak Bluffs who she doesn't naturally mesh with.
Additional Information
Introduced In Season 1 Episode 1 "Reparations"
A Difficult Year (1.3): The reason Nikki had a hard time last year was due to her grandmother dying, paired with someone making a colorist statement about Grandma Eve, thus leading Nikki to fight for Eve was Nikki's best friend.
The Face of Eve's Crown (1.3): She becomes the new face of "Eve's Crown" after Leah objects to Eve's face being on the bottle
Daddy Wasn't There (1.3): Nikki was told her father and Angela had a one-night stand, hence why Nikki has never met him, and Angela claims she doesn't know who he is. However, Nikki's dad is in Steel Bay prison, which is why Nikki doesn't know who her father is.
Quotes & Gifs
Aunt Patricia (Debbi Morgan)
Eve's older sister, Aunt Patricia, currently operates as one of Angela's closest friends and confidants and is always down for a good time.
Additional Information
Introduced In Season 1 Episode 1 "Reparations"
I Know Where The Bodies Are Buried (1.3): In 1984, she killed her ex, Darius, and Teddy helped cover it up by buying all the land around the site and made it seem it was to protect a migrant species
Quotes & Gifs
Leah Franklin-Dupont (Nadine Ellis and Sheridan Walker)
The newest president of the Graceties, a position her mother had, Leah is a woman who is far more than someone born into wealth. In her father's company, Franklin Holdings, she is prepping for a takeover, and despite how she treats Angela at times, there is a desire to be fair and just. For after seeing how her father has handled things, Leah would prefer to not walk in his footsteps.
Additional Information
Quotes & Gifs
Lauren (Rhyon Nicole Brown)
Lauren is Leah and Raymond's daughter, who is a bit stuck up, potentially whiny, and also hiding the fact she is queer since she believes the community she lives in wouldn't accept it.
Additional Information
Quotes & Gifs
Quincy (Kyle Bary)
Quincy is Lauren's brother, Leah and Raymond's son, who is into basketball and parties.
Additional Information
Quotes & Gifs
Teddy (Joe Morton and CJ Williams)
Leah's father, and both Raymond's father-in-law and boss, Teddy sees himself as the latest head of an empire started by Leah's great grandparents. But, to build up Franklin Holdings' portfolio, Teddy has done what it takes, which includes making moves and decisions that created vulnerabilities.
Additional Information
Quotes & Gifs
Raymond (Morris Chestnut)
Raymond is Leah's husband, son of Olivia, who doesn't necessarily have the best relationship with Leah or Quincy. However, he is trying to make an effort to fix that.
Additional Information
Quotes & Gifs
Taylor (Nicole Chanel Williams)
Taylor was one of the first people of the Jack and Jill club to potentially befriend Nikki, without self-serving intentions, or so it appeared.
Additional Information
Quotes & Gifs
Josephine (Raven Goodwin)
Josephine is one of Angela's best friends and is a district attorney who helps Angela gain access to the Graceties and even nominates her for the organization.
Additional Information
Quotes & Gifs
Olivia (L. Scott Caldwell)
Olivia is Raymond's mother, who is a bit hard on Leah, mainly since Leah is taking her role as the Graceties president. Though, alongside being president of the Graceties, Olivia is also a bit of a sleuth and likely will evolve into a pain in Angela's side as she continues to reveal the truth about Eve and her history in Oak Bluffs.
Additional Information
Quotes & Gifs
Rose (Susan Spain and Alexa Rachelle Jennings)
Rose is Leah's mother, Teddy's wife (or maybe ex-wife at this point), who lives in the Bluffside Assisted Living facility due to her having cognitive issues. Mind you, not the kind that has diminished her memories, but rather which makes her difficult to control or has caused her to lack inhibitions.
Additional Information
Quotes & Gifs
Jack (Jeff Hephner)
Raymond's childhood friend, who co-owns, or once did, Darmon, a 120-year-old company founded by his and Raymond's great grandfathers. However, over the course of one year, Jack weakened the company to the point of Teddy Franklin being able to put it under his umbrella.
Additional Information
Quotes & Gifs
Tyrique (Lance Gross)
A contractor with an eye for Angela, whose education and a portion of his life was financed by Teddy, after Tyrique's father, a member of Teddy's security team, took a bullet for him.
Additional Information
Quotes & Gifs
---