Violent Night (2022) – Review/ Summary (with Spoilers)
---
Community Rating: 0.00% (0) - No Community Ratings Submitted (Add Yours Below)
---
This post may contain affiliate links and spoilers. Please read our disclosure policy.
---
Somehow, "Violent Night" finds a way to be flinch-worthy violent, consistently comical, and even stir up your emotions.
Director(s)
Tommy Wirkola
Screenplay By
Pat Casey, Josh Miller
Based On
N/A
Date Released (In Theaters)
12/2/2022
Genre(s)
Action, Comedy, Crime, Fantasy, Holiday
Duration
1 Hour 41 Minutes
Content Rating
Rated R
Noted Cast
Jason Lightstone
Alex Hassell
Alva Lightstone
Edi Patterson
Gertrude Lightstone
Beverly D'Angelo
Linda
Alexis Louder
Jimmy "Scrooge" Martinez
John Leguizamo
Gertrude "Trudy" Lightstone
Leah Brady
Santa Claus
               David Harbour
Morgan Lightstone
               Cam Gigandet
Bert
Alexander Elliot
This content contains pertinent spoilers. Also, images and text in this post may contain affiliate links which, if a purchase is made from those sites, we may earn money or products from the company.
Film Summary
On Christmas Eve, Jason brought his family to his mother's mansion. There, things are as they always are. His sister Alva actively sucks up to their mom Gertrude, Alva's son, Bert, is talking to his followers, and Jason's daughter, Trudy, is just hoping Santa can bring her Mom, Linda, and dad back together. Unfortunately for Trudy, a man named Jimmy and his crew have other plans for Christmas, they take the family hostage, and if they don't find the money they expect to, Trudy may go from celebrating Christmas to going to a funeral.
But with a very drunk Santa just so happening to be there as Jimmy's crew begins to take over Gertrude's property, maybe, even if her parents don't get back together, they may live to see her turn ten.
Things To Note
Why Is "Violent Night" Rated R
Dialog: Cursing throughout
Violence: Blood, dismemberment, gun violence, gore, violence against a minor
Sexual Content: Mention of sexual assault
Miscellaneous: Drinking and scene of jolly old Saint Nick vomiting from his sleigh
Question(s) Left Unanswered
What leads to someone becoming Santa?
Did Santa meet Mrs. Claus when they were a Viking or after? If after, how?
How many Santas have there been?
How does Christmas magic work?
Character Descriptions
Please Note: This character guide is not an exhaustive list of every cast member, and character descriptions may contain what can be considered spoilers.
Jason
Jason, per Alva, is Gertrude's favorite son, and it might be because he dedicates himself to the family business so much he sacrificed his marriage for it.
You May Also Know The Actor From Being: Vicious in "Cowboy Bebop," Ross in "The Tragedy of Macbeth," and Translucent in "The Boys."
Alva
While Linda might be accused of being a gold digger, it is Alva who is trying to figure a way to finesse money out of her mother whenever she gets the opportunity.
You May Also Know The Actor From Being: Judy Gemstone in "The Righteous Gemstones" and Fran in "Knives Out"
Gertrude
The matriarch of the Lightstone family, she runs the family business with an iron fist, mainly because, with how her father was, she had to prove she could do what was seen as a man's job, and she overcompensated.
You May Also Know The Actor From Being: Stella Rose Buckley in "Insatiable," Barbara Miller in "Entourage" and Doris in "American History X"
Linda
Linda is Jason's wife, who he is currently separated from, that is an engineer, which counters the narrative of her being a gold digger.
You May Also Know The Actor From Being: Lillian Kagwa in "The Changeling," Ruth Williams in "Watchmen" and Bianca in "Star"
Jimmy
Jimmy leads the kidnappers and house robbers looking for the 300 million that Gertrude has hidden away
You May Also Know The Actor From Being: The Movie Star in "The Menu," Himself in Various One Man Show Specials, Bruno Madrigal in "Encanto," and Raymond Santana Senior in "When They See Us."
Trudy
Trudy is Linda and Jason's daughter, who is around nine, believes in Santa, and is probably the only person not on the naughty list in her family.
You May Also Know The Actor From Being: Patrick's Daughter in "The Umbrella Academy"
Santa
Santa was a Viking warrior in a former life, but for reasons not revealed, they eventually became Santa and have been Santa for over 1000 years.
You May Also Know The Actor From Being: Jack Salter in "Gran Turismo," Jim Hopper in "Stranger Things," Alexei Shostakov, aka Red Guardian in "Marvel Cinematic Universe," and Hellboy in "Hellboy."
Morgan
Morgan, Alva's partner, is using her to get financing for his next movie from Gertrude.
You May Also Know The Actor From Being: James in "The Twilight Movies," Micah in "Easy A" and Kevin Volchok in "The O.C."
Bert
In Jason's mind, a delinquent in the making, you'll often find Bert on his social media page, going live, and showing he is definitely a product of Alva, with a heaping of Morgan's influence.
You May Also Know The Actor From Being: Joe Hardy in "The Hardy Boys"
Review
Our Rating: Positive (Worth Seeing) – Recommended
Highlights
It's Unexpectedly Hilarious
"Violent Night" fully takes on the strange juxtaposition appearing to be a Christmas movie while tapping into the vein of "Bad Santa." For with Santa spewing vomit and clearly being over the life he has found himself subject to, it's easy to make comparisons. But, unlike "Bad Santa," this is the real Santa, so it makes any time he acts out of character hilarious.
But, not to be outdone, many of the members of the Lightstones are also comical. Whether it is Gertrude's sharp tongue, Alva ready to throw her brother under the bus at a moment's notice, or her current boyfriend, Morgan? Everyone is given the opportunity to be naughty or, in the case of Trudy, have moments like Santa, which are hysterical because you don't expect what she says to come out of her mouth.
The Violence Will Make You Flinch
"Violent Night" unquestionably lives up to its name. It's one of the few movies we can recall watching, in a long time, so committed to making moments that make you wince, flinch, have your eyes blare open, or be a tad bit shocked. For like with the humor, "Violent Night" loves to take advantage of the conflict between the Christmas tone and everything that makes it Rated R.
I mean, to give a few examples, someone is beheaded with ice skating blades, killed with a machine meant to remove snow, and even Trudy ends up killing someone graphically by taking inspiration from "Home Alone." Also, Santa uses his trusty hammer from his Viking Raider days to crush some skulls.
Trudy, Who Brings It All Together
You know how some movies make it a point to say "And introducing ___" to note the arrival of a notable talent in the film? I'd submit they should have done that for Leah Brady. She does everything you see the adults give from a comical or violent performance. But, what tips her over is giving the film heart. Her faith in Santa, desperately wanting her parents back together, and just how adorable she is, creates a perfect combination for a film like this. And whether physically sharing a scene with someone or talking to Santa through a walkie-talkie, Brady brings something many of the other actors don't bring at the same level.
On The Fence
Jimmy's Reason For Doing All This
While John Leguizamo is excellent as Jimmy, with bringing both a comedic flare and level of violence to the role, what dampens his character is the motive. Getting through Gertrude's security for three hundred million is an understandable motive. But rather than leave it there, they bring in him having a bad Christmas as a child and how that molded him. This does up the meaning of Santa being his adversary, but it isn't built up in a way that allows Jimmy to be seen as a complicated figure.
[ninja_tables id="46802″]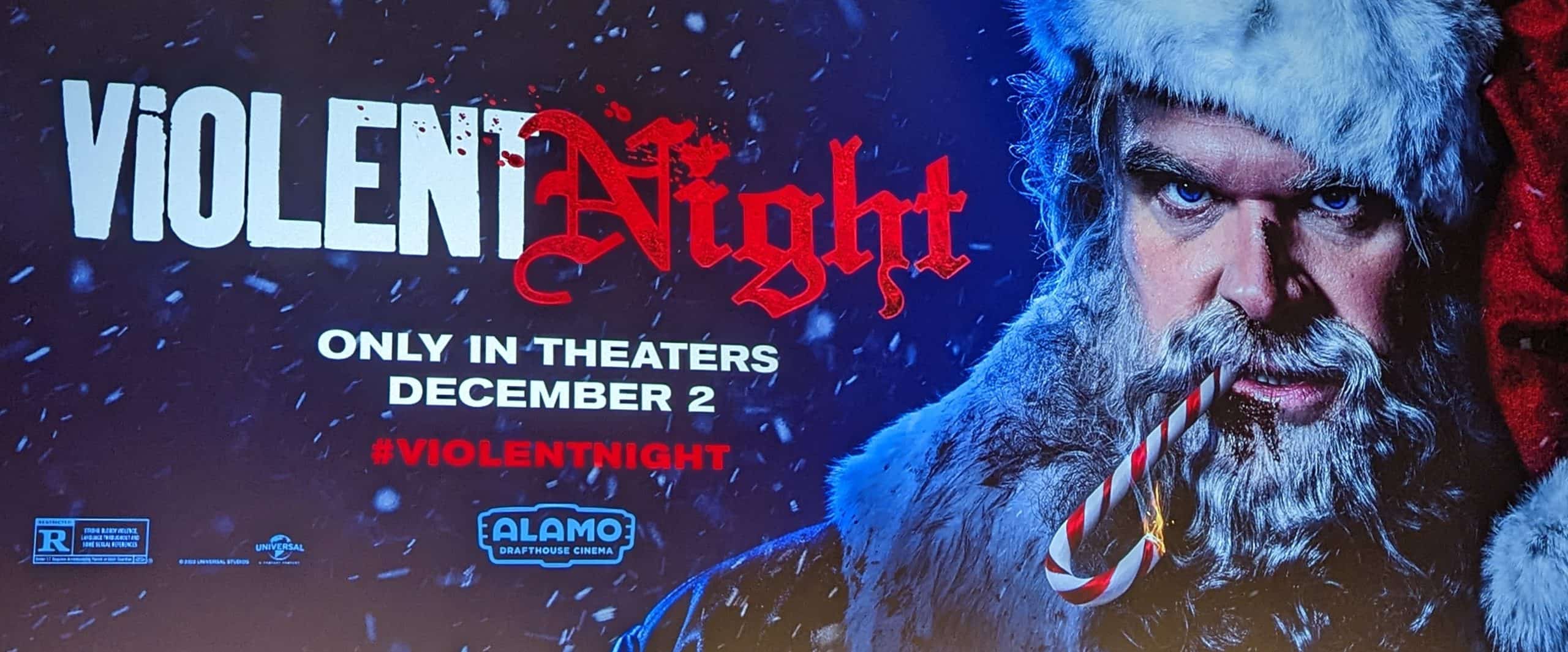 Violent Night (2022) – Review/ Summary (with Spoilers)
Overall
I'd submit that "Violent Night" could become a Christmas classic. Granted, in the likes of being played every year on Comedy Central, like "Bad Santa," in a toned-down version, but it nonetheless is one of the few counter-programming films we've seen that is worth repeated viewings, even if only on a yearly basis.
Highlights
Trudy, Who Brings It All Together
The Violence Will Make You Flinch
It's Unexpectedly Hilarious
Disputable
Jimmy's Reason For Doing All This
Related Topics:
Action
,
Alex Hassell
,
Alexander Elliot
,
Alexis Louder
,
Beverly D'Angelo
,
Cam Gigandet
,
Comedy
,
Crime
,
David Harbour
,
Edi Patterson
,
Fantasy
,
Holiday
,
John Leguizamo
,
Josh Miller
,
Leah Brady
,
Pat Casey
,
Rated R
,
Tommy Wirkola