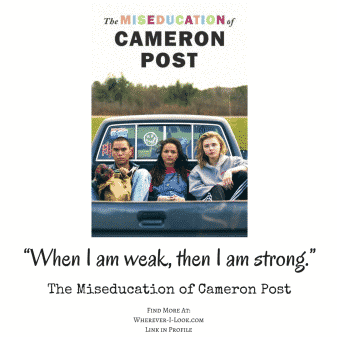 Community Rating:
The Miseducation of Cameron Post excels as a comedy but, at best, is average in terms of its coming of age drama element.
---
Director(s)
Desiree Akhavan
Screenplay By
Desiree Akhavan, Cecilia Frugiuele
Date Released
8/3/2018
Genre(s)
Coming of Age, Drama, Comedy, Romance
Noted Actors
Cameron
Chloë Grace Moretz
Coley
Quinn Shephard
Dr. Lydia Marsh
Jennifer Ehle
Rick
John Gallagher Jr.
Jane
Sasha Lane
Adam
Forrest Goodluck
Erin
Emily Skeggs
Summary
It's 1993 so the legal right to marry doesn't exist, Ellen DeGeneres didn't publicly come out on TV, AIDS is just losing the stigma of being a gay diease, and the support and public opinion those under the LGBTQ umbrella enjoy today? Yeah, that was not existent. Especially for young teens. Hence why Cameron who, after having a sort of friends with benefits situation with friend Coley, ends up in a gay conversion camp.
A place where those like Dr. Lydia Marsh combine their experience and education in therapy with their hardline Christian moral stance on a handful of impressionable young minds. Thus leading them to, like in the case of Dr. Marsh's brother Rick, suppress themselves to the point they find it easier to masquerade and live the life of heterosexuals. But, with at least a dozen of teens dealing with anything from SSA (same-sex attraction) to perhaps just seeming a bit queer to their folks, we see the damage that teaching someone to not accept their natural feelings does. Be it the sudden, and insatiable, need for sexual intimacy or more drastic and disheartening decisions.
Question(s) Left Unanswered
What happened to Cameron's parents?

This is answered in the book, per the Q&A, but not addressed in the movie.

So, was Cameron bi or full on lesbian?
Who really started things, Coley or Cameron?
Collected Quote(s) or .Gifs
"When I am weak, then I am strong."
Highlights
The One-Liners, Quips, Awkward Moments, And Sarcasm
Like most YA novel adaptations, some of the best parts come from teenaged sass. Be it in the form of their conversations amongst each other, or getting one in on the authority figures in their life, those comical bits are golden. Especially for films like this which use those moments as comic relief for what is a serious and depressing issue. Thus leading to the need to praise nearly the entire cast for each one gets a moment to present either an awkward funny moment or an outright funny one.
Though the two who have the most consistency is Forrest Goodluck and Sasha Lane. This duo, who seem destined for an unrelated comedy movie, are what make the movie worth purchasing a ticket for. Their criticism of God's Promise, the camp, its staff, and the other people at the camp, goes beyond comic relief and damn near makes this film like a comedy with the occasional dramatic moment.
It Balances Its Depiction of Religious People
With the movie taking place within a conversion camp, naturally, there could be an assumption that this would end up a religion bashing kind of film. If not make those who run the camp either complete idiots or bible thumpers without some sense of heart and emotion. Which isn't the case at all.
When it comes to Dr. Marsh, who runs the camp, as much as you can be disturbed by her calm, cool and collected tone and nature, if you fill in the gaps, you can understand her decisions. Her brother, Rick, was/is a homosexual during a time of the AIDS crisis. On top of that, Rick is clearly someone who feels moderately so taking into consideration she is a therapist and was likely witnessing her brother go through anxiety, depression and more, as much as you want to paint her as big evil because of her conservative religious views, there is some ability to give her leeway.
But, if you don't see Dr. Marsh as someone balanced, then there is Mark. He is someone with a sense of faith, which becomes a topic of discussion between him and Cameron, and then there is also Helen. She loves the lord, was in her churches' choir, and while dealing with SSA led to her coming to the camp, she doesn't present some hateful point of view. Like Mark, she is struggling and to appease her parents, and her church, she is trying to win back her community. And in that struggle comes some of the heartbreaking moments of the film.
Criticism
It Becomes Predictable At A Certain Point
Though Lane and Goodluck will maintain your interest throughout the movie, as will the other actors who have comedic moments, after a certain point two things happen: The first is the film becomes predictable and, depending on whether you've seen a lot of LGBT films which aren't about acceptance and love, the predictability may drive you to complacency.
On The Fence
The Dramatic Side of Things
Reason being, there aren't really strong dramatic performances in the film. There are serious moments, like when one character ends up in the hospital, but the serious moment isn't paired with strong and overwhelming performances. At best, Moretz and company present solemn faces and note how sad the situation the aforementioned character, and the idea of conversion therapy, is.
And a part of me wants to say that lack of punch or oomph is because Moretz isn't paired with someone to challenge that side of her as an actress. When it comes to comedic moments, even romantic or sexual in terms of her scenes with Shephard, and Emily Skeggs as Erin, she is good and shows she was a veteran. However, while it has been noted in Moretz's past work that she has potential, she is still at that stage in her career where she needs a veteran in skill and training, not just tenure in the industry, to push her.
Something which is totally absent here so, at best, she is just another sad face acknowledging something unfortunate and preventable happened.
Overall: Positive (Worth Seeing)
Something about The Miseducation of Cameron Post makes you think this should end up a Netflix movie. For there is something about it that doesn't seem strong enough to be worth purchasing on its own. However, being part of a subscription package, like Netflix, seems like the type of status this film deserves.
Leading to why the positive label. While a bit weak in terms of its dramatic elements, and predictable if you get a regular fix of LGBT content, it gets its point across. Also, it provides the kind of laughs which may eclipse its more serious moments but makes it still worth checking out.
---
Follow Wherever I Look on Twitter or Like us on Facebook.
---
---
Post-Screening Q&A