The Cow Who Sang A Song Into The Future (2022) – Review/ Summary (with Spoilers)
---
Community Rating: 0.00% (0) - No Community Ratings Submitted (Add Yours Below)
---
This post may contain affiliate links and spoilers. Please read our disclosure policy.
---
The Cow Who Sang A Song Into The Future boils down to toxic family relationships that need to be acknowledged, addressed, and corrected, or else that toxicity will kill more than just family members.
---
Director(s)
Francisca Alegria
Screenplay By
Francisca Alegría, Fernanda Urrejola, Manuela Infante
Date Released
1/23/2022
Where To Watch
Film Festival (Sundance Film Festival)
Genre(s)
Drama, LGBT, Non-English (Spanish), Family
Duration
98 Minutes
Content Rating
Not Rated
Noted Cast
Cecilia
Leonor Varela
Enrique
Alfredo Castro
Tomas
Enzo Ferrada
Bernardo
Marcial Tagle
Magdalena
Mia Maestro
Film Summary
Like her father Enrique, Cecilia is stuck in her ways and doesn't provide the love and support needed. For Cecilia, it means not loving and supporting their trans daughter Tomas and Enrique? It is putting down their son, Cecilia's brother, Bernardo. But, with the rebirth of Cecilia and Bernardo's mother, Magdalena, after being dead for decades, not only do the dying relationships between family members experience new life but so does the farm after toxins seem to poison everything.
Cast & Character Guide
Please Note: This is not an exhaustive list of every cast member.
Cecilia
A notable doctor, who specializes in the removal of tumors, Cecilia is well-accomplished thanks to her father's work ethic rubbing off on her, but unfortunately, the way he treats people is something she inherited as well.
Enrique
Enrique, the owner of an industrial dairy farm, has spent his life on this being his legacy, and it seems he isn't ready to hand over the reins to his son, Bernardo, just yet. This is despite Bernardo's investment and ideas to make the process better for many, especially the cows.
Tomas
Tomas is a trans girl who has friends, perhaps even a boyfriend, but their mother's denial of their identity weighs on them heavily. Especially since she coerces Tomas to present themselves as masculine in front of the family.
Bernardo
Quiet but hard-working, Bernardo stayed behind and lived under his father's tyranny and was the dutiful son. But, while he has taken the brunt of his father's criticism for a good part of his life, it is recognized something has to change, and Bernardo shouldn't have to wait for his father to pass for that to happen.
Magdalena
After what was assumed to be a suicide, Magdalena has come back to life for reasons not touched upon, and she seeks out her family, the farm, and those who need her presence before possibly returning to the other side.
Other Noteworthy Information
Reason(s) for Film Rating: Depiction of dead animals, talk of suicide, and homo and trans averse language
Review
Highlights
The Power Of Presence
Magdalena's rebirth is a phenomenon that drives a certain fantasy element in the film, but while magical things do happen, it isn't like Magdalena is casting spells. Rather, what we see through her is the power of a person's presence, their light, and what that kind of kindness means to people. Hence, with very few words uttered by Magdalena, she has such an effect on people and things.
For example, Magdalena's interaction with her granddaughter Tomas. With Magdalena assumingly committing suicide, and Cecilia's denial of Tomas' identity leading them to contemplating such, she asks about what death feels like and expresses her suicidal ideation. This leads to perhaps one of the first true signs that Tomas' feeling this way hurts someone, and as Magdalena breaks into tears from listening to their granddaughter, so comes the simple understanding that people just need to be seen and heard.
The Importance Of Support and Acceptance In A Family
At the root of Cecilia's issues seem to be Enrique, who uses homo-averse slurs and doesn't take accountability for his actions. Of which seemingly included potentially driving Magdalena to her fate and crippling Magdalena's relationship with Cecilia. Yet, it is getting to know Enrique and seeing his effect on his children and how that led to Cecilia being the parent she is, that helps you understand generational curses and precedents.
Through taking on the words and actions of her father, Cecilia nearly drove her daughter to the same fate her father did her mother. And when it comes to Bernardo? While he has survived mistreatment from their dad, you can see how Magdalena's absence has led him to retreat to the cows of their dairy farm and become almost distant and fearful of his father and sister.
Hence, Magdalena uses what magic she has to bring her family to the place she hoped they would be, with or without her. Including causing fits of laughter to show them that there is the potential of enjoying one another's company and not just reuniting in times of potential tragedy.
On The Fence
It Definitely Might Seem Dry To Some People
While there are verbal expressions of emotions, like Tomas' suicidal thoughts, alongside Cecilia and Ernesto's admonishment, this isn't the kind of family drama that triggers you to think about your own family and get emotional. Also, while there is something magical about Magdalena, with her being mute for the majority of the film, while her presence is welcomed and affects people, it doesn't necessarily liven up the film.
More so, The Cow Who Sang A Song Into The Future is an unquestionable indie feature that has that level of uniqueness that can come off niche. It's art for the sake of art, rather than art for the sake of entertainment or for commercial gain. Which isn't a bad thing, but it should be noted that this movie isn't for everyone.
Overall
Our Rating: Positive (Worth Seeing)
Despite noting this film isn't for everyone, it strangely, even with the ability to pause, isn't something we paused and walked away from once. It's weird in a way how Magdalena, just as much as her presence puts a spell on whoever she encounters, does the same for you. And through her, if not because of her, you await each member of her family being changed by her presenting herself and hope that, with her arrival, they may get what they need. Be it Enrique learning forgiveness, empathy, and kindness. Cecilia realizing she is taking on her father's worst traits and killing her daughter slowly in the process. Alongside Bernardo gaining a new lease on life and starting over with the farm and doing things as he thinks it should be done.
While all of this can be very mundane to watch, there is no denying you'll have a hard time looking away and being surprised when the stupor wears away, and you realize the film is over.
[ninja_tables id="46802″]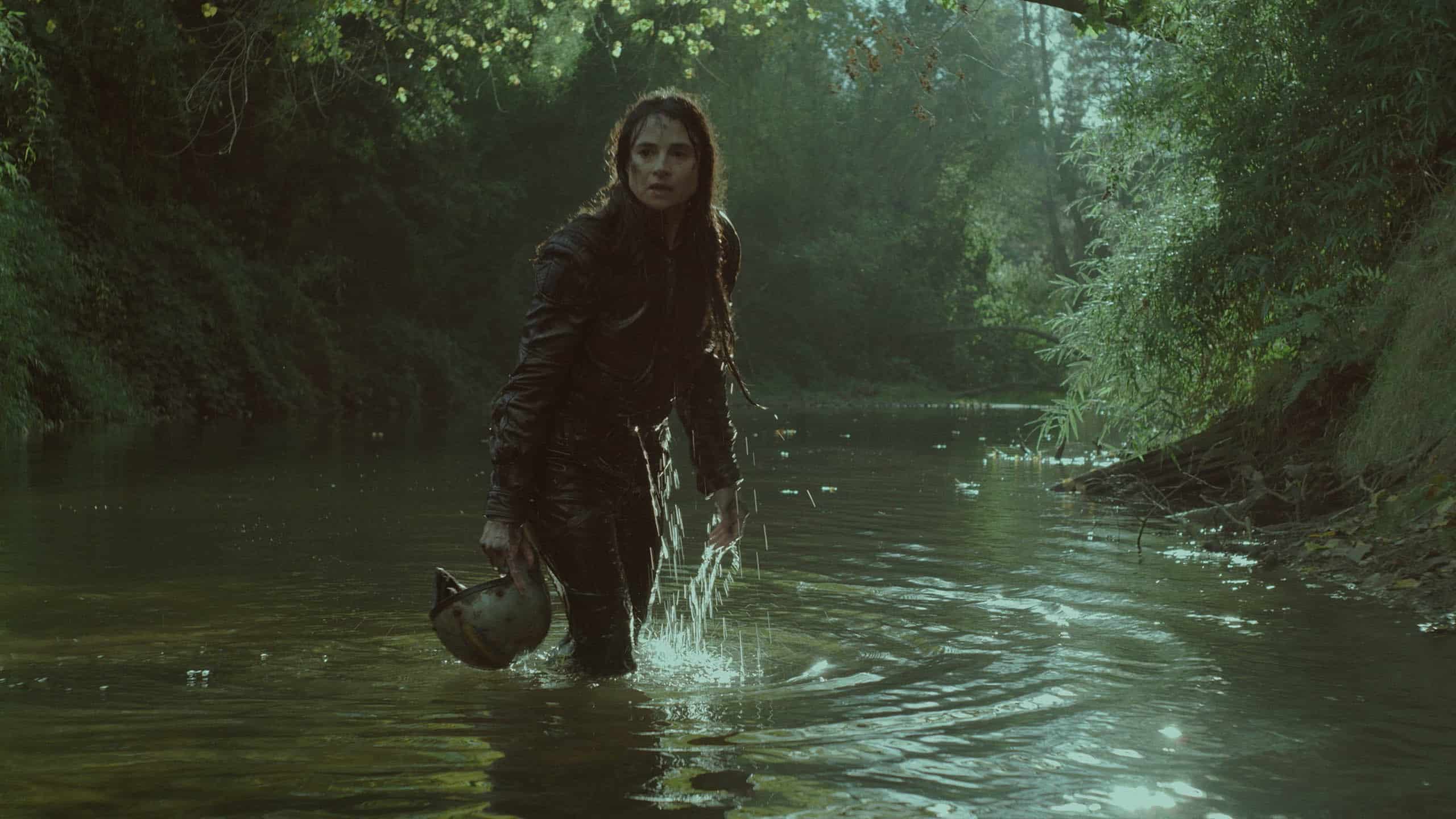 The Cow Who Sang A Song Into The Future (2022) – Review/ Summary (with Spoilers)
Who Is This For?
Those who enjoy slow-moving dramas focused on complicated family dynamics and don't mind a few unexplained elements that help heal old wounds.
Highlights
The Power Of Presence
The Importance Of Support and Acceptance In A Family
Disputable
It Definitely Might Seem Dry To Some People
Related Topics:
Alfredo Castro
,
Drama
,
Enzo Ferrada
,
Family
,
Fernanda Urrejola
,
Film Festival
,
Francisca Alegria
,
Leonor Varela
,
LGBT+
,
Manuela Infante
,
Marcial Tagle
,
Mia Maestro
,
Non-English (Spanish)
,
Not Rated
,
Sundance Film Festival