Struggling with moving on after the end of a notable relationship, Gabriela works to make ends meet and deal with their ex moving on.
---
Director(s)
April Maxey
Screenplay By
April Maxey
Date Released (Film Festival – Tribeca Film Festival)
6/8/2022
Genre(s)
Drama, Romance, Young Adult, LGBT+
Duration
13 Minutes
Content Rating
Not Rated
Noted Cast
Gabriela/ Liliana
Marisela Zumbado
Max
Elaine Whae
Ximena
Jay Dathorne
This content contains pertinent spoilers.
Film Summary
With having to move out after her relationship with Ximena ended, Gabriela isn't in the best place. She can't focus on work, she has to do a little strip tease at night to make ends meet, but there is a silver lining. A familiar face named Max works at the club Gabriela, as Liliana, goes to so she can make extra cash. Maybe, once Gabriela works Ximena out of her system, Max could be her next love?
Things To Note
Reason(s) for Film Rating: Cursing (A few curse words, but nothing gratuitous), Sexual Content (No nudity, but suggestive themes)
Question(s) Left Unanswered
Did Ximena cheat, or was it just a short gap between ending things with Gabriela and her next?
Character Descriptions
Please Note: This character guide is not an exhaustive list of every cast member, and character descriptions may contain what can be considered spoilers.
Gabriela/Liliana
An artist still dealing with a recent breakup who, be it for extra money or to pay the rent, goes back to her old job as a sex worker under the name Liliana.
Max
A piano and singing teacher who, at night, works at the same club Gabriela does. However, it seems she only recently got back into the practice.
Ximena
Gabriela's spectacled ex who broke her heart and moved on a bit too quickly for Gabriela's taste.
Review
Our Rating: Positive (Worth Seeing)
Highlights
Presenting Both A Sense Of Longing And Possibility For Something New
While there is no excuse for Gabriela leaving a voice note for Ximena's new girl and giving her the business, you can see why. There were so many happy memories involved in their relationship. Which, yes, does leave you to wonder why they broke up, but that's the issue of young love. You can so easily get wrapped up in experiencing so many firsts and new things with someone that you glaze over the bad parts, where things went wrong, and how it all added up to things ending.
But, it was appreciated that Max came in, and while things could have gotten overtly sexual between the two, it seems Max, if she goes down this road with Gabriela, wants something real. And the hope that gives Gabriela and the audience will make you wish you could see what is coming next.
Movie Directory
On The Radar
---
Ratings
---
Special Categories/ Tags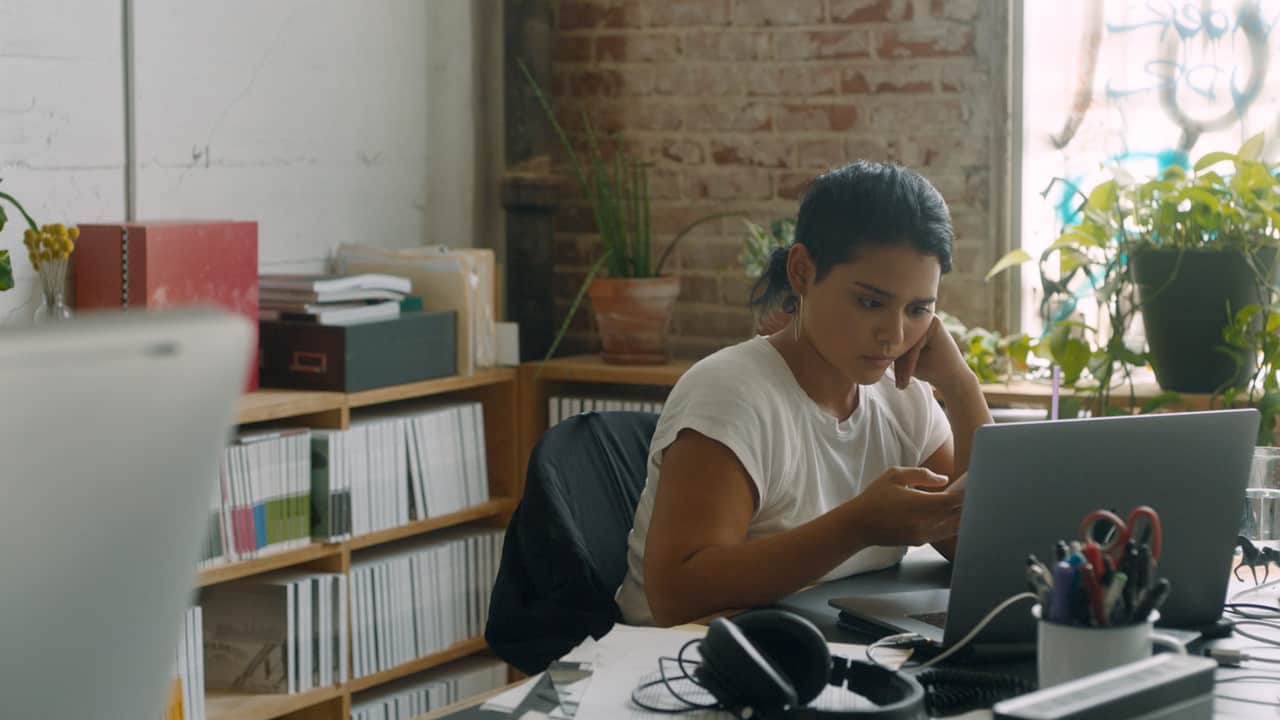 Work (2022) – Review/ Summary (with Spoilers)
Overall
"Work" feels like the perfect short to begin the consumption of productions curated by the Tribeca Film Festival staff. It is sweet, gives you human emotion that isn't always showing someone on their best behavior, and it leaves you wanting more in the best way.
Presenting Both A Sense Of Longing And Possibility For Something New
83
Highlights
Presenting Both A Sense Of Longing And Possibility For Something New