Happiest Season – Review/Summary (with Spoilers)
While there might be times Happiest Season may make you roll your eyes, its heart and certain characters keep you watching until the end.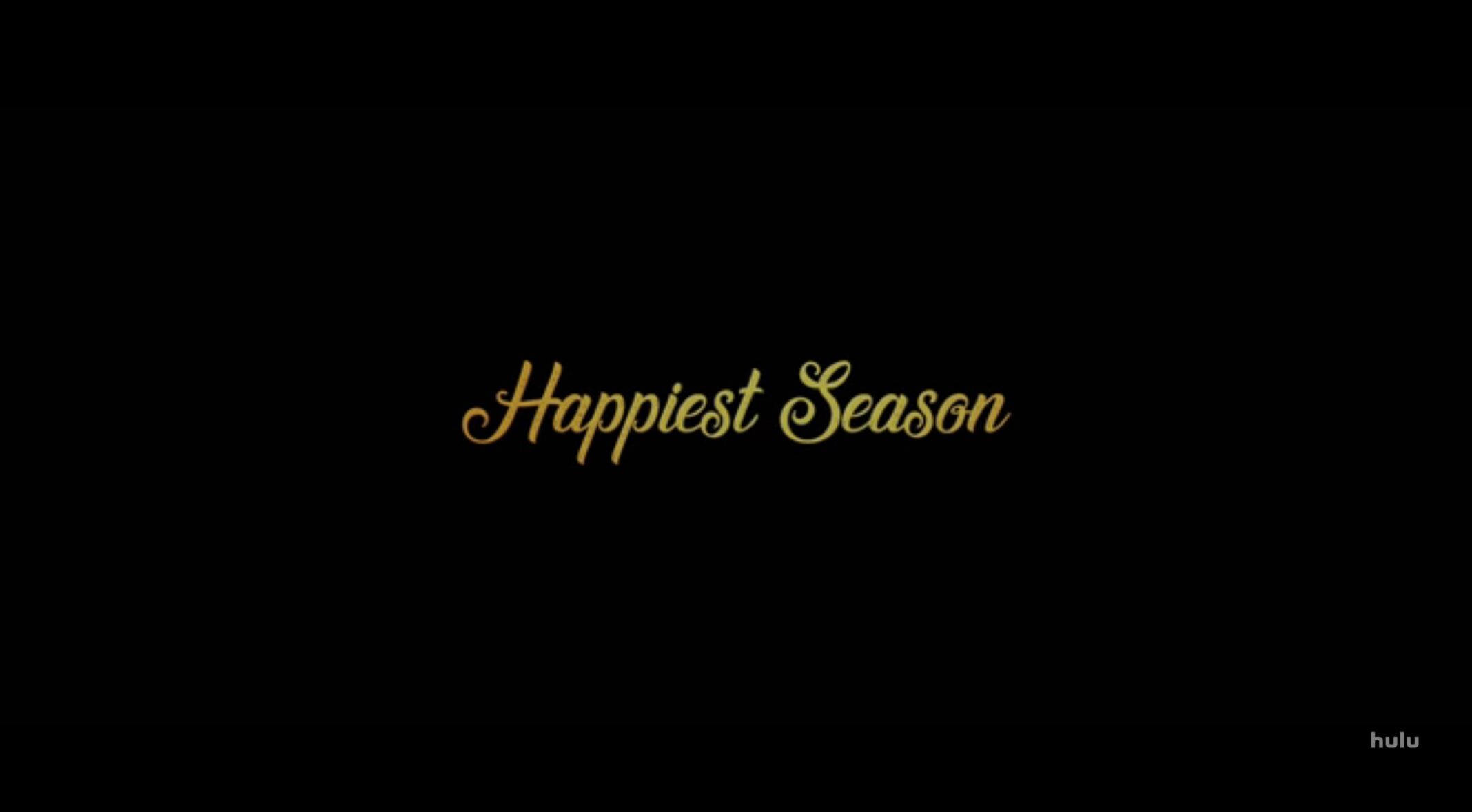 While there might be times Happiest Season may make you roll your eyes, its heart and certain characters keep you watching until the end.
---
Director(s)
Clea DuVall
Screenplay By
Clea DuVall, Mary Holland
Date Released (Hulu)
11/25/2020
Genre(s)
Comedy, Drama, Romance, LGBT, Holiday, Family
Duration
1 Hour 42 Minutes
Rating
PG-13
Noted Cast
Abigail "Abby"
Kristen Stewart
Harper
Mackenzie Davis
Ted
Victor Garber
Tip
Mary Steenburgen
Sloane
Alison Brie
Jane
Mary Holland
Riley
Aubrey Plaza
John
Dan Levy
This content contains pertinent spoilers.
Film Summary
After more than a year of dating, Abigail has decided she wants to propose to Harper, her girlfriend, on Christmas morning, and even ask Harper's father, Ted, for permission. But, one of the obstacles in fulfilling this dream is Harper isn't out to her family. This causes major issues for Abby since she has been out for over ten years, so pretending to be Harper's roommate and maintain some hetero ruse is a challenge.
Yet, as it becomes clear Ted, Tip, his wife, Harper's mom, and Harper's sisters, Sloane and Jane, all have this warped perception of each other, and family, their breakdown could provide a chance for a breakthrough.
Cast & Character Guide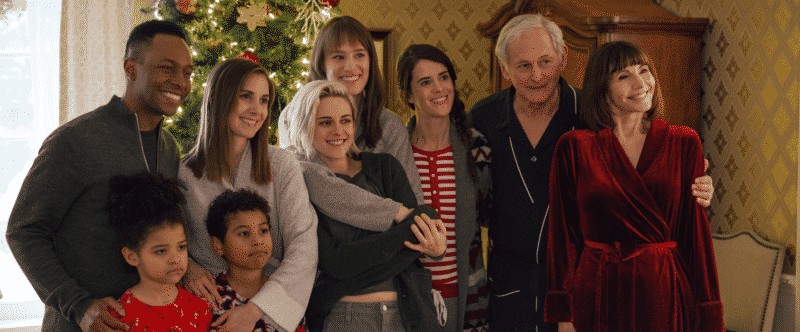 Abigail "Abby" (Kristen Stewart)
An art major at Carnegie Mellon, following in her deceased parents' footsteps, Abby has been out for more than ten years and around a year ago met Harper. Someone she has also moved in with, around 6 months ago, and now is very much interested in marrying her. Even if Abby's best friend John is very unsure about it – initially.
Harper (Mackenzie Davis)
A notable writer in Pittsburgh, and her parents' current favorite, despite being the middle child, Harper finds herself getting quite a bit of attention. However, considering the family dynamics which allow for this, it does make you wonder how long it may last?
Ted (Victor Garber)
Currently, Ted is a councilmember but he hopes at the end of the next election he can become mayor. However, to do so he feels he needs to present the perfect family and highlight Harper and Sloane's kids to really give him an edge.
Tipper "Tip" (Mary Steenburgen)
Ted's wife who may or may not have been the one to cause a bit of a complex amongst her daughters. For with underhanded compliments, if not outright shade, she can be a loving mother, yes, but also part of the problem.
Sloane (Alison Brie)
Formerly, Sloane was a lawyer, who almost became a partner, and graduated from Yale, where she met her husband. But with now focusing on her fraternal twins and changing her career so she can be around them, she lost being the star of the family to Harper. Thus causing a sibling rivalry beyond what they had previously.
Jane (Mary Holland)
Jane is the black sheep of her family. She is the youngest, has a handful of eccentricities most don't understand, and honestly don't try to, and while she wants to be a writer like Harper, she isn't into journalism. Rather her focus is writing a fantasy epic, which she has done for years, that isn't taken seriously at all.
Yet, like her sisters, she tries to find ways to get praise from their parents. But with Jane, it is usually by fixing things or running errands vs. grandeur accomplishments.
Riley (Aubrey Plaza)
Harper's high school ex who is now a doctor.
John (Dan Levy)
John is Abby's best friend, who is also gay, and enjoys keeping track of people in his life – with technology.
Things To Note | Question(s) Left Unanswered
Reason(s) for Film Rating: Officially, language and reference to sex. However, it's not vulgar and in terms of sex? Outside of some eyebrow-raising costume kink at the beginning of the movie, it is rather tame.
The Number of Jump Scares/ Laughs/ Tear-Jerking Moments: There are three notable moments you may find yourself crying towards the end of the movie. As for laughs? Just focus on Jane.
Review
---
Community Rating:
---
Highlights
Jane
While not played by Kristen Wiig, you may feel that Holland channeled one of Wiig's SNL characters in her portrayal of Jane. Someone who might be one of the most consistently funny characters in the whole movie, and not in this cheap, mean spirited way that everyone else is. She is just an adorable and lovable black sheep who genuinely tries and is rebuffed over and over by every ass**** in her family. Thus making you find her not only funny but someone you can not wait to have that inevitable moment when she pushes back.
Riley x Abby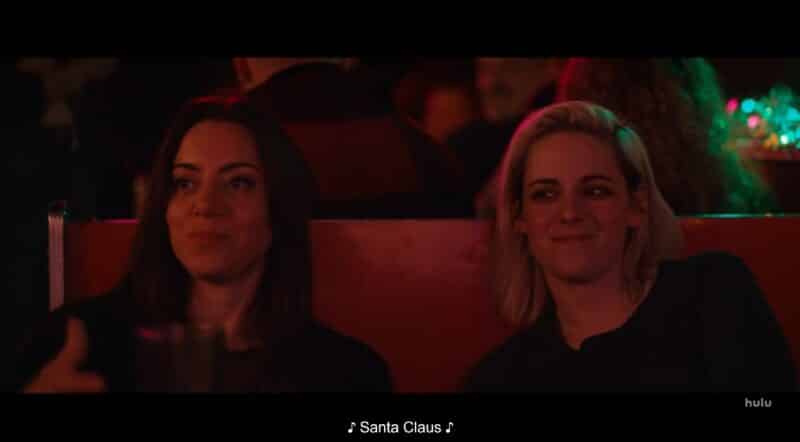 Riley is Harper's secret ex who she outted to save herself. In the film, Riley doesn't have feelings for Harper, but their families still associate, and thus she often is at the same events. But, with Abby forced to play the role of the roommate, and often separated from Harper, it means her spending time with Riley and that becomes detrimental to the core relationship.
Why? Well, because Plaza and Stewart seem like a really good on-screen couple. I'm talking, you are so ready for Abby to leave Harper for Riley by the end of the film and don't see how Harper could even compete, chemistry wise.
You Warm Up To John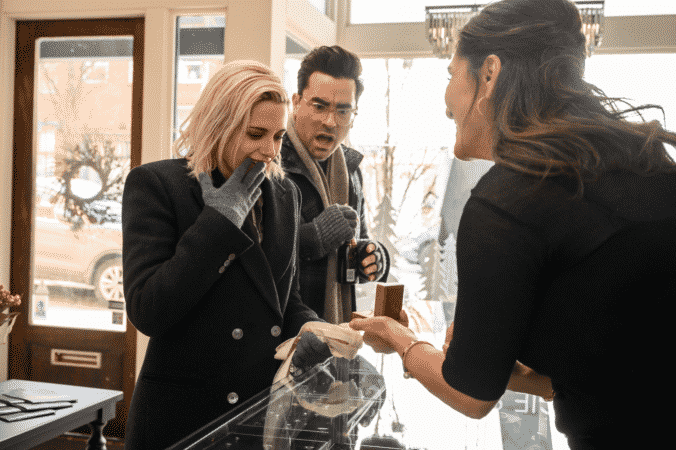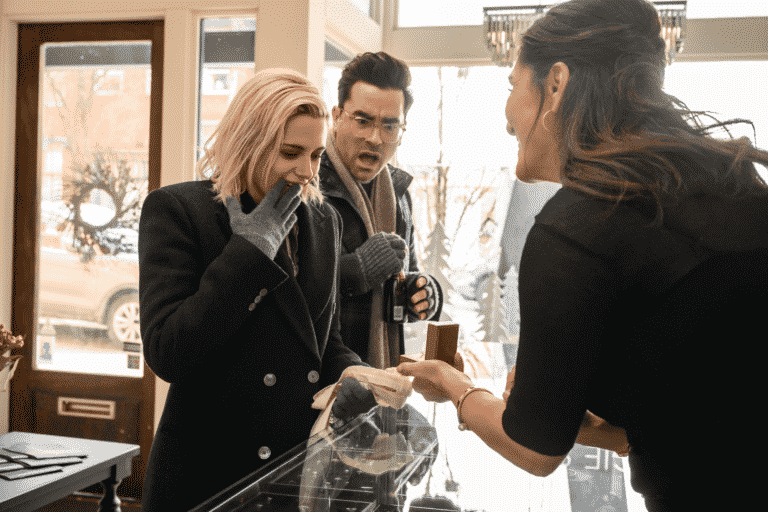 When Happiest Season begins, John is that annoying character that has become a fairly recent trope. The one who is overly progressive in a "DOWN WITH THE PATRIARCHY!" way and talks like the people who ruins parties with unnecessary arguments. But, as that calms down, as well as him being an iffy friend to Abby, we're shown his underbelly. And with that, John becomes more of a person, less of a caricature, and you not only warm up to him but almost enjoy his character.
Especially since he seems to be the only one who takes Jane seriously.
On The Fence
The Family Drama
Being that Tipper and Ted made their kids compete for praise and affection, it has made it so Sloane, their oldest, and Harper have had a long rivalry. One which gets especially nasty towards the end of the movie when they discover each other's secret. But, the problem is, your investment in both characters may not be strong.
When it comes ot Mackenzie Davis, she just doesn't present anything to make you care about her as an individual. Harper's story may be relatable to some, and familiar if you were ever in Abby's position, but Harper just comes off bland. Especially once Riley gets featured, for then Harper becomes an ass.
Then with Sloane, I'd submit that any connection you may have with her is due to who she is played by and not the character herself. But that is the issue with nearly all of Sloane's family, sans Jane. Each one feels oddly written. You could say so they could have the vibe of real eccentricities and relationships people could have, but instead, they all come off like sketch comedy characters. Of which, again, only Jane really pulls it off while the rest seem like they are still in dress rehearsal and working out the kinks.
The Investment In Harper x Abby Isn't Strong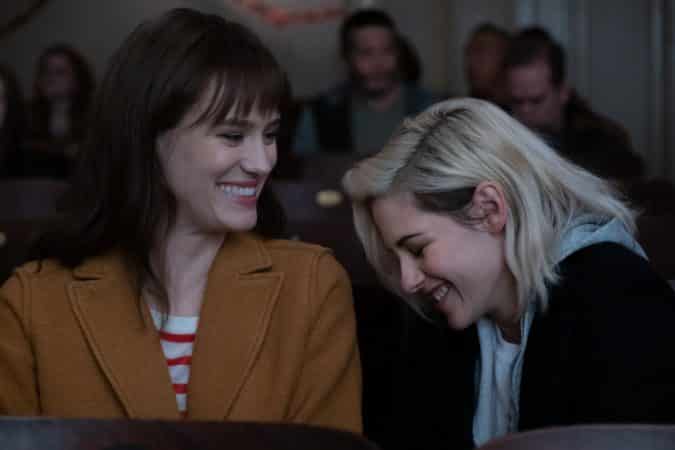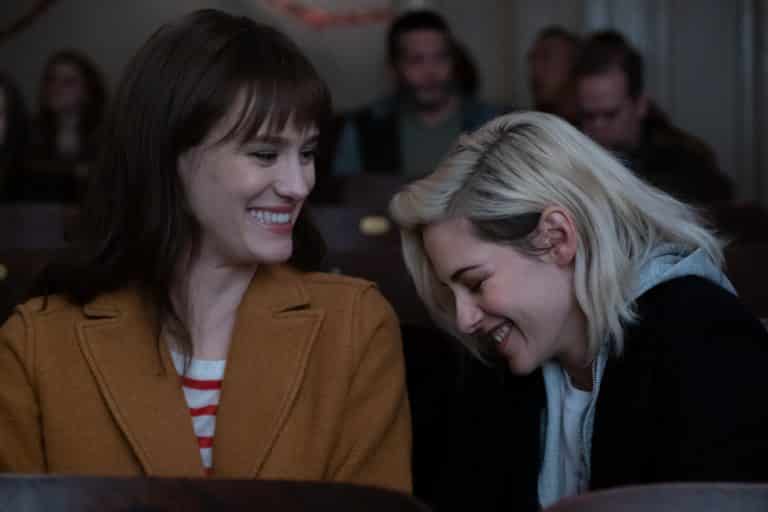 At its core, Happiest Season is supposed to be about Abby proposing to her girlfriend on Christmas morning. The problem with that is, by the end of the movie, you have little to no investment in this relationship and feel like Abby deserves better. Why? Well, because the film makes too much of a joke out of Ted and Tipper for you to get the full effect of understanding why Harper has been in the closet for more than a decade.
Because of that, Harper doesn't come off as someone trying to maintain the image her parents see her as, in order to keep being love and get affection. Rather, she comes off as someone barely likable and helps you understand why many in the LGBTQIA+ community can be hesitant with dating people who aren't fully out. For rather than sympathize with Harper, you do with Abby, and seeing all the headaches she goes through, that feels universal in terms of someone not claiming you because the fear of being disowned eclipses any and all love you thought they had for you.
Yet, unlike if you were competing with someone who was an ex, you know trying to position yourself against someone's family is futile. So, in the case of Abby, it is like thinking you made it to a major milestone and then being told you got disqualified and have to try again next time.
Overall
Rating: Positive (Worth Seeing)
With Happiest Season, the issue is that what it wanted to do and focus on, it didn't necessarily do the best job with. Harper and Abby's relationship doesn't end up being the one you root for, it is Abby and Riley. You don't feel sympathy for Harper over her struggles to come out but more so Abby for trying to be patient and yet feeling like she is forced back into the closet. Add in a lot of family drama giving the tone of a sketch comedy show, and it undercuts any sense of drama beyond a handful of characters having a breakdown towards the end of the movie.
And yet, it gets the positive label. Mainly due to Happiest Season featuring a queer couple in a holiday movie, even if it isn't your usual feel-good type. For with it lacking violent trauma, which most mainstream LGBT films have, it does offer an alternative. Mind you, without the same ideals other holiday movies have, but what this may lack in escapism could provide the opportunity for some to be seen. Even if seen in the form of remembering one of the awkwardest or worst holidays they may have experienced.
[ninja_tables id="46802″]
Happiest Season Ending (Spoilers)
Sloane walks in on Harper trying to salvage things with Abby and realizes her parents' perfect little girl is a lesbian. Leading to her planning to our her sister since Sloane is dealing with a pending divorce and she fears that, with no longer having the perfect family, she'll continue to lose out to Harper in terms of praise. However, before Sloane can announce her sister is gay, she and Harper get into a fight. One that happens to be at a huge party for Ted, which includes potential donors for his mayoral campaign.
But, what matters here is when Sloane outs Harper, and also Abby in the process, Harper denies it all in a similar fashion to when she was outed in high school while dating Riley. She deflects, calls Sloane a liar, and with that, Abby is done. She was lied to before about Harper coming out and at this point, it seems Harper has made a home out of being in the closet, and with Abby having no family, she doesn't want to pseudo-join one as someone's roommate or best friend. She wants to as a girlfriend and eventual wife.
Hence she and John, who drove up there because that's the kind of friend he is, leaving. However, before they make it back to Pittsburgh, he reminds Abby that just because her coming out story to her now-deceased parents went well, that is not universal. John, for example, was kicked out by his dad and they didn't talk for more than 10 years. So Harper's fear is real and while Abby's feelings are too, he asks for some grace.
And with John showing Harper how to track Abby, as he does, she shows up, makes this grand plea, and they do end up engaged within a year's time. Also, Ted wins his mayoral campaign, Tipper decides to get into karate, Sloane is single but happy and so are her twins. As for Riley? Well, she does appear in a 2021 pride post by Tipper with someone, so maybe she is dating them?
Does Happiest Season Have Sequel Potential?
As a title, Happiest Season may have been used for the holidays, but it could also be used for the wedding season as well. It could allow us to explore Sloane's life as a divorced woman, as well as her leaving her firm behind for this new career. Also, with Jane's book becoming a big hit, thanks to John, a literary agent, we could get to see her with someone and how that changes her.
But, at its core, I think what could be focused on is Abby and diving deeper into her relationship with her parents, how they set a precedent for marriage, and her life rather than Harper's.
Summary
---
Community Rating:
---
Jane - 84%
Riley x Abby - 86%
You Warm Up To John - 82%
The Family Drama - 76%
The Investment In Harper x Abby Isn't Strong - 71%
While you do have to applaud Happiest Season featuring a story featuring a queer couple in a holiday movie, it doesn't deliver that feel-good comedy. Instead, while not focused on violent trauma, it still robs the LGBTQIA+ community of what many other communities have gotten in their family holiday movies. Which is hope, joy, and some sort of ideal that, even if not the most realistic, can at least be seen as a goal. And while you must understand not all movies can be simple and happy, some need real-world conflict, aren't holiday movies about escapism?
---
Follow, Like, and Subscribe
Community Rating: 0.00% (0) - No Community Ratings Submitted (Add Yours Below)