Elvis (2022) – Review/ Summary (with Spoilers)
From the perspective of Elvis Presley's manager, "Elvis" chronicles the rise of a king and his imprisonment in Las Vegas.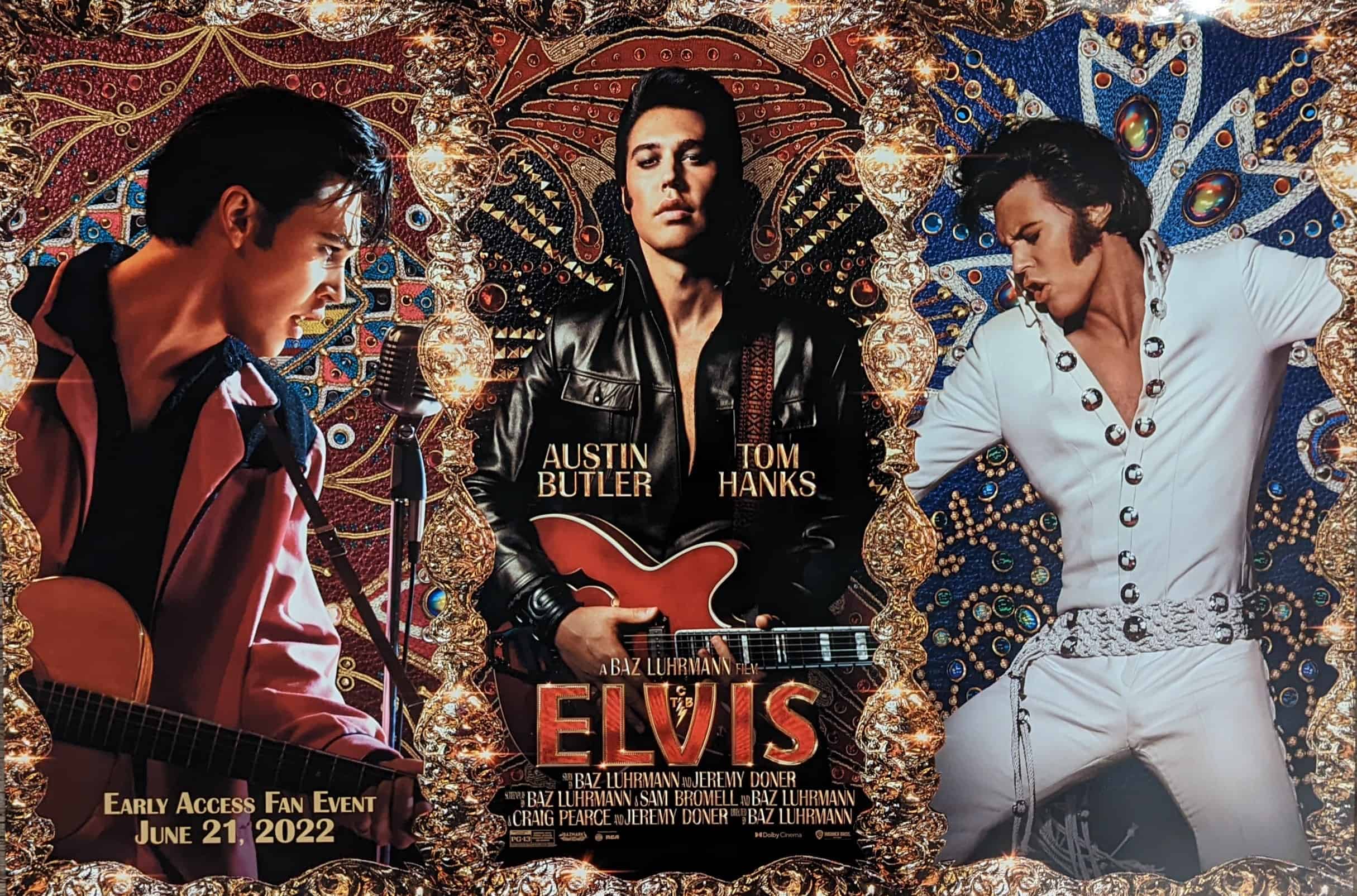 From the perspective of Elvis Presley's manager, "Elvis" chronicles the rise of a king and his imprisonment in Las Vegas.
---
Director(s)
Baz Luhrmann
Screenplay By
Baz Luhrmann, Sam Bromell, Craig Pearce, Jeremy Doner
Date Released (In Theaters)
6/21/2022
Genre(s)
Drama, Biopic, Musical, Historical
Duration
2 Hours and 39 Minutes
Content Rating
PG-13
Noted Cast
Elvis
Austin Butler
Colonel Tom Parker
Tom Hanks
Pricilla
Olivia DeJonge
This content contains pertinent spoilers.
Film Summary
From Elvis' gaining inspiration on Beale Street to being a multi-year headliner in Las Vegas, we see it all from the perspective of his long-term manager and swindler, Colonel Tom Parker. The man who took Elvis from local fame and made him a global icon. Mind you, while slowly but surely, as all exploitative managers do, isolate him from family, friends, and his wife and chipped Elvis down into a money-making machine who needed pills and an audience to have any semblance of a soul on stage.
Things To Note
Reason(s) for Film Rating: Cursing (Yes), Violence (Archival footage featuring the announcements of the death of Martin Luther King Jr. and Bobby Kennedy), Sexual Content (The most sexual thing is Priscilla in a notable piece of lingerie, and that's not even sexualized), Miscellaneous (drug use, alcohol abuse)
Question(s) Left Unanswered
How old was Priscilla when Elvis met her? Did they age her up in the movie?
Character Descriptions
Please Note: This character guide is not an exhaustive list of every cast member, and character descriptions may contain what can be considered spoilers.
Elvis
With growing up around Black people, Elvis was bound to pick up a few things. From Gospel to the Blues, Elvis absorbed every bit of the sounds of his surroundings, the movements, the soul, and with the ability to cross over as no Black musician could at the time, he was made into a star.
Colonel Tom Parker
Colonel Parker, an immigrant from Holland, who hustled, manipulated, and took advantage of people's greed not leading to too many questions, went from an undocumented immigrant to a carnie worker and eventually the manager of one of the biggest acts of the English speaking world.
Priscilla
Priscilla was Elvis' first love and only wife. Someone who he married when she was young and didn't know much and was barely beyond her parents' influence. But as Elvis became more and more addicted to pills and cheated on her like she was nothing but a pet waiting for his attention, she eventually decided to exit his orbit and make her own life.
Review
---
Community Rating:
---
Our Rating: Positive (Worth Seeing)
Highlights
The Musical Performances
What matters most in any musical biopic is that the performances feel real and whatever rehearsal was done, especially if a choreographer was involved, comes off seamless. Now some, like Chadwick Boseman in "Get On Up," seem more focused on remembering the count and the moves, but Butler delivers a different performance. When the legs get a wiggling, hips get shaking, you are reminded Butler has been working for nearly half of his life from Disney, and Nickelodeon shows to the stage.
All of this helps you see that sort of playfulness. That while there was much to lose for Butler if he was yet another to play Elvis and focus on Elvis' perceived eccentricities, it seemed Butler didn't let the responsibility ruin the fun. He took the role seriously and worked to bring more than the showman, but also the kid who just wanted to sing and make people happy and feel something.
How Much You'll Hate The Colonel
Every movie has to have a villain, and "Elvis" is not exempt. What makes its villain particularly notable is that The Colonel's perspective controls the narrative of "Elvis." Because of that, you hate him purely for being focused on too much, and when the movie is over, alongside wanting to praise Hanks' portrayal of The Colonel, you are also left saddened that, even in death, The Colonel has control over Elvis' story.
But, getting back to the performances, in making The Colonel so manipulative, evil, and a swindler, it drives Butler's performance. Seeing The Colonel manipulate what appears to be a simple young boy with a dream and then making him a drug-addicted adult, trapped in a contract that makes him a slave, yet the world proclaims him a king? One who is never allowed to leave his would-be kingdom, Vegas, for too long, beyond Graceland, despite fans worldwide? It makes for the perfect villain and truly packs a punch for the story since, unlike a lot of music acts with controlling managers, Elvis not got his freedom unless he was on stage.
A Nod To All Of Elvis' Inspirations
One of the undying issues brought up with Elvis is the idea he stole Black music, from the sound to the moves to the aesthetics. However, culture can't be stolen. People can be, as well as physical and tangible items, but culture isn't stolen. It is absorbed, and with various legends in R&B, Blues, and even Gospel being shown as Elvis' inspirations, there is a hefty nod that Elvis would be nothing without Black musicians who paved the way.
It's just, like Adele in modern times, Eminem as well, being a white person with the kind of talent expected mainly from a Black musician, gave Elvis an undeniable leg up.
Low Points
Whenever Modern Music Is Put Into The Movie
Why it was decided to have rappers in an Elvis movie is hard to understand. Note, they aren't physically in the movie, but their music, and not exclusively in the credits. Doja Cat, and another rapper, have their songs smack dab in the movie, and it just takes you out of the moment. It's so out of place and unnecessary that it's almost like someone forgot this is Elvis Presley and their songs, alongside the ones that inspired them, are all that was needed. Modern acts need not apply.
On The Fence
While Butler, Hanks, And The Music Keep It Going, This Feels As Long As It Is
"Elvis" is the kind of film which will have you check your watch or phone to see how much time is left, and want a more luxurious theater seat, as you see the years inch towards 1977. Mind you, Butler, Hanks, and the music, featuring various Elvis hits, often on repeat, will help ease the Marvel lengthed movie. However, eventually, you'll feel like Luhrman was so hell-bent on making a definitive Elvis biopic that would ruin anyone else covering Elvis by trying to stuff as much as possible into one film.
[ninja_tables id="46802″]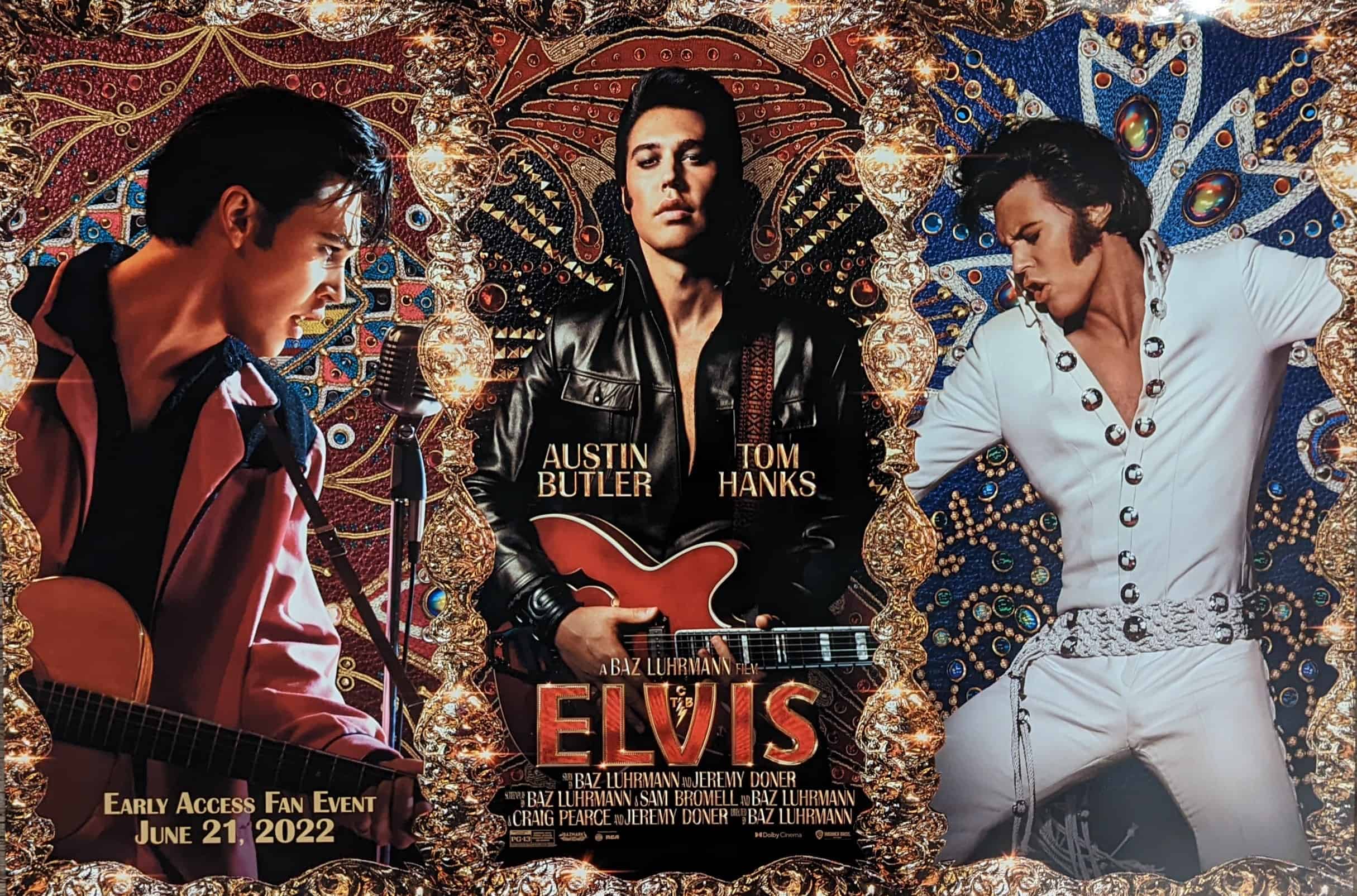 Elvis (2022) – Review/ Summary (with Spoilers)
Overall
"Elvis" is in the style of many a musical biopic nowadays. It's big, gaudy, relies heavily on the nostalgia of music to cover trying to pack one life into a movie, and benefits heavily from an actor who has the experience but isn't considered a huge star. Thus allowing viewers to see the idol more than the actor and for them to get lost in memories that allow each performance both a boost and a grace that may not be given without all the memory triggers the story and music produced.
Highlights
The Musical Performances
How Much You'll Hate The Colonel
A Nod To All Of Elvis' Inspirations
A Nod To All Of Elvis' Inspirations
Disputable
Whenever Modern Music Is Put Into The Movie
While Butler, Hanks, And The Music Keep It Going, This Feels As Long As It Is
---
Follow, Like, and Subscribe
Community Rating: 0.00% (0) - No Community Ratings Submitted (Add Yours Below)