On top of 7 Days being an opposites attract story, it also taps into stereotypes then expands them to remind you they are ignorant viewpoints of a much more complicated culture.
---
Director(s)
Roshan Sethi
Screenplay By
Karan Soni, Roshan Sethi
Where Can You Watch?
Film Festival (Tribeca Film Festival)
Date Released
6/11/2021
Date Released (Theatrical)
3/25/2022
Genre(s)
Comedy, Drama, Romance, Young Adult
Duration
87 Minutes
Rating
Not Rated
Noted Cast
Ravi
Karan Soni
Rita
Geraldine Viswanathan
Daddy
Mark Duplass
This content contains pertinent spoilers. Also, images and text may contain affiliate links, which, if a purchase is made, we'll earn money or products from the company.
Film Summary
Both Ravi and Rita have parents that put in immense time and effort into getting their children married. For Ravi, this is appreciated, for he badly wants to be married. As for Rita? She could do without but, since her mom pays for her home, she goes on dates to keep a good thing going. But, with COVID-19 shelter in place orders hitting during Ravi and Rita's date, what was supposed to be him just waiting for a cab in her home becomes them being stuck together for a week. Which means Ravi learning that Rita is by no means like the profile her mother made.
Things To Note | Question(s) Left Unanswered
Reason(s) for Film Rating: Cursing and drinking
Review/ Commentary
---
Community Rating:
---
Highlights
How It Dispels Ignorance
7 Days presents how arranged marriages, specifically by those who are Desi, work in modern times, alongside Ravi as what can be seen as a stereotypical Indian man. Now, in terms of the arranged marriage portion, the movie presents the idea in two ways. It begins by having a When Harry Met Sally series of interviews, which shows it can go well. However, secondly, it shows Ravi and Rita and documents how it isn't necessarily working well in modern times. Especially since it seems more about the parents' ego than the child's desires.
Yet, I wouldn't say Soni and Sethi set out to damn the practice. More so, it is presented as an option. One that, for those like Rita, isn't the best for they aren't necessarily traditional. Plus, as shown in this film and Meet The Patels, the whole process can be very stressful. Ravi, who is for the system, represents this for bad enough he is getting rejected, but now his mother knows, brothers know, and so it isn't something private. Plus, depending on how you look at it, the rejection can be about not just him but his family as well. Especially if the other side was iffy.
Switching from the arranged marriage topic to Ravi as a person, I feel pushed to note that as much as Ravi can come off like a stereotype, there is a reminder built into 7 Days that stereotypes are based on ignorance. If not, to take it further, a hyper-focus on one part of a culture, or commonality within one, to which those not within it don't seek to understand why that tradition, cuisine, or belief exists.
Take Ravi being for arranged marriages, being such a square, cute in a nerdy way, a mother's boy, and in the tech industry, these can be seen as stereotypes. However, then the film breaks things down. Ravi is a momma's boy because he is the youngest of three boys, and with his mom being divorced and brothers seemingly less serious than he is, that makes him the dependable one. And likely, due to his fear of being alone, he stays up under his mother, and they have some form of mutual dependency. Which, in eastern cultures, isn't as frowned upon as in western cultures.
Then, when it comes to being a square and in the tech industry, while the model minority myth is toxic, at the same time, it is acknowledged to make good money, you need to be in medicine or tech. Also, you got to keep your nose clean. Never mind, what one person does affects the reputation of the family so, getting in trouble isn't just looked at as a personal failure, but that of the parents who raised you. So accountability is spread out, as is guilt.
How Soni and Viswanathan Play Off Each Other
Viswanathan has shown throughout her career that dry and sarcastic humor is her wheelhouse. So to have a straight man, in comedy terms, like Soni to play off of? It's ace. This makes it so you get into the idea of them as a couple, and opposites attracting because she brings a certain level of excitement to his life, and he provides a grounding force.
However, let it be noted, Rita isn't a manic pixie dream girl type. She has a life outside of Ravi and isn't pushed to make his life better. If anything, he seems to present the idea that criticism and disagreement don't always have to lead to arguments or abandonment. Thus making seem Ravi is meant to renew Rita's faith over the course of their friendship.
While Certain Things Go Unsaid, You Can Recognize Their Effect
Both Rita and Ravi don't appear to have much if any, relationship with their fathers, and it shows. It isn't talked about much, but you can see how they compensate. With Ravi, you could submit he is so good to his mother because his father wasn't and could want three kids to give his kids what he and his two brothers didn't have. Then with Rita, her lack of a father could be why she doesn't have much faith in love and is seeing a man who is unavailable. It mirrors the relationship she has with her dad, so it feels normal, and while it drives her nuts, she doesn't know differently.
This isn't to say this is why Rita acts as she does, but it is one thing you could derive from what goes unsaid.
On The Fence
The Whole "Daddy" Subplot Seemed Unnecessary
To me, the guy who is known as "Daddy," that Rita was messing around with, was unnecessary. It pushed the daddy issues trope that was perhaps one of the few lazy aspects of the film. Add in Daddy was married and voiced by a white man, and it makes you want to give a side-eye to the situation since there isn't much in the way of development or complexity to that relationship.
Overall
Rating: Positive (Worth Seeing)
The only thing that keeps me from recommending this is honestly the "Daddy" subplot. Beyond that, 7 Days is likely to be my gold standard for the many COVID dating films we're likely going to see for the next year or two. It presents how COVID amplifies our daily feelings of isolation, the tolerance we all started to have for people who may not have been ideal under other circumstances yet, because of what was going on, we'd give them a chance. But, what it does well overall is presenting some diversity into the narrative.
7 Days gives you actors who get to be more than a skin tone and features, with minor acknowledgments to their culture. Their culture is what made them, and whether it is embraced or there is some aversion to it, it's a part of their foundation. Add in that nothing over the top necessarily happens, and it gives you a film that seems far more grounded than most romance films which seem to more so want to sell you on the idea of falling in love than that these two people are a good match for each other.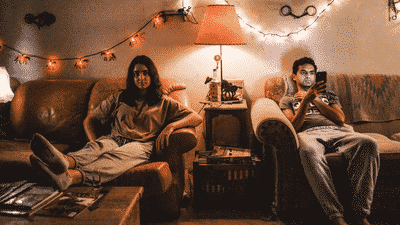 7 Days (2021) – Review/Summary (with Spoilers)
Who Is This For?
Those who want a COVID set romance that also features a notable amount of Desi culture which keeps this from becoming bland.
Highlights
While Certain Things Go Unsaid, You Can Recognize Their Effect
How Soni and Viswanathan Play Off Each Other
How It Dispels Ignorance
Low Points/ On The Fence
The Whole "Daddy" Subplot Seemed Unnecessary